NOW CLOSED – As New Zealanders navigate the cost of living crisis, there's a silver lining for gaming enthusiasts.
According to PriceSpy's latest research findings, gaming goods may offer some of the best Black Friday discounts going – providing gamers an ideal opportunity to upgrade their gaming setup, grab an early Christmas gift or buy a game at a more affordable price.
Key Research Findings:
Across the shopping category of 'games & consoles', PriceSpy's Price Index* shows a notable -10.24 per cent drop on Black Friday compared to the start of the year (1 January 2022).
Compared to a standard shopping day (1 November 2022), three-fifths (59 per cent) of products 'games & consoles' experienced price reductions on Black Friday last year.
PlayStation 5 games particularly stood out for good discount offerings, with 65 per cent of items showing price drops on Black Friday 2022.
Items that reduced in price by 10 per cent or more saw an average price change of -44 per cent PlayStation 5 games.
Liisa Matinvesi-Bassett, New Zealand country manager for PriceSpy, says: "Despite today's cost of living crisis, our ongoing research highlights that Black Friday still offers promising saving opportunities – especially for gamers.
"However, it remains extremely important for shoppers looking to take part in this year's sale season to conduct thorough pricing research before making a purchase, for several reasons, as outlined below."
Price Points Have Increased This Year
As shared in PriceSpy's 2023 Black Friday Report, average standard prices across many popular shopping categories were found to have increased this year:
80 per cent of the 25 categories PriceSpy researched had more expensive standard average prices in 2023, compared to in 2022;
Specifically, the average price of game consoles rose by seven per cent**.
Liisa continues:  "While Black Friday traditionally offers enticing discounts, our findings underscore the need as to why consumers need to conduct thorough price research to ensure they're getting genuine deals, especially at a time where we've seen overall price increases."
Reason 2  – Beware of Fake Sales on Black Friday
The term 'fake sales' or 'rollercoaster pricing' as it may otherwise be referred to, is whereby a retailer gradually hikes a product's price, before suddenly dropping the price and advertising a discount based on the highest previous price. For example, claiming a discount of 50% compared to the previous day's price, but – if compared to the price 30 days ago – it may only be a 20% discount.
Interestingly, PriceSpy's research found approximately 10 per cent of all products listed under the shopping category of 'games & consoles' were subjected to being a 'fake sale' on Black Friday last year.
Reason 3 – Not All Black Friday Prices Mean Savings
PriceSpy further cautions shoppers that Black Friday prices aren't always synonymous with discounts.
Historical data from the price and product comparison site shows found that 12 per cent of products listed under the category of 'games & consoles' saw price increases on Black Friday last year, compared to a normal shopping day (1 November 2022).
Liisa concludes: "Our extensive research confirms that Black Friday is one of the cheapest days of the year to shop in New Zealand. While there are indeed significant discounts to be found, our analysis also uncovers some dubious sales tactics.
"It's crucial for consumers to be aware that not all deals are as beneficial as they appear. In some instances, prices for products on Black Friday are actually higher, and on other occasions, prices are being hiked before Black Friday to make a discount appear better than what it is.
"This underlines the vital need for shoppers to be sceptical of face-value prices during Black Friday sales and always carry out important price research. Tools like PriceSpy, which provide detailed pricing histories, are invaluable in helping shoppers understand past price trends and make more informed purchasing decisions."
No matter what shoppers are looking to buy this Black Friday following PriceSpy's smart shopping strategies will help shoppers always stay on top of sneaky sales tactics.
PriceSpy's Smart Shopping Strategies
Quality over newness – Consider older, well-reviewed models, which are likely to offer better value and saving opportunities.
Historical pricing analysis – Don't just look at the current price or discount being offered. Assess the product's price history to gauge the real value of the deal.
Price comparisons – Utilise PriceSpy to compare prices across retailers and make the most of price matching where available.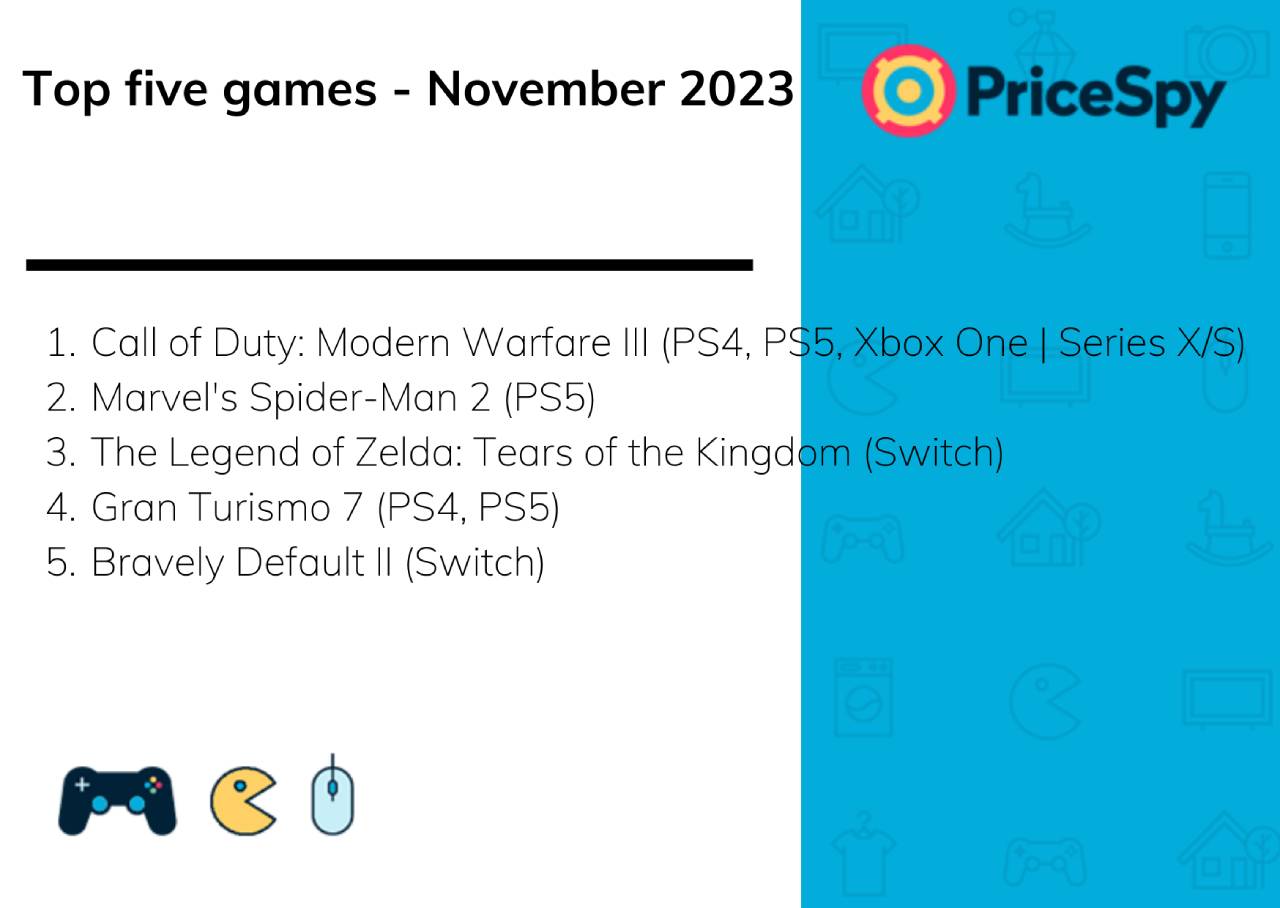 PriceSpy has teamed up with us here at STG to offer you the chance to win the two of the top games from November 2023 – Call of Duty: Modern Warfare III on PlayStation 5 and Marvel's Spider-Man 2 on PlayStation 5.
To enter in for two selected top games of November 2023 with Pricespy, you need to answer this question correctly:
What has been the BEST Black Friday deal you've ever got?
There is no wrong or right answer – be as descriptive as you'd like, but keep it short.
You can give us your answer by placing a comment below, hitting us up on Facebook, Tweet to us, or Email Us.
Important stuff: Winner(s) will be randomly selected from those that Comment below / Facebook Comment / Email in accordance to the above Question. Winner(s) will receive a physical copy of Marvel's Spider-Man 2 on PlayStation 5 and Call of Duty: Modern Warfare III on PlayStation 5. Marvel's Spider-Man 2 is rated M15+, Call of Duty: Modern Warfare III is rated R16. You MUST be over the age of 16 years to enter this competition. STG may ask for age verification. Competition ends on the 5th of December 2023. Only New Zealand entries are accepted for this promotion.
Keep up-to-date with all the Black Friday offers in one place on PriceSpy's Black Friday deals page.
Download the PriceSpy app here.