Tesoro may not be a name that you recognise, however, since 2011 they have been manufacturing computer peripherals built and designed with the gamer in mind.
They produce a range of performance headsets, mice, mouse pads and keyboards. As any serious PC gamer knows, using decent kit can give you the edge over your opponents in competitive matches.
Now, I'm no eSportman, but I do know that swapping out my mouse a year ago for an 8200dpi Razer Synapse made all the difference when it came to Battlefield 4. I never thought to swap out my keyboard.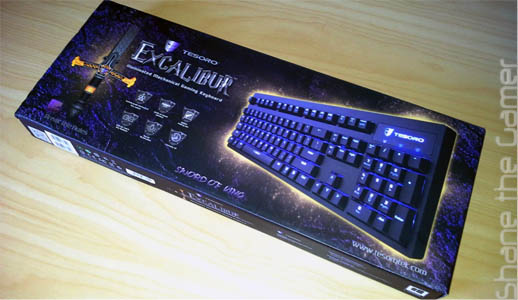 Tesoro recently asked me if I'd take a look at their new Excalibur G7NL illuminated mechanical gaming keyboard. Of course I said yes and I've spent the last week putting the keyboard through its paces (I'm actually writing this article using it).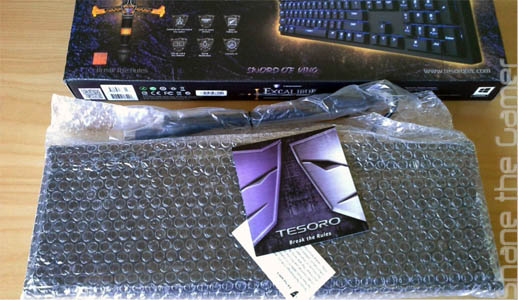 The apart from (obviously) the keyboard, the box is empty save for a catalogue of other Tesoro product. There's no manual or driver disc included.
Checking out the catalogue, I've got to hand it to Tesoro for producing a range of gaming gadgetry with the most awesome names in the industry. Who wants to own a Turtle Beach Earforce i60 when you can have a Tesoro Kuvén: The Helm of Hades? Personally, I wanted to ditch my boring Razar mouse and replace it with a Tesoro Gungnir: The Spear of Odin.
Awesome stuff.
Back to the G7NL or, to give it its full name, Excalibur: Sword of King. Whilst the lack of driver CD (the box points users in the direction of the manufacturer's website for the driver and software) isn't the end of the world- some better documentation wouldn't hurt.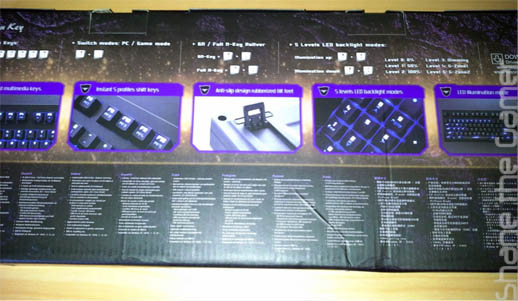 The keyboard's feature set needs to be gleaned from the back of the box and from the rather difficult to follow help file integrated into the driver software. Still, this tends to be part and parcel of the PC gaming experience and a little fiddling about will get you sorted.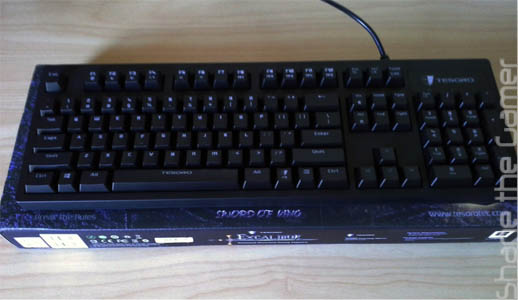 My first thoughts on pulling the keyboard from its box were just how retro it looks. Seriously, it looks like a gaming keyboard designed by cold-war Russia. It's a pretty simplistic design. The keyboard is also quite heavy, suggesting a pretty robust build quality.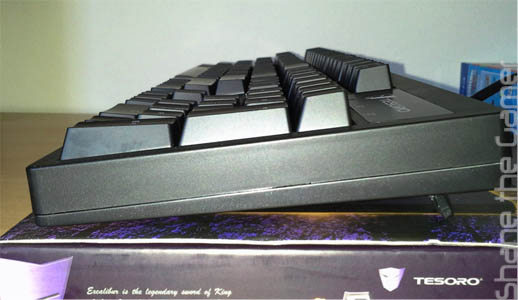 The keys stand proud and have a lot less surface area than my trusty old Microsoft keyboard. It took a while for me to get used to the slightly smaller keyboard layout, with a few hours spent pressing two keys at one. But it didn't take long for me to adjust. The clacking noise from the keys took a bit more getting used to.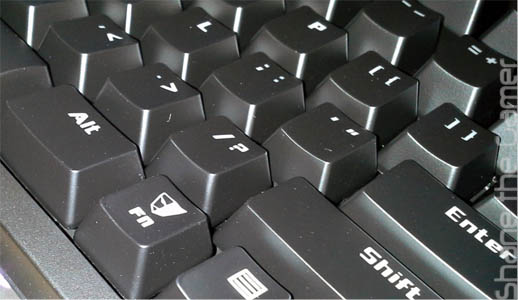 The Excalibur is a mechanical keyboard. This means that each key has an actual mechanical switch underneath it, rather than a domed membrane over a micro-switch. The result is a more positive button press and a keyboard that will last a lot longer.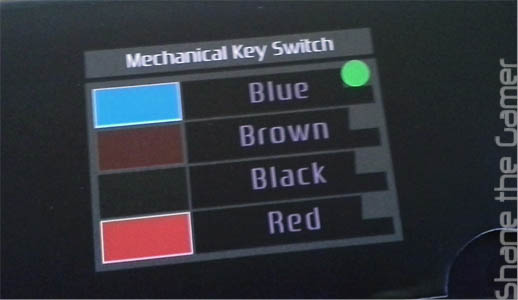 Mechanical keyboards come in three flavours. Blue switches offer a bit of resistance and a rather satisfying, but at the same time quite loud, "click". Brown switch have a less resistance and less noise. Finally, black switches are supposably silent and offer the softest button press.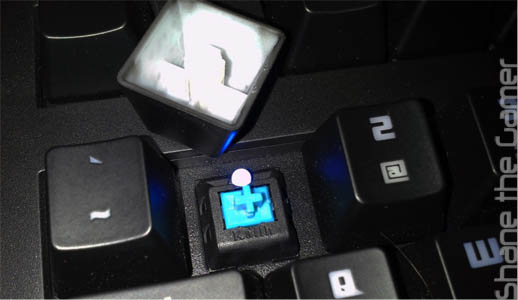 My review keyboard featured the blue switches and made a racket like an old type writer. I did get used to it, though, and even started to appreciate how positive each button press was. With practise, due to the more responsive switches, I'd imagine that I could stop hammering the keys quite so much- reducing the noise a bit.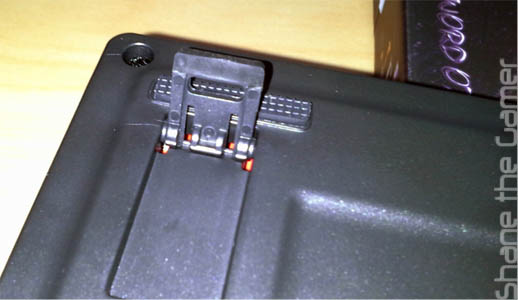 The keyboard has two feet that can be opened to raise the back up a bit. The feet all have little rubber anti-slip pads that really grip your desk and stop it from sliding all over the place (which is a pet peeve with my current keyboard).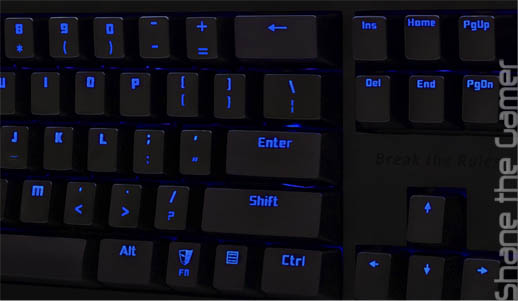 I found the blue illuminated keys very stylish and rather practical. Not being the world's greatest typist, I like to be able to see my keys, especially when I'm gaming with the lights off.
The Excalibur features five levels of backlighting (six if you include no illumination): 50%, 100%, pulsating and two modes that highlight the WASD and common gaming keys. All this is controlled using the Tesoro logoed function key and the 8 and 9 buttons on the keypad (i.e. the up and down arrows)
When you are playing something like Dragon Age: Inquisition, with keys all over the place, it's nice to be able to go straight to the illuminated button that you need in the heat of battle. The same with Elite: Dangerous (a game that atmospherically benefits from being played in the darkened room).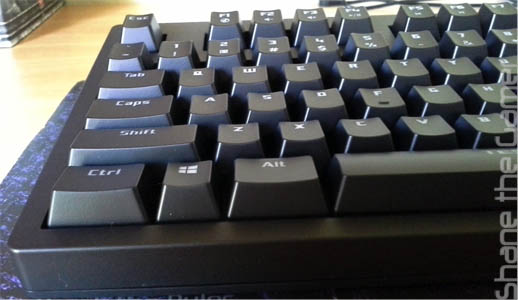 The keyboard features switchable 6-key and n-key rollover. The keyboard recognising a maximum of six keys is fine for typing and casual play, but the devices ability to recognise an infinite amount of pressed key combos is essential for pro play. Again, you don't have to open any clumsy software to do this switch, just press the function button and insert for 6-key or function and delete for n-key.
The keyboard also has a game mode (function and pause) that switches off those disruptive windows shortcuts.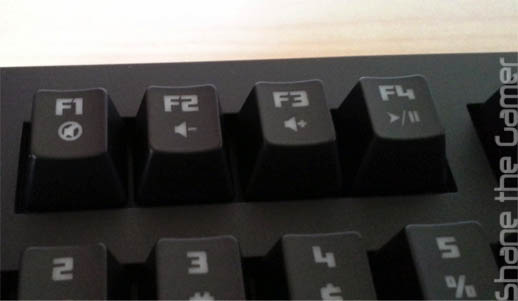 To save a bit of real estate, the media keys have been integrated into the F keys. I use this keys quite a lot when transcribing interviews and I found then a bit awkward to use. A very minor niggle.
Using the downloadable configuration software, gamers can customise and program the keyboard with their own features, which are stored in the devices 512k of on-board memory.
Five programmable functions are available, letting gamers set up their own macros for individual games. This means that a single button can programmed to a particular combo or go straight to a particular in-game menu.
Button presses can even be assigned to different keys or keys disabled entirely. Tesoro have given gamers full control of their keyboard to customise as they wish.
Despite my initial misgiving with the Excalibur's styling, after extended use I really liked it. It's solidly manufactured, the keys are responsive and the programmable functions very useful especially for negotiating multi-layered RPG menus.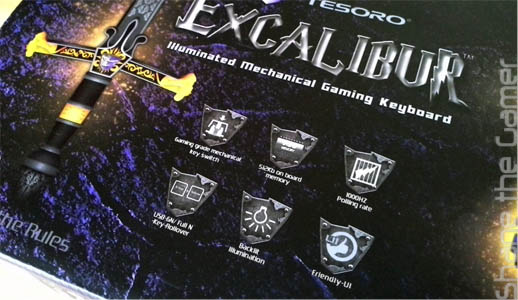 Personally, I wouldn't have chosen a keyboard with the loud blue key switches, I'd have opted for the quieter brown or silent black switches, instead.
It's not the nicest looking mechanical keyboard on the market, but it is very solid. It certainly does its job and isn't going to break the bank. The illumination modes are very useful and look great. The overall feel of the Excalibur is a vast improvement over my generic Microsoft keyboard.
The Tesoro Excalibur G7NL mechanical gaming keyboard is currently on sale in Australia priced at around AU$130, with stock arriving in New Zealand in the new few weeks.