The second coming of the rhythm music game is upon us and first on stage is Mad Catz and Harmonix Music Systems' Rock Band 4.
This is software borne out of necessity over anything else. With a massive back catalogue of licenced music, over the last few years the die-hard Rock Band fans have been steadily replacing their PS3s and Xbox 360s with new-gen consoles. What must have been a steady revenue stream for Harmonix has, no doubt, been slowly drying up.
It also makes sense that the pioneering music game developers have found a publishing suitor in veteran peripheral manufacturer Mad Catz, who are now likely looking forward to a bumper sale of plastic guitars and drum kits this Christmas.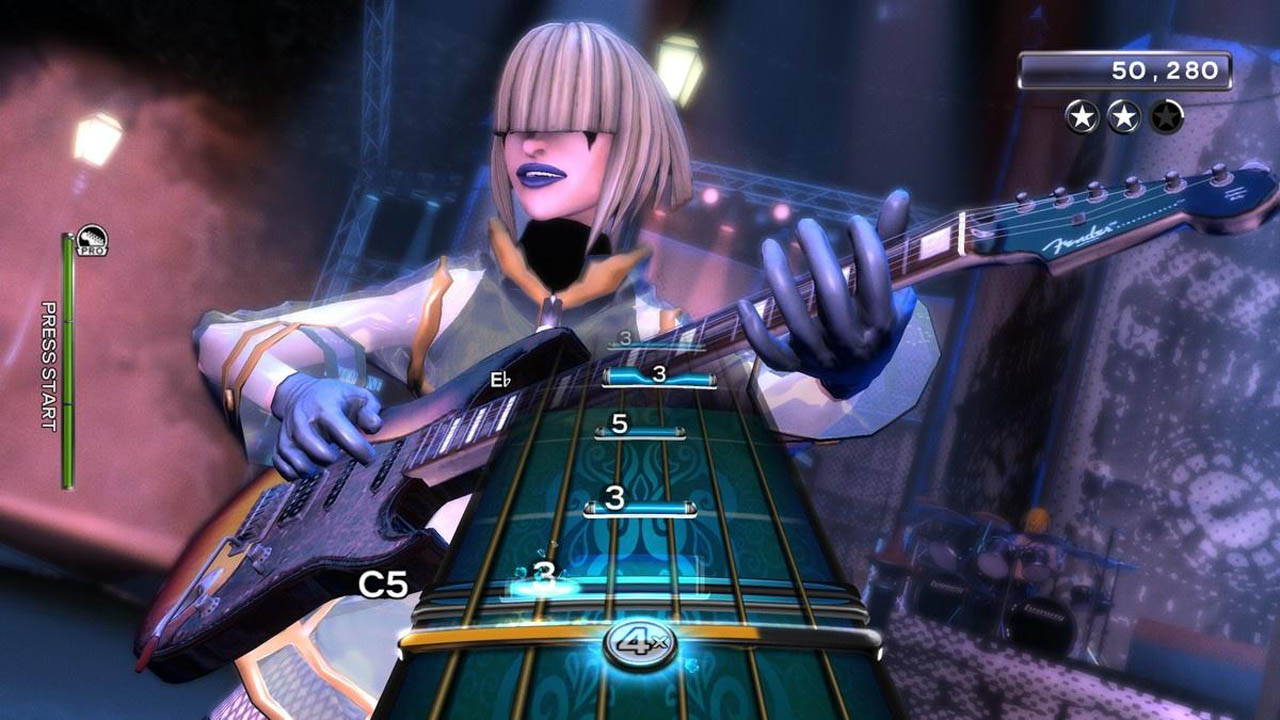 For the uninitiated, Rock Band 4 continues a legacy started by developers, Harmonix, with their original Guitar Hero before going it alone with their own Rock Band franchise, incorporating drums and vocals into the equation.
The concept is simple. Players must, in the case of the guitar, press the corresponding coloured fret buttons on the neck as they appear on along the track on the screen whilst strumming the button on the guitar body. Advanced players can also use the lower fret buttons and whammy bar to create a unique sound. Drummers have the same deal, but instead need to beat the corresponding coloured drum or the foot pedal.
Pro-drummer may want to consider the optional Mad Catz cymbal kit to mix things up a bit. Vocalist need to keep up with the lyrics on the screen karaoke-fashion. The game can accommodate lead and bass guitars allowing players with all the kit to play as a four piece band.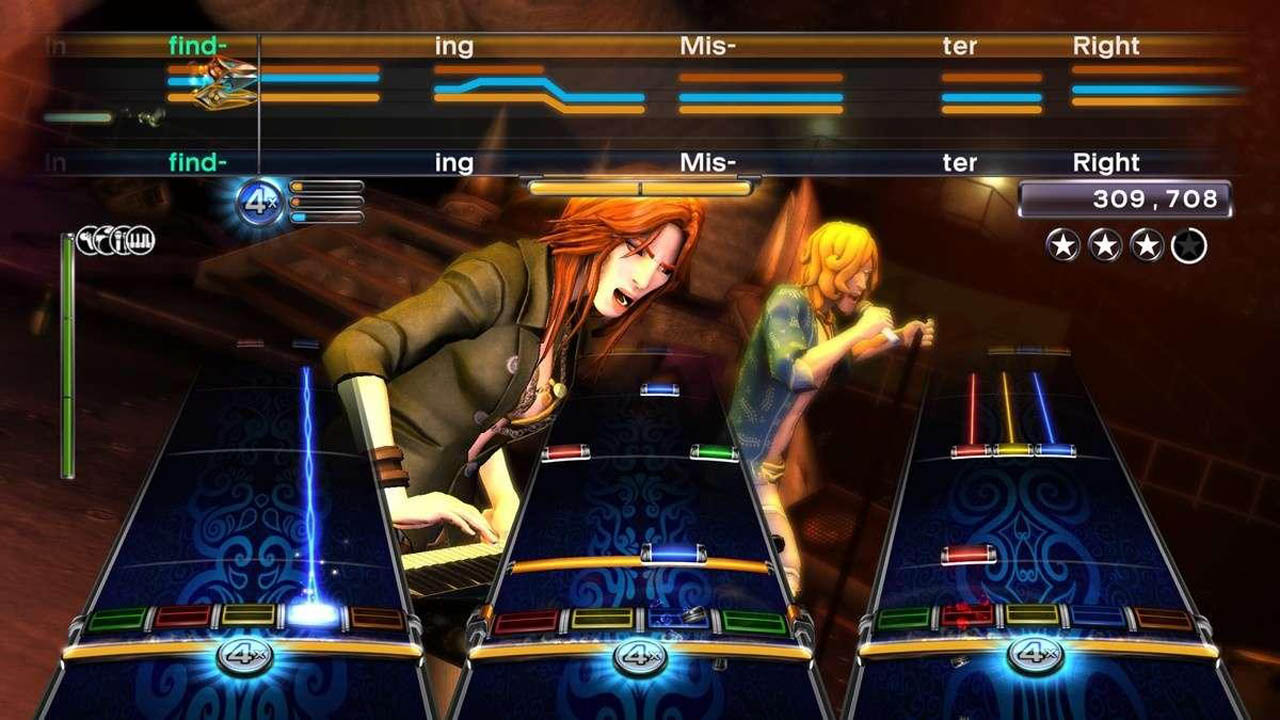 Scores are accumulated by maintaining streaks of faultlessly playing notes, racking up multipliers. Correctly playing the special white notes on the screen will fill the overdrive bar which, when activated by tilting the guitar (or a double beat of the drums), gives an extra 2x multiplier until the bar is drained.
As in previous games, the visual style of Rock Band 4 is a stylised, cartoony look-  with band members based on classic rock group clichés. The graphics are nigh indistinguishable from previous entries apart from a higher resolution, better lighting and what looks to be a pretty solid 60fps.
As before, the game takes fans straight onto the stage. The familiar-looking menu allows you to play a show- which is essentially a set list, go on tour- which is the band/campaign mode and select a quick play session with a single track.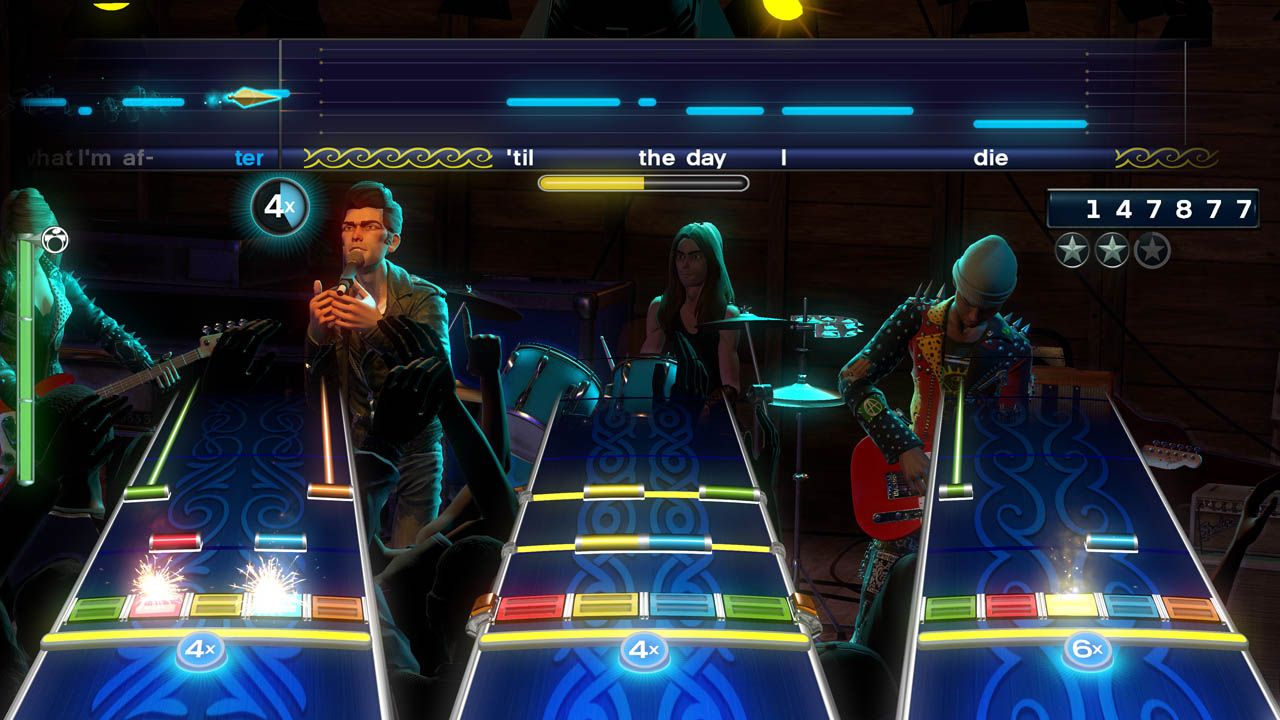 The big addition, which may not appeal to the hardcore, are the optional freestyle solos. For guitar players, if switched on, this means using the high and low buttons on the guitar to either strum freestyle notes to a tempo or go crazy and knock out your own insane riff. There's even a continuous freestyle mode where you just unleash a guitar jam over the top of a song.
There's no points to be earned, but it's pretty awesome fun, especially for your young kids who otherwise wouldn't be able to cope with the game. There's something rather special watching a four-year-old concoct his own freestyle accompaniment to Judas Priest's Halls of Valhalla!
The lack of an online mode is a bit of a shame. There are rumours that it is in the works, which fits in with statements from Harmonix that suggest that Rock Band 4 will be the only version release for this generation of consoles. This makes the game more of a platform on to which the developers will build rather than just an iteration. A good idea, if you ask me, as there's little point in knocking out essentially the same game every few years, with nothing but a new tracklist, and saturating the market like they did last time.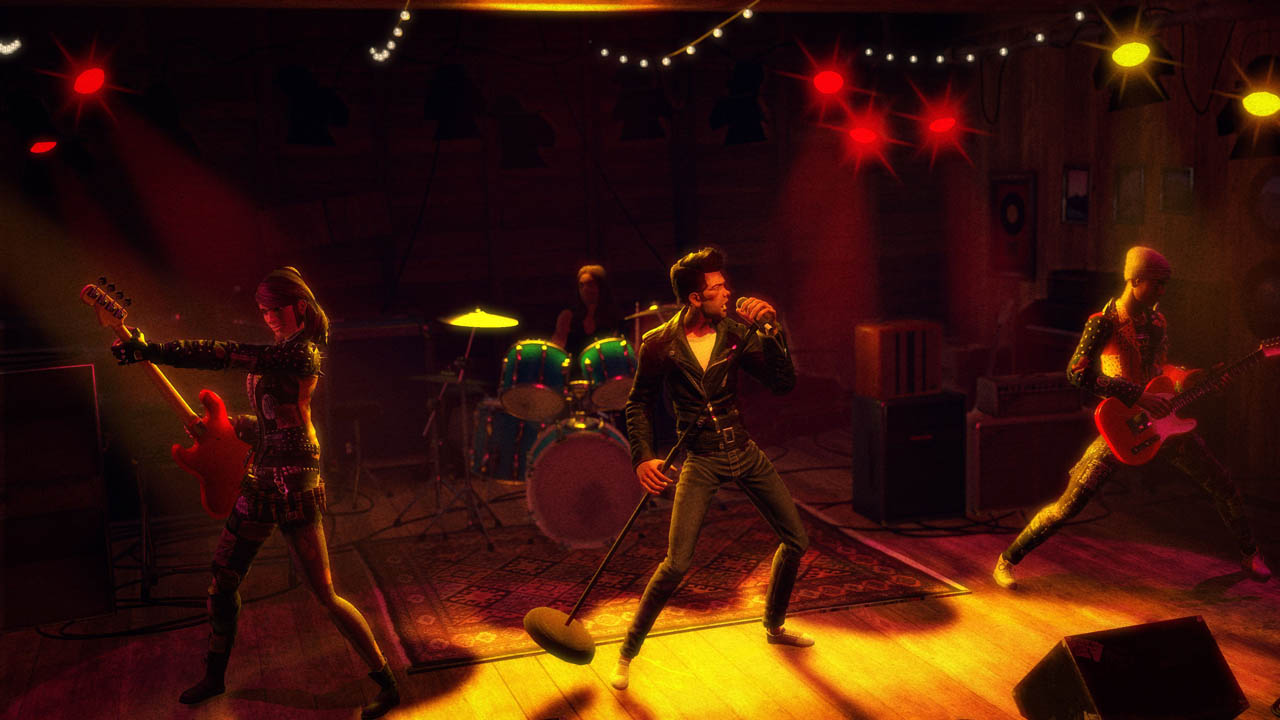 The Rock Band 4 comes complete with over sixty tracks ranging from Elvis Presley to Ozzy Osborne.
There are 1500+ tracks available to purchase for a couple of bucks each alreadyin the music store. Weekly additions to the Rock Band catalogue are starting back up again, giving the game the largest music collection on new-gen consoles.
Songs already purchased, either as downloads or transferred to a copy of Rock Band 3 from previous games in the same console family (i.e. PS3 to PS4), should be available to download from the store free of charge.More on this in a moment.
For fans of the previous Rock Band games, Rock Band 4 is going to be very familiar. Familiar as in it's basically exactly the same game. Unlike previous incarnations of the franchise, Harmonix are still ironing a few kinks out—which is pretty much how they've shipped every game up until this this one.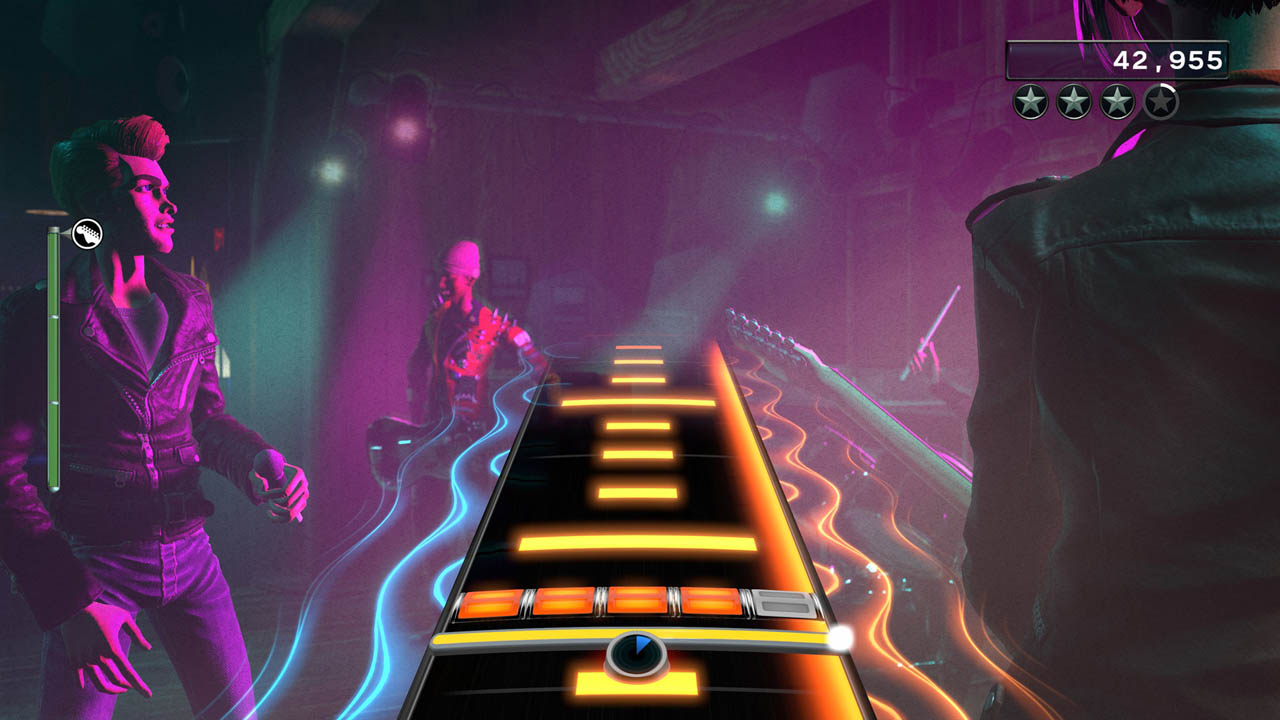 Expect the store to not quite be working as you'd expect and any songs you own from previous Rock Band games to not yet be available or a little tricky to transfer over. Harmonix are working on a list of things that need fixing. And I believe they will fix them, as they have in the past. I just think that their Rock Band network infrastructure is a bit shit.
Through a bit of skulduggery that involved logging into the PSN Store on my PC, I did manage to locate a list of add-on songs that I had on Rock Band 3. It is a bit of a mess and overly onerous.
In saying that, I still managed to transfer a good 24 songs that I purchased on my old NZ account over to my PS4, which are now available to play on my Australian PSN account. I'm expecting more of my old RB3 tracks to be available to me free of charge once they've been uploaded to the NZ PlayStation store and polished up the process a bit.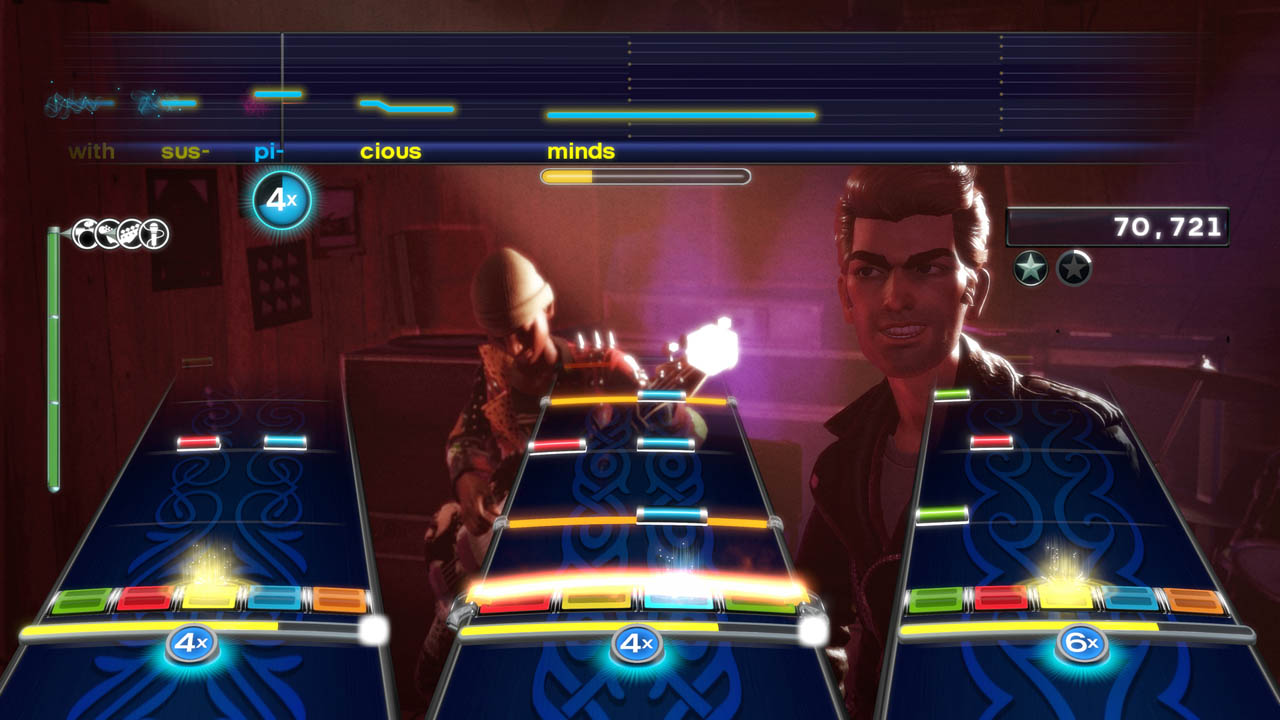 Until Harmonix have got their act together, I'd stay away from the Rock Band 4 in-game music store. There are some fundamental issues that still need to be sorted. You could end up paying for content that you already own or, as I did, buy music (The Best of The Who Rock Band Edition) that is not yet available for RB4 and only downloadable to the PS3. WTF Harmonix?
All your old Guitar Hero and Rock Band instruments will work with Rock Band 4, with some exceptions. If you were well-heeled enough to invest in the Rock Band 3 Fender Mustang Pro-Guitar or the Pro-Keyboard, you are out of luck if you want to show them off with Rock Band 4. For this fourth outing, Harmonix have gone back to basics with the five coloured buttons and strummer.
Instrument Backward compatibility is a piece of cake if you are using PlayStation 3 guitars and drums, as the little USB wireless dongles that can with your PS3 instruments will work with the PS4. Xbox 360 owners will need an adapter to get their old kit working on the Xbox One.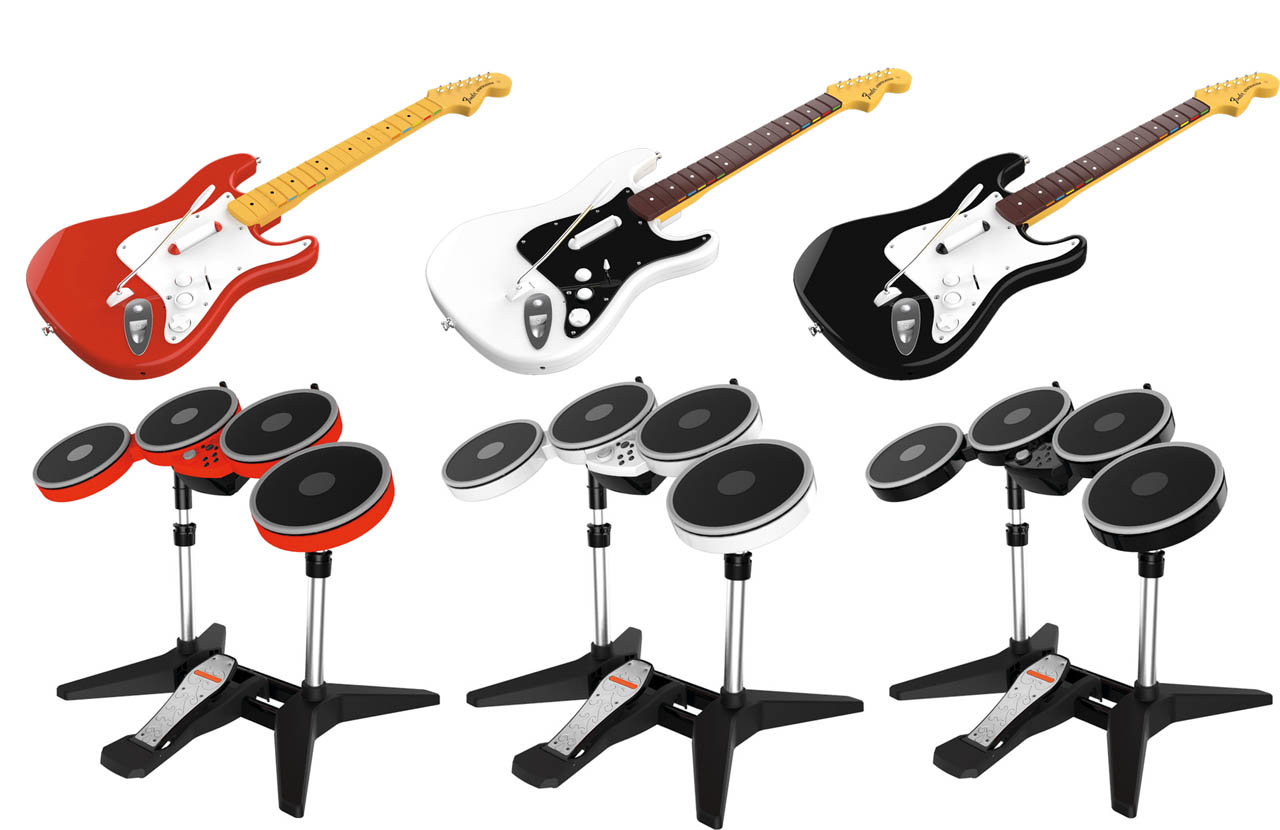 A word of warning if you intend on using your old Guitar Hero World Tour kit with Rock Band 4. My dongle worked fine the first time, but then stopped working. The thing works fine in the PS3, but only occasionally works with the PS4 if the console is shut right down. It's an issue that has been widely reported on the internet from many users. I'd hazard a guess that it is a PS4 driver issues and one that is unlikely to be solved by Harmonix or Mad Catz, as they didn't manufacture the Guitar Hero kit.
Those wishing to use their old Guitar Hero kit may want to consider upgrading to a Mad Catz Rock Band 4 guitar, anyway. Not only do I find that the overall build quality to be more refined (they look less like a child's toy than the old Red Octane Guitar Hero ones), but they also feature adjustable guitar sound modes (wah-wah, echo, chorus etc.) and also built-in sensors for calibrating the audio and visual lag.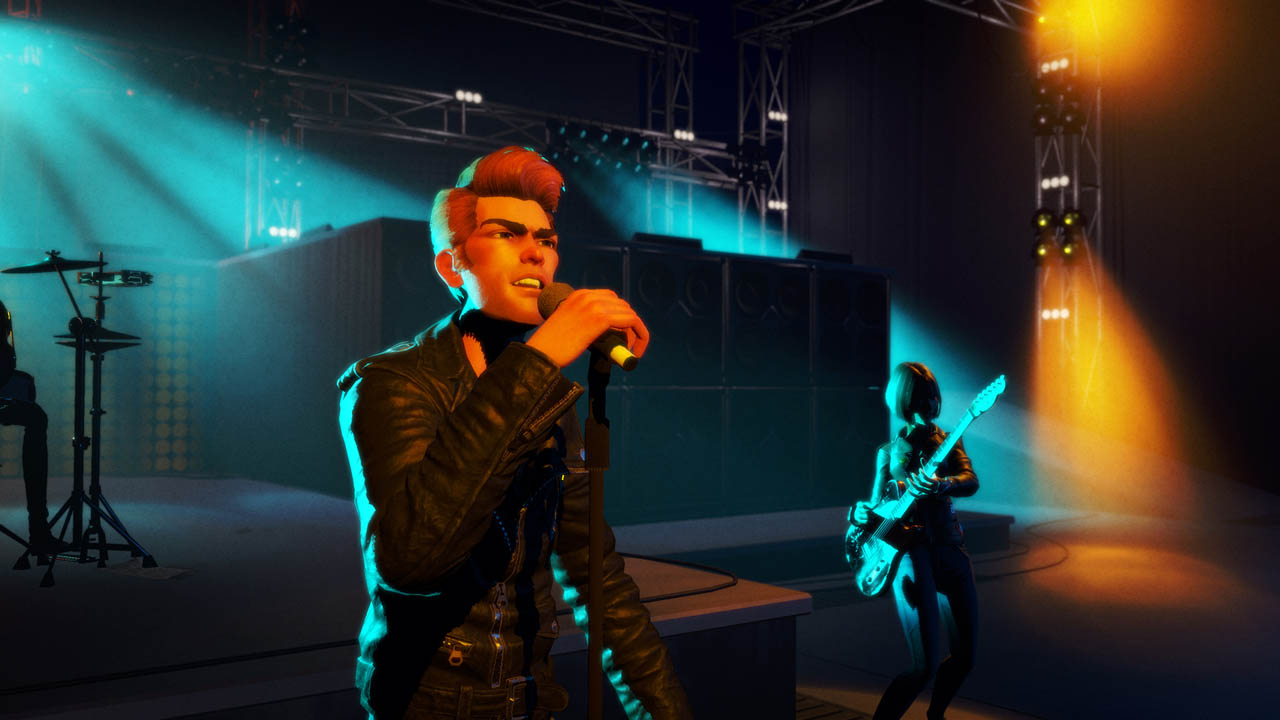 Of course, the best options, if you've the cash, is to purchase either the full "band in a box"game, drum-set, guitar and microphone combo or the game and guitar. Not only have the new instruments been refined since the Rock Band 3 kit five years ago, they also feature share buttons, enabling you to upload your game footage and save screens.
Besides, if you were into Rock Band the first time around, your instruments could probably do with replacing anyway.
Rock Band 4 is the welcome return of a franchise that I though had had its day. The new freestlye solos are a great addition, but other than that it doesn't really bring anything new to the table. But if it's not broken don't fix it. Regardless, the game does allow fans to continue enjoying their Rock Band experience on the new gen consoles.
I still found it mercilessly addictive and a great way to enjoy music. As a party game it's superb, allowing guests to command the room with their guitar and drumming skills whilst some poor soul wails into the mic. I had an absolute blast Rock Band 4 it and heartily recommend it to players both old and new.