Jurassic World Evolution is the perfect adult upgrade from Roller-coaster Tycoon. There's no need to hire 40 entertainers, no spew to clean up and no guests complaining they are bored. (Unfortunately there's also no way to pick up guests and place them in a hole with the entrance to the most expensive roller-coaster…). Instead, there's lush, green scenery, ranger jeeps to hoon around in and, of course, dinosaurs.
Like your typical theme park game, Jurassic World Evolution challenges you to build your own park, this time across the five islands of the Muertes Archipelago. Each park features archaeological exploration teams, genealogical research centers, overpriced souvenir shops and weather patterns to rival Tornado Alley. Running a live dinosaur theme park across five islands is expensive, so to stay financially afloat you're asked to complete challenges to impress the head honchos of the park's three departments – Security, Entertainment and Research. Hatch a new dinosaur and you'll up your brownie points with the Research department. Attract 1000 guests for three minutes, that's a high-five from the Entertainment division. Complete enough challenges and along with growing your bank balance you'll unlock the next island.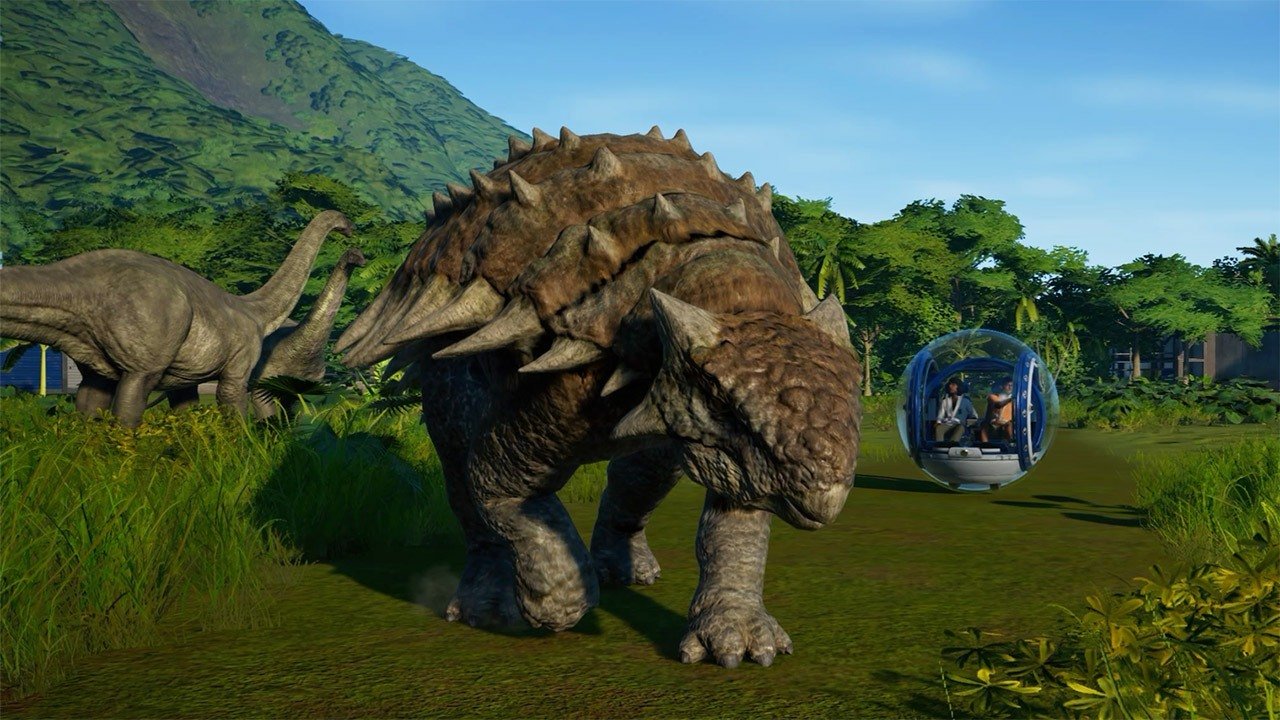 To succeed in this game you must have patience and well developed mind-reading skills – because what it has in tropical island greenery, it lacks in tutorials.
I'll be honest, my park didn't get off to a great start. I was confused while placing buildings – I still don't know what those yellow, what I assumed to mean "place building here" patches mean, but they certainly don't mean "place building here". I was confused while placing paths – if a path isn't placed in the exact spot deemed acceptable by the game, people can't visit that building. I was frustrated while releasing dinosaurs – the game directs me to release a herbivore, doesn't explicitly tell me it needs food other than the grass, trees and water in the pen and then scolds me when it dies… how rude. Oh, and the hardest newbie challenge of all, landing the helicopter (hint, it can land itself, no need to spend ten minutes trying to line it up with the helipad). The help menu wasn't great at shedding light on some of my dilemmas, and being a new game there wasn't any online guidance, however I slowly worked my way through each issue.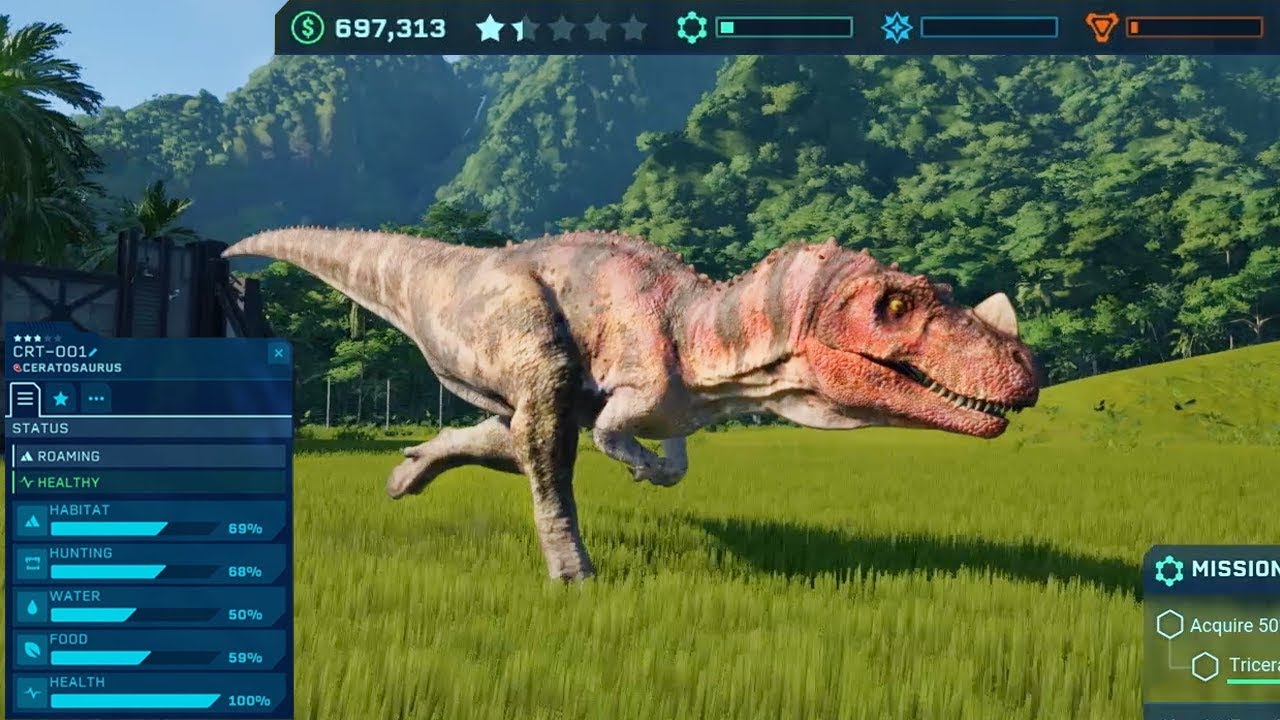 Once I finally got the hang of the game, I started to enjoy the relative simplicity of it.
A mission comes along, hit Accept, send the archaeological team out for 5 minutes and get paid $400,000. Click two fossils to 'research' them and click two to sell… another $40,000. Up the price of burgers and hatch three triceratops, that's $60,000 in the bank. Even the rangers are somewhat automated, click to refill the feeders and your dinosaurs are sorted for the day. This does give it the feel of a glorified mobile game to some extent, but the challenge is in making the most of limited space and limited budgets on each island, keeping dinosaurs from attacking the guests and, on a related note, keeping uneaten guests interested in the park. It's all a bit of a big puzzle, and solving each challenge, from separating fighting dinosaurs with elaborate fencing to charging the right price from dinosaur shaped chicken nuggets really drives your sense of accomplishment.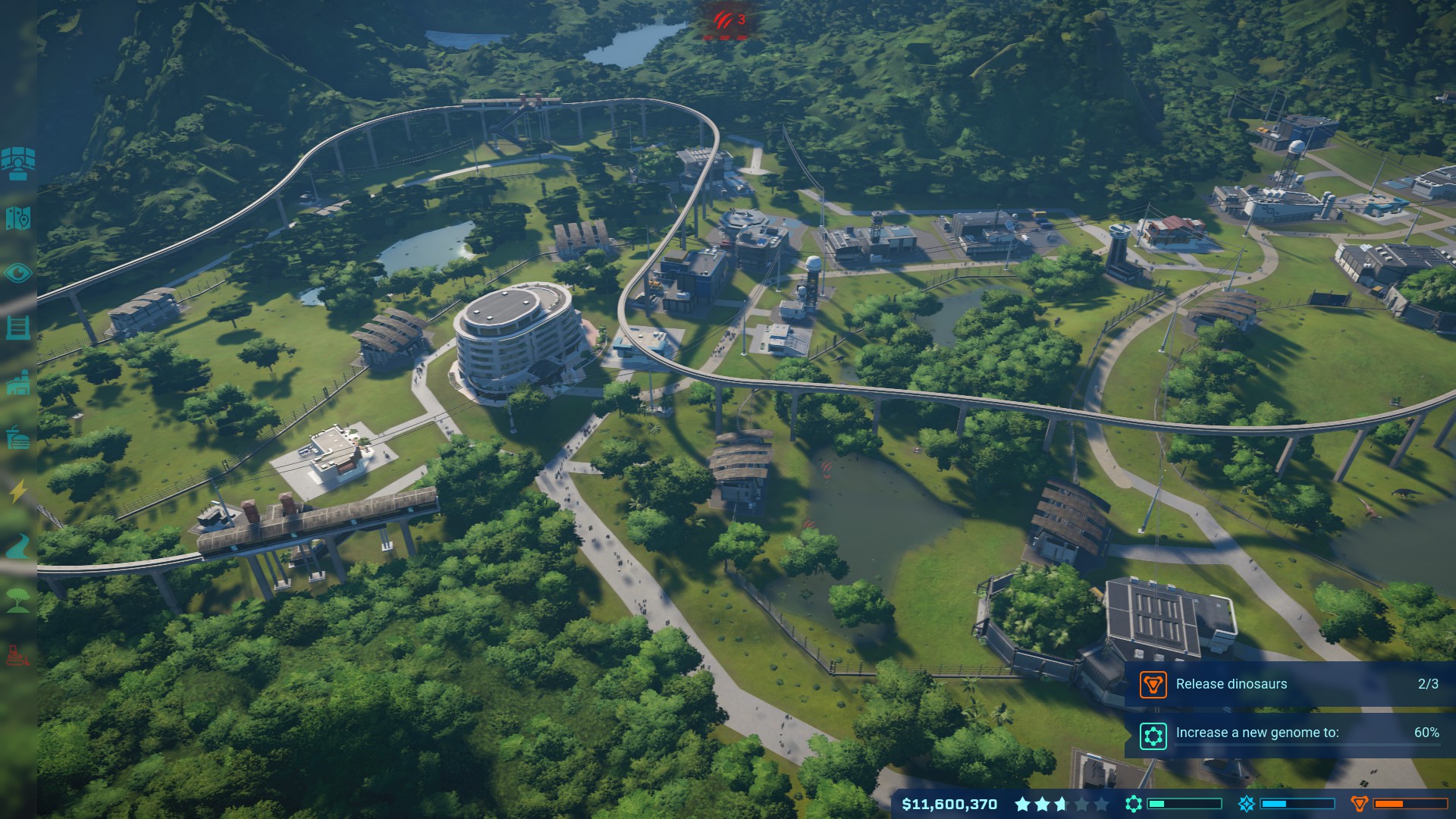 Despite my initial difficulties in getting the hang of the mechanics of the game, it presented enough variety to keep me entertained for hours. I usually prefer open world games where I can ignore the main storyline if I choose and mess around instead. Jurassic World Evolution gave me that option, I could play slowly by chasing dinosaurs around in a jeep or could ramp up the action by requesting more challenges. Additionally, I enjoyed the puzzle elements of the game and spent a lot of time working out the most efficient way to run my parks. For a game that I wouldn't normally pick up, this one surprisingly enjoyable.
All that being said, if you're into dinosaurs, this is a perfect game for you.
[rns_reactions]
Jurassic World Evolution (PC) Review
Game Details
Released: June 2018
Rating: M15+
Platforms: PC (Windows 10)
Genre: Strategy
Developer: Frontier Developments
Publisher: FiveStar Games</p