Microsoft's tent-pole circuit racing sim series makes a welcome return with Forza Motorsport 6 after last year's successful open-world spinoff, Forza Horizons 2.
For Forza Motorsport 6, the series' second entry on the Xbox One, I wondered, have developers Turn 10 been paying attention to some of the other very high quality racing games out there? Could this be the best-looking racing game ever made?
The graphics in racing games have improved in leaps and bounds in the past couple of years. Whilst Forza Motorsport 5 set the bar for the new-gen back in 2013, the likes of Driveclub on PS4 and, more recently, the multi-format Project Cars have shown what modern gaming hardware is really capable of.
To be fair, Forza 5 was developed in parallel to the Xbox One hardware that it was due to run, and in that respect, it was a bit of a technical marvel running at 1080p 60fps.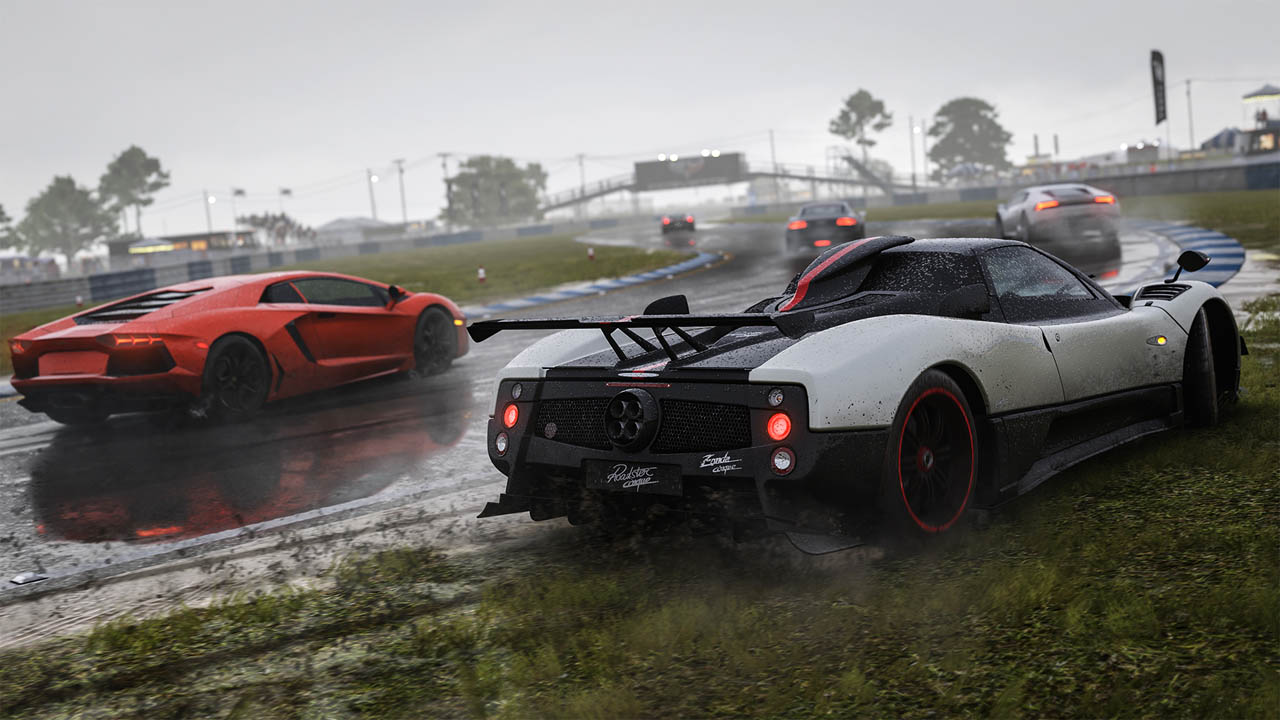 Well, the developers have had a couple of years to refine their knowledge of the Xbox One architecture and, thus, we should be expecting great things from them for this next instalment. And, I'm happy to say that Turn 10 have risen to the challenge and made Forza Motorsport 6 by far the most beautiful-looking racer out there at the moment.
As with most games these days, bright sunshine doesn't really show off the Forza 6 graphics engine at its best, with the visuals still looking decidedly CGI. It's only when the weather changes for the worse that we get to see the astonishing improvements to the lighting effects over previous entries.
In the wet not only do the visuals look pretty much indistinguishable from real life, but also the way that water on the track affects car handling, including aquaplaning across puddles gives us that extra level of realism.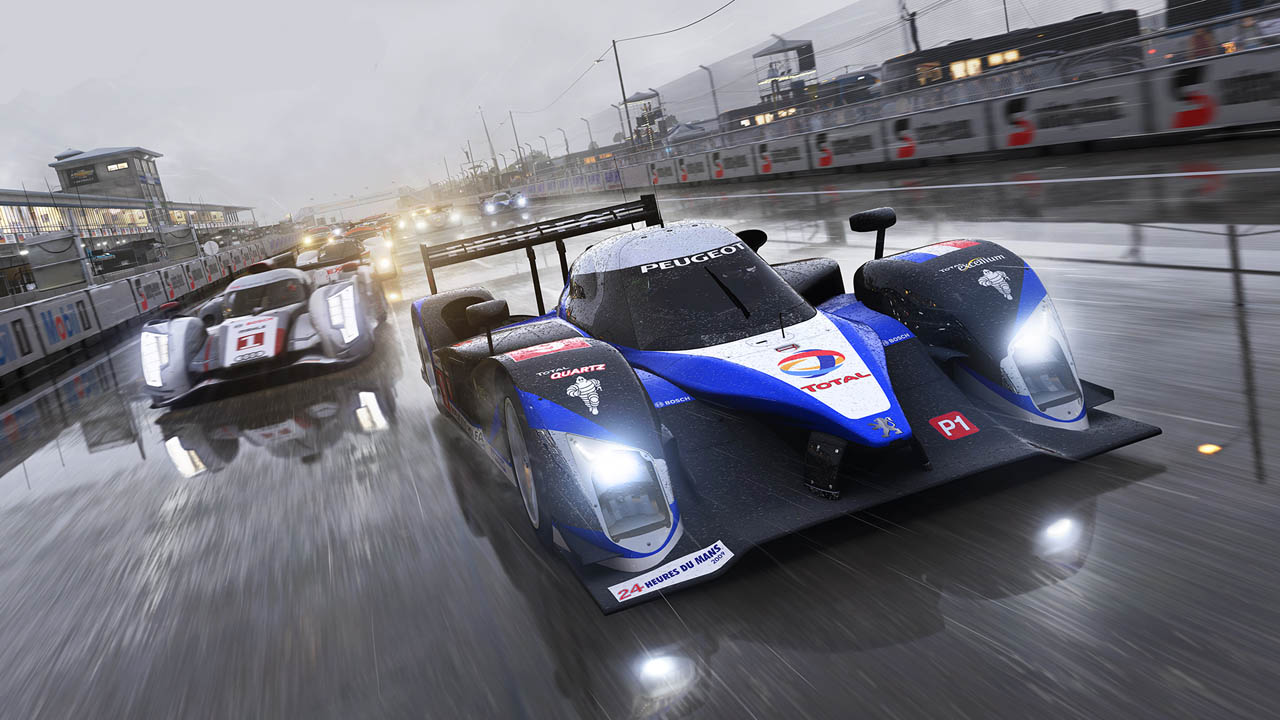 As well as wet weather, there are also night races which require extra concentration. It must be noted that, unlike Project Cars, neither the weather nor the time of day dynamically adjust. The sun doesn't set, and nor can you choice your exact race time. Similarly a race doesn't start off dry and get progressively wetter, with the road conditions getting increasingly worse. It's all baked into the circuit, which is a bit of a cop-out, but to be expected.
Whilst a lot of the lighting effects are baked into the textures, there are still some beautiful dynamic effects, light shafts, atmospheric lighting and some wonderful mist and dust effects grace the circuits.
Car handing has been improved from the last game, which I found very twitchy. In this outing cars have a weight and inertia that seem to be better translated into the steering response. The result is a handling system that feels fairer, properly punishing stupid moves, but equally rewarding risky but skilful use of body roll and grip when cornering. I seemed to stay on the track a little easier this time out, but when I did heat the tyres, it was nice to see them fly all over the place rather than remain unrealistically static like they did previously.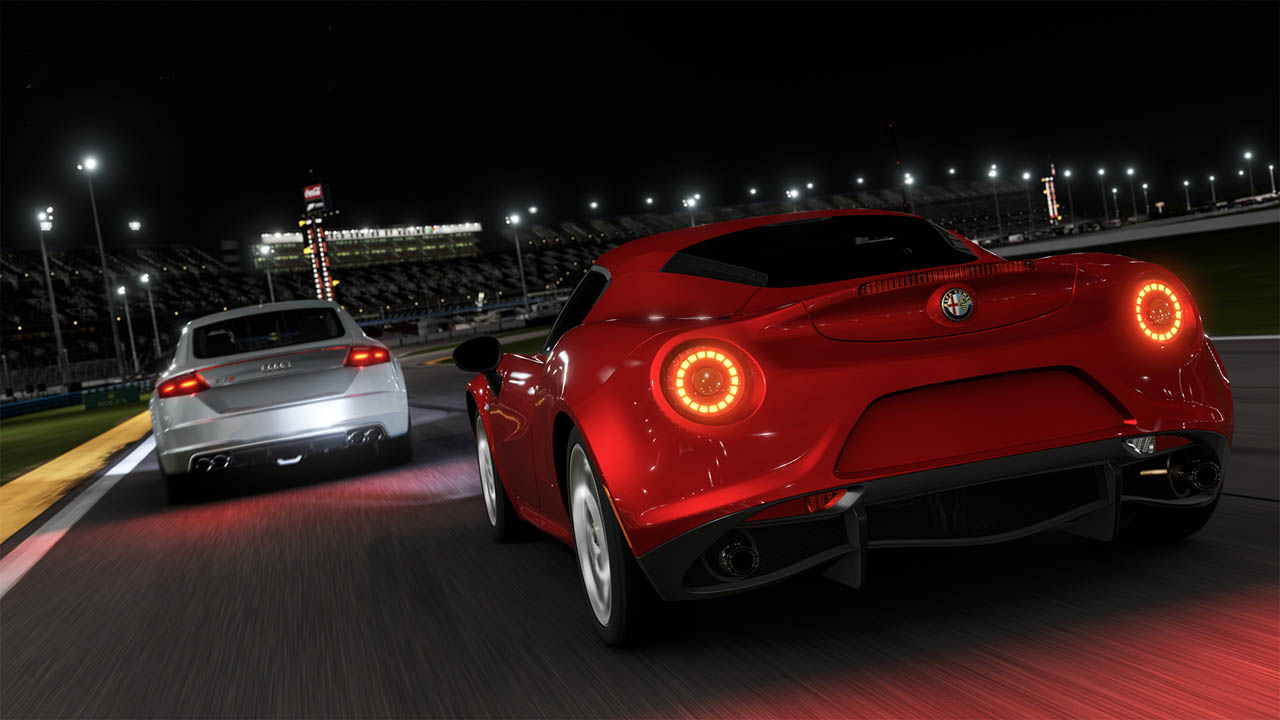 Overall, Forza 6 Motorsport feels like a more complete package compared to Forza 5, with loads of circuits, cars and ways to play.
There's 26 circuits, each with a number of alternative layouts. Most of them you will have seen elsewhere, either in a Forza game or a rival racer. I've got to say, that these are probably the most detailed digital representations of these world famous racing locations.
Whilst they have all had major upgrades from the previous games, unfortunately, it's the choice of circuits that really hold Turn 10 back.
There are a few new ones, but for many it is a case of same old, same old. And this can't be helped, as Forza 6 aspires to be a real-world racing game. But whilst playing, I couldn't help but think about how Playground Games are going to utilise the new Forza tech in their next Forza Horizons game, untethered by real-world locations and circuits.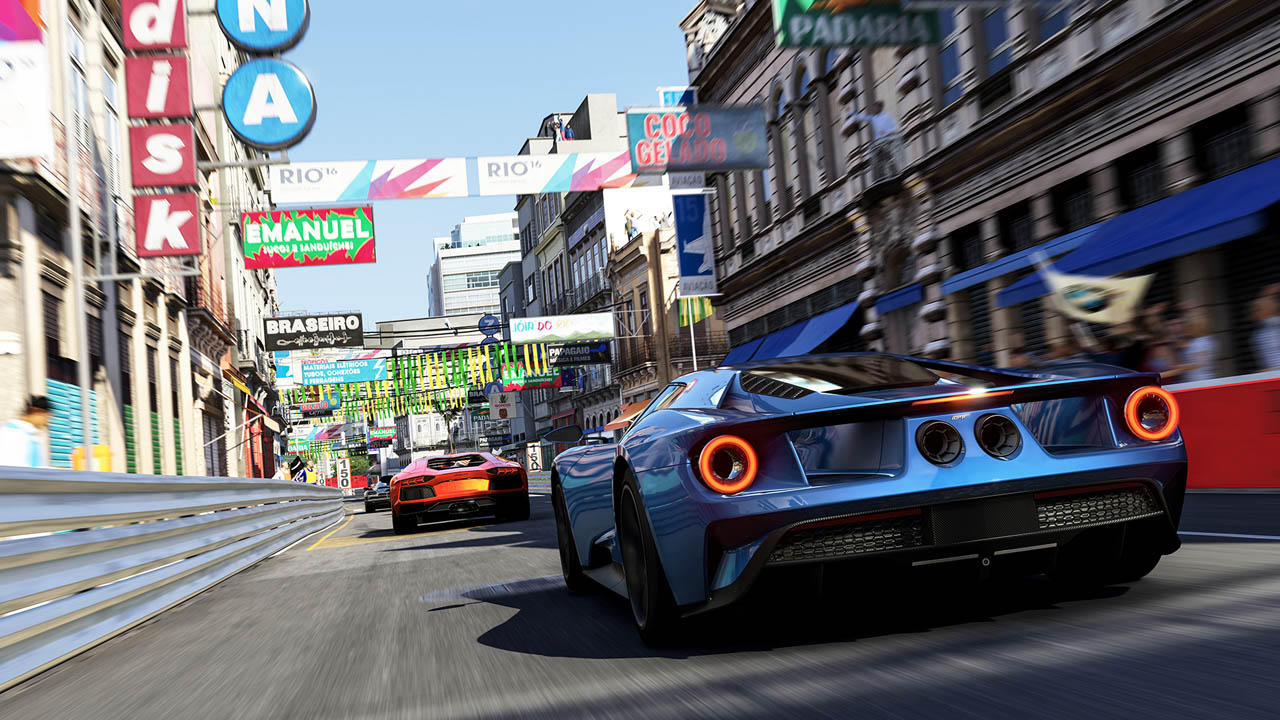 Even so, the circuits are magnificent, the Rio circuit with its misty atmospheric effects and breath-taking view of the harbour is probably my favourite. But nothing really beats screaming a race-tuned Holden Commodore VF around the tight turns of Mount Panorama and experiencing the realistic sun-strike as the light hits the dusty-air as you descend down Conrod Straight.
Forza 6 comes with a complete suite of game modes to suit solo, local and online multiplayer racing through career, single races and online leagues.
Locally, you can choose a solo career or free play races on your own or split-screen, with circuits, conditions, cars and opponents of your choice. Events are split up into five volumes, "Stories of Motorsport", using Forza 6's lingo. There's Super Street, Sport Icons, Grand Touring, Professional Racing and Ultimate Motorsport, each with their own class of car.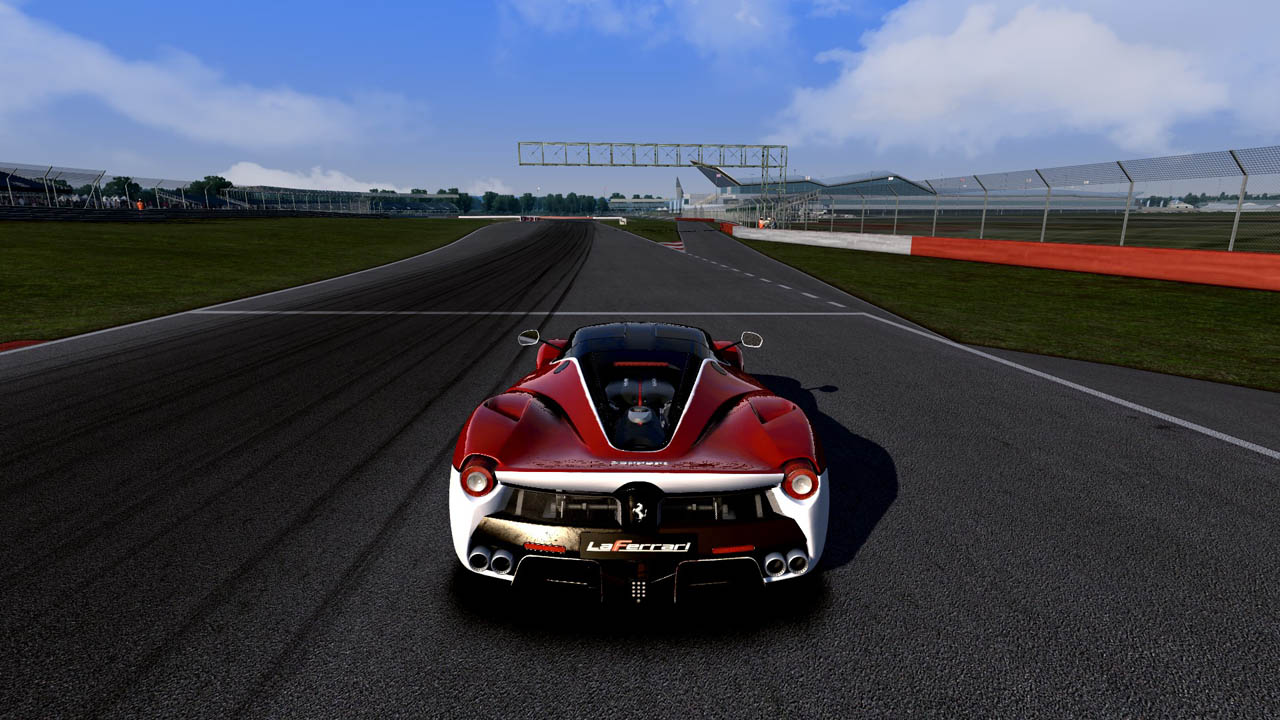 Forza's Drivatar system, from Forza 5 and Forza Horizons 2, returns.
This means that in offline races you will be racing against virtual versions of your friends that play Forza 5, Forza Horizons 2 or, indeed, Forza 6, via AI Drivatars based on their racing style. It's a great feature and one that rewards players with daily in-game cash rewards based on their Drivatar's performance.
Regarding rewards, it's also worthwhile downloading the Forza Hub Xbox One app. Not only do you get all the latest Forza news, the app also rewards users with regular in-game cash payments across all the Forza titles from Forza 4 onwards.
Multiplayer is well represented with lobbies for straight racing, drifting competitions, drag racing and tag games. Leagues offer competitions based on your skill level. Players are assigned to division and will climb divisions as they play. Rivals provides a series of community-based challenges against other player's times over a mixture of events.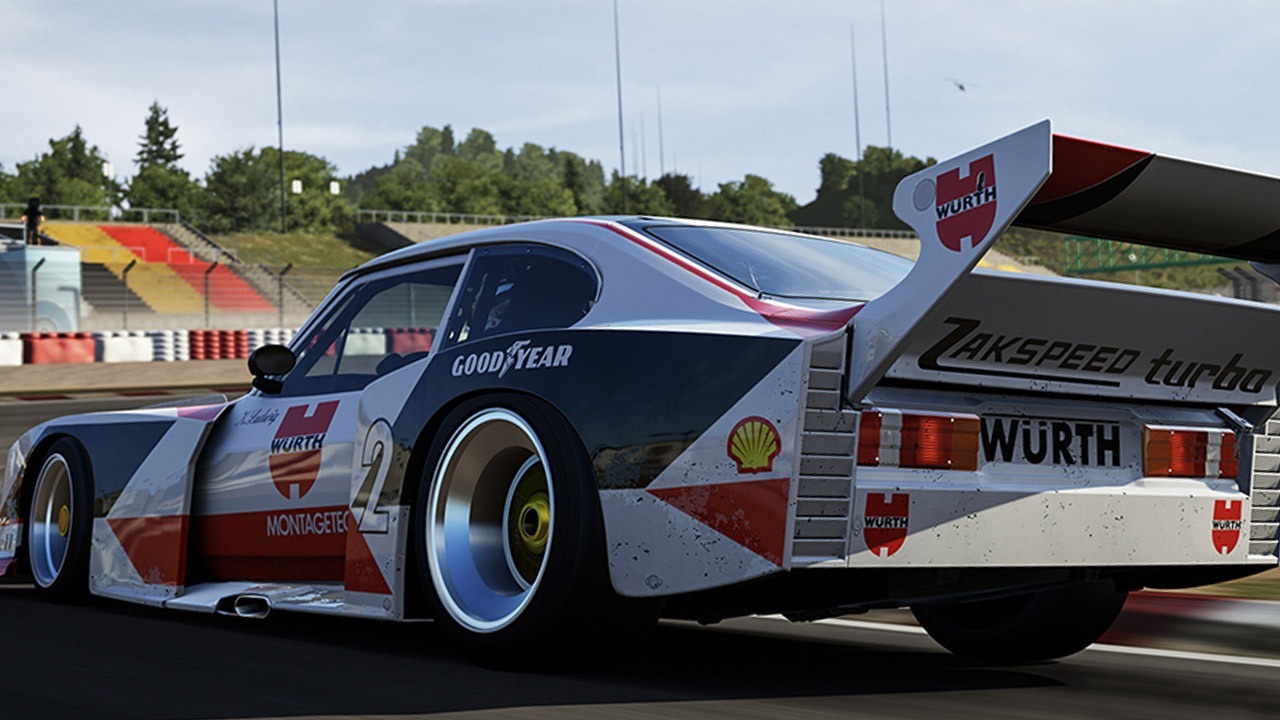 For the more creative types out there, as with previous entries, the game has a photo mode for taking capturing the action and sharing with friends. The livery design system can be used by fans to create astounding and unique cars, the quality of which never ceases to amaze me.
For a game that is so immediately accessible there is a comprehensive tuning system that can be used to adjust the car's braking, gearing, suspense and even tyre pressure, among other things, to maximise the vehicle's performance.
Of course, to the non-technical, the same tools can be used to absolutely destroy the car's handling and ruin a competitive advantage in a race. As I found out, adjusting settings should be done with care.
The upgrade shop provides more opportunity to enhance car performance. Again, care must be taken, as giving a car a high performance race-tuned engine without the necessary braking improvements can be disastrous.
Tuning set-ups and upgrades can be tested and refined by taking it on an empty circuit using the Test Drive option. It's also a great way to learn a track without interference from other cars nudging you about.
New for this year are mods.
Basically these are booster cards that are purchased using in-game credits in packs of five ranging from 12,00CR for a base pack to 300,000CR for a premium pack. The cards can be used to increase things like grip and braking strength or increase the amount of XP/CR gain in a race or by achieving certain challenges. It's an excellent way to increase the depth of the game.
You get three slots to fill with mod cards. You can only use one of the unlimited Crew cards or the Dare card (which actually reduce attributes like braking for extra rewards). You can use as many single-use Boost cards as you have free slots. Mod cards can also be sold for CR.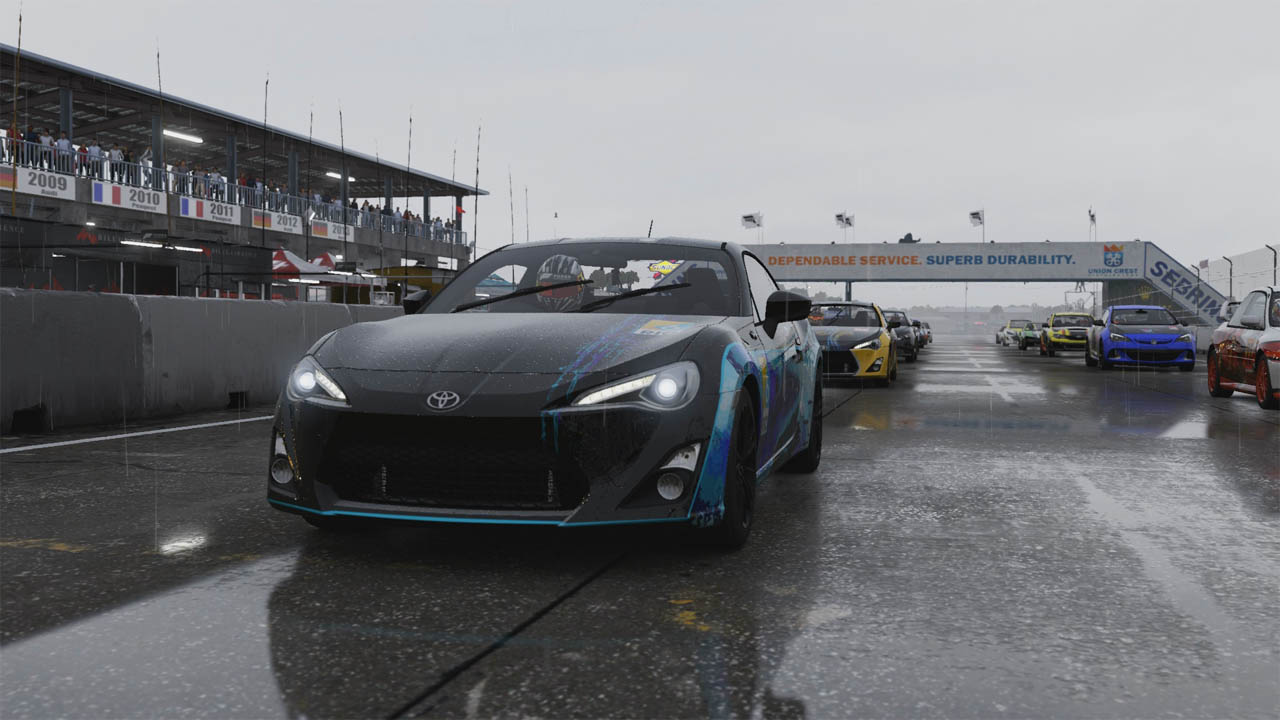 Forza Motorsport 6 is the pinnacle of console performance car circuit racing.
It offers players sublime vehicle handling and a visual fest. Packed with loads of circuits and alternative layouts as well as a massive amount of cars to race right out of the box, this is the new-gen Forza that we've been waiting for, refining the Forza 5 experience in every way.
This is an absolute must-have game for Xbox One racing fans.
Forza Motorsport 6 Review