A night at the cinema could be on you if you have a dimly lit living room or darkened den, with Samsung's latest in home entertainment, The Premiere.
A tri-laser 4K projector that will give you a screen up to 130 inches (your walls may depend on this).
Surprisingly compact and light for what it is, The Premiere will emblazon your wallpapered or painted wall with the greatest of Netflix marathoning, Disney+ episodic goodness, Amazon's prime offerings and of course, 4K gaming.
Samsung state that you'll get around 20,000 hours out of The Premiere before the laser needs replacing – I haven't tested THAT in the couple of weeks with the unit, but I can say the picture quality is superb, providing you have a bare wall or projector screen to beam on to.
Lighting is of course a factor.

Direct sunlight is not only detrimental to a Vampire's wellbeing, it can also wash out the quality of The Premiere's RGB projection.
So, if you have a well lit built-for-the-sun pad then you'll need some heavy curtains or a dimly lit corner if you're in for some daytime watching or gaming. Night, obviously is not an issue, again that is dependent on your home lighting conditions.
There's 3 HDMI ports and 1 USB. The Premiere is that of a smart TV.
Free to air channels and the most used apps are already there and any that aren't you can generally find on the Samsung Store (except Shudder – c'mon Samsung!).
Built on Samsung's Tizen OS there's Dolby digital for your ears, HDR10+ certification for your visual senses and of the various modes that we've seen on smart TVs over the years, The Premiere has a very interesting one, called Filmmaker Mode.
This aims to keep a film true to it's original directorial debut and removes such things as motion blur. You need to have a fairly hi-res film (4K or 8K) to really see the difference.
Gaming on a super large screen in 4K in a darkened room was… well, as you can imagine. Heaven.
The Premiere is not only a super flashy projector holographic-like tele it also has a booming soundbar built-in.

Ranging at 4.2 channel and with a 40 watt max output there's little need for anyother audio equipment.
With a modestly small footprint The Premiere is ideal for areas where you'd prefer not to have a large TV as the centerpiece of your space (or taking up space) and when it is not in use, it resembles a soundbar.
The Premiere does exceedingly well at projecting a large viewing frame at close proximity using Short-Throw technology. As a benchmark around 113mm distance from the projecting surface will give you a 100 inch 'screen'.
Usually a projector will need to be a decent way from a surface before you can get a sizeable and less squished image. The Premiere only needs a few inches.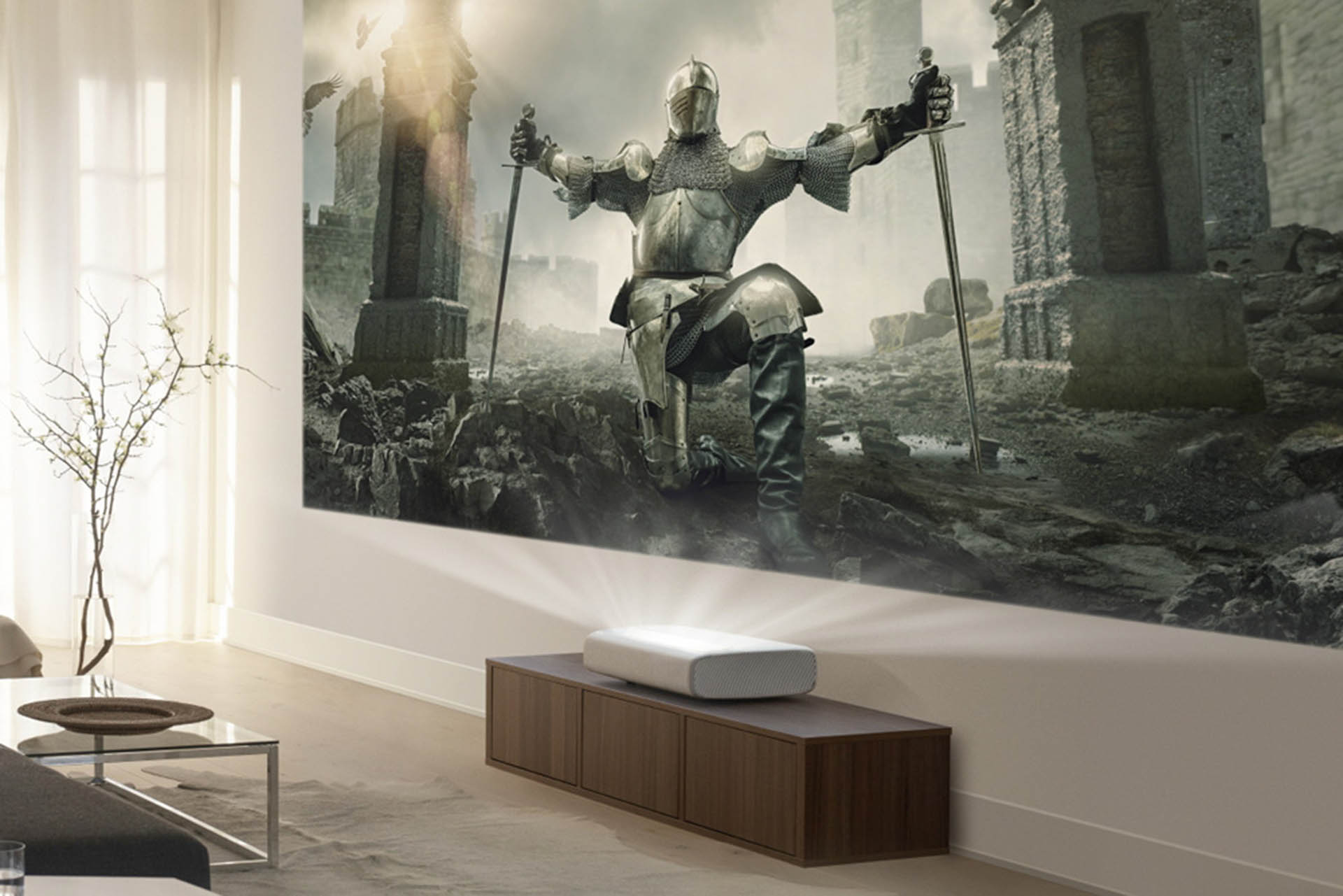 The Premiere is coupled with a smart remote, with voice (Alexa and Bixby) and if you have a Samsung smartphone you can integrate it into Samsung's 'Smart Things' and control the unit with your phone.
But The Premiere, as great as it is (and it is) comes at a price.
STG was sent the top model to play with, that being the SP-LSP9TSAXNZ. You wont see any change in the realm of over 10K NZD for this one, but there is a cheaper model coming in at just under 6K (NZD).
So, if you're cashed up and want to go for something a little different to impress mates or just for yourself to game the night away The Premiere is the laser projector to consider if you're not keen on mounting a general 4K projector to your ceiling at considerable effort.
I liked it. Alot. But the price tag is a bit hard to swallow.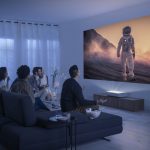 Samsung The Premiere Review