Parrot Minidrone: Hydrofoil Review
Is it a boat? Is it a Copter? Well, actually, it's kinda both.
Parrot's newly released Hydrofoil Drone takes to the air and water like the beast that it is.
From out of the box the fun starts, as you assemble the craft. It is put together like a kitset model, with small screws to fasten the motorised body to the Styrofoam hull.
From there a charge up of the battery (which for us in our trial runs took around 1 – 2 hours), then a sync with your iOS or Android device (you require the Parrot Droid App) and you are up and away. Literally.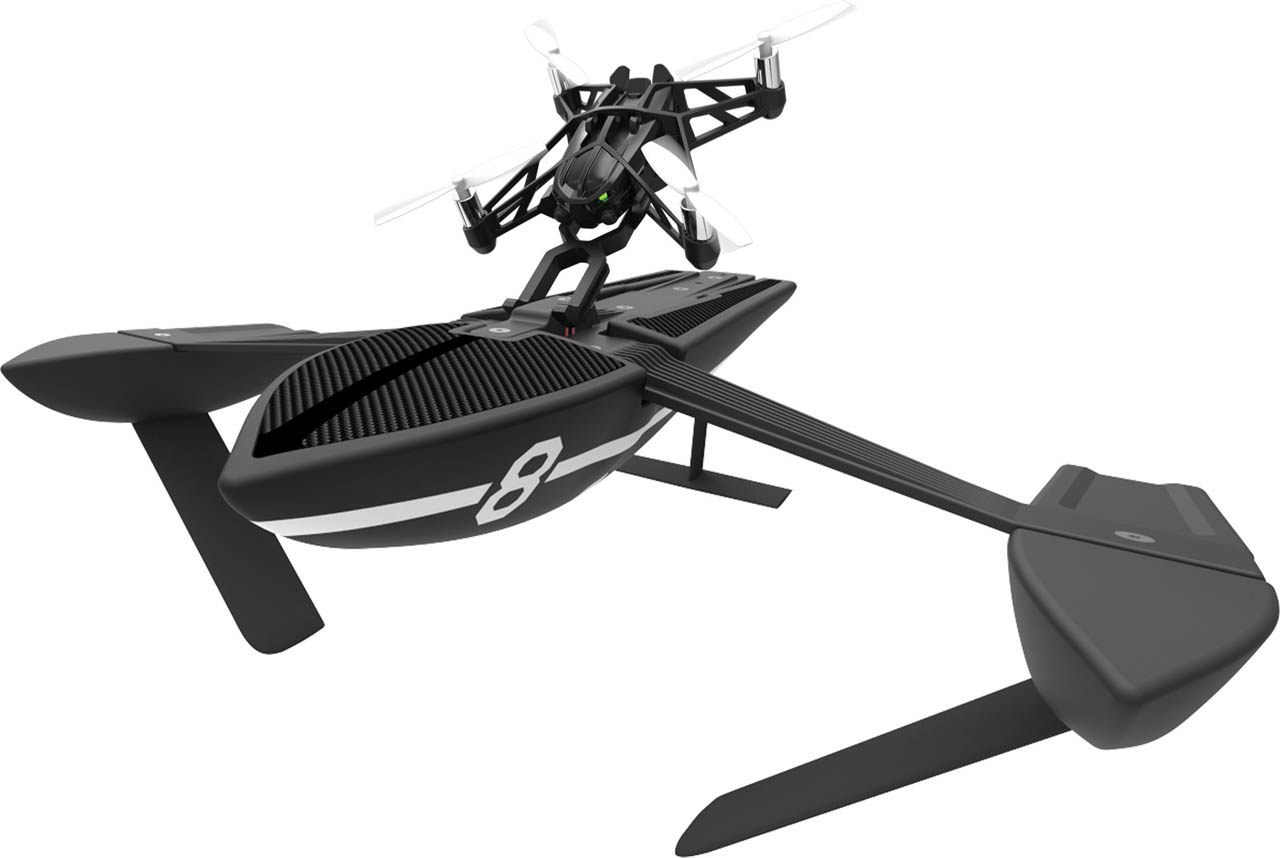 Looking sleek in black, we had the Orak Hydrofoil unit for review and we were extremely keen to start putting it through its paces, on water.
Placing the Orak in a local pond, there was a sense of overwhelming fear at first that it was all about to go wrong and whether my kitset construction skills were as good as I hoped they were.
Sure enough the Orak calmly floated as local ducks paddled nearby, unsure of what was about to be unleashed into their serene environment.
On water the Hydrofoil can purportedly reach up to 10 kms per hour. True this is not the fastest Parrot Drone in existence but for the smallish form factor size it sure made waves (yes terrible pun I know).
Infact it was a hell of a lot of fun skimming the surface of the local pond – but this is only half of the functionality that the Hydrofoil is capable of.
By this stage, I had garnered a few onlookers and alot of very wary and cautious ducks. As I held my Android phone in my hands, controlling the Hydrofoil like a Pro (or so I like to imagine) it was time for lift off. Removing the mini drone from the hull leaves you with a teensy sized Quad Copter.
Using the intuitive and simplistic UI of the Parrot Drone App 'take off' was a cinch and immediately the drone goes vertical.
However, this is where it got a bit interesting…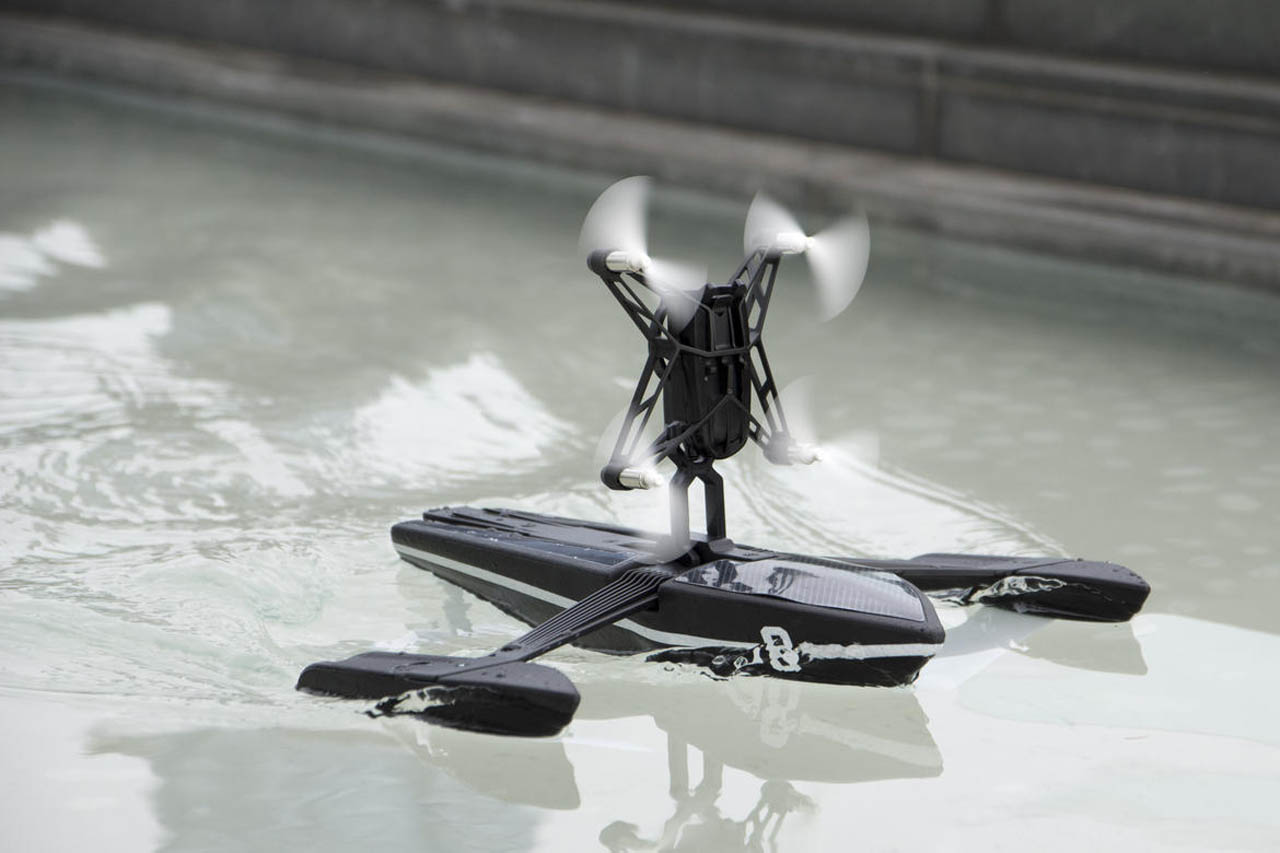 It would seem that aeronautics for the Hydrofoil, while designed for this aquatic to air transformation, started to annihilate the battery life. Very quickly.
We seemed to get more super awesome fun time with water sports than we did aerial acrobatics. And by acrobatics, I really mean acrobatics, as the on screen menu with it's virtual joystick controllers has what I would term as short cut buttons to perform expertly crafted airborne tricks; 90, 180 and even 360 degree flips.
As modestly impressed as we were, the five or so minutes of battery juice disappointed us. So you would be wise to have a spare battery or three if you are planning a full on Drone-a-thon.
The Hydrofoil is also equipped with a small camera, as we have come to expect from all Parrot Drones – but it's a VGA (not HD), (480×640) 300,000 pixels and there is no live video feed to your smart device. It's only after the full on flying or sailing session that you are able to then view the video data. But there's a catch with that too – only 1GB of flash data is on the Drone. So you will pretty much want to view / keep after every use, or lose it.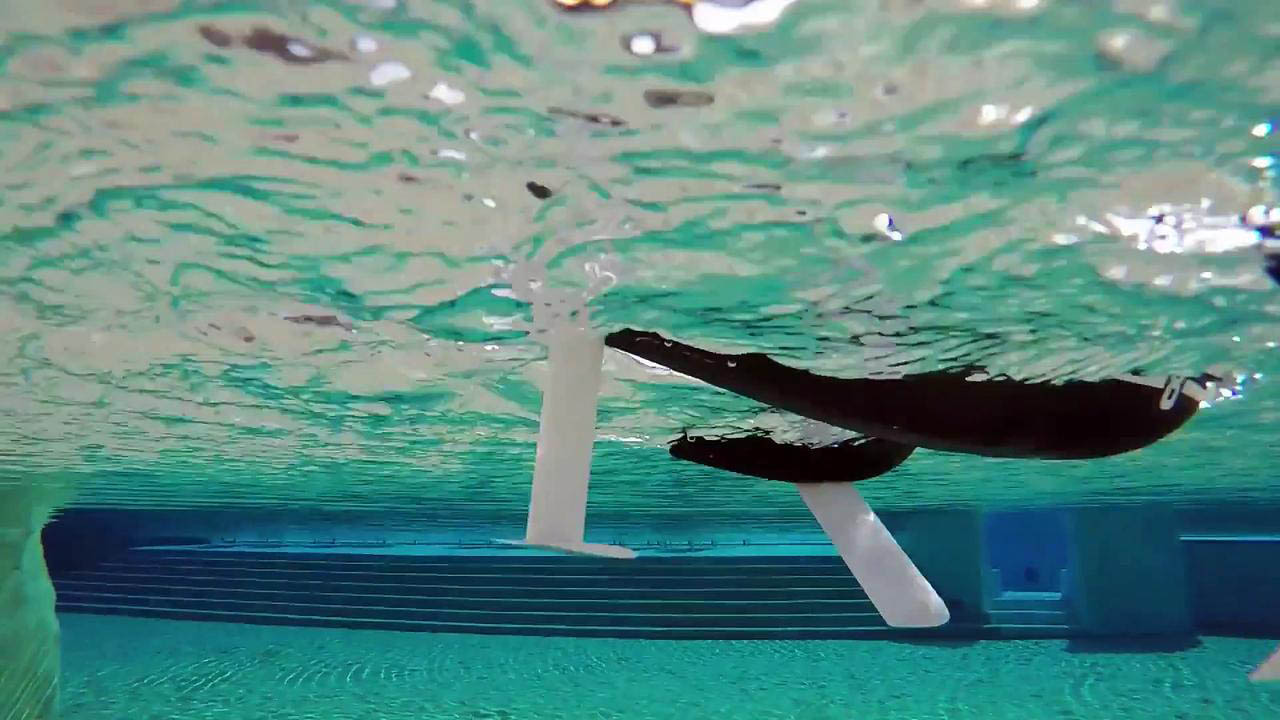 Bearing in mind, that this is a mini-drone and not of the same caliber as, say, a Parrot 2.0, and as the battery life in water and in air is super short, we suspect that the decision to not have a video feed to your iOS or Android controller / device was due to how quickly the power already drains.
The Parrot Hydrofoil is essentially two differing types of R.C., controlled by one mini-drone, so mini it fits in the palm of your hand.
The Hydrofoil is totally designed for fun and, well, short lived fun if you only have one battery. It borders on being a toy, but still oozes that professional suave that all Parrot Drones are synonymous for.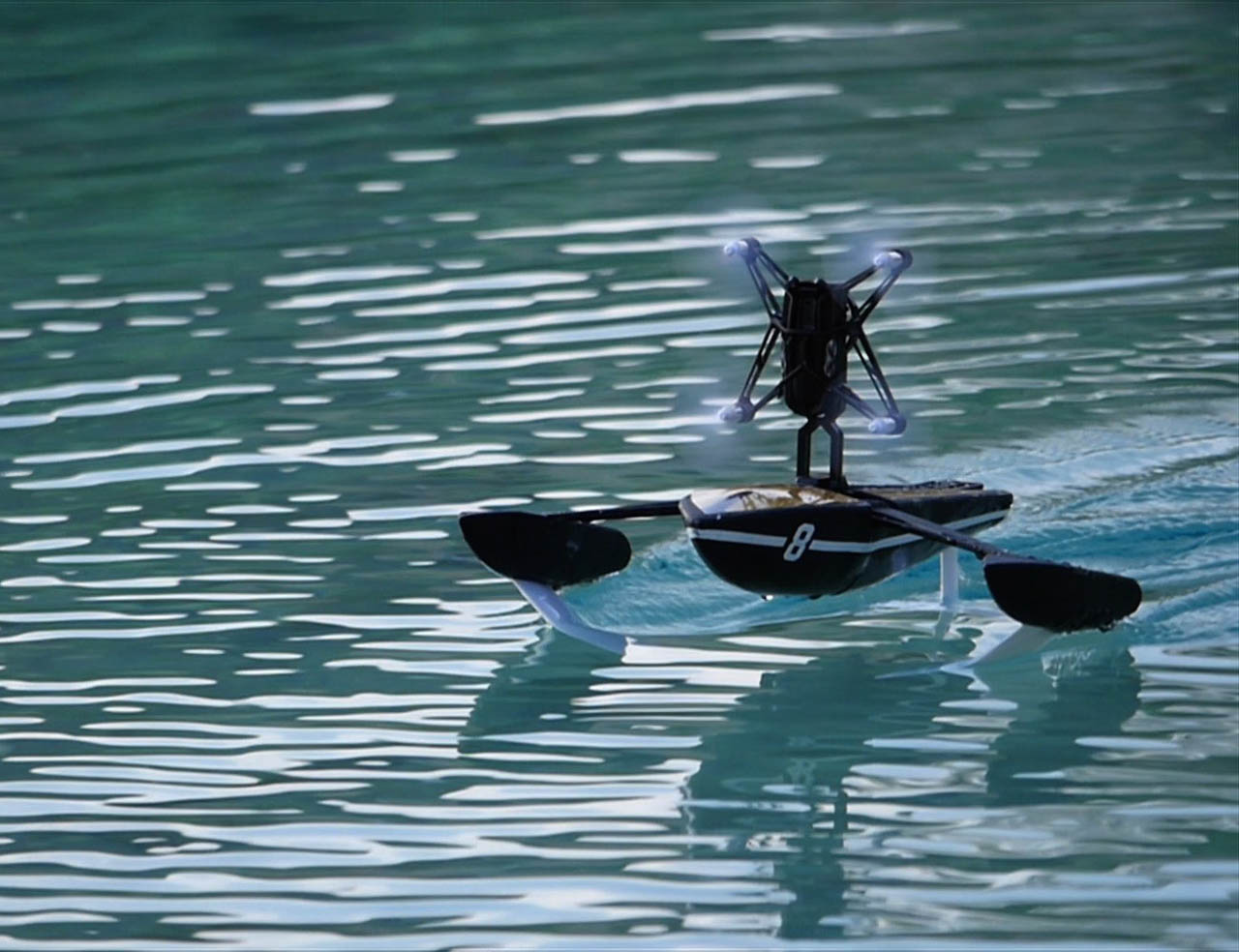 We also felt that the cost factor could be a bit of a put off for many aswell, just shy of $300.00 (NZ and AUS). You can get the mini drone separately for a smidgen less, but if you are going to go for the mini, you may aswell go for the whole hog.
Parrot's Hydrofoil, it's an excellent adventure, if not over too soon into play time.