It's a very true statement that correct lighting makes the perfect gaming experience.
Whether you have your own gaming room or den or simply at a desk, setting the tone for your PC based battles can give you much needed edge and focus.
Manufacturers of PC and console gaming peripherals; Logitech, know this and they have gone the extra mile and then some for their newly released G560 PC Speakers.
A simple concept that goes along way in the PC audio market – and a much needed one at that. What's more, you get optimum power at little footprint. The desktop speakers and vertical sub take up little room.
Button and control placement's are good too. Volume and G-Sync are located at the top of the Right desk speaker. Bluetooth, lights toggle and power at the rear of the same speaker.
The biggest attraction point for the G560's is the RGB lighting.
With multi-coloured LEDs at the rear of each of the two satellite desk speakers and additional LED lighting within the side stands the G560's will pulse, flash and flicker to your audio or on standby.
The lighting effects can be controlled via Lightsync – Logitech's downloadable G Spark and Gaming Software Apps for Windows 10. Within these you can set the flow, style and hue's for whatever your heart desires. It is also in here where you can tweak the audio settings, including virtual 5.1 or 7.1 surround. Being a 2.1 channel set up, when either of the virtual audio selections are chosen, you'd almost be convinced that you had more speakers than just the three.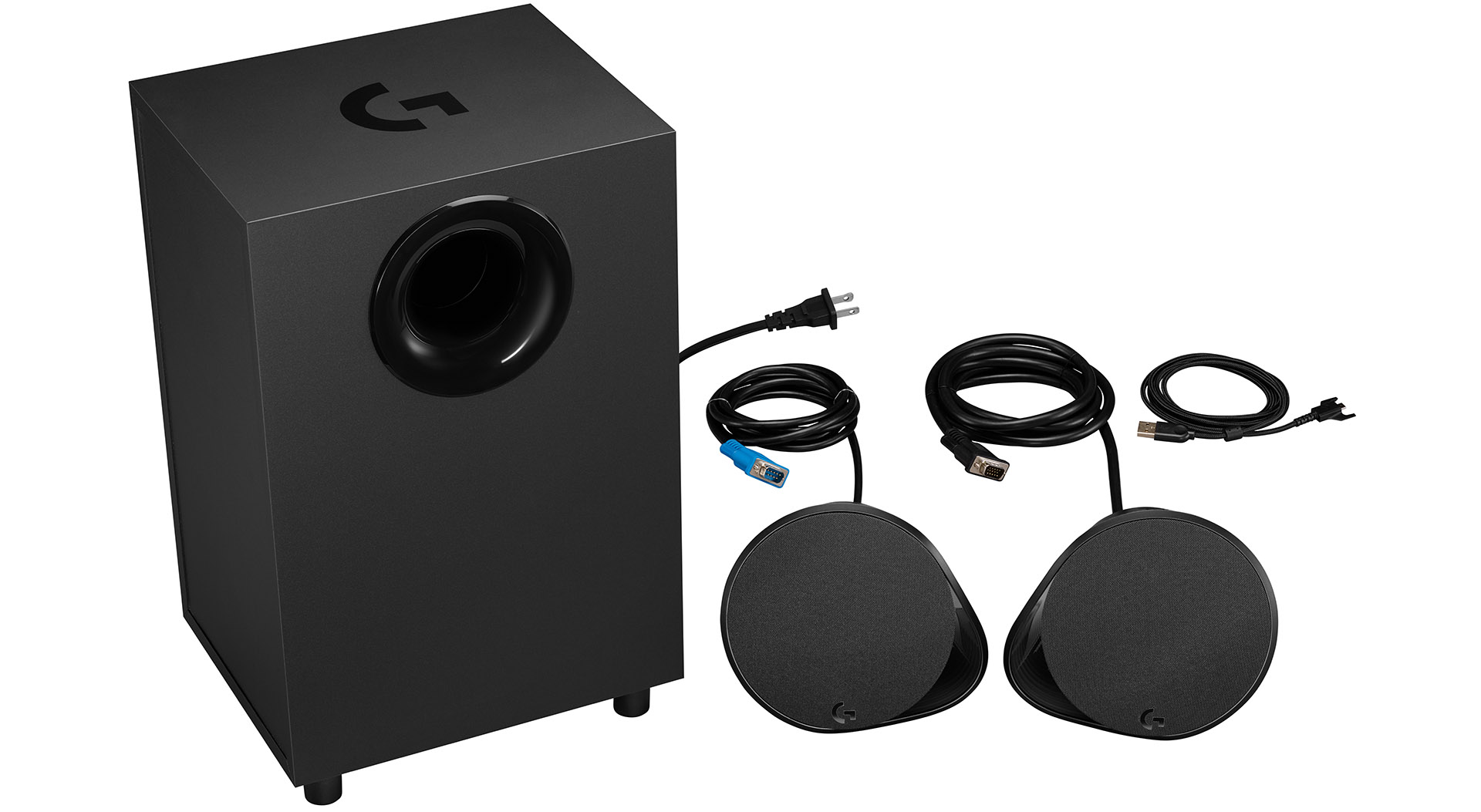 The speakers themselves, well, just amazing. The two satellite speakers connect to the sub, which drives the audio experience via colour coded VGA-like connectors, and supplies the power.
There are three ways in which you can connect up the G560's.
Bluetooth to any Bluetooth enabled device, USB and the old but stable 3.5mm connection.
I tried all three connections and found the USB and Bluetooth to give a better audio experience as far as clarity and bass. In saying that, The G560 allows simultaneous connections.
For example, my Alexa Dot is connected to the G560 via Bluetooth, while my laptop is connected via USB. I do not need to fuss about with disconnecting one in order to connect the other.
I can and I do have both seamlessly working together. This gives me superior audio freedom. I can chat away to Alexa while playing audio from my PC. Or I can command Alexa to play something from Spotify while I have a game running. Giving me the best of both worlds.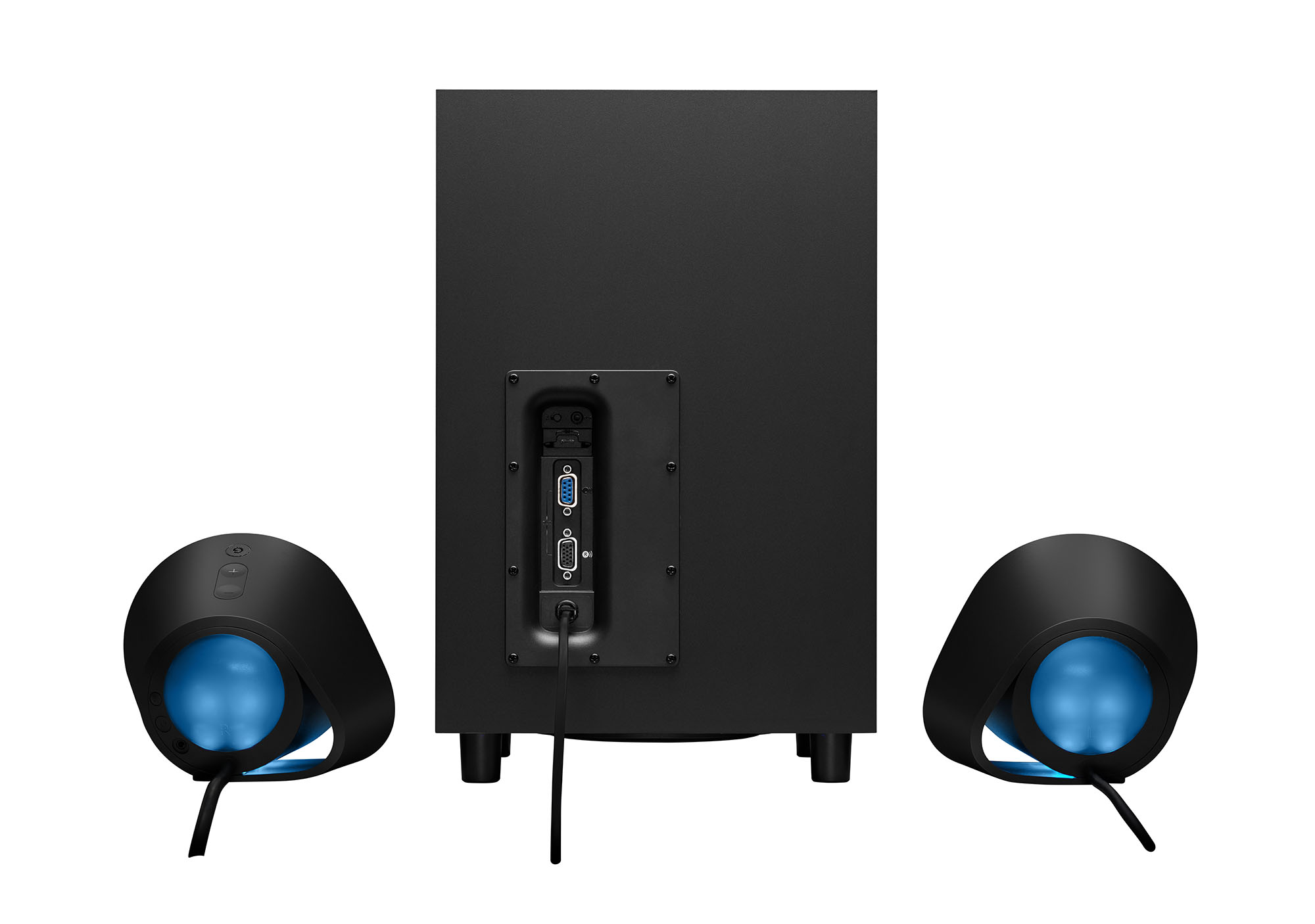 Superior audio is not complete without rumbling bass. Of Course.
The G560 unit comes with a floor standing 6.5 inch Sub naturally enhances the two desktop speakers, belting out your gaming exploits or playlists at a wall vibrating 240 watts maximum (120 watts RMS).
The Logitech G560, from their PC gaming G Series are, in my opinion, the supreme ultimate for PC audio currently available.
A setup you will have zero regrets having purchased.
[rns_reactions]
Logitech G560 PC Speakers Review