To tie in with the release of Avengers: Endgame, AI and robotics company Ubtech launched the Iron Man MK50 app-controlled robot.
At 330 mm in height with exaggerated, caricature-like dimensions, the Iron Man robot looks like an oversized cousin of a Funko Pop figure. It's quite heavy and despite it's plastic construction, comes across and pretty robust and well-built.
Switching Iron Man on via the switch on the back of his neck starts up a faux diagnostic sequence that has Tony Stark talking to the armour's on-board AI, Friday. In this mode, the robot will respond to light and movement if you pick it up. It also seemed happy to gibber to itself on occasion when left unattended. A hidden panel on his back conceals a USB port for charging and a reset button.
As is the norm for this sort of thing, the robot really needs to be paired with a mobile phone running the Ubtech Iron Man app in order to function properly. During the app registration the robot is assigned a password, which is a bit strange, but maybe something to do with some of the customisation options.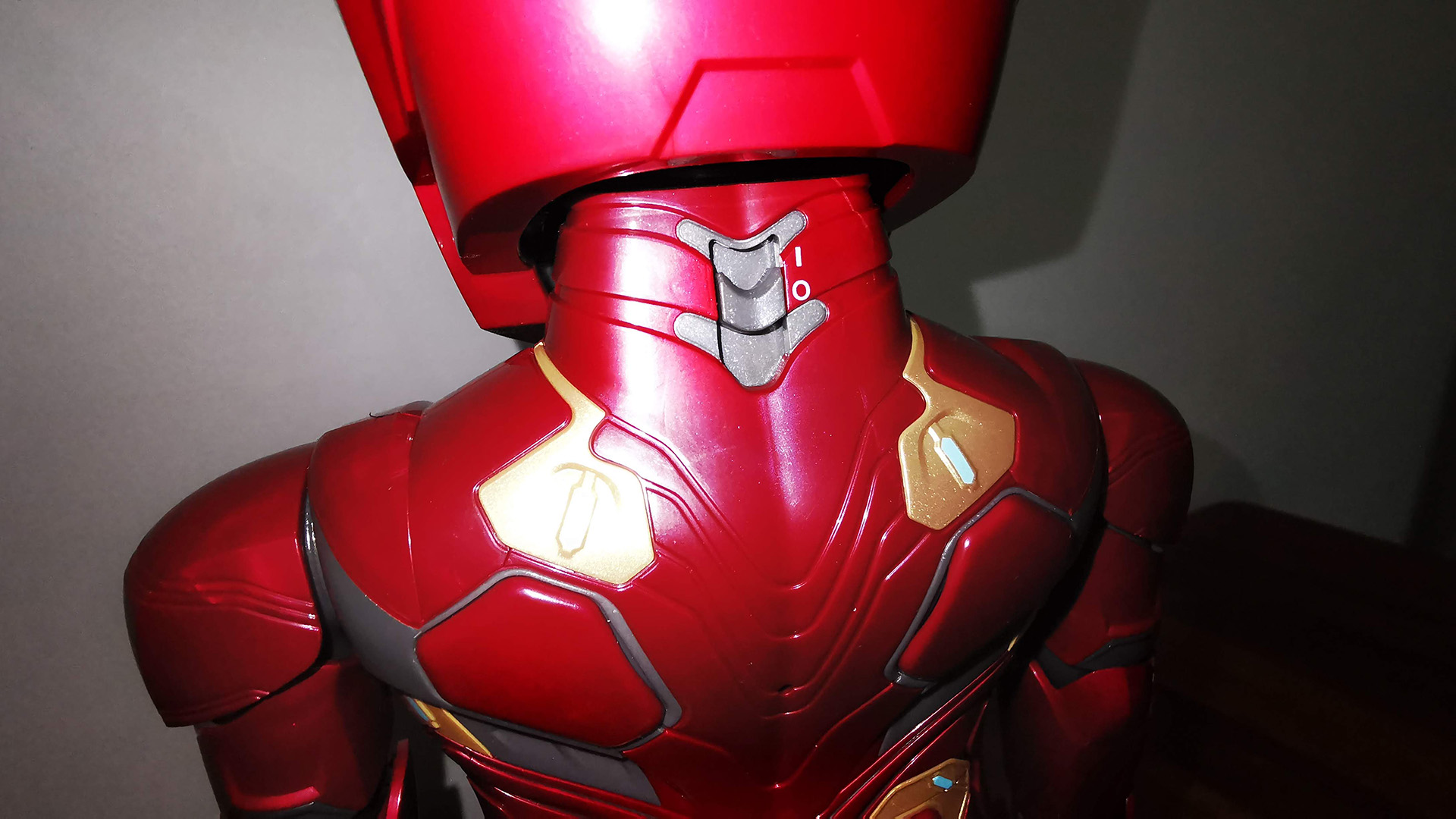 From the app there are a few ways to use the Iron Man robot. There's the Nanotech AR game mode and the Protocol mode that allows direct control of the robot.
The Nanotech AR test range uses a target mat that you stand the robot on. Using your mobile phone display, you are presented with visuals that match your view of the Iron Man robot, replaced with animated graphics. You aim your phone at the enemies and Iron Man fires at them. The in-game Iron Man's movements are matched by those of the robot. I really can't say it was a lot of fun.
Protocol mode is a lot better, though. Here you can control Iron Man directly.
There are a number of pre-programmed actions that have him chatting and responding to the environment. For instance, he can fire his repulsors and prepare for take-off, with the suits' lights activating appropriately. All of the suit light colours can be customised via RGB sliders. He can even flip open the front of his helmet to reveal an LCD screen displaying Tony Starks head, which is neat.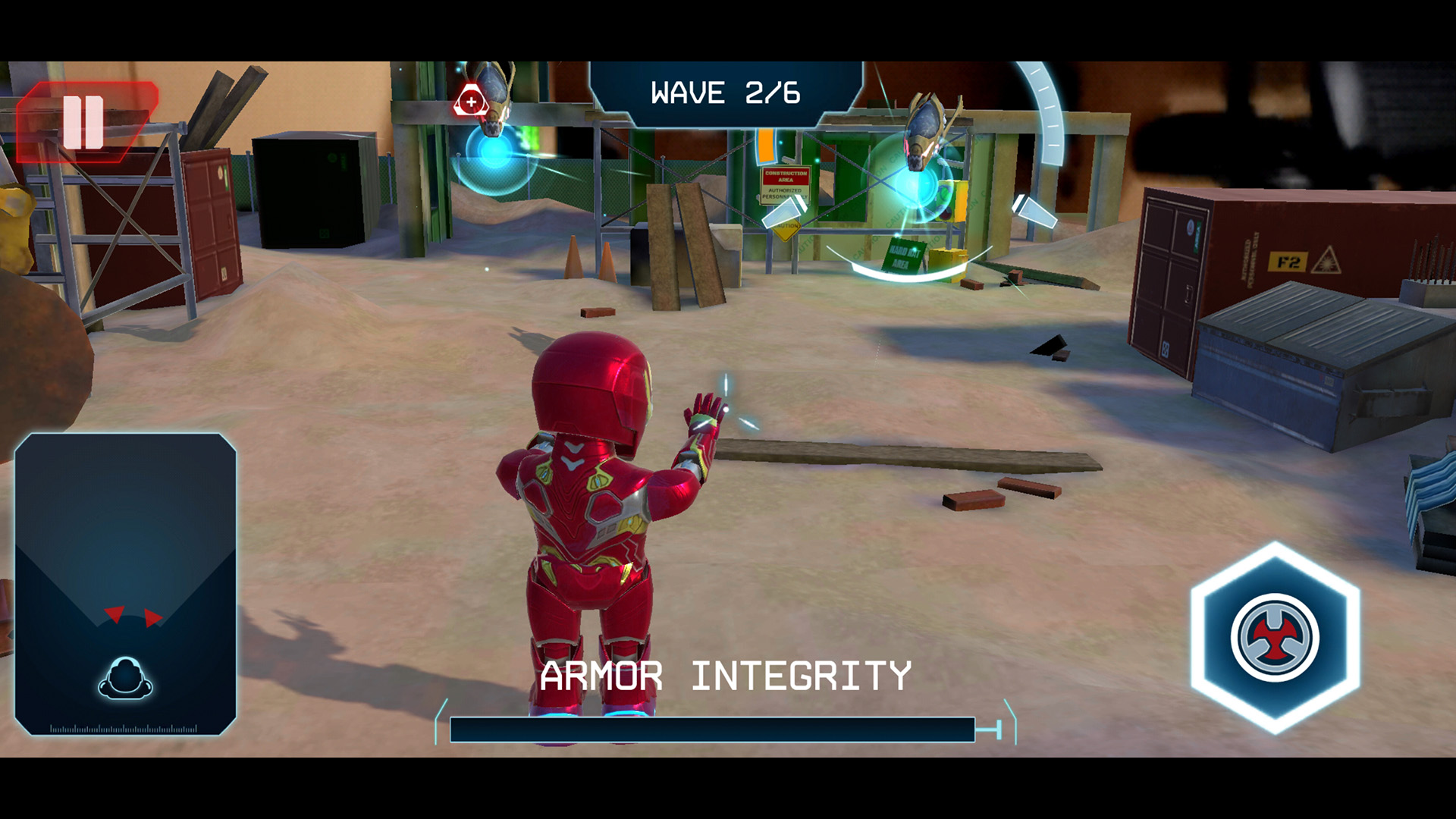 The little robot's movement is quite limited. He can twist at his hips, left and right, raise and lower his arms, bend his elbows and his wrists, as well as move his head left and right. Most of those movement are for pre-programmed actions, with the operator only able to control the head, hips and arms. Whilst Iron Man can walk, it walks embarrassingly slowly. This Avenger can't even properly negotiate carpet, let alone defeat Thanos.
Iron Guard puts Iron Man into an alert mode. Users can select from mic, light and motion sensors to have him watching for changes in his environment's lighting, listening for sounds and detecting movement, and acting accordingly. This is a great mode to have him sitting on your desk, chirping up every now and again.
Apart from the general novelty of having a little Iron Man chatting and guarding your desk, the block programming mode is probably the most interesting of the robot's attributes.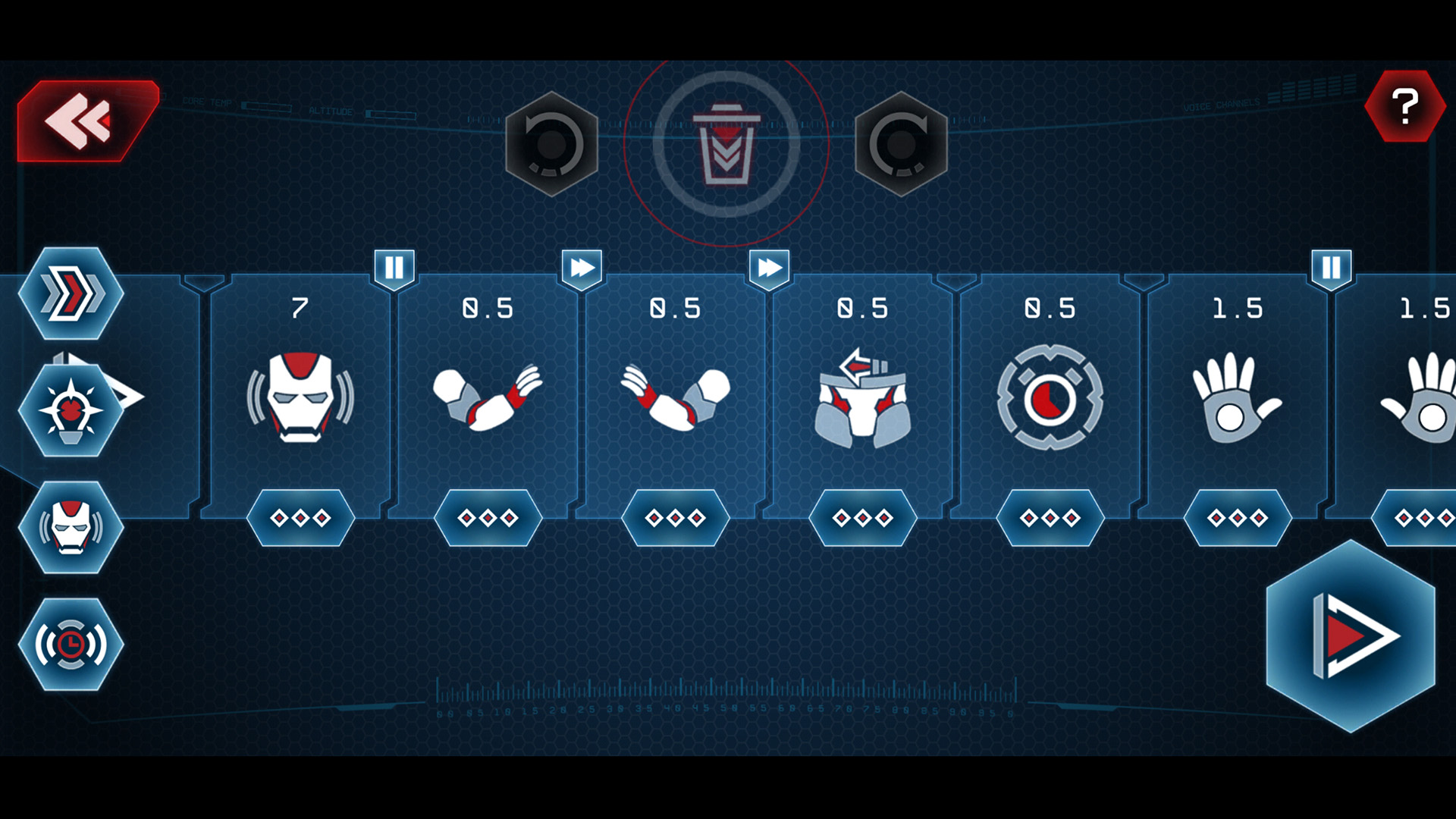 Using simple command icons and timings, the robot can be programmed to carry out custom actions by the user. This elevates the robot from being an expensive, albeit fun, executive toy, to being a legitimate STEM training aid. Which, I might add, is a great way to pitch the potential purchase to the member of the family holding the purse strings.
I enjoyed my time with this talkative little robot and I'll miss playing around with this pint-sized Iron Man. But at around AU$400 it is far too expensive for the functionality it has. Compare this robot to, say, Sphero's equally awesome, but far more authentic-looking R2-D2 and Iron Man is twice the price. Don't get me wrong, is a splendid effort, and it's clear that the manufactures have spent some time on it, it's just the end result isn't quite as impressive as I feel it should be, at least at that price point.
If you are a fan of The Avengers, Iron Man in particular and are after something a little different, you should check out Ubtech's little Iron Man MK50 robot, even if it is a bit pricey.
[rns_reactions]
Iron Man MK50 Robot Review