It's the heart of any PC build and your entire PC experience depends on it, that's why picking the right motherboard is so important.
Is the ASUS TUF Gaming Z790 WIFI D4 the motherboard you are looking for? Let's take a look.
I'll be honest. I'm a huge fan of ASUS motherboards, they tend to be easy to install and easy to configure. They also provide a simple way to overclock your CPU and get that little extra out of your system. The TUF Gaming Z790 WIFI D4 looks like another winner for ASUS.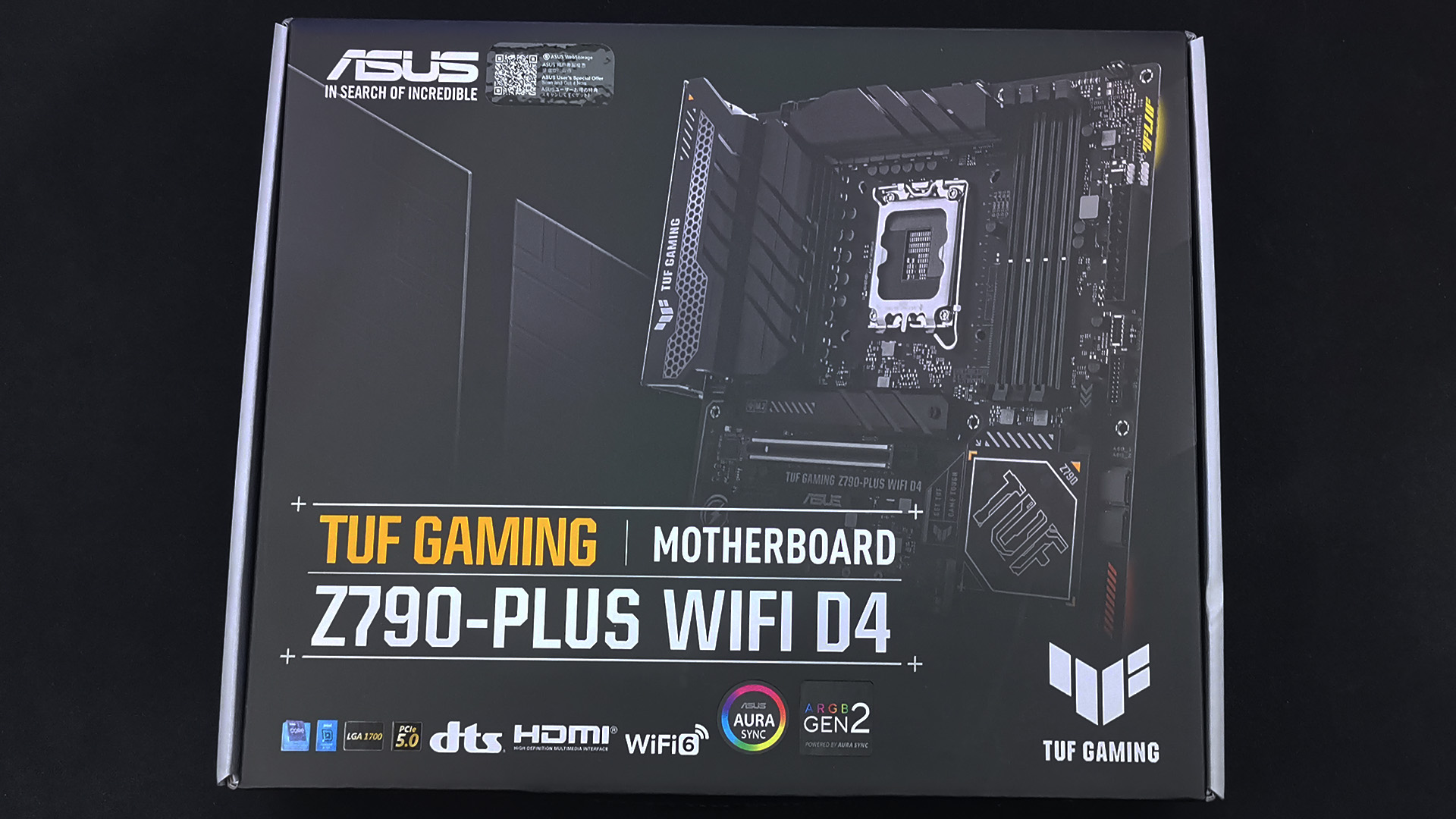 The Z790-based motherboard supports both Intel's new 13th generation Raptor Lake CPU as well as Intel's 12th generation processors. It also supports up to 128GB of DDR4 memory.
As a TUF board, it's built rugged. The board feels solid in your hands. The built-in input/output shield means that the board slides nicely into your ATX case.
As I assembled the test rig, I found the board's screw holes matched perfectly with the Corsair case's standoffs. As any system builder will tell you, it's nice to have a board just drop into a case without feeling as if you are forcing or bending it into position.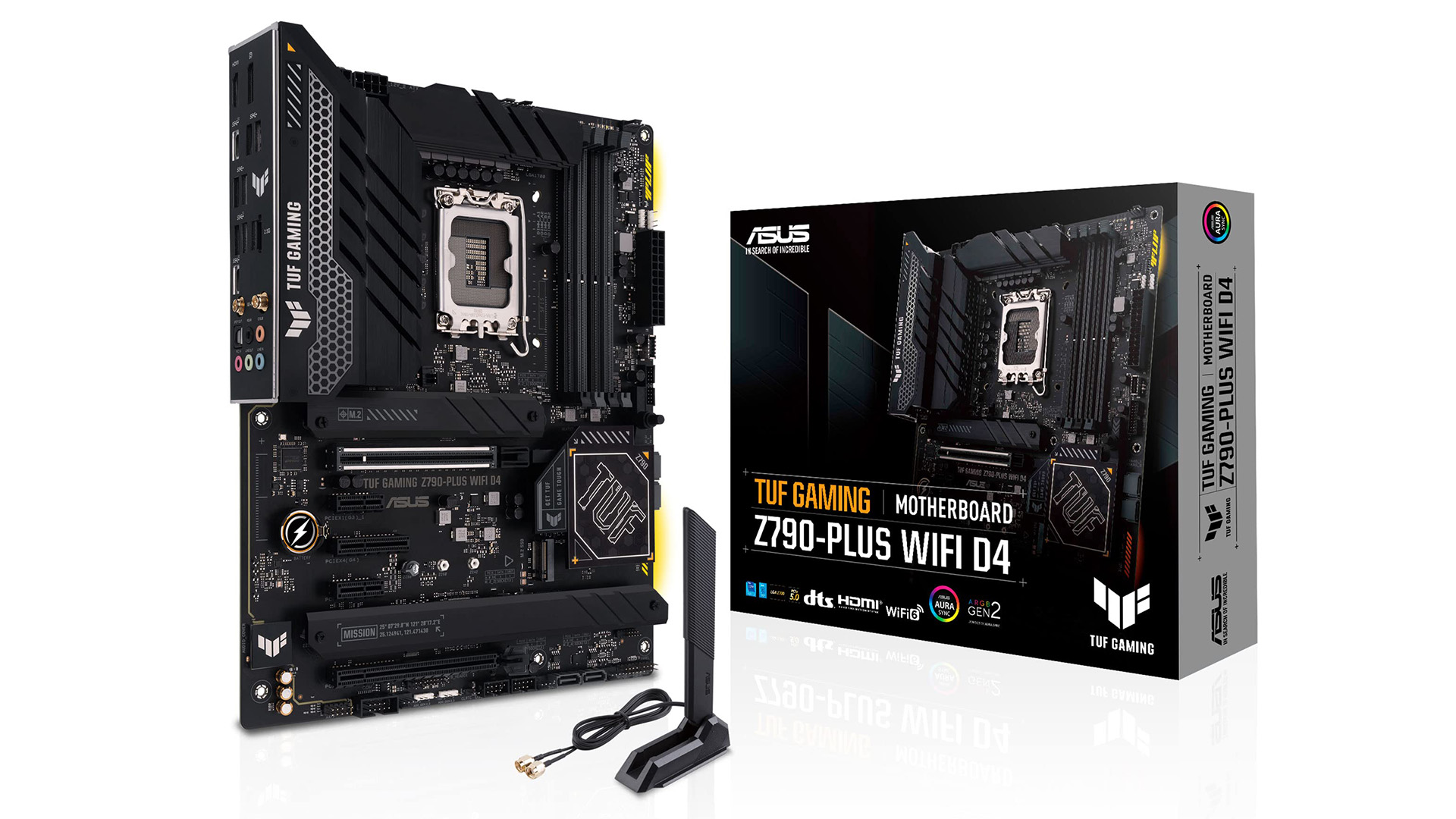 This board is an upgrader's dream.
As I mentioned, this is a DDR4 board. Whilst the purists may want to take advantage of the Z790 chipset's higher DDR5 speeds, I'm still on the fence as to whether you are getting the bang for your buck over DDR4. This is especially true if you already have some decent DDR4 modules and are thinking of upgrading to an Intel 13th-generation CPU (or a 12th gen CPU- more below).
With a capacity for up to four DDR4 modules supporting up to 128GB running at a max of 5333MHz, this ASUS board's memory capacity will do for most users.
The Intel CPU socket looks essentially the same as it has been for a few years, just with the number of pins increasing for Intel's 12th-generation CPUs. This means that older PC coolers may not work with the LGA 1700 socket, though some offer adapter kits. The Z790 chipset supports both the older 12th-gen CPUs as well as Intel's new 13th-generation Raptor Lake CPUs. This offers some flexibility and an upgrade route if budget is a concern, which is another tick for upgraders. I paired the board with an Intel Core i5- 13600K, a decent CPU that offers great performance in games at a reasonable price.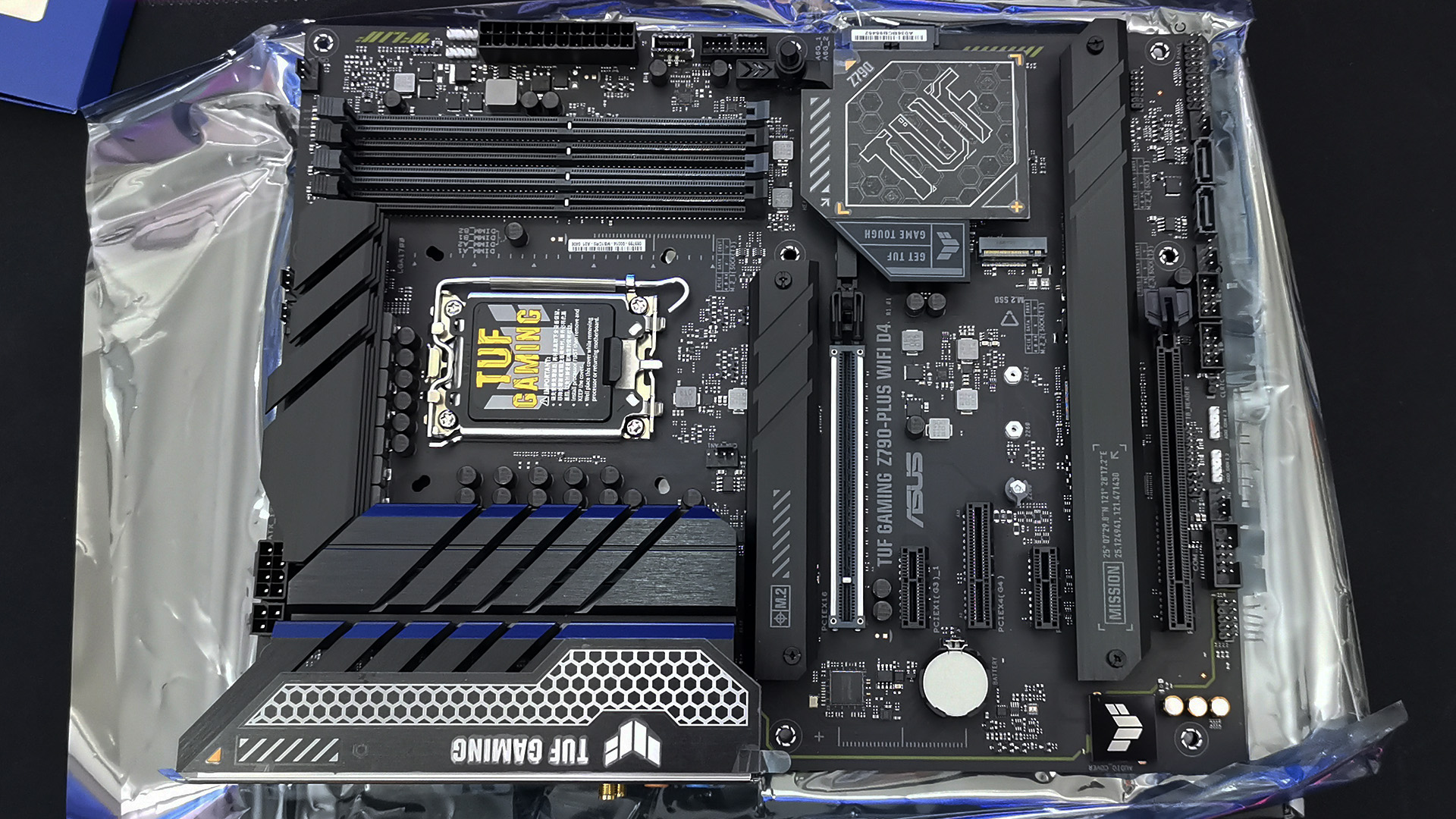 The ATX power is supplied from the power supply unit to an 8-pin and a 4-pin socket on the board. This is worth noting as I have to get an adapter for the 4-pin socket.
DDR4 modules are easily installed. I used two PNY DDR4-3200 modules. The RAM slots only have a clip at the top, as part of ASUS Q-Design Q-DIMM, so you have to make sure the bottom of the module is properly seated as you push it in and the clip at the top clicks into place. This can be a bit disconcerting but it is designed to make inserting and removing modules easier. You just have to be a bit careful if you are unfamiliar with ASUS boards.
Another stand-out feature of ASUS boards is the M2 Q-Latch. Instead of messing around with a tiny screw to hold in M.2 SSDs, there's a little latch to secure the devices in place. I find this especially useful as I'm always removing and replacing M.2 drive for reviews.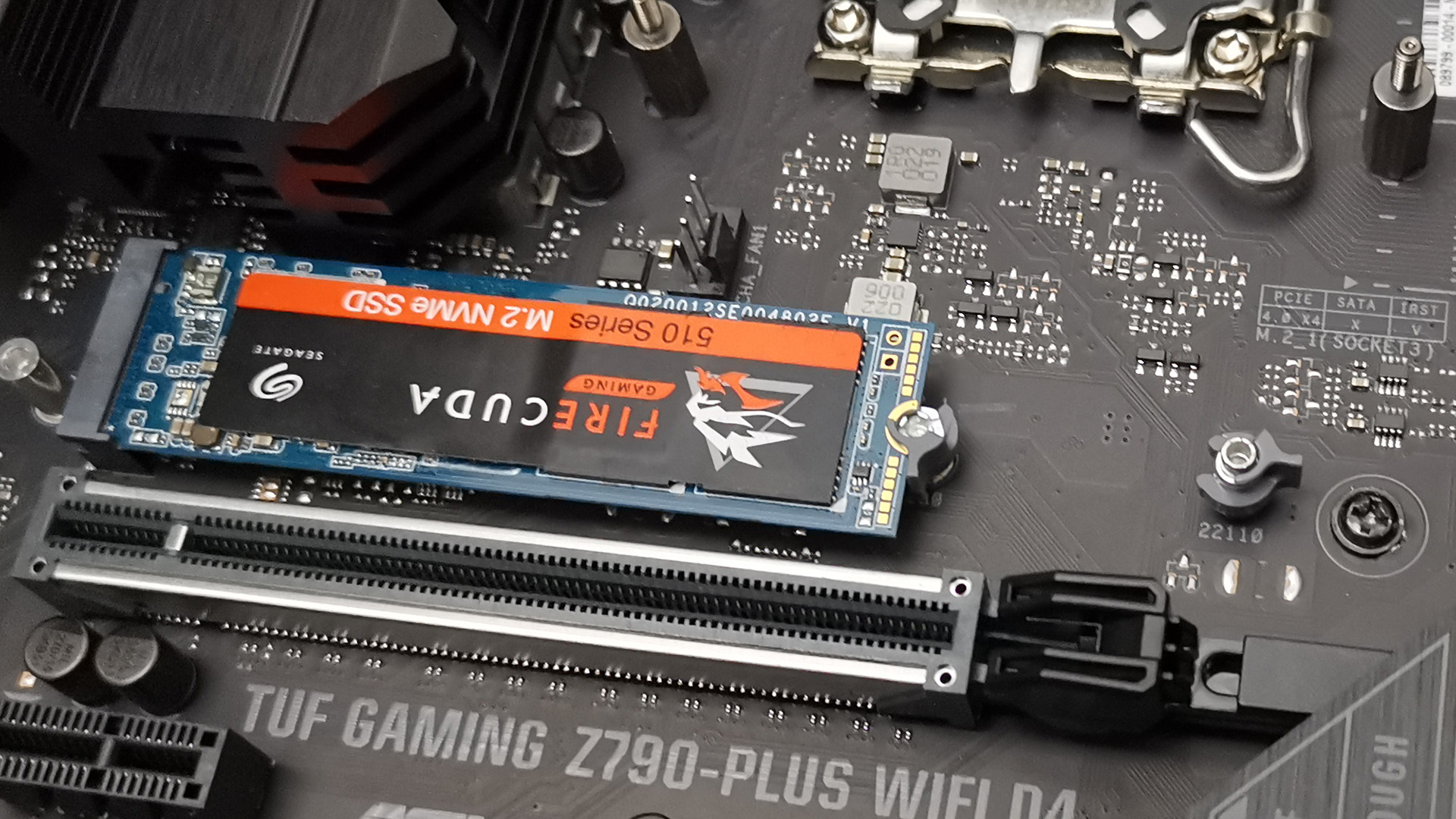 With four SATA 6GB/s ports and four M.2 slots, there are plenty of data storage options. All the M.2 slots support PCI 4.0 x4 with one slot also supporting M.2 SATA drives. Three of the M2 slots have integrated heatsinks styled to match the industrial look of the TUF board.
There's a reasonable amount of expansion slots, something even the more expensive motherboards tend to scrimp on. There's a fast PCIe 5.0 x16 slot for the graphics card, a PCIe 4.0 x16 slot, a PCIe 4.0 x4 slot, and 2x PCIe 3.0 x1 slots.
One of the two PCIe 3.0 slots will likely be obscured by your GPU, though. I paired the board with a Radeon RX 6600 XT, a great GPU from AMD that's perfect for 1920×1080 gaming, and also doesn't do too badly when pushed to 4K with FSR.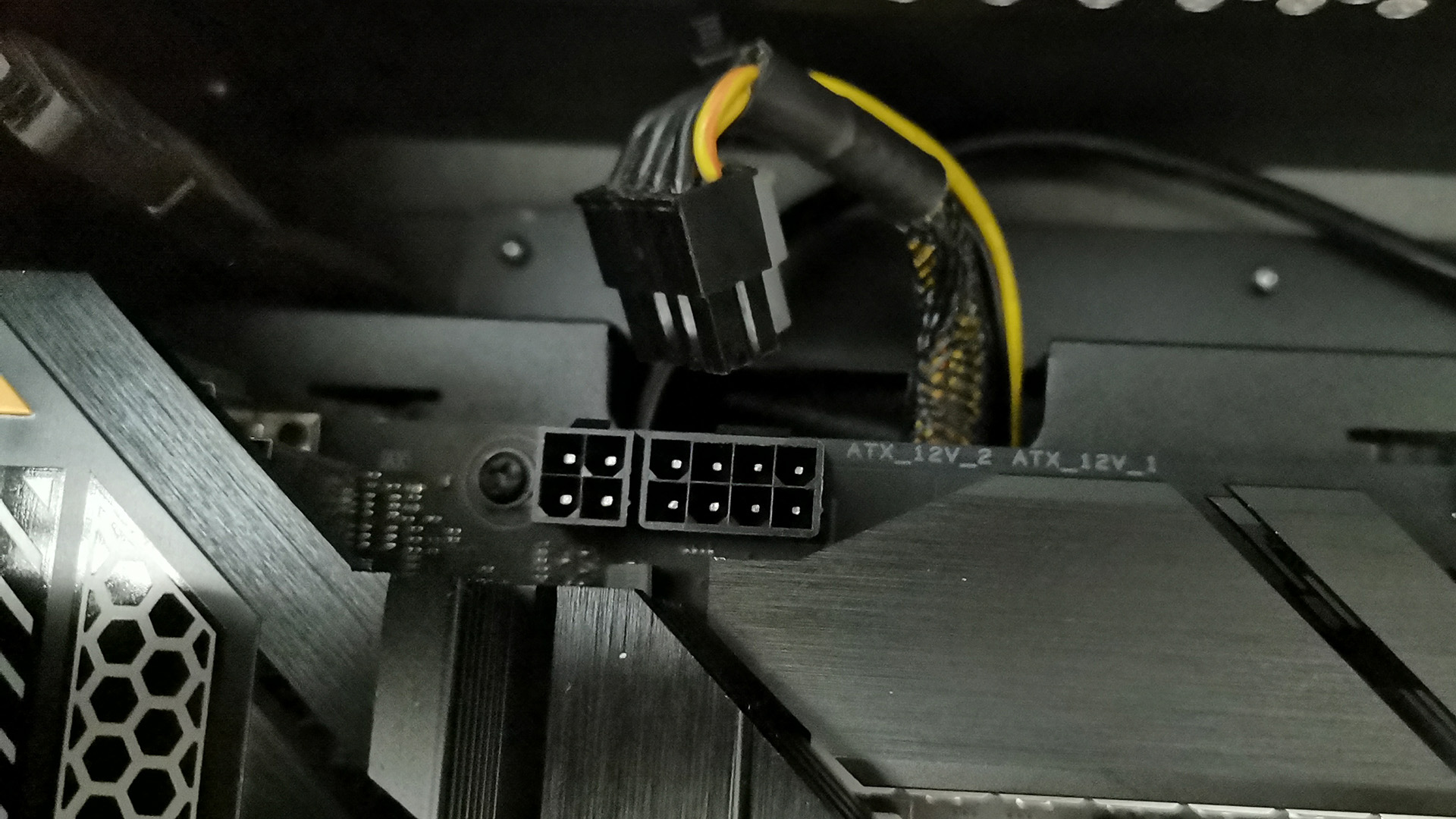 The generous number of USB ports should be enough for most users.
The rear panel has 8 ports: 1x USB 3.2 Gen 2×2 port (Type-C), 3x USB 3.2 Gen 2 ports (2x Type-A and 1x Type-C), and 4x USB 3.2 Gen 1 ports (Type-A). There are headers for a further USB 3.2 Gen 2 Type-C port, 2x USB 3.3 Gen 1 ports, and 4x USB 2.0 ports on the front of your case.
Sound is provided via a Realtek S1200A chip that supports 7.1 surround sound. The I/O panel has five 3.5mm audio outputs plus an optical S/PDIF output.
The board supports Wi-Fi 6 at 2.4GHz and 5GHz as well as Bluetooth v5.2 connectivity. There is an external Wi-Fi antenna that screws into two connectors on the back panel. The board also has an RJ-45 2.5Gb Ethernet socket for wired networking.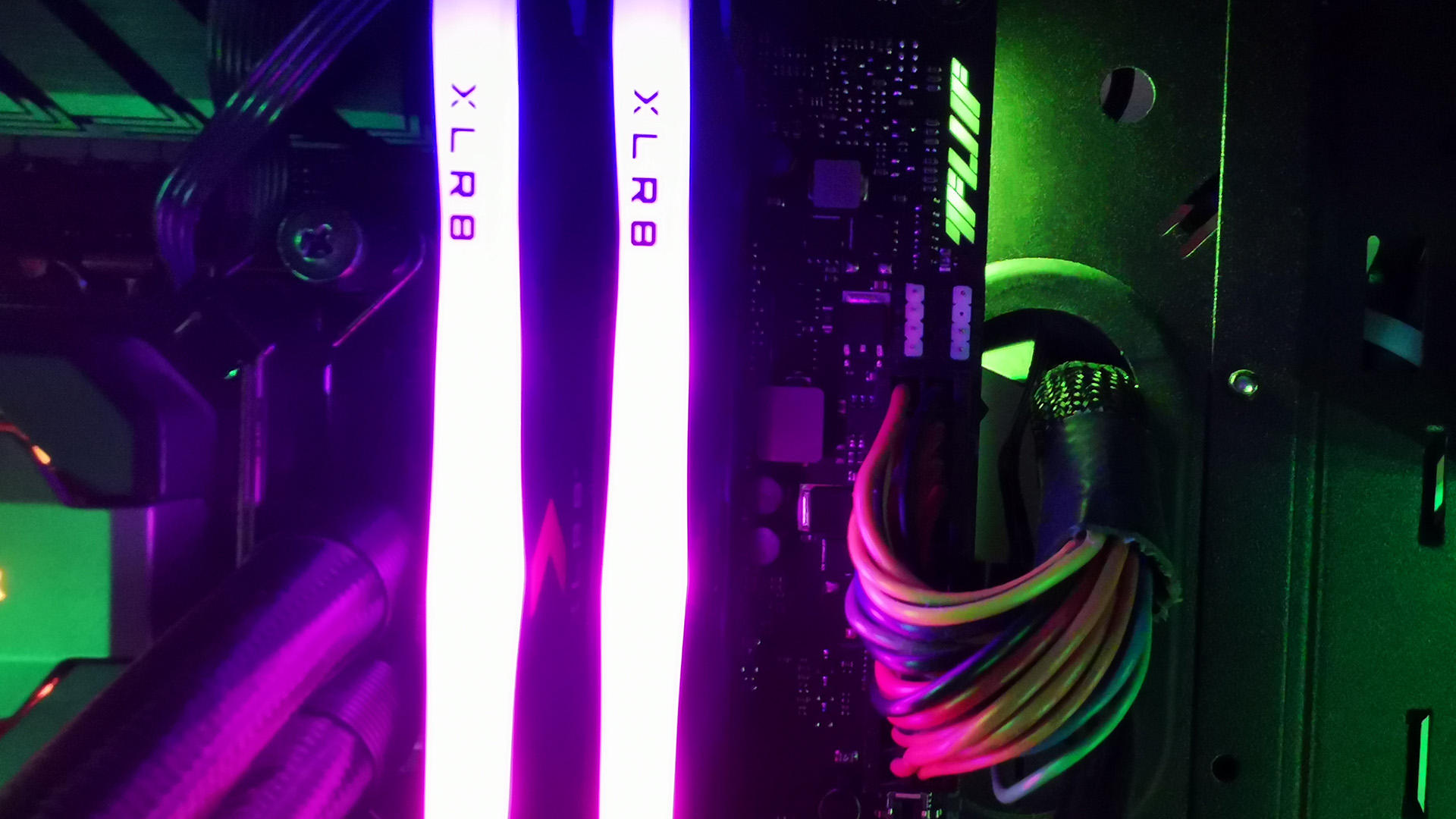 Whilst the test rig booted up with no trouble, that's not always the case, even for seasoned system builders. There's always a chance that you have a faulty component or something is not quite pushed in firmly enough. This is when the board's Q-LEDs come in very handy for novice and expert PC system builders, alike.
These LEDs at the top of the motherboard signal the status of the CPU, RAM, Display, and boot device on startup. These are very useful for troubleshooting and locating boot issues.
With the PC booting up, it's on to another noteworthy feature, the ASUS UEFI BIOS. With both a basic (EZ) and advanced mode, the clean and tidy interface allows the board to be set up with ease. The only setting I needed to adjust was the XMP profile to get the most out of the DDR4 memory, the rest I could leave alone. The BIOS has AI fan control and overclocking to squeeze a little bit more out of the CPU.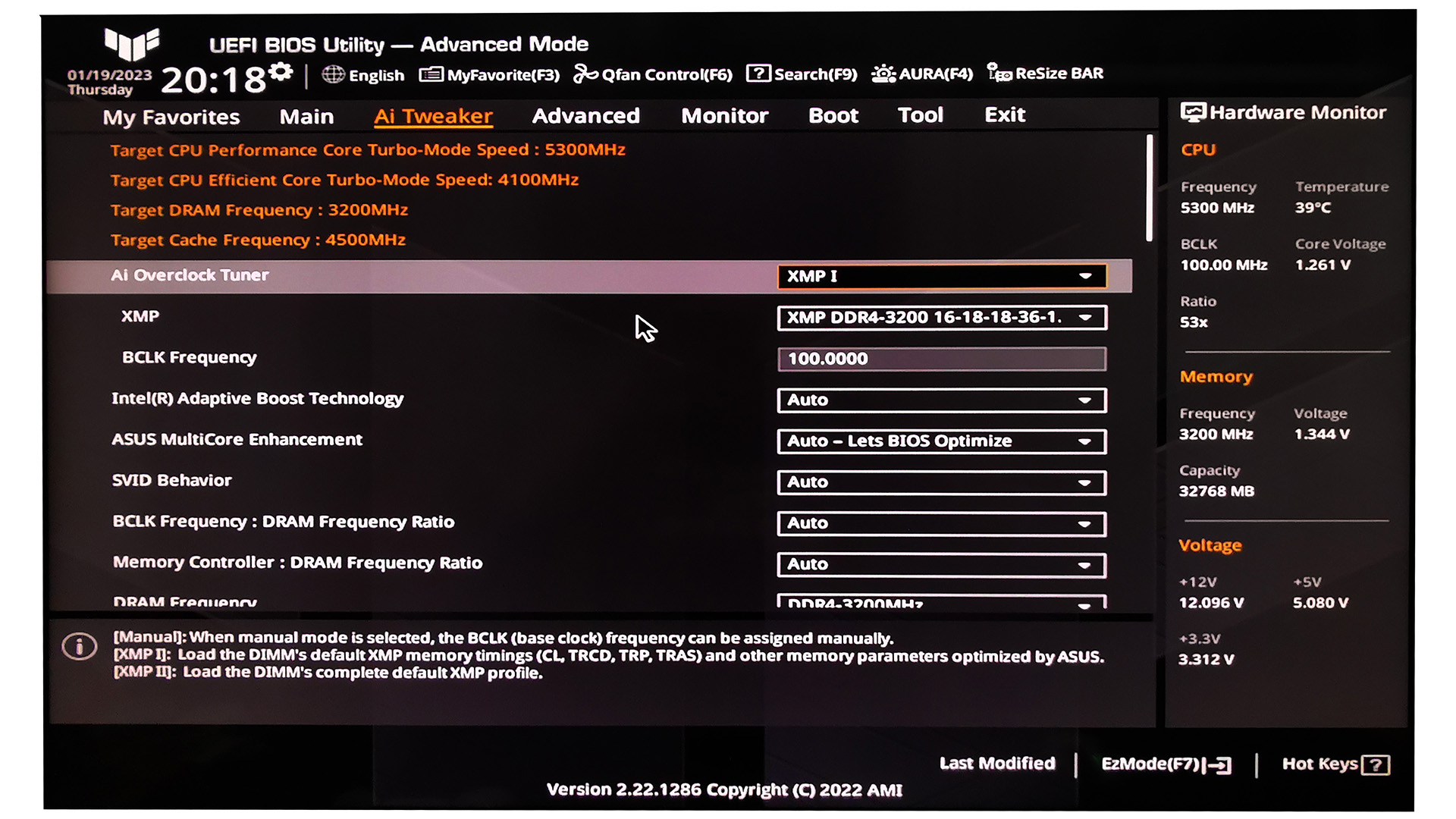 ASUS's more expensive boards expand on this offering more extreme automatic overclocking.
This can be a double-edged sword as there's little performance improvement to really be gained and you do risk stability issues.  This is not the case with the TUF board as setting EZ System tuning to extreme and XMP to the ASUS recommended settings, the board performed rock solid across the tests and a few games.
To put the board through its paces and to make sure it allowed us to get the most out of the 13th-generation i5 CPU, it was tested with some standard benchmark tools: Crossmark, PC Mark 10, Procyon, and Cinebench R23. These benchmarks assess PC performance across office apps, photo and video editors, and 3D rendering.  For the most part, the Core i5-13600K performed on par with Intel's 12th-generation i9 and AMD's Ryzen 7 7700X, the Core i9-12900K only bested the 13th-generation i5 when it came to multi-core applications, the older i9 having a higher core count than the new i5.
I was very impressed with the results from the Core i5-13600K and the ASUS TUF Gaming Z790 WIFI D4 motherboard.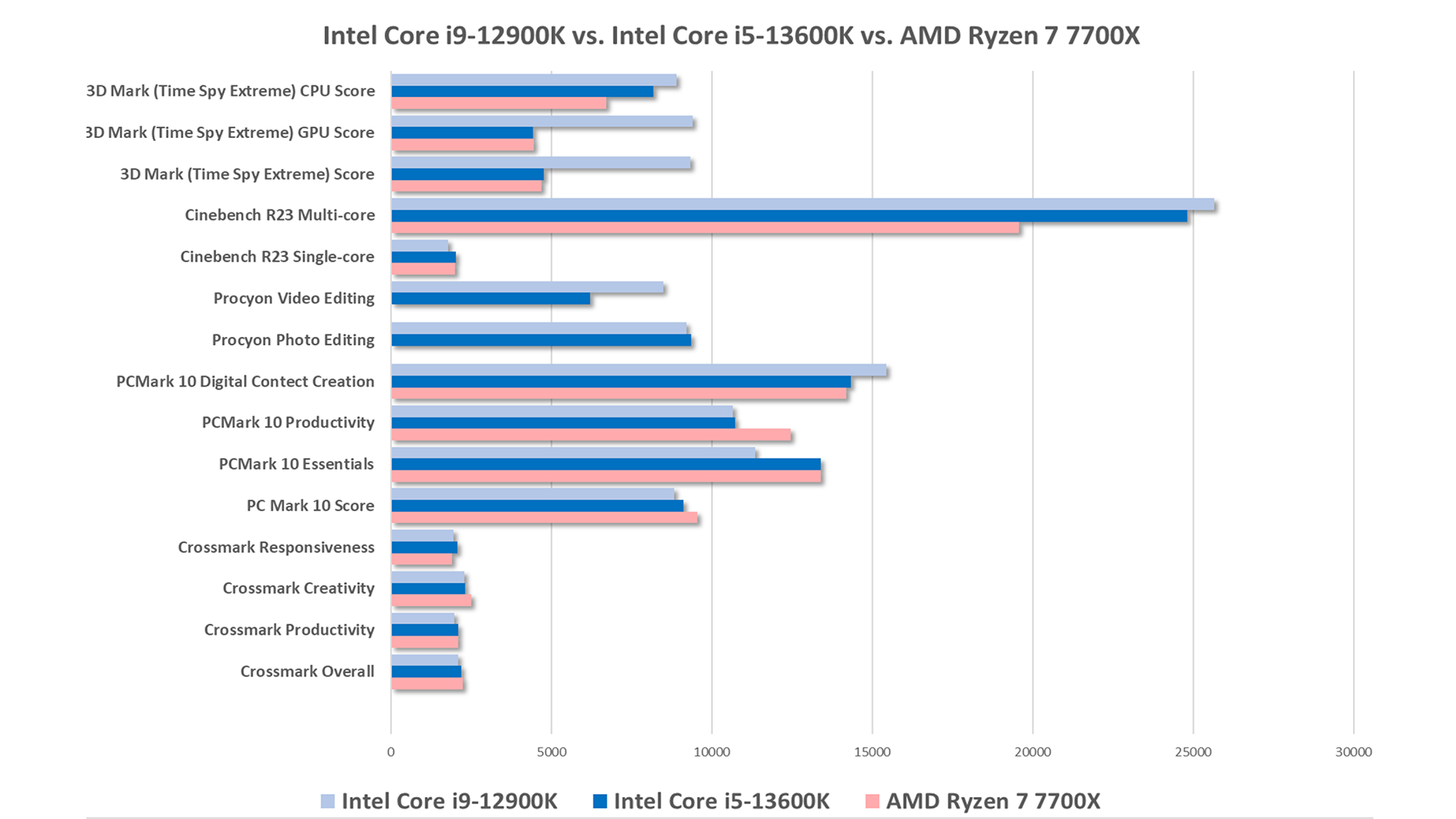 Whilst the board is fully featured, it does miss out on some of the trappings some other more expensive Z790 motherboards enjoy. There are no PCI-E 5.0 M.2 slots or WiFi 6E, but there is a Thunderbolt 4 header on the board for a PCIe Thunderbolt card.
The board comes with a comprehensive manual and a disc containing drivers and utilities. With CD drives a thing of the past, it would be nice to see ASUS follow the likes of MSI and include the software on a USB thumb drive.
All the drivers and utilities can be downloaded from the ASUS website and installed after setting up the operating system.
The ASUS TUF Gaming Z790 WIFI D4 is really more of a replacement for its predecessor, the ASUS TUF Gaming Z690 WIFI D4 board, than an upgrade. It is the perfect motherboard for someone upgrading to a 12th or 13th-generation Intel CPU who already has some DDR4 RAM. It's a fully-featured and robust motherboard with a design maturity that puts more expensive competitors' motherboards to shame.
Like its predecessor, the ASUS TUF Gaming Z790 WIFI D4 offers tremendous value for money for a feature-packed board with a price that's lighter on your wallet. I'd highly recommend the motherboard as part of a prebuilt system, a DIY build, or an upgrade.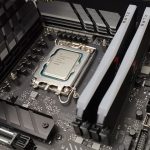 ASUS TUF Gaming Z790 WIFI D4 Motherboard Review