Experience has taught me that, with very few exceptions, most gaming laptops are anything but.
It's got so bad that the thought of a self-styled gaming laptop turning up on my workbench complete with an excited introduction from a PR agency makes me cringe.
It was with eyes ready to roll back into my head that I switched on the Asus ROG Flow X13 GV301QH-K6034T laptop.
But this sleek-looking device had a surprise shipped with it in the form of a ROG XG Mobile GC31 external graphics extender.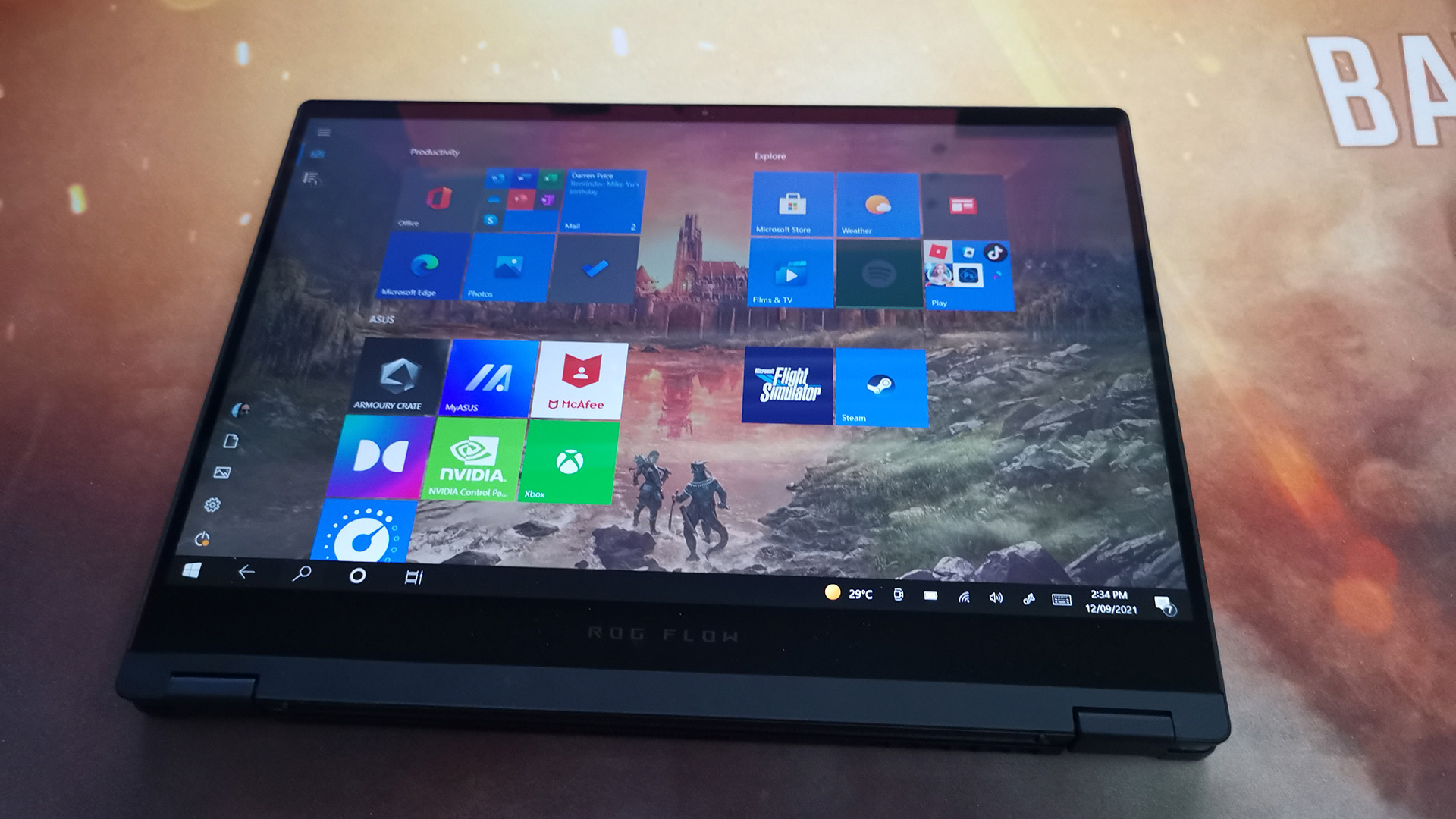 At first glance, the compact laptop looks very sleek with a graphite black finish.
Its footprint is barely bigger than the Pantone-validated 13.4" 1920×1200 120Hz IPS touchscreen. Weighing in at 1.3 Kg, the compact laptop on its own is very portable.
The screen can bend right around allowing it to switch to a hybrid tablet mode. This is useful for lounging about using the touchscreen keyboard to type whilst casually browsing or watching a movie etc. Having the chiclet keyboard exposed on the back of the screen feels a bit weird though.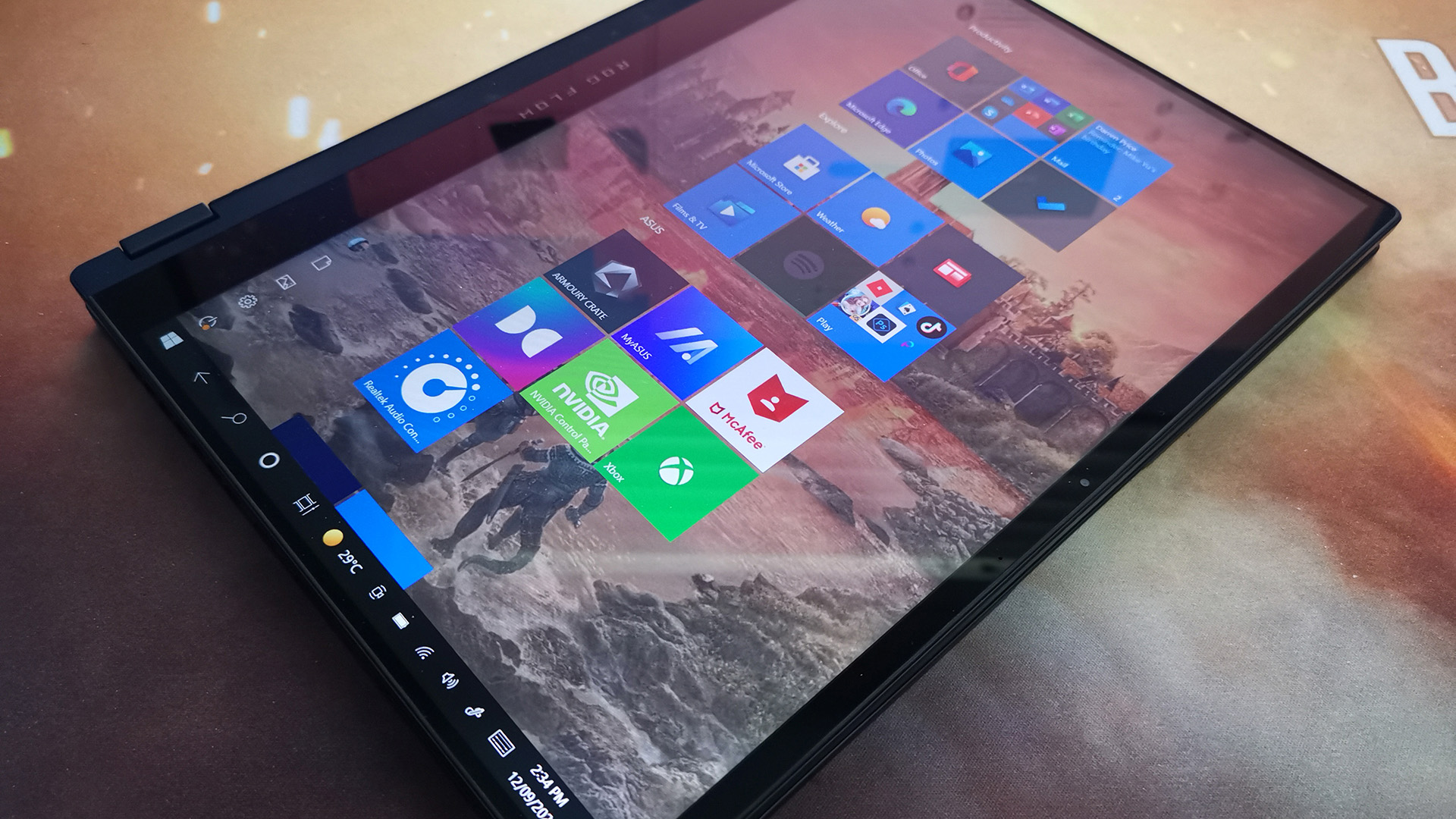 The Asus ROG laptop boasts an AMD Ryzen 7 5800HS CPU.
As an Intel person, this means nothing to me, but a quick Google seems to put it on par with an i7 11700, which is pretty much spot on for a gaming machine.
The Ryzen CPU is also a lot more energy-efficient compared to its Intel counterpart, perfect for a laptop working on battery power.
The graphics are powered by an internal Nvidia GTX 1650 GPU with 4GB of GDDR6 RAM. Not particularly fancy, but enough to power most games, if not on the best graphics settings.
The laptop had the model's maximum 16GB of LPDDR4X RAM, which is a more energy-efficient memory format.
It also had a rather paltry, but fast 512GB NVMe solid-state drive. Personally, I'd have liked to see at least a 1TB SSD for storage.
Unless you are modelling, rendering, or handling ridiculously huge files the included 16GBs of RAM should be enough. If more RAM or storage is needed, the next Asus model up has 32GB RAM and a 1TB SSD.
It's a good laptop. It feels robust, it's got a great screen, nice keyboard and it does that tablet thing. But would I play games on it?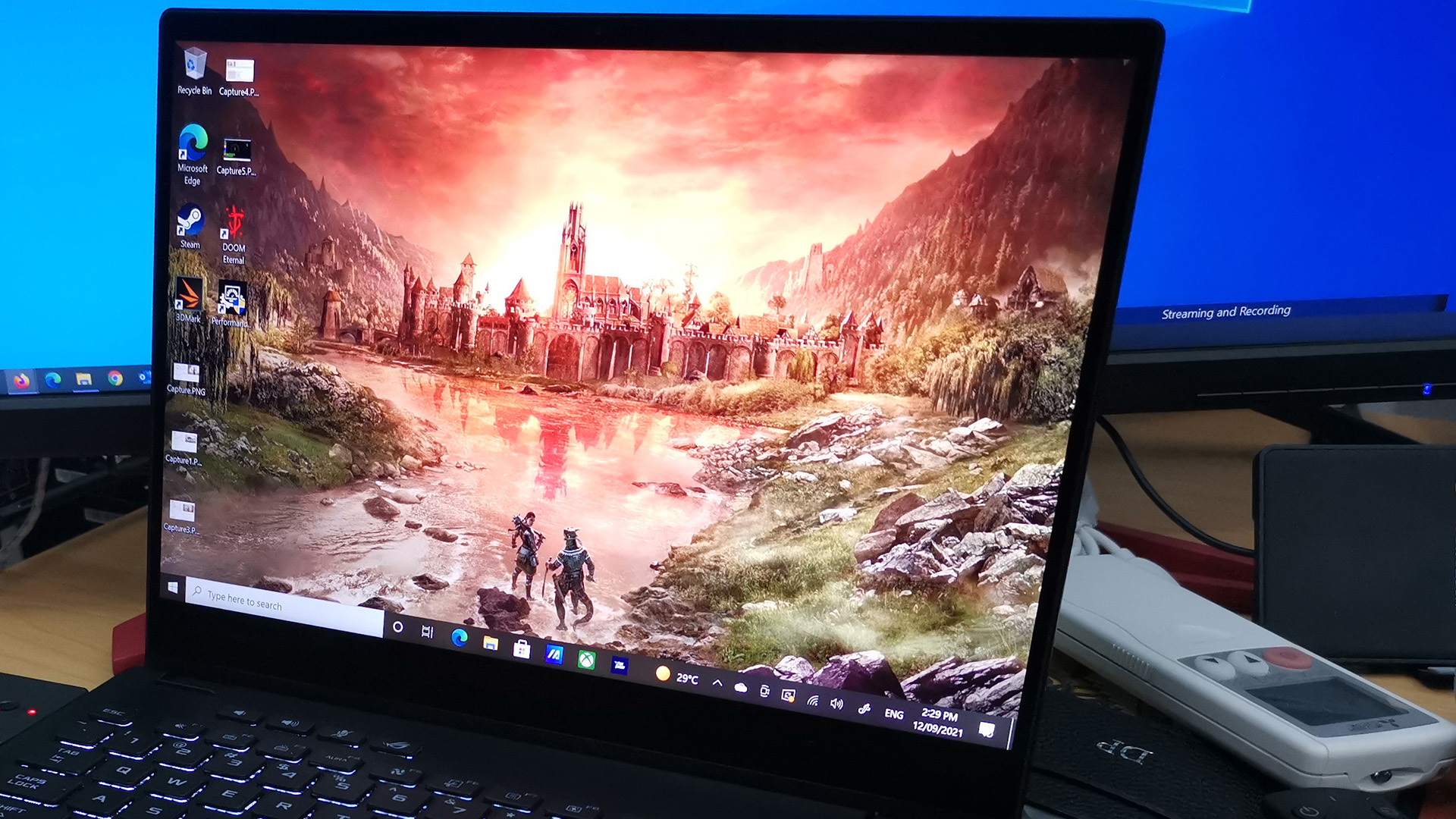 On its own, the laptop is good for some casual gaming on the go. The likes of Fortnite will play just fine as will most games. But the ROG Flow X13 it's not what I would call a gaming laptop.
However.
This, still very nice laptop also comes with a ROG XG Mobile GC 31 external graphics extender.
This is a separate unit that plugs into the side of the laptop using a proprietary connection power connector, that also seems to include a USB Type-C connector, likely for the display. Not only does this unit power the laptop, house a 4x USB hub, an RJ-45 Ethernet socket, an HDMI socket, and a DisplayPort socket, it also has a whopping great GPU inside.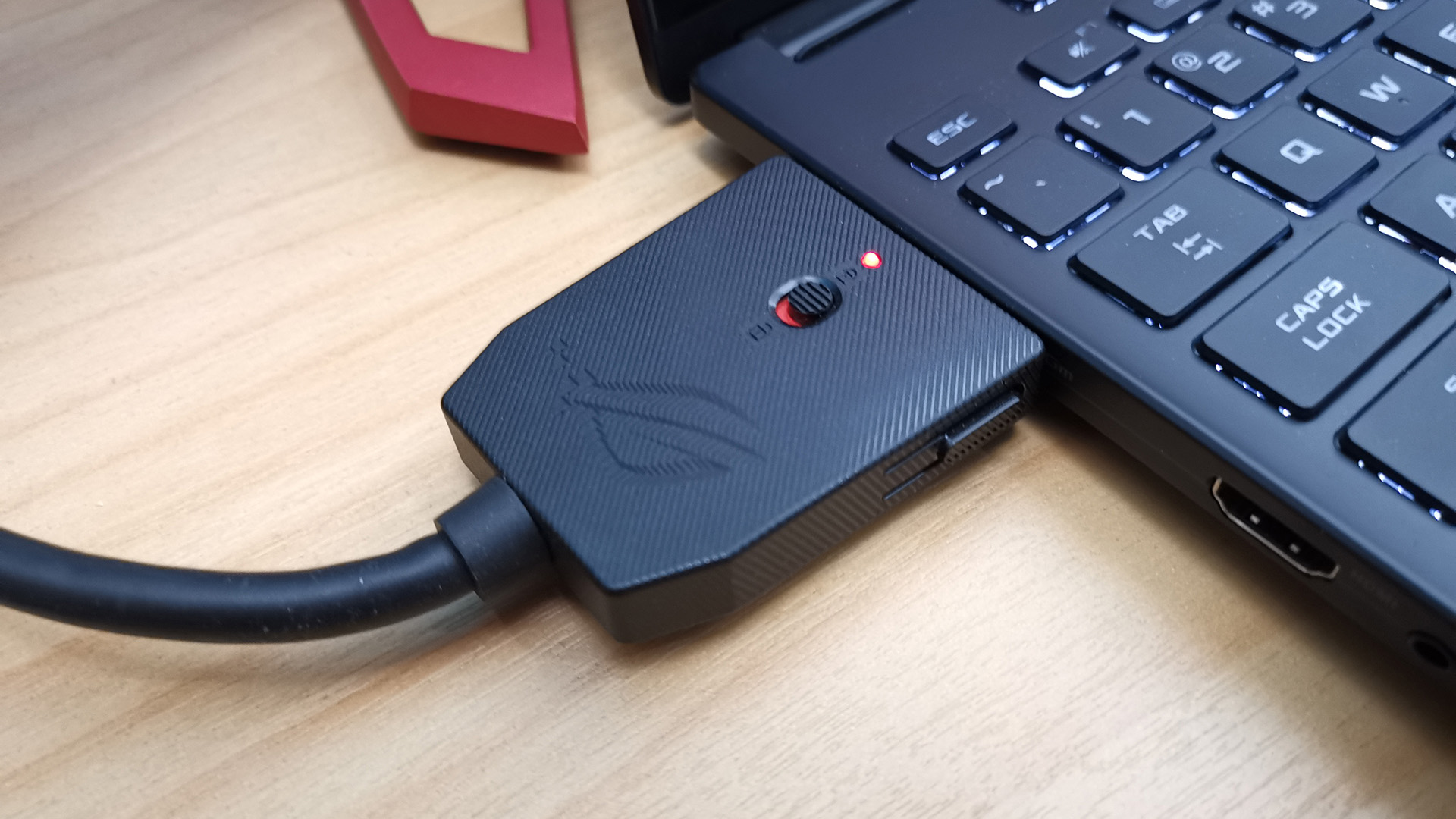 The ROG XG Mobile adds the pure gaming power of an Nvidia RTX 3080 laptop GPU to the setup. This graphical boost turns the machine from a pretty decent everyday laptop to a gaming powerhouse that'll rival most desktop gaming rigs.
There is a rather thick and inflexible cable that connects the ROG XG Mobile to the Flow X13 that's a bit jarring.
Whilst the actual GPU enclosure has a stand so that you can position it out of the way behind the laptop, it's still not very discrete. The connection design could have been done with a bit more thought. If you are going to use it as a dock with a monitor, mouse, and keyboard, you can put it all out of the way.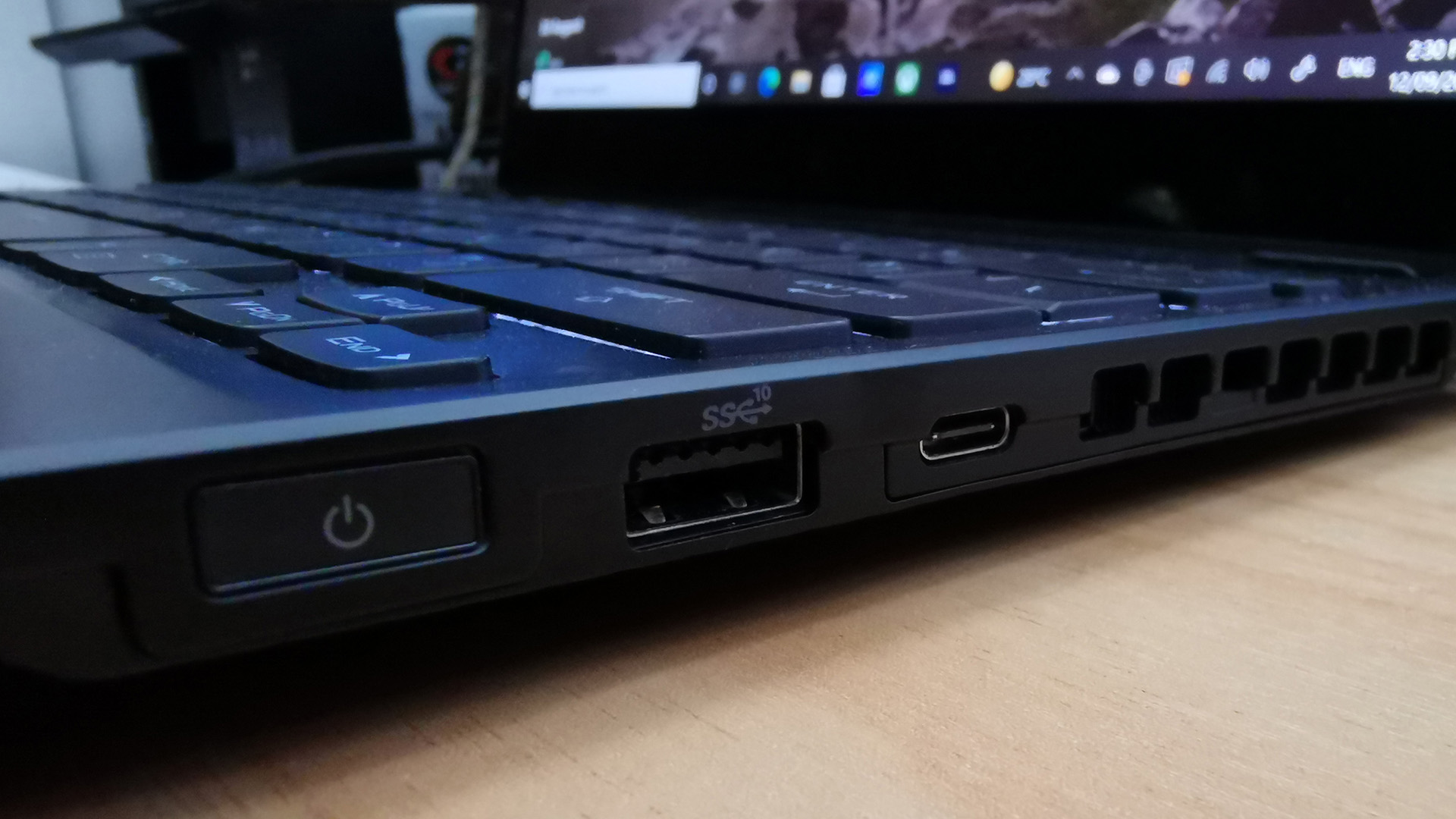 To be honest, the logistics of it all fade into nothing, then you see how the Flow X13 performs latched to its RTX 3080 equipped ROG XG Mobile buddy.
Passmark's PerformanceTest 10.1 pegged the laptop at the 63rd% percentile mark, which put the laptop with the mobile GPU in the top 37% of PCs tested with the benchmarking software. Not to be sneezed at.
The CPU component of the test yielded an 85th percentile result, with the 3D capabilities score an impressive 75th percentile result. The disk mark, recognising that fast NVMe drive scored a 76th percentile grade. It was the memory that pulled the score down, the 16GB being a bit stingy and only netting a 41st percentile score.
On the whole, not bad at all.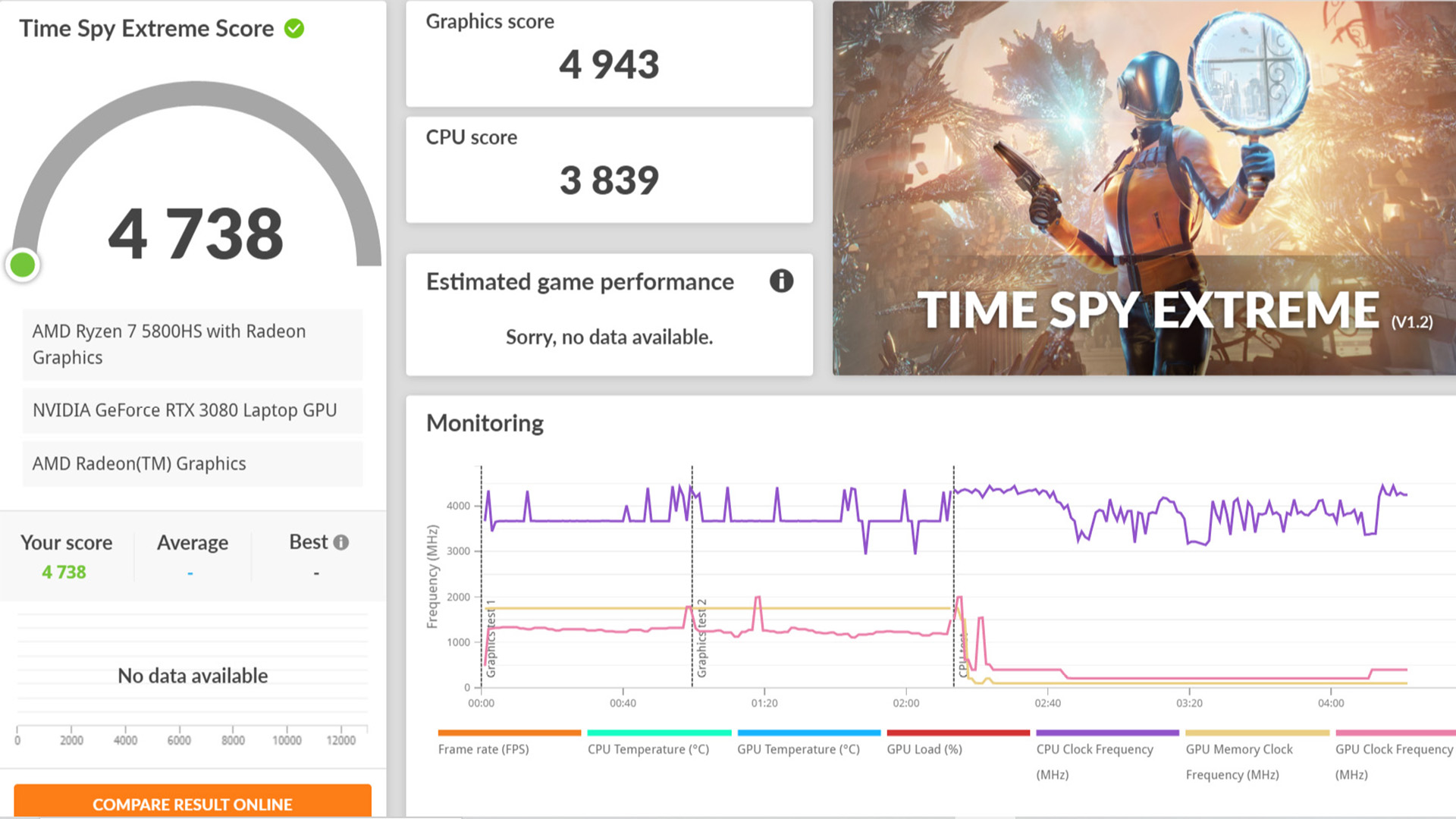 On to 3D Mark.
Timespy Extreme is the go-to benchmark for Direct X 12 gaming rigs. The laptop using the RTX 3080 GPU scored an impressive 3D Mark of 4738 better than 60% of the results, placing in almost in the 2020 high-end gaming PC bracket.
This is fantastic for a laptop.
The Port Royal test, which uses the RTX GPU's ray-tracing for realistic reflections and light, netted a result of 6159 3D Marks, indicating that the laptop should be able to achieve 95+ FPS at a resolution of 1440p and ultra settings in EA's Battlefield V.
Again, very good.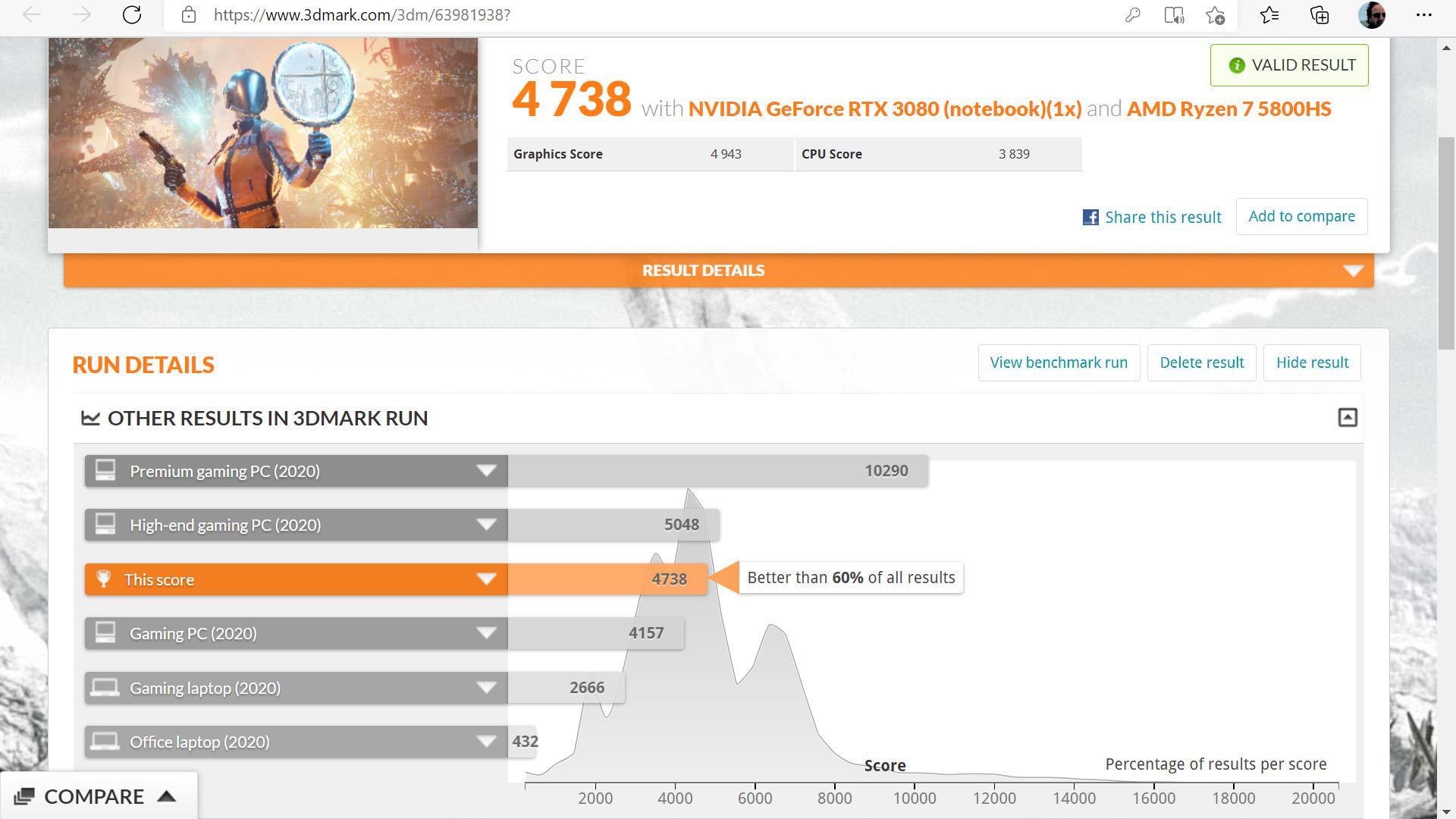 If, however, you are wondering if it's worth splashing out on the ROG XG Mobile, I also tested the machine without its graphical supercharger.
Disconnected from the ROG XG Mobile, the laptop on its own still came in with a 62nd percentile result, but the 3D result dropped from 75th percentile with the RTX 3080 to 49th percentile with the built-in GTX 1650.
Similarly, the previously formidable RTX 3080 Timespy Extreme score dropped to a 3D Mark of 1388. This suggested a third of the performance with an indicated 30 FPS in Battlefield V (the GTX 1650 not being capable of real-time ray tracing effects, either).
Benchmarks are OK, but real-world games paint a better picture.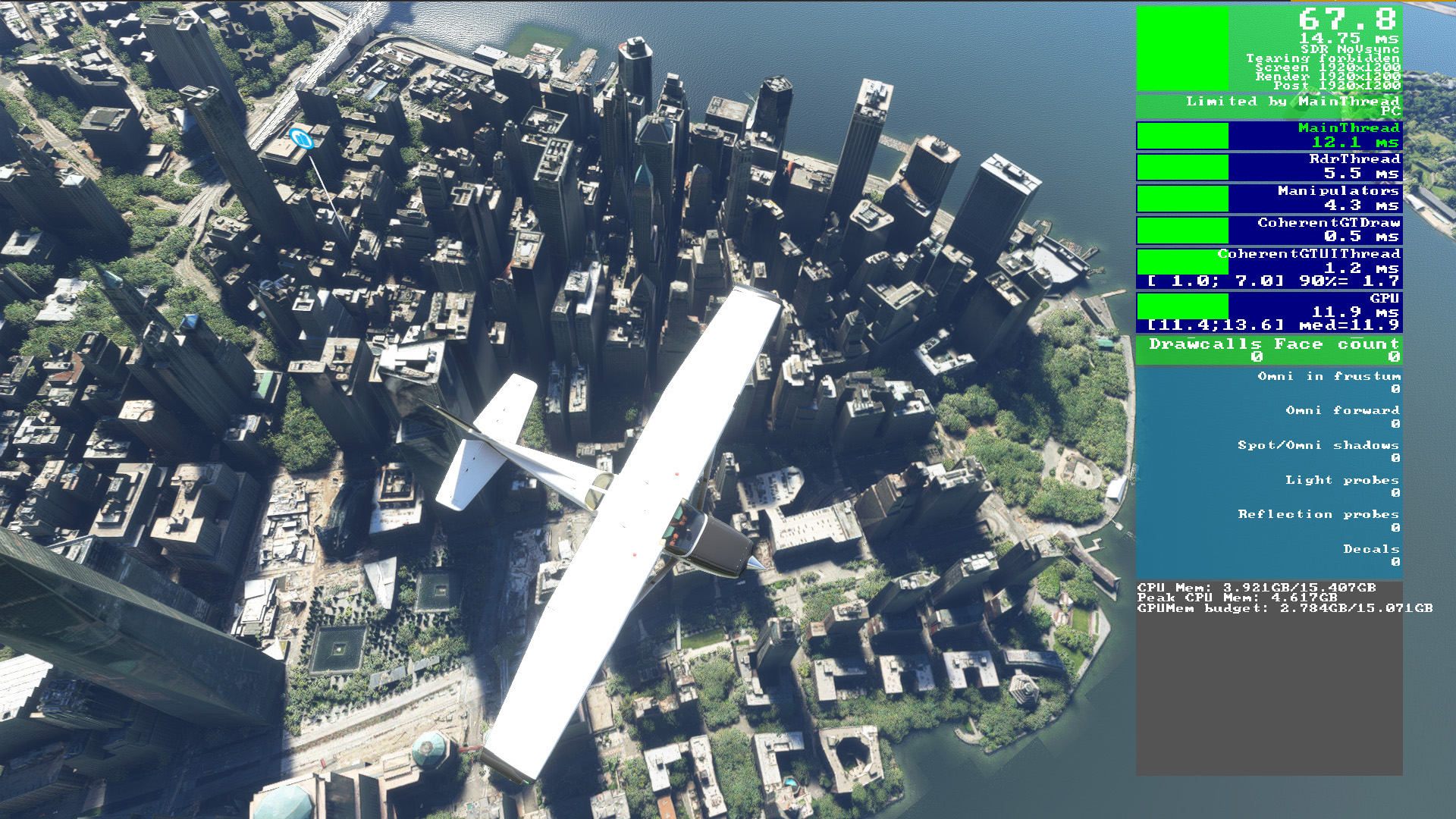 Microsoft Flight Simulator is my current obsession, and I was very pleased with the framerate hovering around the 50 frames-per-second mark, flying a Cessna slow and low over New York City.
MSFS is a power-hungry application and the ROG Flow X13 coupled with the ROG XG Mobile performed perfectly, offering some breathtaking visuals and smooth gameplay.
The Flow X13 is not only a laptop that can be taken with you, back at home it can be paired up with the ROG XG Mobile External Graphics Extender for some serious gaming.
The whole set-up takes full advantage of Nvidia's RTX technology for real-time ray-traced visuals and the AI speed boost that is granted by Deep Learning Super Sampling (DLSS).
Connect a 4K monitor and you are enjoying top-class gaming.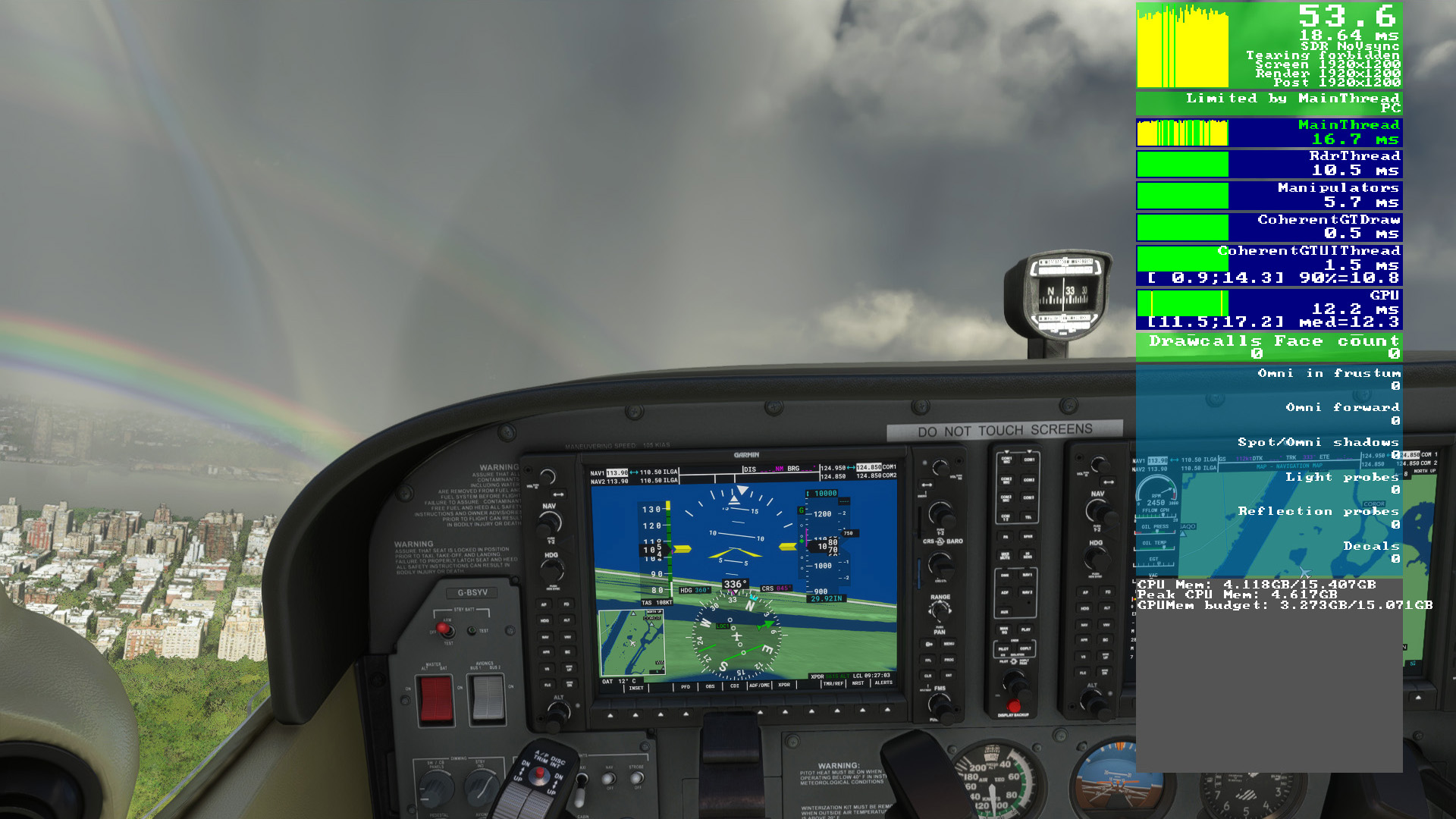 As well as the powerful GPU, the ROG XG Mobile's HDMI and DisplayPort sockets make the laptop compatible with virtual reality kits. I tested the laptop with a Vive Pro 2 and it performed great, giving me 5K visuals with some reasonably graphical intensive experiences.
With a price tag of AU$5000 for the Flow X13 laptop and the ROG XG Mobile external graphics extender it's a big investment.
In truth, it's not far off what you would pay for the equivalent desktop gaming PC.
Asus ROG Flow X13 GV301QH-K6034T laptop with a ROG XG Mobile external graphics extender is a true 3-in-1 device that can be a powerful 13" Windows 10 tablet, a very reasonable day-to-day gaming laptop, and an absolute powerhouse of a gaming rig.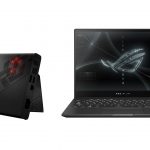 ASUS ROG Flow X13 Laptop + ROG XG Mobile External Graphics Extender Review
Device details
Released: 2021
Device Name: ASUS ROG Flow X13
Processor: IAMD Ryzen 9 5900HS Processor 3.1 GHz (16M Cache, up to 4.5 GHz)
Graphics: NVIDIA® GeForce RTX 3050 Laptop GPU w. ROG Boost up to 1157.5MHz at 35W (40W with Dynamic Boost) 4GB GDDR6
RAM: 16GB
Internal Storage: 512GB
Availability: Now