When I reviewed Super Mario Maker for the Wii U back in 2015, I gave it an extremely rare five stars. It was, and remains, a fantastic tool that offers us infinite Mario, with Levels that go far beyond the boundaries of a standard Mario platformer. Even then I pined for a 3DS version of the game, at least a version that lets us play Levels created on the Wii U. So is Super Mario Maker 3DS what I hoped for? Does it capture the magic of the original, and more importantly, would I switch from the Wii U to the 3DS version? Let's find out.
Ever since I showed it to her, my wife has been a huge fan of Super Mario Maker. And to be honest she's far better at creating innovative Levels than I am. So I sat down with her to discuss how the two games compare, and whether Super Mario Maker 3DS lives up to its older sibling.
Edwin: Nintendo have done an excellent job of bringing over the core game from the Wii U to the smaller and less powerful 3DS don't you think?
Kirilee: Yes, it's a very similar experience. I enjoyed that I didn't have to learn the game over again and that I could take it with me while travelling. Although, pretty much as soon as I booted up the game, I found a problem…I just want to create! And the Super Mario Challenge gets in the way of that. I enjoyed playing around with the basic items on the Wii U and discovering for myself how they worked. The longer I played, the more items were unlocked. On the 3DS version I've found myself only using the basic items because I don't feel like completing the Super Mario Challenge to unlock anything extra. I'd rather play levels created by other users because they're out of the ordinary.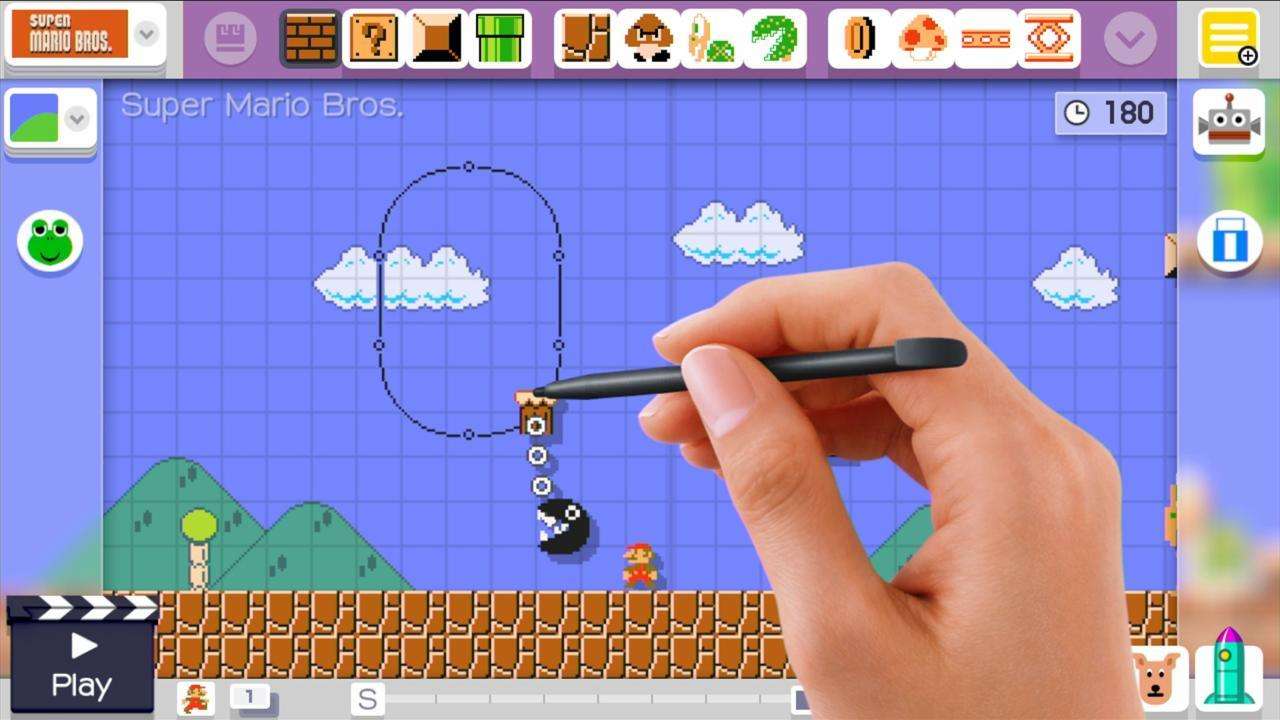 Edwin: I found that too. There's dozens of levels you'll have to beat just to be able to unlock all your items. Some of those levels were devilishly hard too! At least the game gives you some tutorials for using the items once they're unlocked. By the way, having the Super Mario Challenge and the 100 Mario Challenge was a bit much I think. Surely they could have thought of a new name!
Kirilee: I agree, other than the 3DS portability of this game, there's nothing in it that draws me to it over the Wii U version. Surely they could have added in at least one new component. Perhaps a level construction challenge – build a level from point a to point b using only three cheep cheeps, one chain chomp and five note blocks.
Edwin: It was so nice to see Super Mario Brothers 1 and 3 and Super Mario World in bright widescreen, compared to the 4:3 emulated games available on the eShop.
Kirilee: You know as well as I do that I'm strange and don't care about graphics! I'll watch pixelated Netflix all day to save on data. I do like the load screen pigeon though.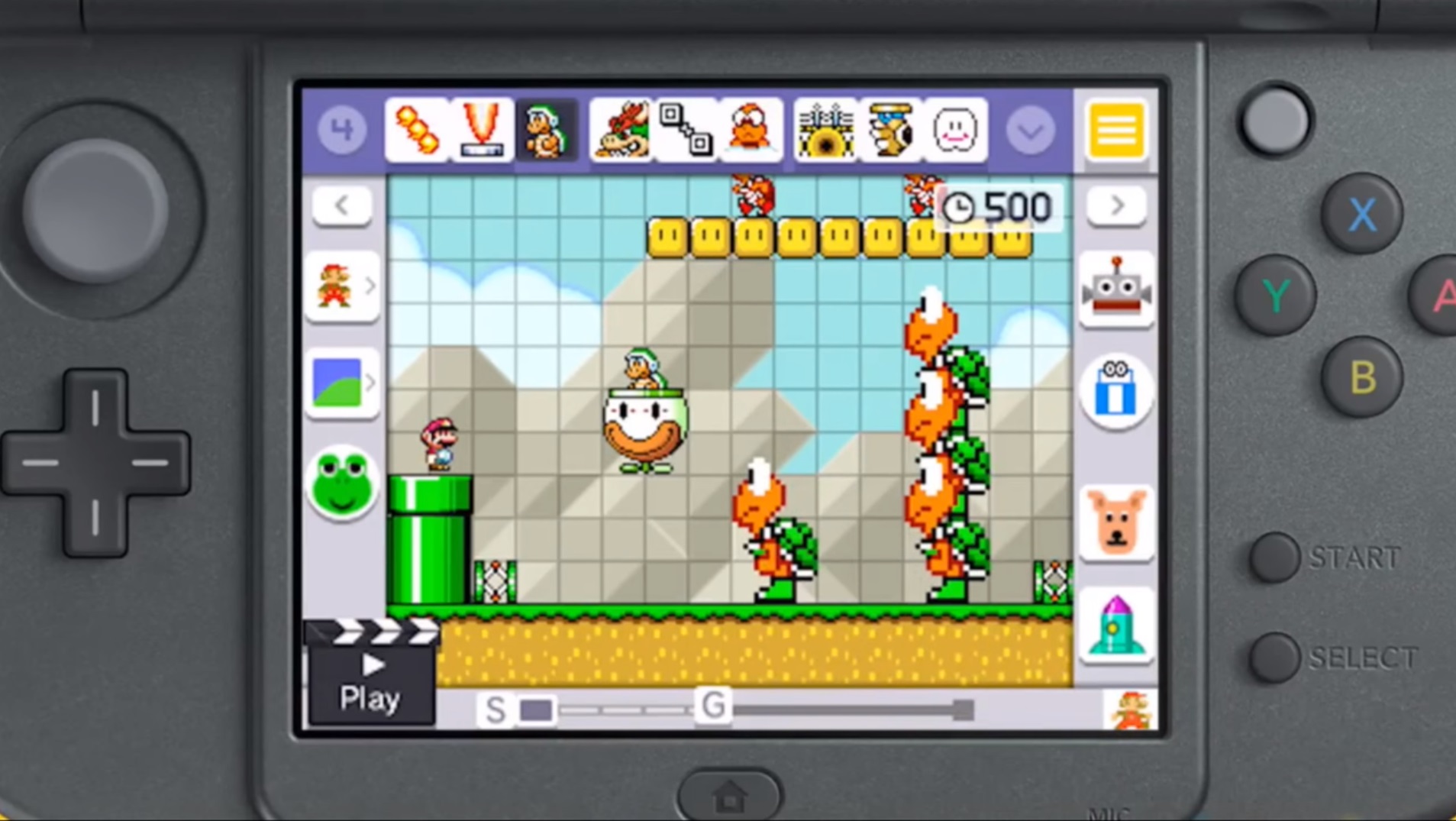 Edwin: But no uploading! What's with that? Only being able to send courses to people in your immediate vicinity through StreetPass seems like an unnecessary restriction.
Kirilee: Definitely. I don't use Nintendo as a social interaction tool, the 27 year old public service demographic don't really play 3DS. I'd rather make use of the international Super Mario Maker network, they'd love to critique my automated red shell ghost house disaster.
Edwin: What about the feel of the game on our 3DS XL compared to the Wii U's GamePad? Is the smaller bottom screen an issue? What about on the smaller 3DS or the 2DS?
Kirilee: I prefer using the GamePad, but the 3DS XL isn't too bad. There's enough screen real estate to be able to visualise the Level you're building. Though I do find myself tapping the top screen more often that I'd like to admit. 2DS [or the smaller 3DS]…don't even bother!
Edwin: I found it extremely annoying that you can't share a cartridge between 3DS systems. If you do, it essentially forces you to wipe the game and start fresh.
Kirilee: I guess it's like buying an app specifically for your iPad, but the price Nintendo is asking is a bit steep, so I can't see Mums buying two copies. I imagine that there's only a very slim chance most ten year olds will be willing to share their 3DS with their six year old brother.
Edwin: That's on top of the fact there's no doubt the game is much lesser as an offline experience. You can download recommended courses to play, but there's no way of preloading the 100 Mario Challenge, for example. We went on a trip recently and I felt the game's "Play" mode was pretty restricted while we were on a plane.
Kirilee: My favourite part of the Wii U version is the online experience. And there's no reason the 3DS version can't operate in the same way – it's the same universe with the same Nintendo accounts, surely there could be cross-compatibility with the Wii U course world.
Edwin: You would think, but this is Nintendo after all. Frustration and delight go hand in hand. With one hand they giveth, with one hand they taketh away. Let's just hope any potential Nintendo Switch version doesn't carry over any of these issues.
Help to Support Shane the Gamer
Everyone that works on StG is a volunteer. Keep StG Independent and (mostly) Advertising Free with a Donation
Super Mario Maker (Nintendo 3DS) Review
Released: November 2016
Rating: G
Platforms: Nintendo 3DS
Genre: Platformer
Developer: Nintendo