Just when I thought that Samsung had outdone themselves with their last Note device – they go a few steps further.
Last year's Note10 was a super computer in your pocket – but did fall short on some camera tricks that other smartdevice manufacturers had been placing in to their flagships for months.
Taking the 'Ultra' moniker to match their flagship S20's, with the Note20 Ultra 5G Samsung have given us exactly what we want – and then some.
The mammoth sized 6.9 inch 'phablet' boasts a QHD AMOLED rounded (or edge) screen with an almost zero bezel top and bottom.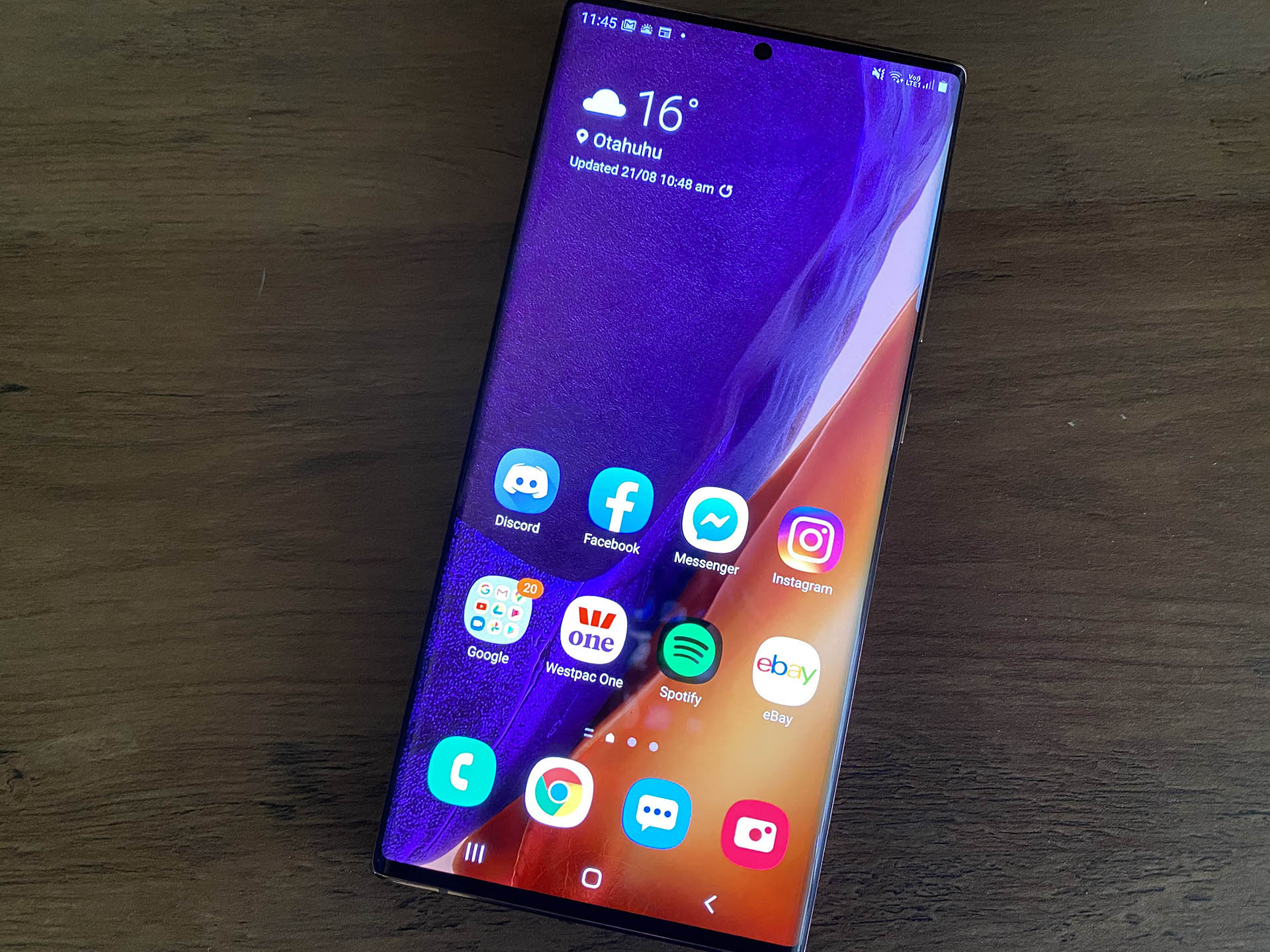 Absolutely built for 4K or 8K media and mobile gaming with a refresh rate of 120Hz. You can wind it back to 60Hz however my preference even for everyday use is to have the 120 on – it gives you a much sharper and smoother user experience and it saves going in to Display settings to change it out if you're about to watch something on Netflix or get in some game time.
The front lens comes in at 10MP – the same pixel count as we have seen on their last couple of flagships. However the Selfie camera, a laser cut at the top of the screen, records at 60fps in 4K.
Making this the most original and unique Note in the entire history of the devices the Note20 Ultra 5G has a large rectangular triple lens housing for the rear cameras.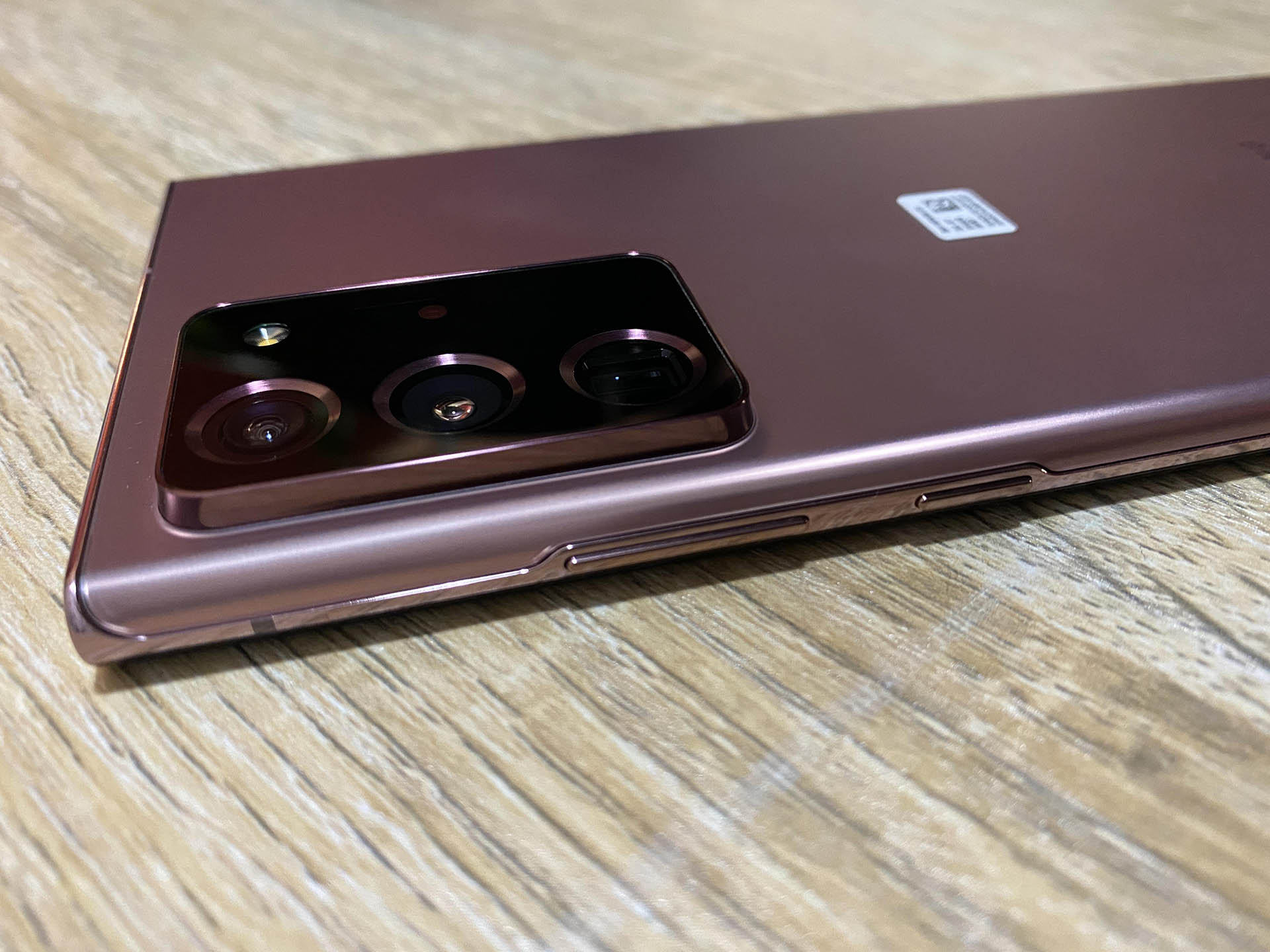 Inside this array there's the main camera at a whopping 108MP, a 12MP hybrid zoom lens (upto 50x) with periscope telephoto function and finally a 12MP ultrawide. Also within the same housing you'll find a laser sensor for optimal focusing – and that takes me to the camera modes and smarts on offer.
One of the sore points of Samsung smartphones was night shots. Going back as far as the S10+ the Night mode featured but just didn't work.
This has totally been sorted – in pitch darkness you'll get a well lit shot as we had hoped for.
Live Focus and Live Focus Video are retained from prior models and a fav of mine allowing a specified bokeh effect – perfect if you're wanting to create something a little more professional looking.
Old favourites are still on the menu; Hyperlapse, Pano, Slow Mo and it's Super variant, Pro and more.
Live Video has been tweaked. Samsung have added a very cool zoom feature where you can manually slow zoom for that drawn out dramatization or real fast zoom in for that sudden moment of realization with customizable bi-lateral audio settings. Essentially drown out background noise as best as possible and focus on the subject if they are speaking – or vice versa. Very cool.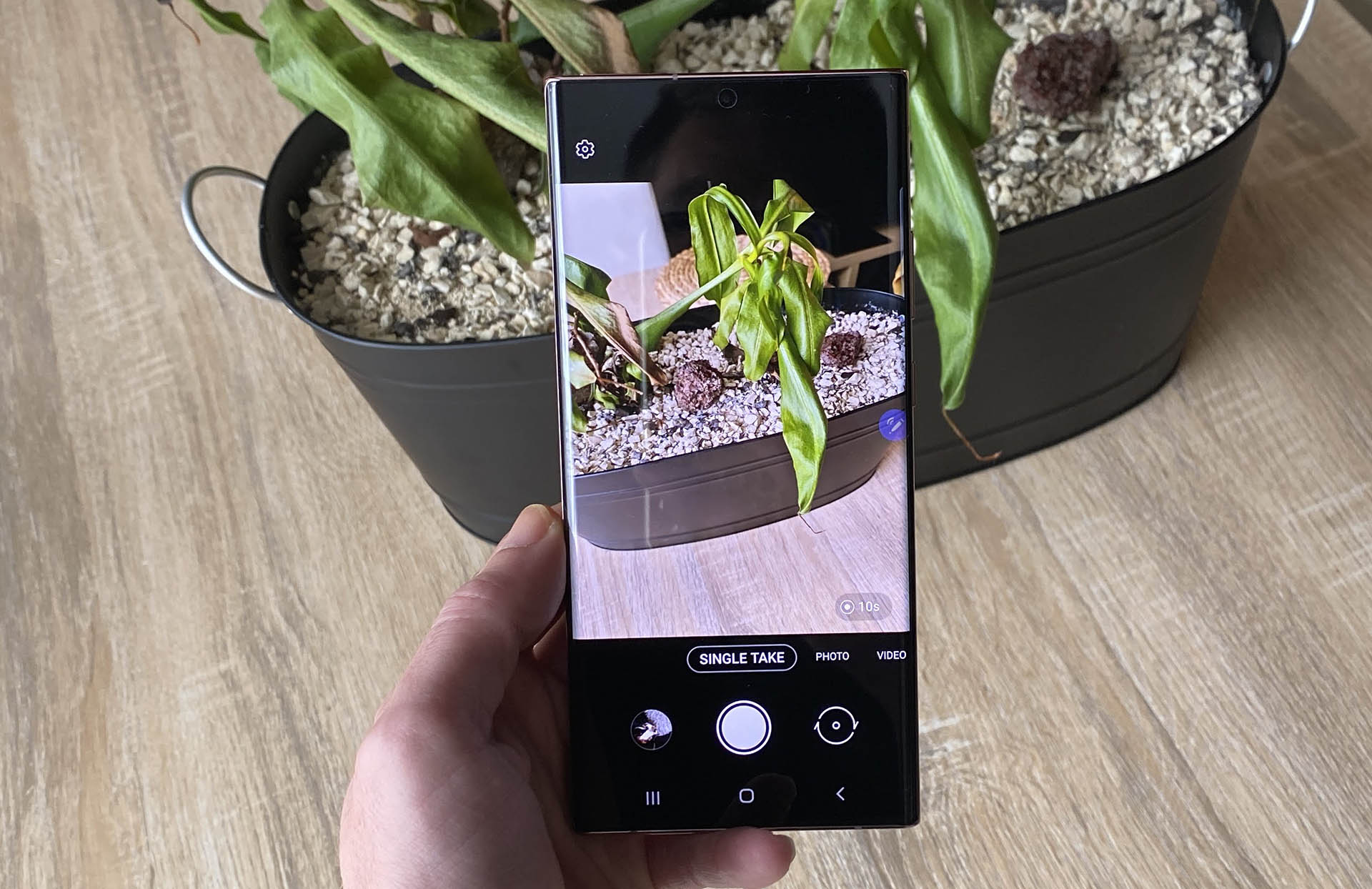 Single take mode we were introduced to in the Galaxy S20. Also within the Note20 Ultra 5G you can tweak the length of the varied bursts and videos it takes within one click of the shutter.
Then there's Bixby Vision. Yep Bixby is still there, like it or not – but thankfully the dedicated Bixby button has been removed. A button on the handset that I would always bump at the worst moments.
Honestly – the Note20 Ultra 5G's cameras are the absolute best and feature rich on any smartphone as of writing. And most of these have filtered down and been included in the sub variants of the Note20, but more on those later.
My only concern is the sizeable housing that does stick out from the flush and smooth matte rear casing. You will absolutely need to use a high quality phone case with the Note20.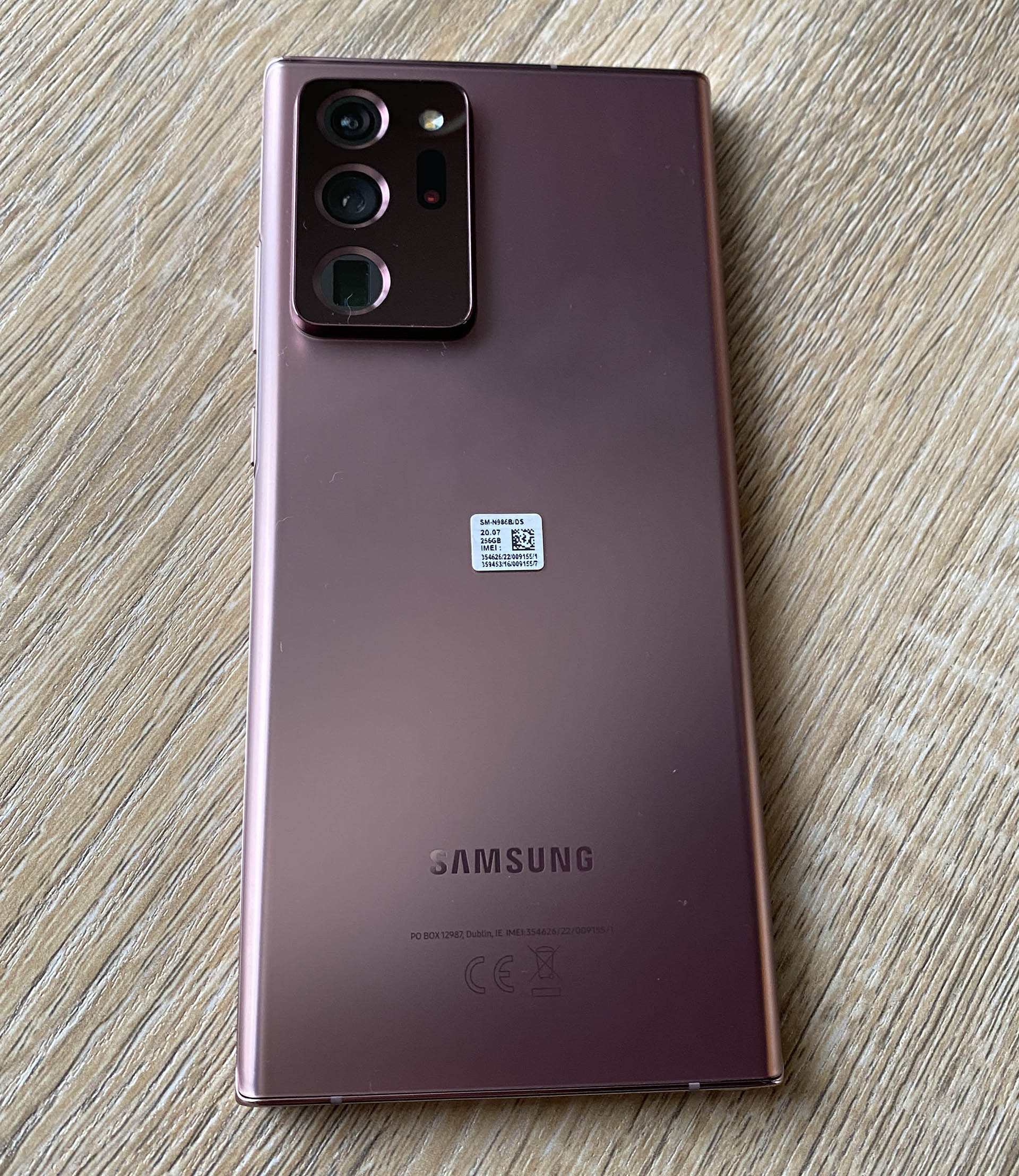 Samsung have wound back on their massive storage that only a couple of years ago we had (remember the S10+ 1TB?).
The Galaxy S20 series was disappointingly low at only 128GB.
Now we do not have a 512GB Note20 but we are presented with a modest 256GB. As with prior devices that storage is expandable via microSD (upto 1TB). If you shoot alot of video in 8K then likely you will need to add extra storage.
Couple in 12GB RAM and the hyper fast 64-bit Octa-Core Processor crunching data @ 3.0GHz with a maximum of 3.8GHz.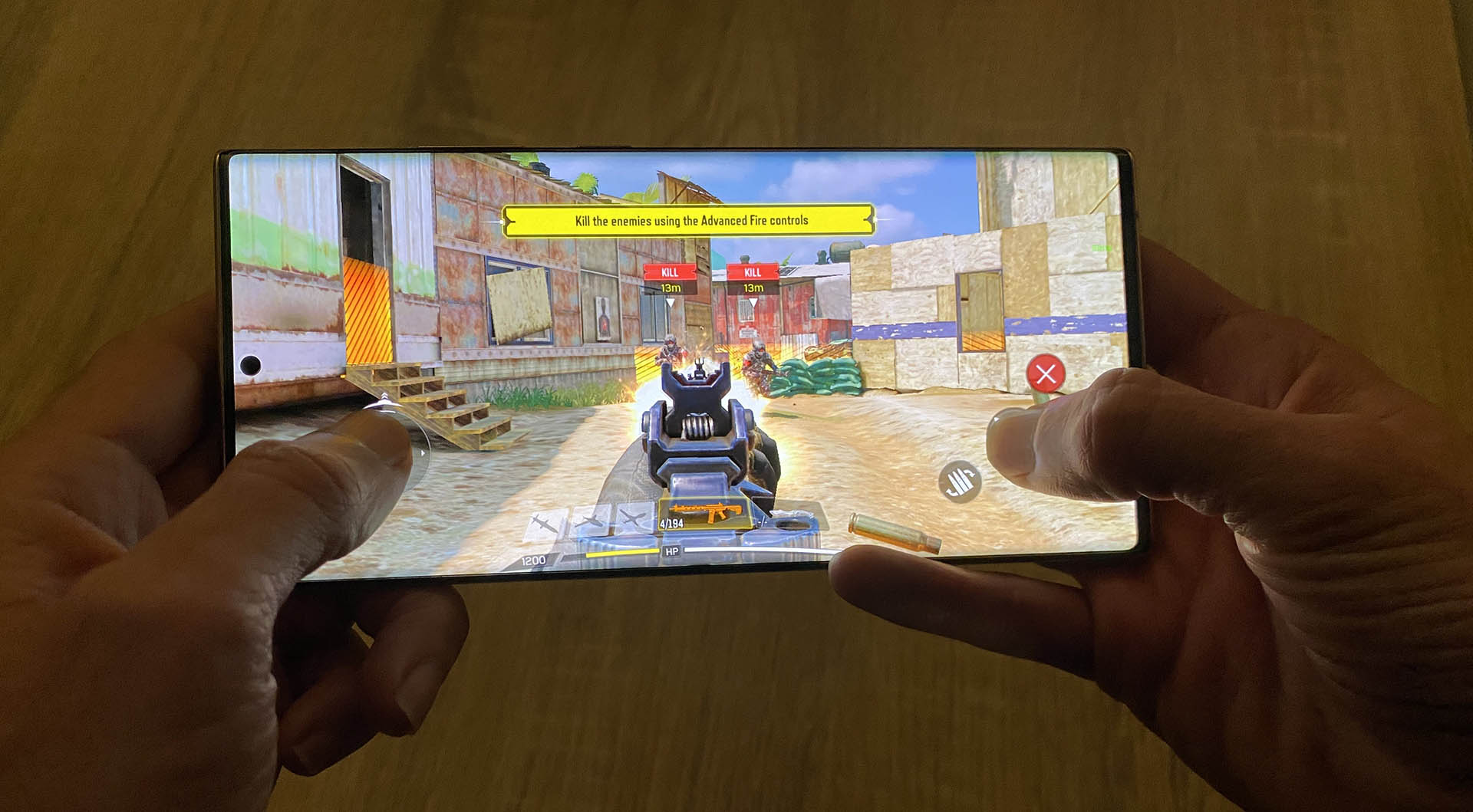 Play hours of heavy resource games without heating up the handset or draining battery. PUBG and Fortnite at 120Hz refresh – all played superbly. (See our Galaxy Note20 Ultra 5G gameplay here).
Call of Duty Mobile, one that can be a bit of a power chomper hardly shaved anything off the massive 4500MAh internal battery (Note20 comes with a 4300MAh).
Samsung tout the Note20 Ultra 5G as having an 'all day battery'. It always depends on your usage of your smartphone as to how your battery will last, of course.
My phone is always buzzing with emails, calls and more day and night. I receive heavy media files, super large graphics and so on – viewing these on an almost hourly basis on the go can shave a bit of my daily use.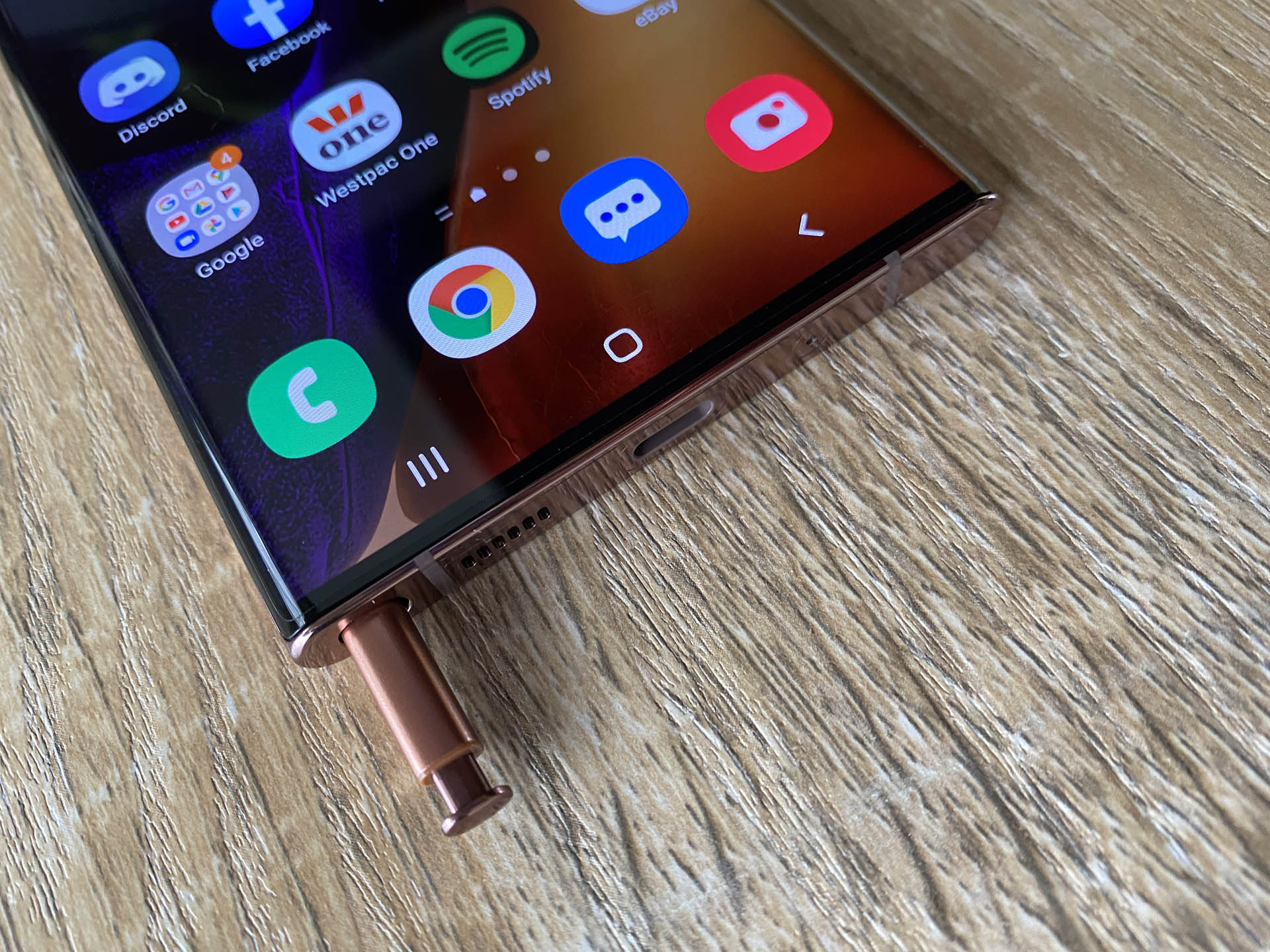 Factor in my every day use with aiming to push a device to it's limits and playing a few hours of mobile games, Netflix and Spotify streaming I would have thought that an 'all day battery' would have lasted half a day minimum.
No. The Note20 Ultra 5G is more than capable of keeping up with me and my busy shenanigans while having enough juice to power through the following day aswell.
The most that i managed to squeeze out of the handset was around two and a half days from full charge to 5%.
The Note20 Ultra 5G comes with a 25 watt charge in the box and the phone has quick charge 2.0 smarts builtin. From flat to around half using the supplied the charger takes approximately 10 to 15 minutes.
For fans of the Note smartphones there have been two drawcards. Screen size (the Note series have always been of the larger variety) and the included stylus called the S Pen.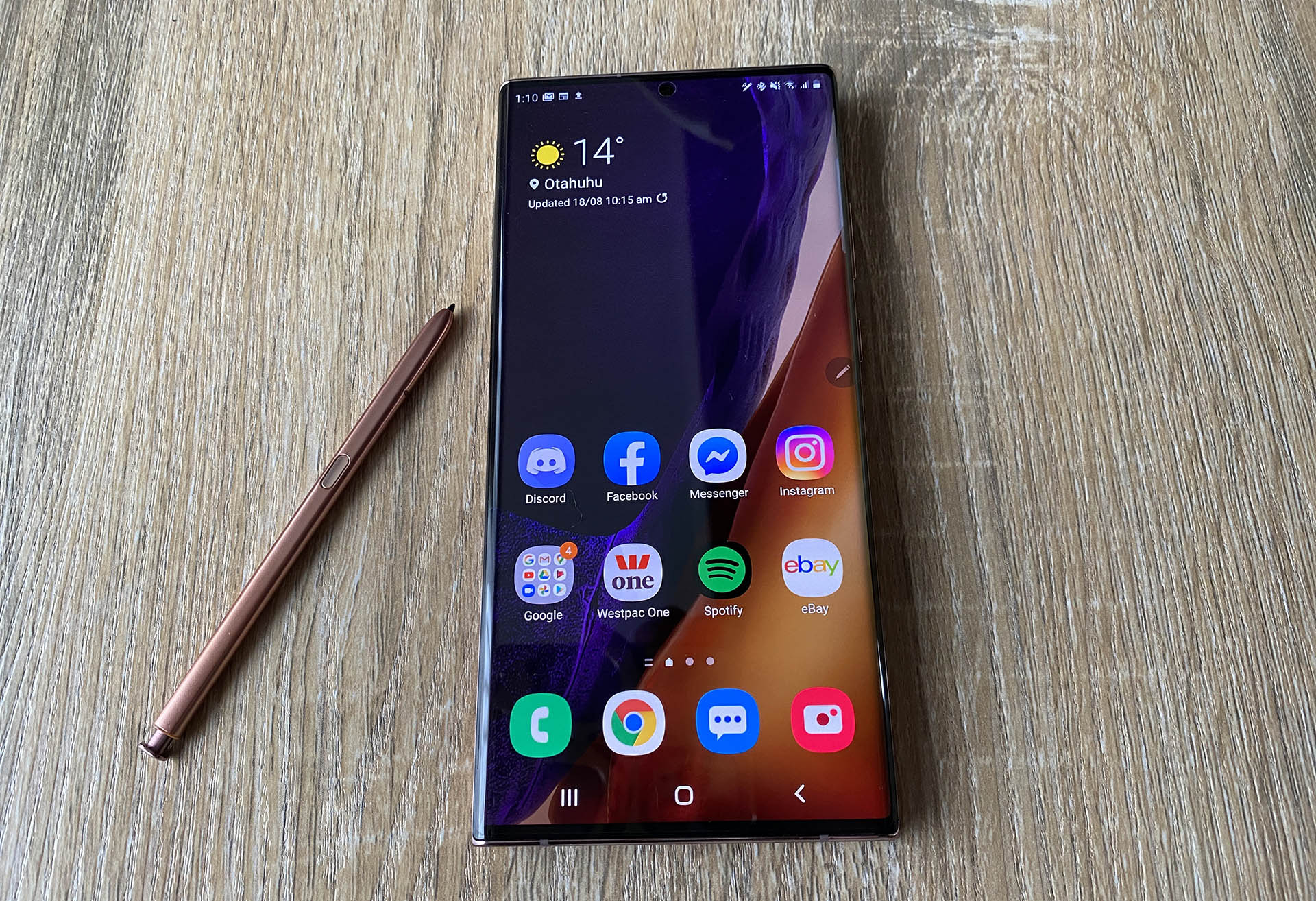 As the series has evolved over the years so has the S Pen. The Note10 bought us Air Gesture, where you could wave your S Pen in the air near your phone like a crazed magician in order to perform certain functions.
I remember testing this out last year and while I was well impressed and could see where this would evolve I did have moments where maybe I moved too fast or too slow and the Note10 didn't quite know what I was doing.
This has been resolved. Once you set air gesture to go by a clicking the side button on the S Pen in front of your Note20 differing commands execute various functions. Take a screenshot, control a presentation, take a selfie and no matter what realistic speed I waived around the Note20 Ultra 5G was on point.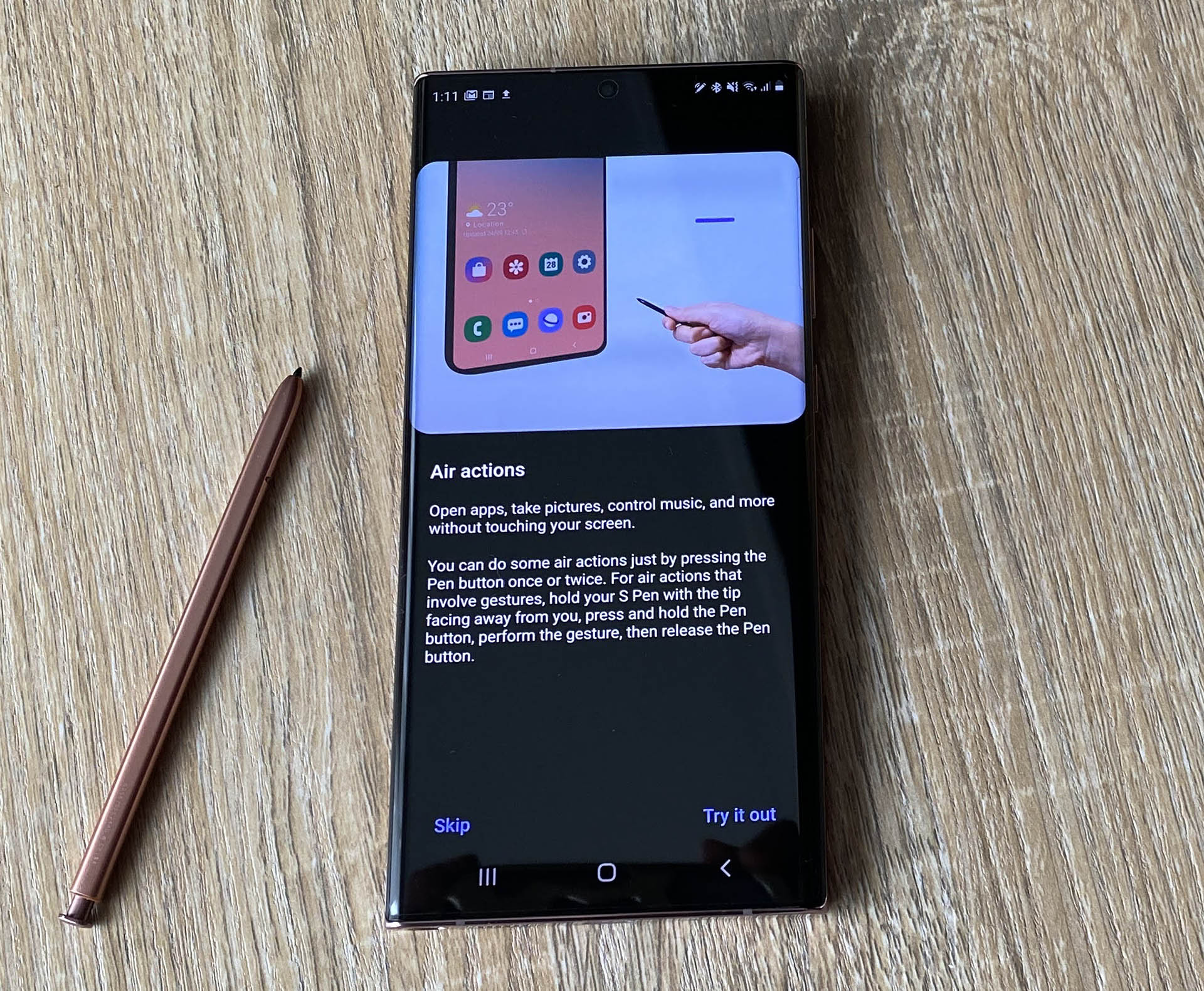 The S Pen is not an accessory – if it was Samsung would likely sell it separately. It is an integral part of the Note devices and still is with the Note20 series.
Finer tuned and resembling more of a pen tip the intricate point of the S Pen has virtually zero lag when writing or drawing on screen (infact it is tested at 7 milliseconds).
The bevvy of S Pen options and functions cascade out when you remove from the phone's casing.
I always find the on-screen writer to be super handy for a quick reminder, shopping list (when you get to the Supermarket and forgot the one you wrote previously) and using the S Pen to tweak photo's and the more serious nature of taking notes (hence the device name) at media events and talent interviews.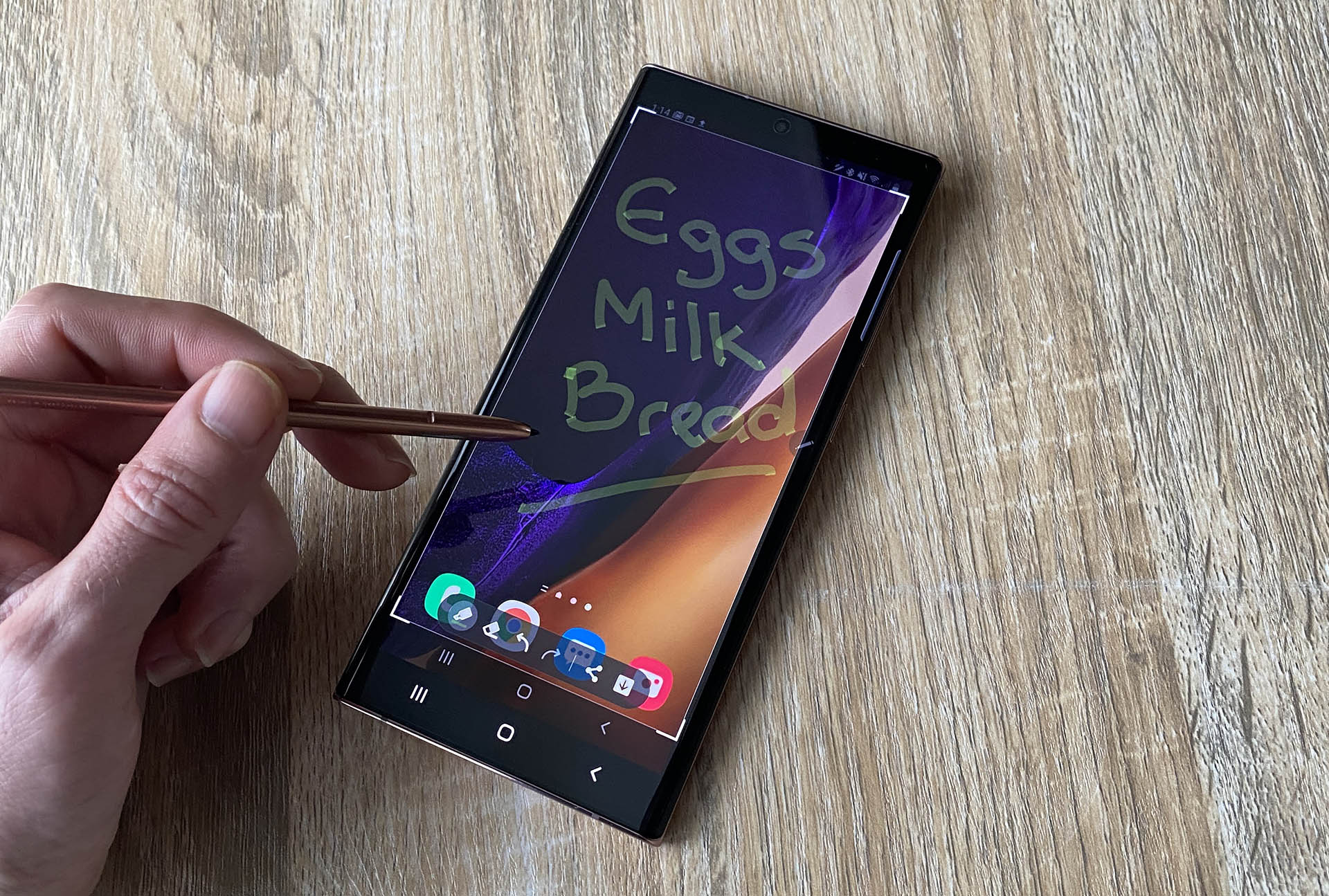 The phone and the stylus go hand in hand. The S Pen is what makes the Note unique and the S Pen needs the smarts and large screen of the phone.
Samsung have opted for a wider range of the Note20 series – differing models and colours to suit all.
The smaller Note20 and Note20 5G come in at 6.7 inches and a slightly lesser spec – and the Ultra and Ultra 5G are the big boys for the more serious Noters.
For those that are still on the fence about 5G then there are 4G variants (those without the 5G in their naming).
Samsung has created the 'Ultra' smartphone, built upon Android 10 and provides a seamless integration between your smartdevice and PC with the builtin DEX.
For play, for work the Samsung Note20 Ultra 5G is the super king of all Android smartphones.
Samsung Note20 Ultra 5G Review
Device details
Released: August 2020
Device Name: Samsung Note20 Ultra 5G
Chipset: 64-bit Octa-Core @ 3.0GHz
Memory: 12GB
Internal Storage: 256GB
Camera: F: 10MP. R: 108MP + 12MP + 12MP
Price: $2,299.00 (NZD)