The gap between owners of Galaxy and Huawei mobile phone ownership is narrowing.
Samsung having recently released their high end smartphone, the Galaxy Note 10+ and Huawei with their April (2019) released high end device in the ANZ (Australia and New Zealand) market, the P30 Pro are vying for placement in your smartdevice arsenal.
Both handsets have similarities while being starkly different and unique in their own right.
The Note 10+ being the higher end of the Galaxy Note spectrum, is larger at a whopping 6.8 inches, placing this in to the 'phablet' arena whereas the P30 Pro is a modest 6.47 inch.
But hey, it's not (always) the size that matters, it's what you do with it. Right?
Well… yes and no.
Users such as myself do prefer a larger screen. Media watching and game playing on a titan of a phone has its benefits. More screen, more viewable real estate. This becomes crucial when playing games.
But there can be drawbacks too. Sometimes a larger screen device may not fit so well in your pocket – can be cumbersome to operate with one hand and some accessories, like a mobile gamepad will not accomodate that larger handset.
P30 Pro has an OLED display, whereas Samsung offered up their proprietary Infinity 0-Display. Side by side, the P30 Pro appears brighter, and more crisper, with the Galaxy Note 10+ having a slight blue-ish hue to it. Both have an 'edge' to the screen but only the Galaxy Note 10+ makes use of it with an edge based quick select menu.
Both devices offer up 10x optical zoom in their rear triple camera arrays – but Huawei take it even further with an awe inspiring 50x Digital. Both have ToF (Time of Flight) and Wide lens, but only Huawei has the quality of Leica in their camera tech.
The P30 Pro's rear cameras weigh in at 40 + 20 + 8MP, Samsung's Galaxy Note 10+ is less with 12 + 12MP and a dedicated DepthVision VGA lens.
Modes of snapping on offer are very similar, the Note 10+ having a bit of AR (Augmented Reality) fun built in. This said, the P30 Pro has over 20 differing shooting modes, and while Samsung have made the effort to add a few including a Night function to their newest flagship, it still pales in comparison to Huawei's effort on the P30 Pro.
Front lens of the Galaxy Note 10+ is low for a high end at 10MP. It's enough but nowhere near the P30 Pro's 32MP.
Under the hood however is where the Note 10+ shines. If you have the higher end device, with 512GB storage – then likely you will be enjoying that super multi-tasking, super fast game playing with the 12GB RAM, coupled with data being crunched via the 64-bit Octa-Core Processor coming in at 2.7GHz or a maximum of 2.4 GHz + 1.9 GHz.
P30 Pro dims it down a bit. A still worthy 256GB storage and a modest (and industry standard) 8GB RAM. The processor on the P30 Pro is a HUAWEI Kirin 980 Octa-core Processor clocking in at 2.6GHz. So, not alot of difference there unless you count the max clocking.
The Note 10+ takes personal digital storage to the masses by way of having that microSD expansion. MicroSD cards are readily available and the Note 10+ is equipped with the smarts to be able to recognise an expansion card up to 1TB. P30 Pro – not microSD compatible. Instead Huawei created their own nanoSD cards, the largest coming in at 256GB and costing a packet.
Batteries and charging capabilities and functions are again very similar.
The Note 10+ boasts an up top 45 watt quick charge function which can take your device from almost zero life to 70% in less than 10 minutes with its super large 4300mAh battery. P30 Pro also has the quick charge function (40 watt) with a 4200mAh battery and in my test from almost zero to 70% charge (to do a comparison) took about 15 minutes. While both handsets offer up Wireless charging (and reverse charging) this comparison test was via plug in.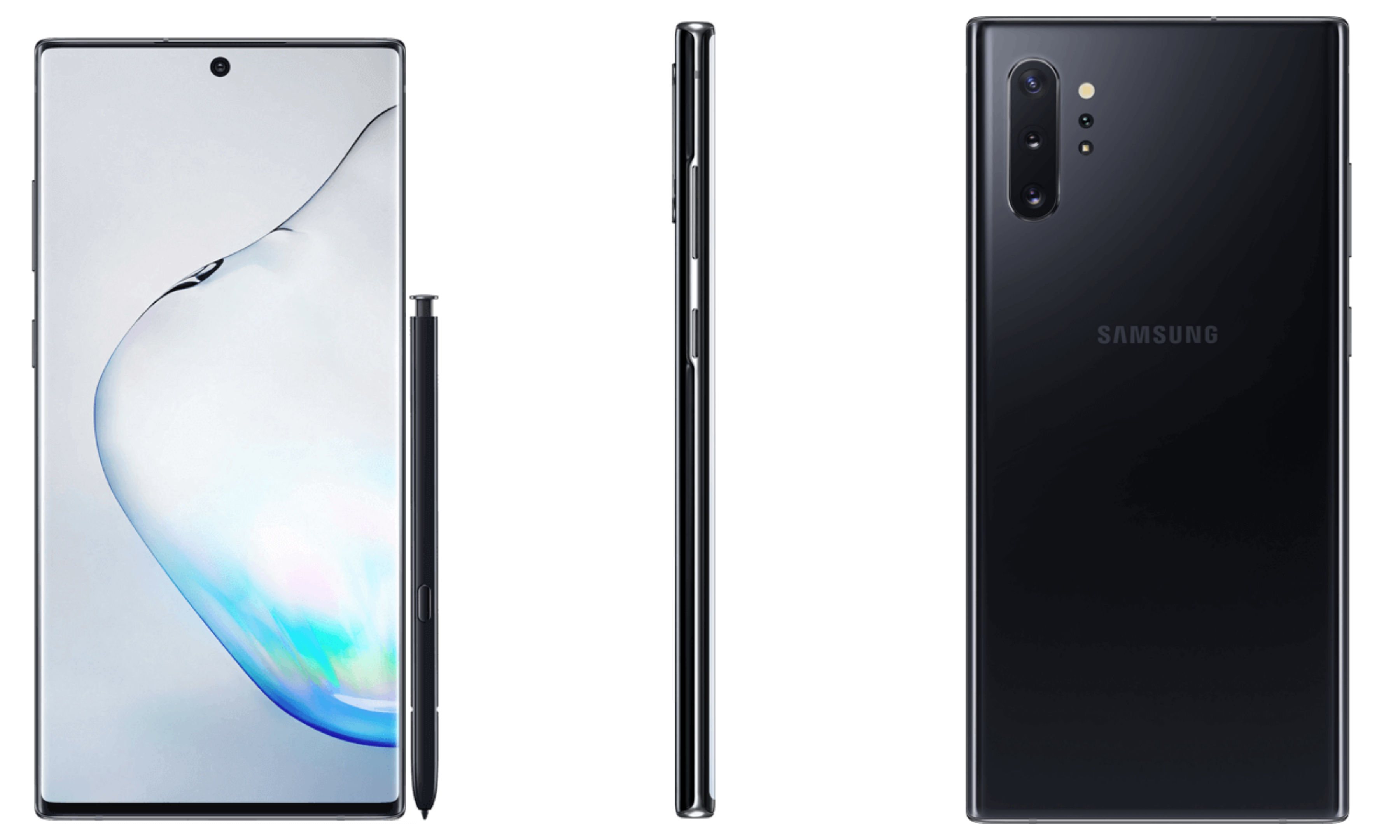 While the similarities between the devices is striking – each device is more unique than the other. Sure, both are Android based phones and each with their own reskinning of the Google operating system. But Huawei's P30 Pro EMUI 9 and up has been developed for total UX (User Experience). Equipped with flick and slide motions, the P30 Pro is easier to navigate through windows and open Apps than the Galaxy Note 10+.
Samsung's Note 10+ has Bixby. Love it or hate it – their smartphones have an extra tactile button devoted to their A.I. (Artificial Intelligence) Assistant. Huawei, ironically, relies on Google Assistant and has no hardware buttons for this.
And yes – the Note 10+ comes with added accessories, well necessities for this handset, the S Pen. A bluetooth connected device that is as much a part of the phone as the phone iteself.
The S Pen's functions have taken it from being a fancy stylus to a wondrous tool for your Galaxy Note 10+. Air gestures, on-screen writing, A.I. functions in the camera and more.
Samsung also have their own eco system. Owning more than one Samsung smart device means that they can all integrate with eachother, much like Apple's do – but not closed off like Apple. Samsung accessories will usually work with any other bluetooth enabled devices (and via your Samsung account) if you download and install the software.
Then, finally we come to the price factor.
Samsung offered up a pre-order initiative for their Note 10+. If you pre-ordered you would receive the Note 10+ at a lower price and have the spec'd up version (512GB storage – 12GB RAM). Still this came in at a cost of around $1,800 NZD.
To contrast, you can pick up a Huawei P30 Pro, which is one of the highest digital photography devices on the market currently at $1,499 NZD.
I reviewed both devices and gave both a well deserved 5 out of 5 score for their respective functionalities and that they do what they say on the box.
This said it really depends on what your preferences are. Mobile photography? Ease of use? Like the more standard screen size? Don't want to pay a stupid amount to have the latest and greatest? Then likely the P30 Pro would be for you.
But, if you seriously game on your phone, don't give a damn about taking breath taking pics and selfies and love the fact that your smartphone can turn into a tablet-like device… and you are all about screen size, the bigger the better, then Note 10+ is the way to go.
While the Note 10+ has it over P30 Pro on inner specs, the P30 Pro takes the crown, undefeated by miles, for mobile photography.
And remember, paying a bigger price for something doesn't always mean you get all the goods that a cheaper model can offer with a lot more.
Both are fantastic phones, both are super-phones, but only one is right for you – and for that decision I leave it to you.
P30 Pro vs. Galaxy Note 10+ – Flagship Battle
Huawei P30 Pro (Comparison Score)
Samsung Galaxy Note 10+ (Comparison Score)