Huawei are all about the user.
Making sure that their smartphones are the best in the market and while budgetary priced are not trimmed down on the bells and whistles.
Now, the same can be said for their steadily increasing march of wearables.
Last year Huawei released their GT Watch. This in itself was a remarkable wearable, not only for it's simple to use and lightweight OS, but the battery life that could last up to 22 days without a single charge.
Now for the latter part of 2019 we Huawei, proving that they are still leaders in the mobile market have released the Watch GT 2.
Aptly named, this new timepiece has been built up off the original GT Watch, but gotten bigger and better.
First up, the battery. Two weeks without a single charge. Not quite on the same caliber as the first GT, which is likely due to the internal functionality and the proprietary Kirin A1 A.I. chip that is built in to the device which is also used for audio processing.
The A.I. will learn your habits such as sleeping, exercising, normal heart rate (although you can set this in the Huawei Health App yourself aswell) and the smartwatch comes with 4GB internal storage.
The Huawei Watch GT 2 will need to pair via bluetooth to Android or even iOS… that said iOS can be somewhat temperamental and not all functions will work.
On Android you're set.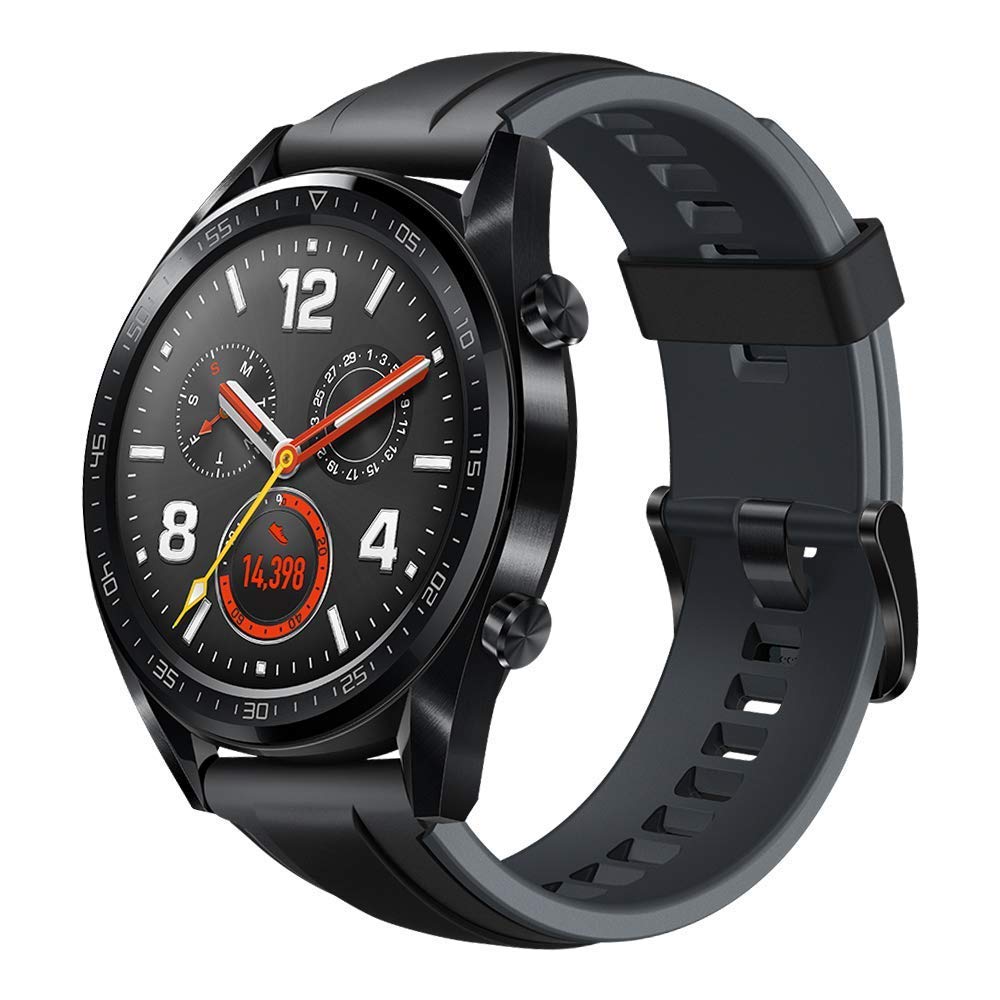 The GT 2 has a built in mic and speaker, something sorely missing from the first GT so you can take a call at your wrist. There is no eSIM so the watch and your phone need to be buddies and be close by.
The GT 2 is built for fitness.
Waterproof up to 50 meters for around 10 minutes, you can go swimming with it.
The internal monitoring offers up sleep results, personal fitness goals and step counter, heart rate monitor which as mentioned you can customize for it to alarm if, say, your heart rate increases or decreases over or under your normal beats per minute.
Unlike current other smartwatches that offer up similar functionality the GT 2 uses an invisible light to keep your heart rate in check. Superb as this device is designed to be worn 24 / 7 so the usual green lights that you see on other smartwatches wont be illuminating on this one.
Various simple applications are on hand aswell, including an alarm clock, okay yeah I hear you scoff, but I use it every morning instead of Alexa.
The alarm on the GT 2 will gently vibrate on your wrist as opposed to blaring out a horrid noise that less than wakes you and more startles you from your sleep.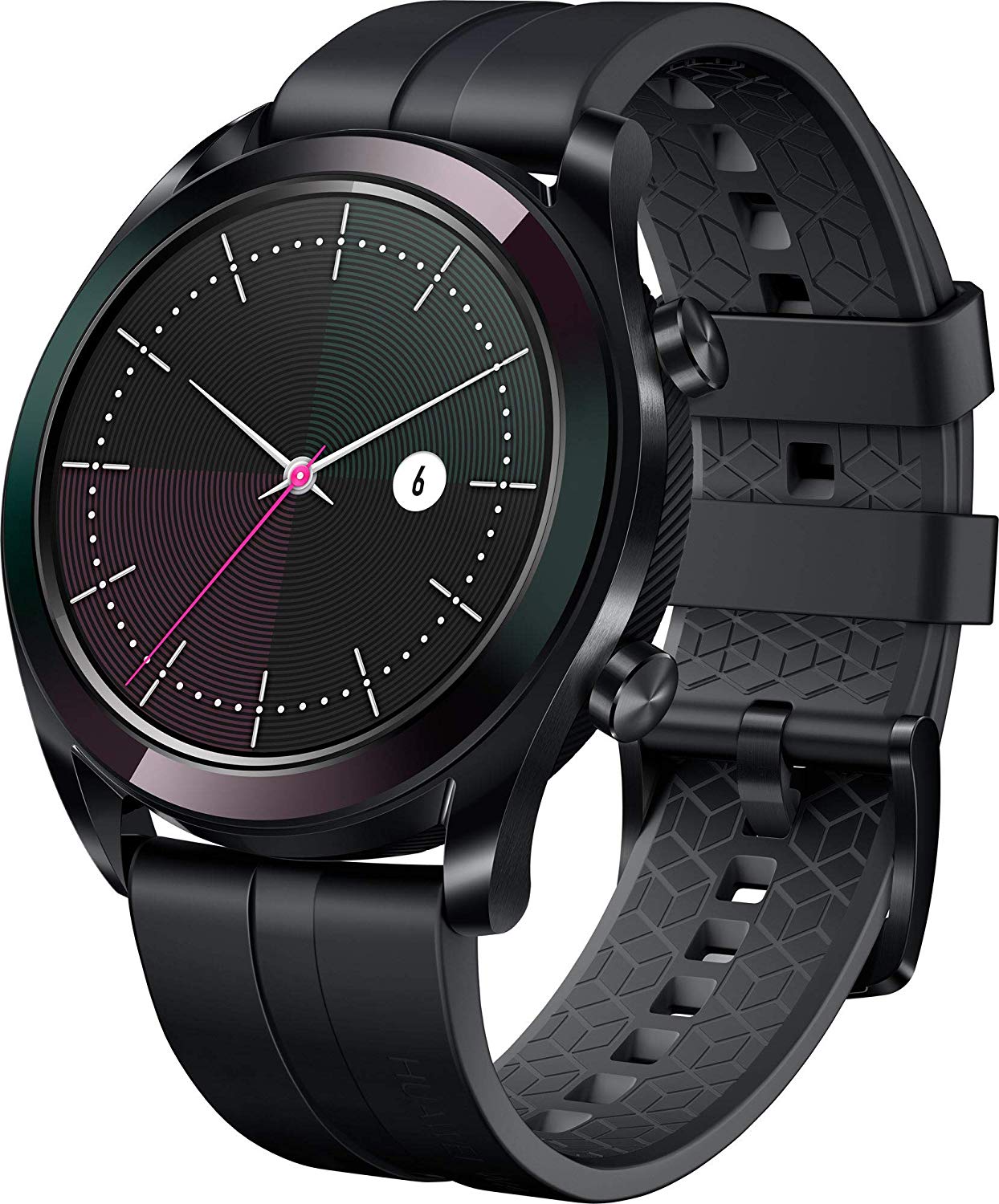 Via the Huawei Health App you can get down to the granular level as far as your stats go – and if you have no idea what things like REM mean (no, I'm not talking about the 80s / 90s band) the App will explain this for you aswell. All of your steps and travel are retained too via the internal GPS.
Builtin to the GT 2 is a Cortex-M7 processor which does all the data crunching and sends it to your phones' Huawei Health App.
Asides from being your personal health and fitness minder, the GT 2 will also notify you of any notifications that your phone receives – providing that you allow it to do so.
Well, it's meant to.
More often than not the smartwatch failed to receive notifications, then sporadically would remember you had notifications on your phone and send them all at once. This occurred with calls too. I had four missed calls one day, but the GT 2 never notified me of an incoming call. I paired the GT 2 with a Samsung Note 10 and a Huawei P30 Pro. Both same results.
With Apple iPhone 11 Pro I received nothing at all – although it paired successfully.
I'm hoping that this is patched soon.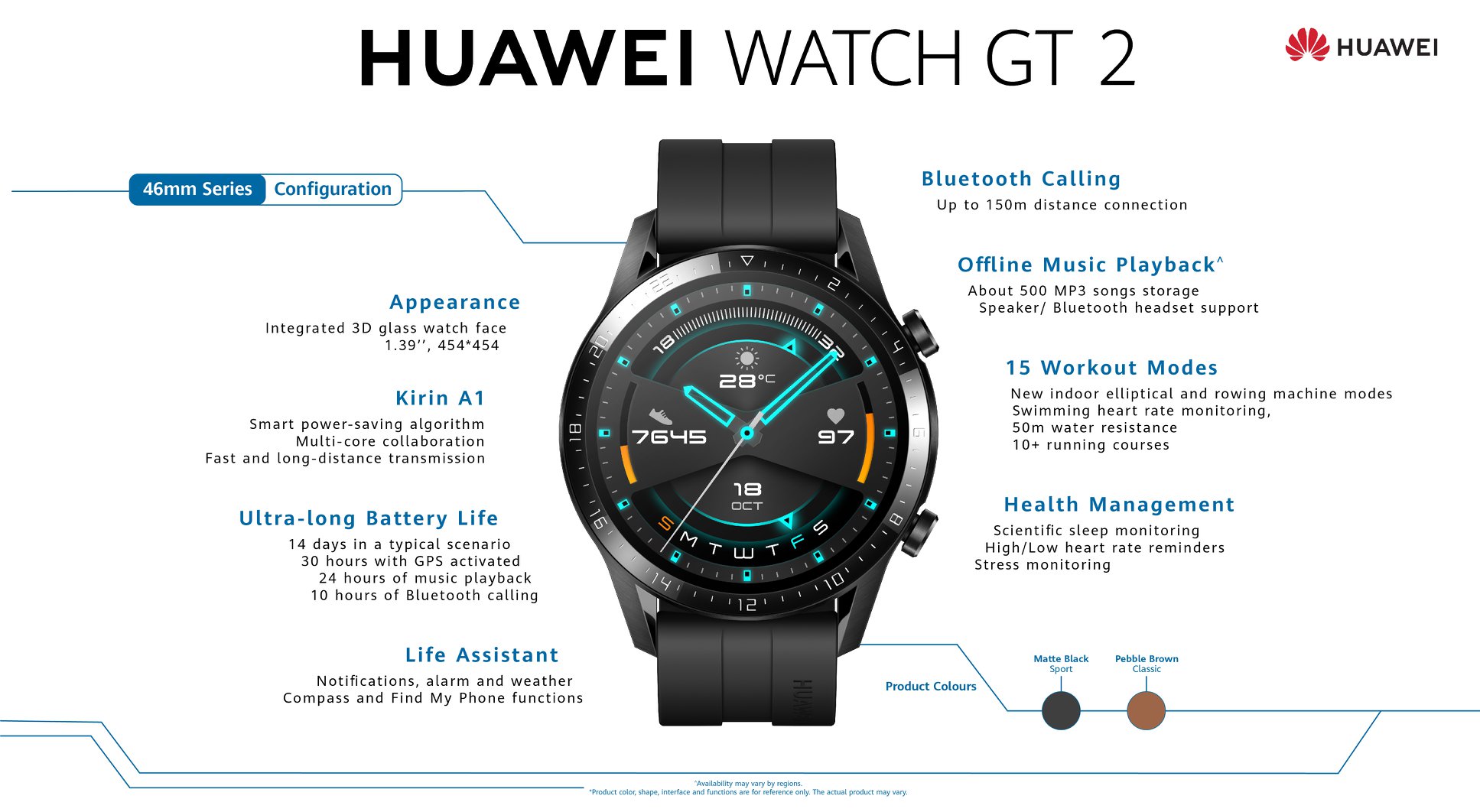 The GT 2 can also be used separately from your phone. The smartwatch comes with the 4Gb internal storage, however after the Huawei OS you are left with around 2.6GB. Still, if you feel inclined you can upload tracks from your phone to the GT 2 pair a bluetooth headset with the smartwatch and leave your phone at home whilst having the freedom to rock out from your wrist.
The GT 2 also has Spotify integration, but does need to be paired to your phone for this to work.
The GT 2 is the big daddy of smart timepieces. This new model comes in at a whopping 46mm. If you have smaller wrists then the GT 2 may likely not be for you.
Myself I don't have the largest manly wrists – but I loved the large screen and it didn't actually look big and bulky and fitted snuggly.
You can customise the look and feel, as with any smartwatch, but similarly to the Apple Watch, the watch faces are totally Huawei ones and there's only a few of them on offer.
Two large tactile buttons are on the right side of the GT 2. The lower button will take you through Fitness Workout Goal setups, whereas the top button acts as both a 'Back Button' and takes you to the GT 2's interface and apps menu.
The 3D Glass screen is navigate-able via swipe, as is the case with all smart watches.
Straps are interchangeable and it uses the same magnet charger as the first GT. Charging from zero to full usually takes around 20 minutes or so.
Looking super sporty the GT 2 is at a price point that again blows away the competition, and designed with your fitness and health at the forefront of usage making it an ideal gift this upcoming festive season.
Device Details
Released: November 2019
Product: Huawei Watch GT 2
Size: 46mm
Connectivity: Bluetooth
Price: $349 NZD