In what feels like a lifetime ago I remember building my first 'Gaming RIG'. Looking back on it, it was simplistic compared to what's available now. Still I remember a debate with a friend that myself adding 8GB RAM in to it was an 'overkill'.
Nonetheless it was my baby, but when finished, it needed one more important component. Quality audio.
The first optimal sounding gaming speakers that I owned were Edifier, Edifier M1386 2.1 to be exact. The three speaker unit came with a wired remote in what was a killer kit for its mid 2000's retail release.
To this day, one of the best PC audio speakers that I had encountered, until now. Recently Edifier supplied StG a R2000DB speaker set for review.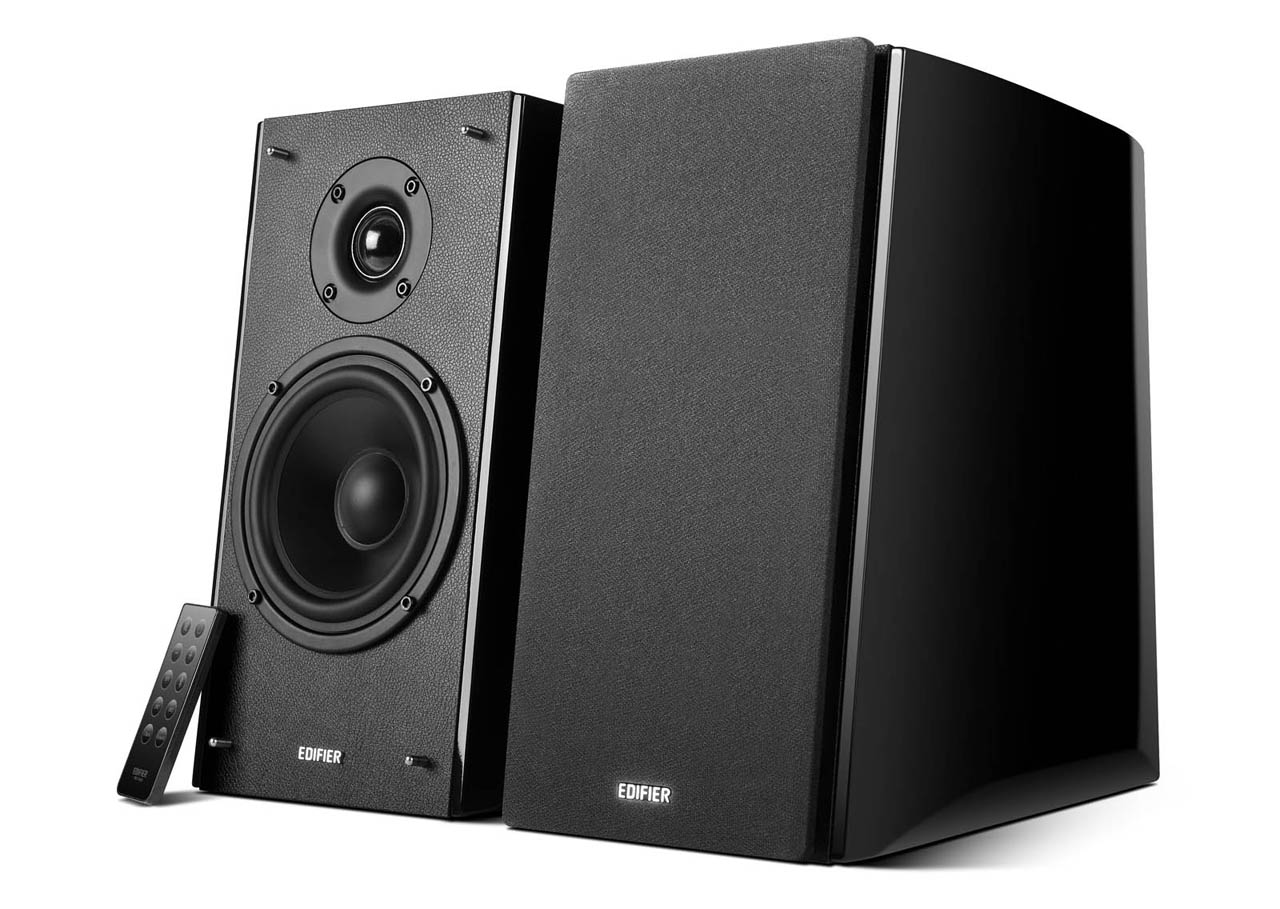 The Edifier R2000DB is a two speaker set, designed as a 'Bookshelf'unit which has the capabilities of being a one stop midi-system.
Simplistic to set up, the R2000DB has the usual connections, RCA In (two lines) and Optical. Utilising the 3.5mm socket on your PC or audio device or the RCA to RCA option will have you blasting the neighbours in no time.
The uniquely designed 'Eagle Eye' 25mm dome tweeters are responsible for adding the clear crispness to the high tones and background accompaniments.
Beautifully finished, the R2000DB is not only a super powerful unit with 2 x 24 watt plus 2 x 34 watt per channel with it's top tweeter to tub-thumping main speaker set behind soft mesh speaker covers, it is also wrapped up in a high gloss piano finish with a vinyl top surface covering.
Totally designed to be a part of your in-home decor or strikingly dark to blend in to your gaming dungeon.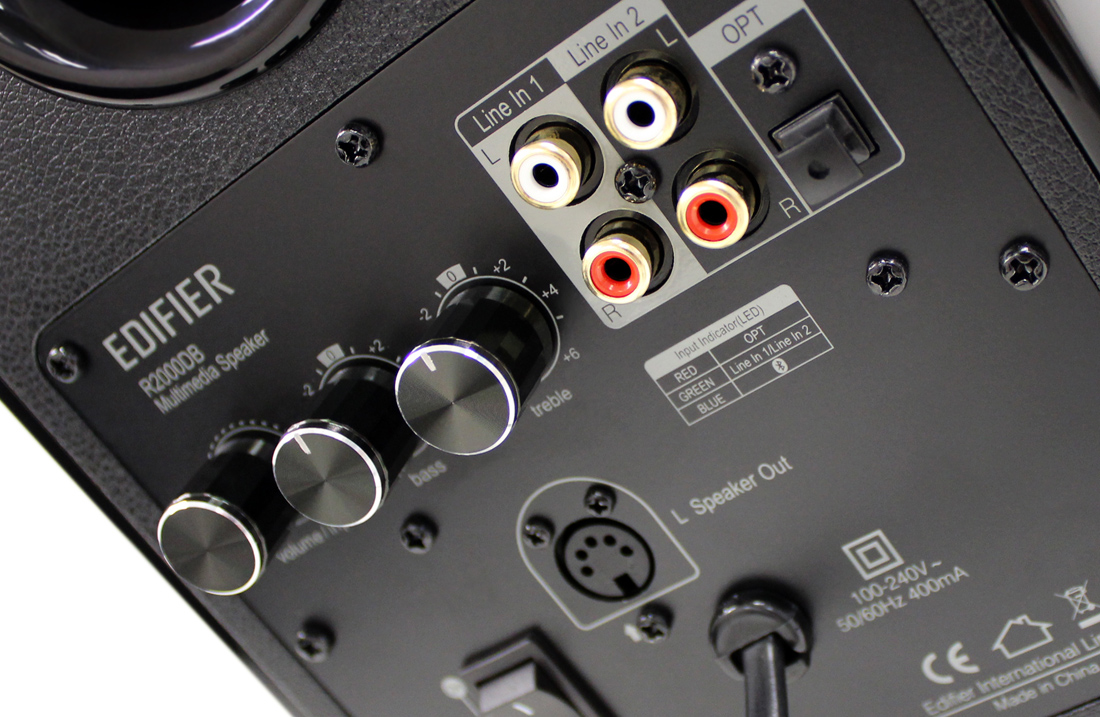 Edifier have also added Bluetooth connectivity to their R2000DB. Via either wireless audio connectivity from your PC or Laptop (if equipped) the unit will instantly connect to any smart device without any fuss whatsoever.
The remote that comes with the R2000DB is a tad smaller than a credit card, so in a home, or especially any games room that I know of and have seen, there is the potential for it to be misplaced.
Functionality of the remote is basic, such as volume, Line inputs, Bluetooth, and two Sound settings; Dynamic or Classic (although testing these two, I didn't really notice much of a difference).
Similarly most functionality can be set via the rear of the base speaker, which also connects the unit to the AC Power. However being at the rear of the base speaker means that you will need to be able to access the rear of the unit in the event the Remote cannot be used. For some this may be a hindrance.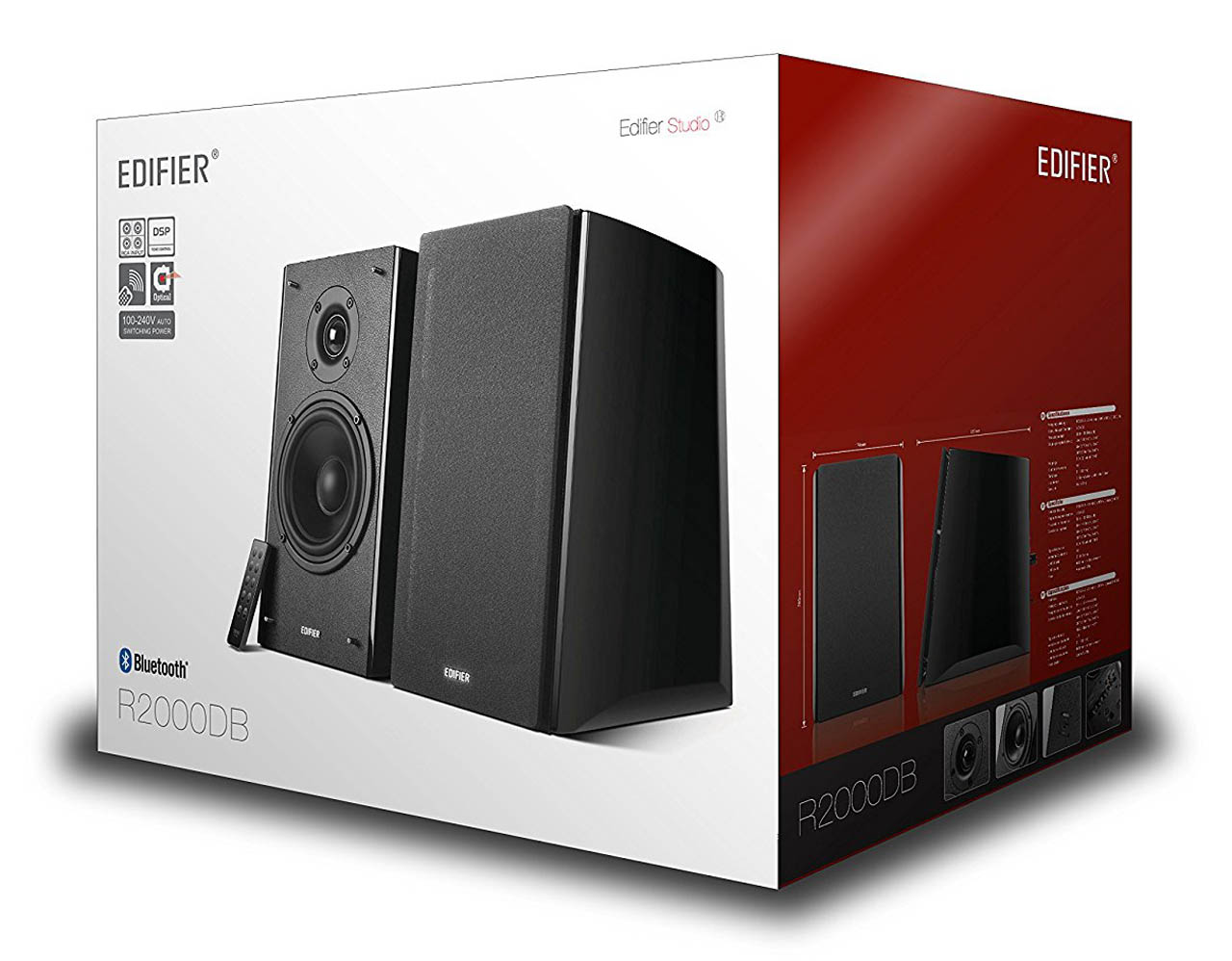 Proving that Edifier are a serious player and as equally serious about their audio they have added a zero tolerance to distortion. By way of DSP filtering the audio source, the R2000DB unit is equipped with tech that will fine tune your sounds on the fly, and without the need of external software.
It just works.
Being the two individual 'Bookshelf' speakers, there is no sub, and trust me there's no need for one. The volume, clarity and deep bass is more than enough to fill an entire house with your playlist, if not more.
And for gaming, you'll feel the deep rumbling as your gaming exploits and achievements blast out in perfect clarity.
A game changer for solid audio with minimal footprint and for the output volume and force the R2000DB is a totally affordable option to replace any multi-speaker clutter set up.
Simple yet superb.
Edifier R2000DB Speakers Review
Speaker Details
Released: June 2017
Device Name: Edifier R2000DB
Inputs:: 2x Input Lines (RCA) 1x Optical
Output: RMS 24W × 2 + 36 W × 2.
Connectivity: Cabled or Bluetooth
Dimensions: 6.25in x 11.5in x 8.5in (WxHxD)
Price: Under $500.00</p
The Good
Supreme audio for low cost. Easy setup. Bluetooth connectivity.
The Not So Good
Device function controls at rear of base speaker (if not using the supplied Remote Control)