At the HTC VIVE Spring Product Show event in Shenzhen, China, virtual reality (VR) technology company Visbit launched Visbit 8K VR Player, the industry's first rendering-based 8K 360° 3D video player.
With this launch, for the first time the pipeline to deliver high-end VR video experience is completed. VR users can now enjoy premium quality 8K 360° 3D VR videos without being tethered. This is an important user experience upgrade for the VR industry.
Applying Visbit's View-Optimized Viewing (VVOS) technology, Visbit 8K VR Player is capable of playing up to 8K stereoscopic 360° VR videos at both stream-to-play and download-to-play modes. It also features spatial audio support and video encryption to protect IPs. As of now, Visbit's 8K VR Player is now one of the top featured apps in Viveport store, and available for free to download for a limited period. In the coming months, Visbit 8K VR Player will also gradually support other standalone and mobile VR headsets.
Alvin Wang Graylin, HTC China President of VR, commented: "We know immersive video is a very important use case for mobile VR platforms. Designed with 3K resolution and 75Hz refresh rate AMOLED screen, the VIVE FOCUS standalone enables viewing of 8K resolution and is the perfect HMD for experiencing high-resolution VR videos. The Visbit 8K VR Player enables premium quality VR videos be played on VIVE FOCUS. We are glad to partner with Visbit to bring VIVE FOCUS users a significantly upgraded VR video experience."
Dan Chen, CEO of Kandao, tested Visbit 8K VR Player and commented: "The video viewing experience of this player is very impressive. It delivers 8K resolution in great quality and supports stereoscopic. The play is smooth and stable, and I didn't notice any latency when turning my head. Our Obsidian camera has been able to shoot 8K 360° 3D videos for a long time. However, due to the lack of 8K VR video player, we had to compress our demo videos to 4K to play, which significantly discounted the demonstration effectiveness. Now Visbit 8K VR Player resolved our problem. I believe many of our clients will also need this player."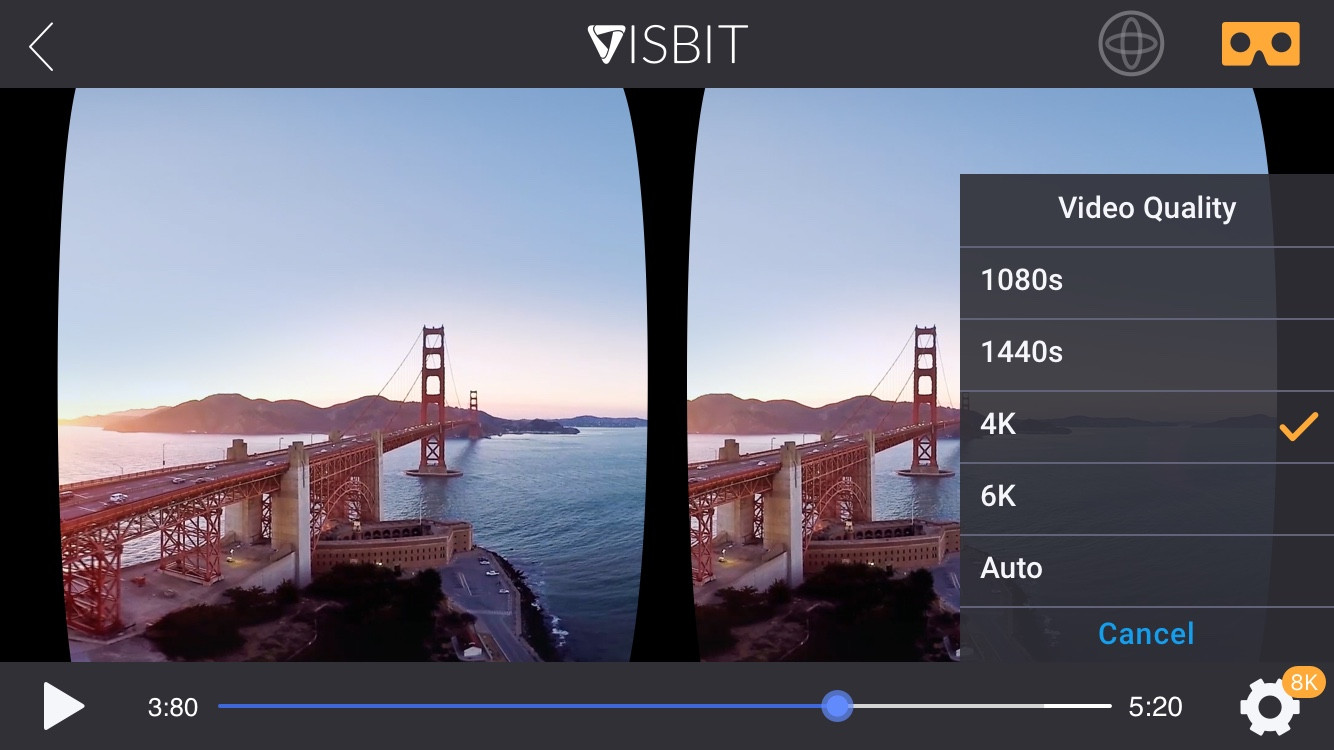 Elaine Lu, Visbit co-founder and COO, said: "The VR video experience to date suffered from poor resolution and unsmooth playing problems. This situation hasn't been improved much, even after 4K has become more commonly supported. Meanwhile, content creators who have been creating 8K premium quality 360 VR videos couldn't make their content stand out because nobody was able to see the difference between 4K and 8K VR videos. So we applied our unique VVOS technology to develop this player and enable playing of 8K VR videos with or without streaming. By demonstrating the 8K VR video viewing experience together with VIVE, we want to invite IP owners, production studios, and camera makers to team up with us and boost the premium quality VR video content. "
In addition to demonstrating, Visbit also offer its 8K VR Player as a private demo tool to whomever owns 8K VR video content. They can use Visbit's publisher portal as content management system and customize this 8K VR Player to be their own demo app. With the offline playing and playlist management functions, content owners can demo their premium quality VR videos at any internet condition for scenarios as exhibitions, client meeting, and more. This service will be offered globally soon.