​ASUS Republic of Gamers (ROG) today unveiled a top-to-bottom update of its entire gaming laptop family at the Intel Extreme Masters event. The ROG Autumn 2019 range offers all-new models with refreshed systems to balance the performance required by gamers, content creators and power users – without sacrificing the convenience of creature comforts that enhance everyday use.
There are different levels to match performance requirements and the appetite for more engaging gaming experiences. S-class laptops offer a premium experience for professionals, while M-tier designs scale back slightly to find the sweet spot for savvy users. The new G series focuses on core essentials to improve affordability and welcome more gamers into the brand. Esports-specific models have special requirements and are treated differently, as are top-end desktop replacements available only with high performance hardware under the hood. Regardless of the chassis or target audience, ROG gaming laptops are guided by an Intelligent Cooling philosophy that combines the right thermal hardware with smart software to ensure optimal performance and acoustics for what's happening in the moment.
Conventional clamshells limit cooling and lock into a fixed position in order to fit a form factor that can sit on a lap – a good compromise for a lot of laptops, but desktop replacements are too heavy to sit comfortably, so ROG has reimagined the form factor to improve the experience. Instead of lying flat on a desk, the ROG Mothership stands tall to give the cooling system unrestricted access to airflow at the back. The keyboard separates and folds for maximum flexibility, giving freedom to position it for the perfect stance to connect wired or wirelessly.
Detaching the keyboard reveals a row of four speakers that are aimed directly at the user, creating an effective sound bar right beneath the display. The improved airflow from the upright design of the ROG Mothership enables its shaved down chassis of 29.9mm, which is incredibly slim for the power the device delivers. Its CNC-machined body is milled with precision for a perfect fit. Requiring nearly 20 hours to carve all the pieces from solid blocks of aluminium, the device boasts chiseled lines and precisely formed pieces that reflect the care and attention to detail taken during the manufacturing process. The ROG Mothership has display options to suit both the hardcore gamer and the professional content creator. An ultrafast FHD panel refreshes at 144Hz with a 3ms response time to satiate gamers who want to experience true triple-digit FPS for fast-paced play. The 60Hz 4K UHD alternative offers the best balance for creative pursuits, with incredible detail and full Adobe RGB colour space coverage for a wide-gamut colour palette.
G703 carries the torch for desktop replacement clamshells While the ROG Mothership represents the future, the G703 takes the present into the next generation. Sticking to a traditional laptop form factor requires stronger cooling and a thicker chassis, so the G703 employs larger heatsinks and fans to achieve the same cooling performance as the ROG Mothership. Sticking to a familiar design imparts a different sort of versatility. G703 can sit on a lap in a pinch, which for some will mean the difference between making and missing a deadline, especially when on location or on the road. Despite being rooted in tradition, G703 still incorporates enough technology and features to remain cutting edge.
Go big and stay slim with Zephyrus S GX701 With its thin 18.7mm chassis and super narrow bezel design, the Zephyrus S GX701 is the most compact 17-inch gaming laptop ever. It's available with a GeForce RTX​ 2080 GPU pushed to 1230MHz at 100W with ROG Boost, which surpasses the specs of typical ultra-portables. Its PANTONE​ Validated display is calibrated at the factory to guarantee colour accuracy and features a 144Hz refresh rate and 3ms grey-to-grey response time. The ROG exclusive GPU switch allows users to switch between NVIDIA G-SYNC​ mode for a better gaming experience and Optimus mode for longer battery life. Its bigger 76Wh battery also further extends its running time capabilities.
A special version of Zephyrus S GX701 is also available with an HDR panel that boasts over a billion colours with full coverage of the BT.709 colour space. It offers higher brightness, better contrast, and localised dimming across 15 backlight zones. HDR only works in Optimus mode, so there's no GPU switch or NVIDIA G-SYNC on this model and gaming with high dynamic range is limited to titles that support the native Windows API for HDR. RGB backlighting for each individual key comes with the ability to personalise profiles for productivity and play. There's an integrated volume roller conveniently within reach of the left hand for ease, complete with backlight that changes automatically to match the volume.
Instead of compromising with a basic webcam in the bezel, ROG designed a much better external unit that captures high-resolution 1080p footage at a silky 60 fps. Zephyrus S GX701 is more than a gaming laptop; its versatility appeals to content creators, developers, and other professionals who need a powerful system they can take anywhere. Zephyrus S GX531 sets the standard for slimness Putting high-end gaming components into an ultra-slim laptop is exceeding challenging, especially when targeting a thinner chassis than ever before. The high-performing Zephyrus S GX531 is a testament to ROG's engineering prowess as it delivers a remarkably compact body with high performing components. The slender profile of the Zephyrus S GX531 measures just 15 mm thin and incorporates a 15.6-inch display with super-narrow bezels to squeeze into a smaller footprint, so it easily fits into bags normally used for smaller laptops. Zephyrus S lowers its profile without scaling back on specifications. Innovative AAS cooling is effective enough to take the GeForce RTX 2080 up to the same ROG Boost speed as the larger GX701. There is also a choice of cutting-edge displays depending on whether a faster 240Hz refresh rate or higher dynamic range is preferred. The smaller Zephyrus S GX531 is a more focused alternative for people who prioritise portability above all.
Zephyrus S GX701 and GX531 have a forward keyboard position that leaves more room for cooling and reduces skin temperatures where hands normally rest, the all-new GX502 adopts a more traditional layout that works better in a smaller workspace and on the go. It's the most versatile Zephyrus yet, tailored to satisfy both hardcore gamers and professional content creators. The palm rest hides honeycomb reinforcements that make the chassis stiffer where it's needed most. The process starts with molten magnesium alloy and uses a combination of die-casting and machining to create the sturdy piece, which resists the flexing that makes some other ultra-slim gaming laptops feel less premium.
Soft-touch paint adds a smooth finish that repels fingerprints and adds a subtle gleam. Augmented AAS cooling allows the top GeForce RTX 2070 equipped model to scale up to 1540MHz at 115W with ROG Boost in Turbo Mode – a clock speed and wattage typically reserved for full-sized laptops. Zephyrus S GX502 keeps up with the larger Strix SCAR III, and can also be outfitted with the latter's 240Hz/3ms panel. The eSports-grade PANTONE Validated display makes fast-paced shooters silky-smooth and crystal-clear, while guaranteeing accurate colours for content creators. The ROG exclusive GPU switch can toggle between NVIDIA G-SYNC for a better gaming experience and Optimus for longer battery life. At just 18.9mm thin and weighing only 2.0kg, the machine is remarkably portable for something so powerful. Despite the compact chassis, there's room inside for dual M.2 SSDs that can be configured in a RAID 0 array that maximises performance. Upgraded audio uses an ESS SABRE DAC that reduces noise and distortion for the headphone output, enabling high-fidelity sound with wider dynamic range. The RangeBoost-infused gigabit-class WiFi is supported by a gigabit Ethernet jack so users have the option to choose between wireless convenience and wired performance.
Strix SCAR III reflects its shooter inspiration with a Gunmetal Grey motif and carbon wave pattern on the interior. The collaboration with BMW Designworks Group on the Face Off concept also inspired the transformative nature of the new ROG Keystone, which docks neatly with the chassis and offers a more personalised link to the laptop.
This NFC-enabled device acts like a physical key; docking one can change system lighting and other settings based on Armoury Crate profiles, and grant access to a secret Shadow Drive that hides and encrypts important files. Working with professional esports teams and top tournaments provides insight on the needs of professional players who increasingly demand 240Hz displays. The high refresh rate display found in SCAR III provides a competitive edge in high-level play, especially in fast-paced FPS games. The 144Hz alternative is still incredibly fast; its 3ms grey-to-grey response time matches the 240Hz panel and produces a particularly clear picture in motion, with minimal blurring or ghosting. ROG Boost takes the GPU up to 1440MHz at 115W, which helps sustain the high frame rates needed to saturate the screen. CPU options scale up to the Core i9-9880H, whose eight-core design adds multitasking prowess that can help with gaming and streaming on the same machine, along with more serious work like video editing and 3D rendering.
Strix G provides an affordable foundation that distills the essential elements of the core ROG experience.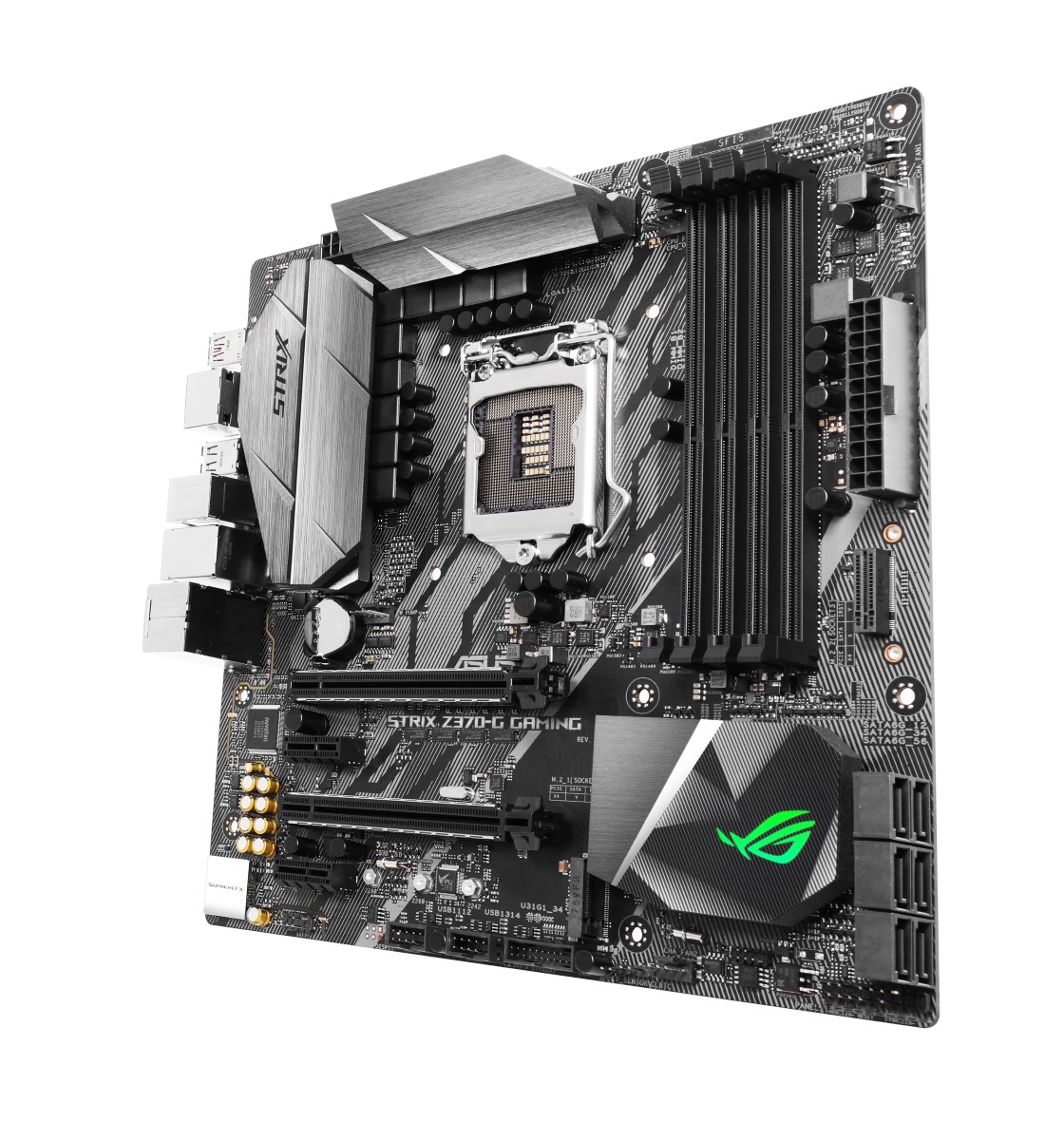 Its low-profile design can take you from a casual environment such as a classroom or coffee shop to a LAN party later in the evening. The GeForce GTX 16 series has the right price-performance ratio to fit the Strix G's profile, complete with an upgraded video encoder that enables smooth, high-quality capture for streamers. Strix G can be configured with up to an Intel Core i79750H CPU with six cores and 12 threads, and a GeForce GTX 2070 GPU and 144Hz display. It's available with up to four-zone Aura Sync lighting for the keyboard, and comes with the same great Strix cooling and all the essentials, including RangeBoost for the Gigabit Wi-Fi, HDMI 2.0b output for 4K monitors and TVs, and support for G-SYNC monitors via DisplayPort over USB-C on models with GeForce RTX graphics.
By concentrating on vital features and components that define the gaming experience, ROG Strix G offers excellent value in a versatile laptop that can handle work and school in between gaming sessions. Fresh form factors and new hardware help the Spring 2019 lineup of ROG gaming laptops cater to a wide range of gamers, creators, and power users with different needs and budgets. Most models are available for sale or for pre-order today, with others following in the coming weeks.