Already being the master of control peripherals for next gen consoles, with their Wheel and Pedal set, the T-150 and Flight Sim controller T.Flight Hotas 4 the team are now taking on the Gaming Headset market.
With the Y-300CPX, Thrustmaster is proud to offer a worthy successor to its Y-280CPX, the highly-successful multiplatform gaming headset! The Y-300CPX incorporates its predecessor's most popular features, but pushes the envelope even further in terms of wider compatibility.
In order to cater to the greatest number of gamers, Thrustmaster's development teams have equipped the Y-300CPX with extended compatibility: the headset is compatible with not only PlayStation 4 and PlayStation 3, Xbox One and Xbox 360, PC and Mac, but also Nintendo Wii U, Nintendo 3DS and PlayStationVita, as well as with tablets and smartphones – including calling functions for the latter.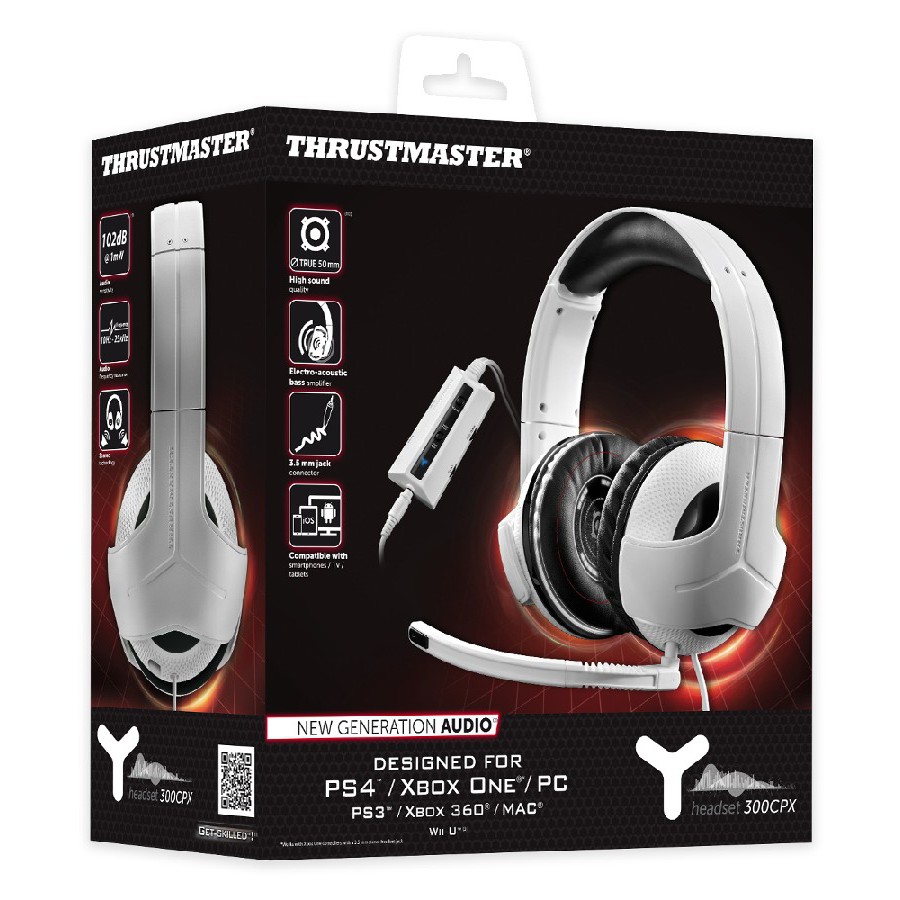 The Y-300CPX provides excellent audio performance, with its true 50 mm drivers! The headset's audio sensations are ultra-realistic, thanks to a stable frequency response curve, optimized for games, ensuring a perfect balance between bass, mids and treble. This brand-new gaming headset features double electro-acoustic bass amplification, for truly deep and powerful low-frequency response. Its earpieces include large, ultra-soft ear pads, providing exceptional passive isolation and long-lasting comfort, and function as real bass-amplifying sound chambers.
The Y-300CPX features a unidirectional microphone, which is both detachable and adjustable. The mic has been designed to only target the gamer's voice, thereby ensuring optimized, high-performance communication between the user and his or her teammates.
What's more, gamers can quickly and easily adjust the headset's settings using the multifunctional inline controller: this allows for independent adjustment of the audio levels of the game and of voices, of the microphone and of chatting, as well as the ability to enable and disable voice feedback. And last, but certainly not least, in order to guarantee that it can be used not only on any platform, but also in any gaming setup, the Y-300CPX includes a whopping 13.1 feet/4 meters of cable.
The Y-300CPX will be available from mid-February 2016.