I know what you are thinking, how can the beautiful game of football get any better?
Well first of all get rid of the current implementation of VAR. Yes I am still salty about the loss to Costa Rica and I am going to be mad for the next 4 years.  But not looking at officiating, how can the sport itself get any better?  Well, Nintendo has had a solid crack by Mario-fying the sport and… yea it's pretty damn good.
Mario Strikers: Battle League is football, but not as you know it. Obviously players can pass the ball to each other, shoot and score their way to victory, like a football game right?
Well how about an electric fence around the sideline? How about Hyper Strike kicks that are worth 2 points? How about tackling your own player so they smash into an opponent's player?
Are you interested yet?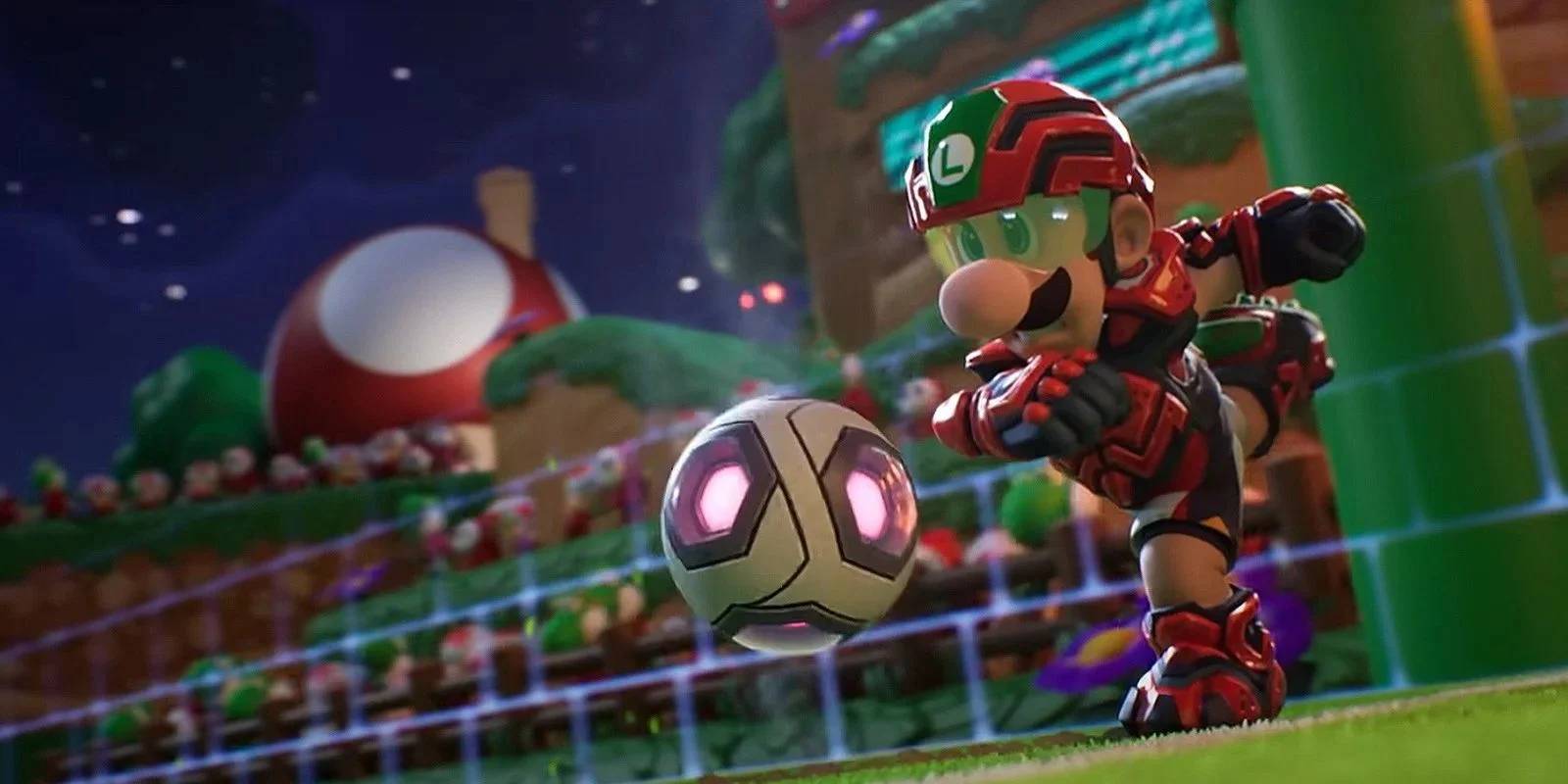 First things first.
When it comes to Mario sports games they tend to be relatively easy to pick up and play.  If you have played a FIFA game recently and struggled a bit with the complexity, Mario Strikers: Battle League will be appealing.  Blasting through the tutorial makes it really clear how easy it is to start playing. Simple passing shooting and other actions like that are as simple as pressing the button, or holding it to aim and fire in a specific direction.  This is really crucial to the game being fun.
Then there are the classic Mario tweaks. Being able to tackle your own player and then slamming into an opponent with the ball is fun as hell to do once you master the execution. Mario slamming Bowser into Donkey Kong in a game of football is a series of words I never thought I would write.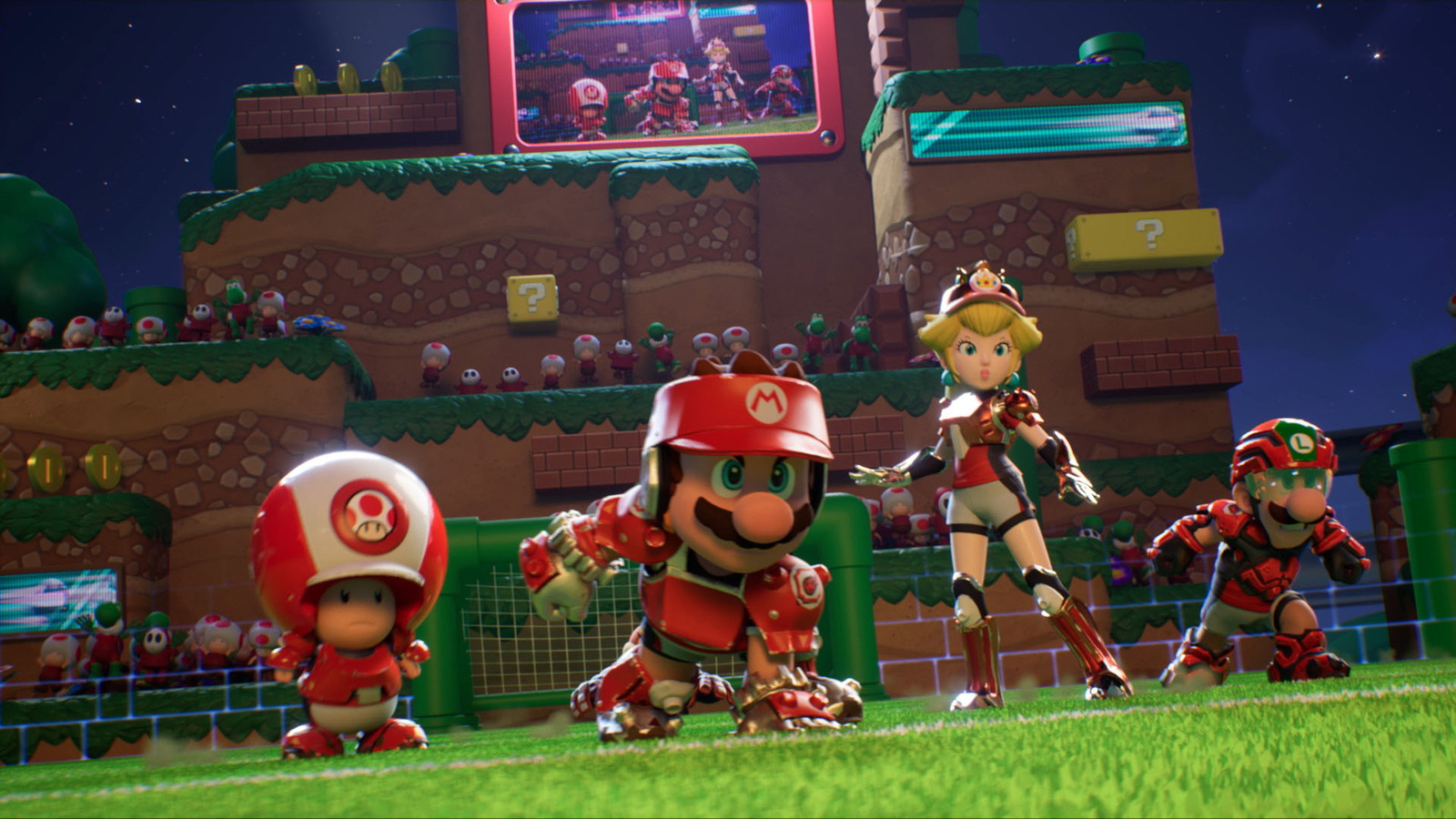 Then there are the Hyper Strikes.
Here if you manage to get an orb that drops on the field, you power up. Get the ball and do a powered up strike and you get a bar that pops up on the screen. The power bar moves on the screen and you need to hit the button in one direction, then hit the second bar on the way back.
The closer you get to hitting those, the harder it is for the goalie to defend. Hit it perfectly and it is guaranteed to beat the keeper. On top of this, the goal is worth 2 points, so it can be a real game changer.
The good news is it is pretty hard to hit it perfectly, and if one of these goals is hit against you, you have to mash a button to block it.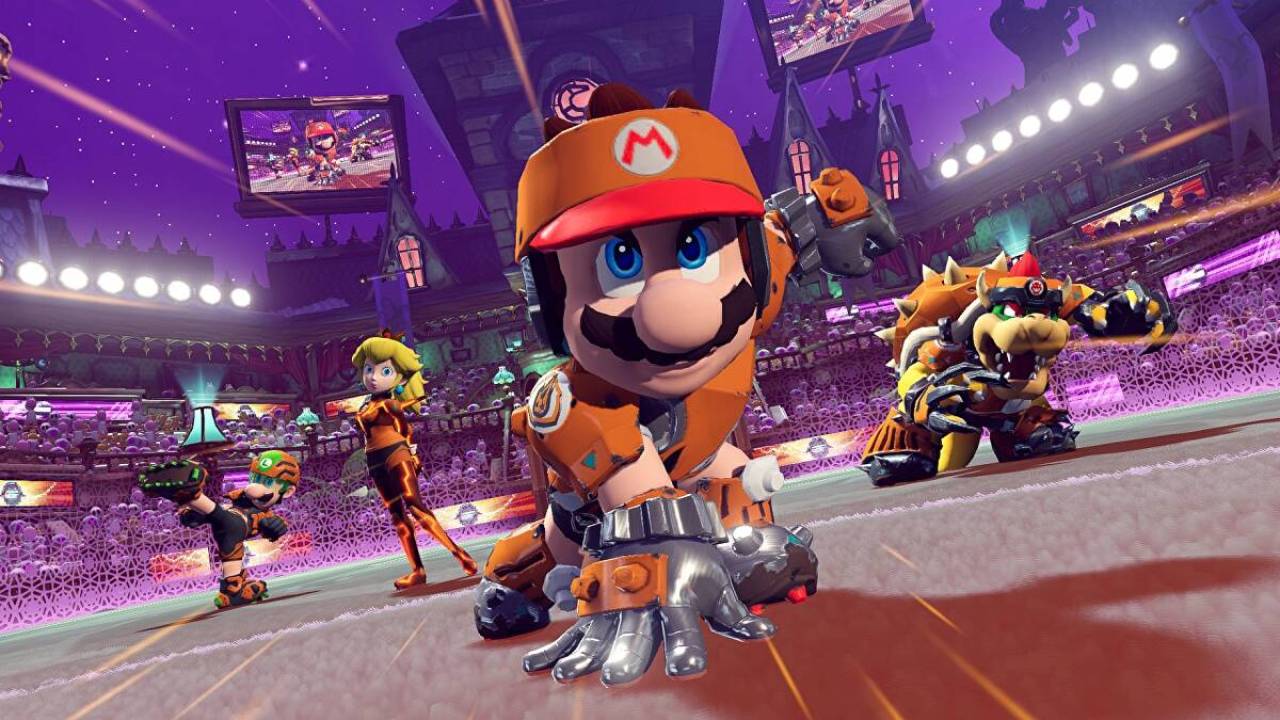 So yea, this makes the game a little more arcadey and Mario-like, but that aint all.
It isn't a Mario game without question mark boxes right?
Well they drop on the field and give you power ups like shells to throw at other players, mushrooms to make you super fast etc.  Some drop for your team, some drop for the opponents and some for anyone. Nabbing your opponents one doesn't give you a power up, but it stops them getting it.
What really works is there are the silly ways that the game can turn, but also underlying this is the solid base gameplay. As mentioned, hitting passes and goals is relatively easy to learn which is what allows you to smash the tutorials, be full of confidence, and jump straight into a cup challenge. This is where my ego was immediately smashed to the ground. I got my ass kicked so bad in the cup on my first go. You get 2 losses before you are knocked out, so my cup campaign lasted … 2 matches.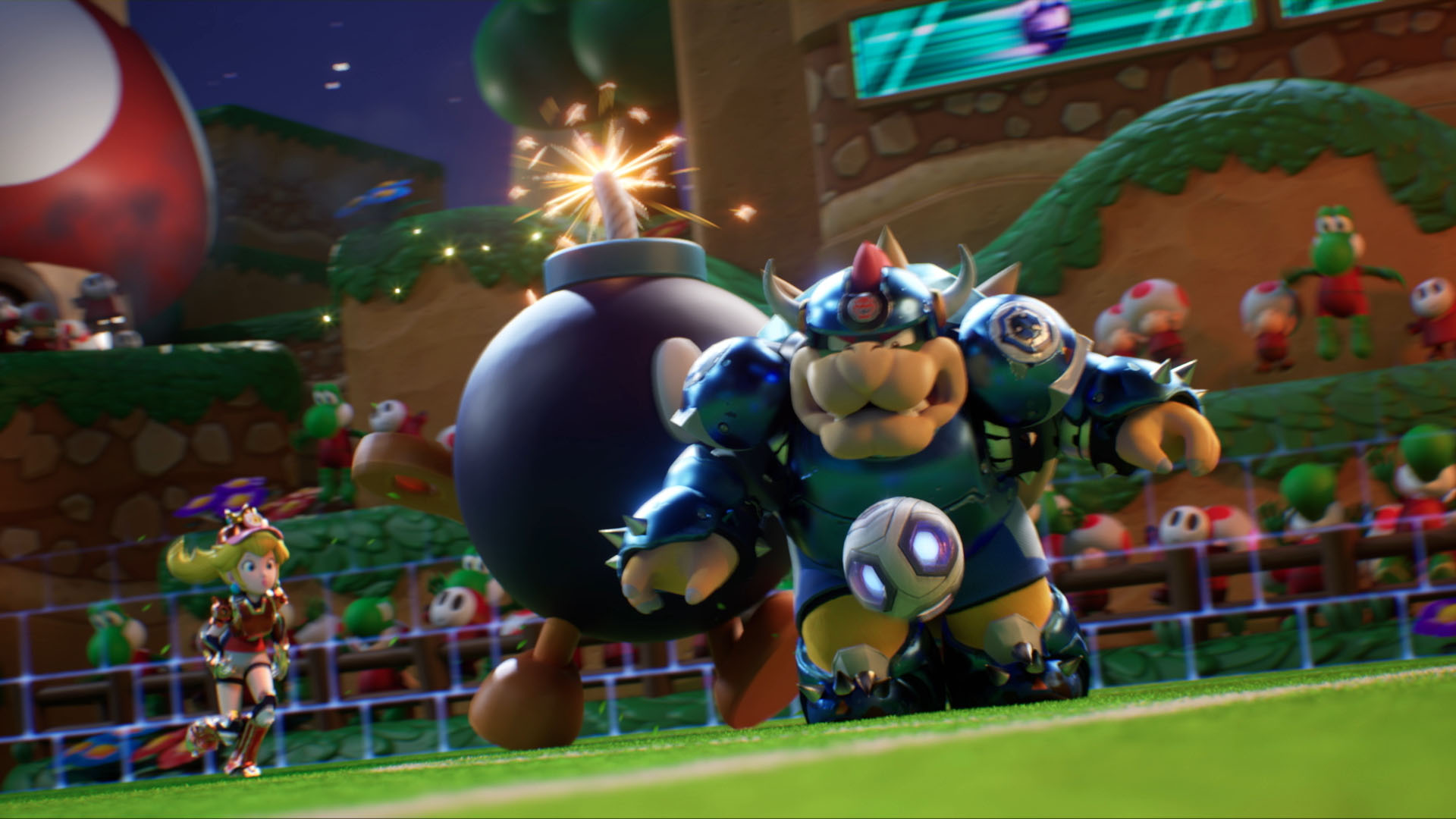 Getting schooled on my first crack was great because the second time around I just scraped into the final which I just managed to win 1 all. The game is a classic, easy to learn, difficult to master style of game. It doesn't take long to feel like you are pretty good, but it takes ages to actually get good. To be fair, I am far from being actually good.
With sports games, Mario titles have had some mixed results for campaign modes. This game hasn't even bothered, it just instead offers online modes, and offline quick matches or cups. As someone who likes offline modes I spent most of my time in the cups, which as mentioned earlier gives you 2 loses before you get knocked out.  It's simple, fun and a great way to play the game offline.
Mario Strikers: Battle League is a great game.
The mechanics make the game fun, the aesthetic keeps it super light hearted, and it's just the right balance of stressful and relaxing. Another banger on the Switch.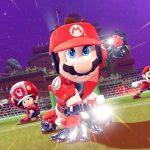 Mario Strikers: Battle League (Switch) Review
Game details
Released: June 2022
Rating: G
Platforms reviewed: Nintendo Switch
Genre: Sports
Developer: Nintendo
Publisher: Nintendo