Roadshow Films invited Shane the Gamer (StG) for an exclusive interview with the legendary Nelson Woss, an Australian Film Producer who has worked on the cult classic Ned Kelly (2003) which starred the late Heath Ledger and in 2011 the family film; Red Dog.
Based on an Australian urban legend, Red Dog told the story of a wandering canine in the Australian outback throughout the late 1960's to early 70's. Known as the Pilbara Wanderer the master-less dog was know to roam the outback stopping into small towns and stations along the way. The local ethnic people of Australia, the Aboriginal people, saw Red Dog as sacred and the first film depicts the known story of Red Dog along with a mixture of legend.
Red Dog was one of the highest grossing Australian made films at the box office and it continued this success when it released to DVD and BluRay.
Now, Nelson has just wrapped up production on the prequel to Red Dog – Red Dog True Blue.
It depicts the early days of the Pilbara Wanderer and how the legend came to be. When eleven year old Mick (Levi Miller) is shipped off to his grandfather's (Bryan Brown) cattle station in the remote Pilbara region of Western Australia, he prepares himself for a life of dull hardship, but instead finds myth, adventure and a friendship with a scrappy, one-of-a-kind dog that will change his life forever.
Red Dog: True Blue stars a mix of newcomers and esteemed actors from Australia including Levi Miller, Bryan Brown, Jason Isaacs, Justine Clarke, Hanna Mangan Lawrence and Thomas Cocquerel. The film will also introduce a new canine star named Phoenix. Not only this but locals in the township of Pilbara (where the film was shot) were also included as extras.
So, we asked Nelson on how the prequel came to be.
Shane: Hi Nelson, thanks for talking with StG today. Can you please give our readers and viewers a little bit of a background on yourself and how you came in to the film adaption of the tale / urban legend of Red Dog aka 'The Pilbara Wanderer'.
Nelson: I'm originally from Western Australia where the story took place. I remember as a kid hearing stories about the real Red Dog . I traveled myself and started my career in the U.S. and I made a film about Ned Kelly who was Australia's most famous outlaw and then I was looking to do more films in Australia. Louis de Bernières came to Australia and he wrote a book about the red Dog which I read on a plane. and I thought what a terrific story and a terrific opportunity to go back to the region where I was from and tell a moving story that I knew a little bit about.
I found an amazing team, led by Chriv Stenders the Director and it was basically a bunch of rag tag film makers who did the first film, which became an enormous success in Australia It did 20 Million at the Box Office and sold a Million DVDs and then we were given the opportunity to make a second film and as a Film Maker we jumped at the chance Both Chriv and I are a bit older now and we both have kids and we wanted to make a film that celebrated what was special about the region and the community in the Outback. Something that we could share with our kids as we remembered growing up, this is a coming of age story and we remember how powerful and the type of impact that film made on us and inspired us to become film makers.
Red Dog: True Blue celebrates what is special about being from Downunder.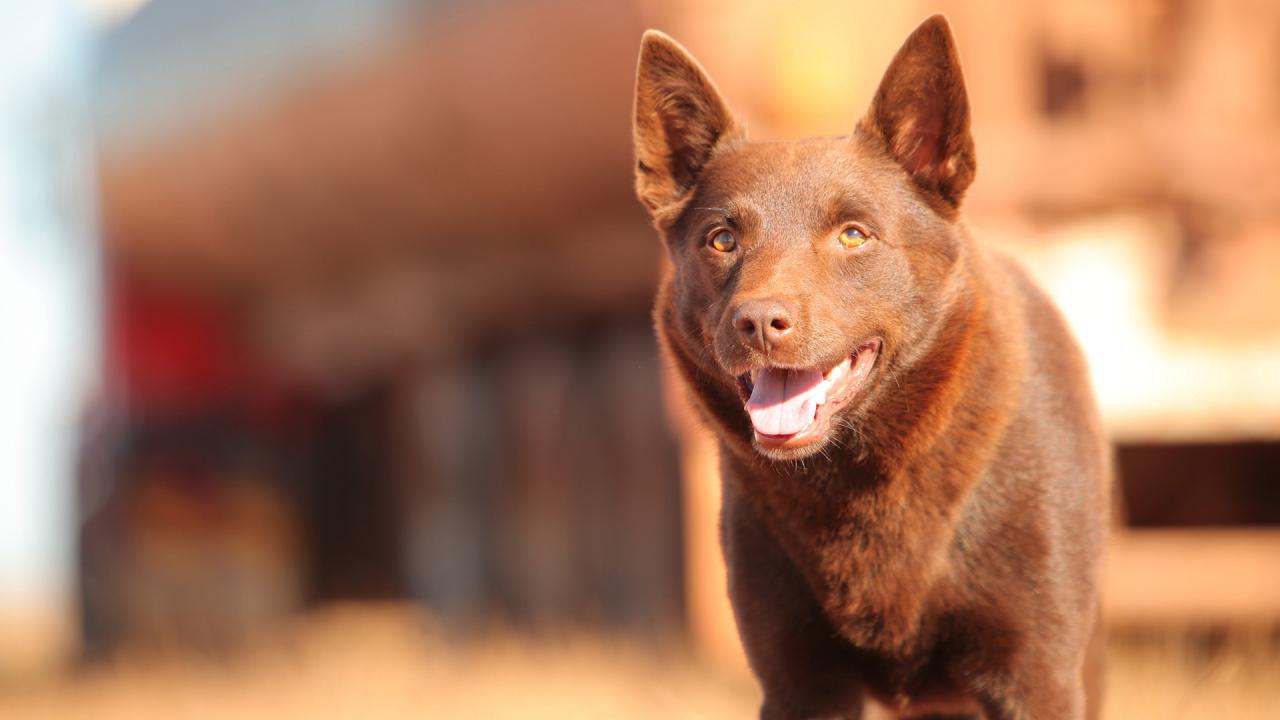 Shane: We understand that Red Dog: True Blue is a prequel to 2011's Red Dog film (highest grossing Australian made film at the box office). At the time Red Dog was being made, was there always a plan to make a prequel?
Nelson: We always had an idea to do a Trilogy. But as an independent filmmaker, and I'm sure that there's alot of independent filmmakers in New Zealand that can relate to this, we live day by day. We were happy to make the first film. We always had a dream to make three and it was based off the success of the first film, we got the opportunity to make the second. You don't need to have seen the first film to enjoy the second, because it's like an origin story. It's a prequel, it's an imagining so in some ways people that have not seen Red Dog (first film) can go and see Red Dog: True Blue  without seeing the first one. And if they enjoy the film then they can go back and watch the first one. It's an experience that I would have liked to have, you can see it sequentially by seeing red Dog: True Blue first
Shane: Alongside the main actors of the film, were locals involved again as they were with the first movie Red Dog?
Nelson: Absolutely. Obviously we had some screen legends, like Bryan Brown who is a living legend in the Australian film industry and has done films with Tom Cruise, like Cocktail (1988) and we had Phoenix and Levi Miller, but these films are done on a budget and everyone was doing double duties so you see alot of the cast and crew feature as Extras but because we shot in such a remote location we also featured and had the engagement of the local community including the local indigenous community. The film would not have the same impact and would not be as special without the Narana People on whose land we shot. They consulted us and collaborated along every step of the way. It's their story.
We were so proud, and as I said we didn't show the film in Sydney or Melbourne, we took it back and showed it to the local community. There's no cinema out there, it's so remote, we had to take a traveling cinema and blew up the screen. It was a windy night and we didn't know if it was going to blow over so we pulled up a semi trailer behind the screen and we said come hell or high water we were going to screen the movie for the locals and if the screen blew down we were going to continue to project it on the back of the truck. Luckily the wind died down and it was such a terrific night. The people saw themselves on the big screen and it was just wonderful.
Our films are about heart and soul and there was no way that we were going to premier it at a film Festival or in a big city, we always show our films first for the people who collaborated with us from the remote region.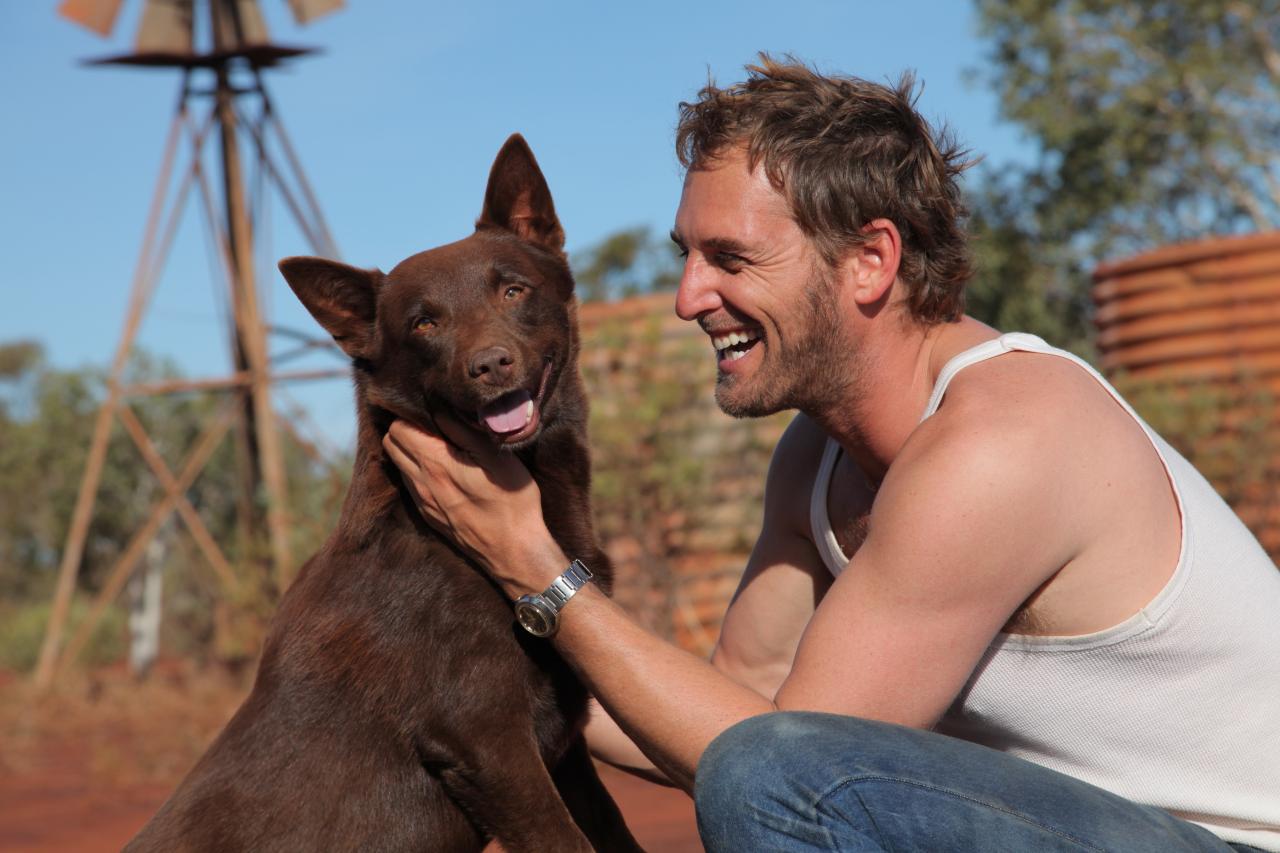 Shane: Red Dog and Red Dog True Blue is based on a non fictional legend, how much of the film is based on actual accounts and where did the inspiration come from to extend the story?
Nelson: We have a number of legends and I know that there's stories like this in New Zealand, one was Ned Kelly and another Red Dog. They were told and retold so many times that they become mythic in nature, so we as filmmakers get very inspired by that and want to tell our own story. We want to riff off those legends and myths as they become apart of our culture. Both Chriv and I both love Hollywood films, we go to the cinema all of the time, but we think it's good to tell our own stories from our own lands and have them on screen to balance the films that come out about comic book heroes and the Harry Potters. We love those films by the way, but we have kids and we think it's good for them to know where their culture is and where their home is also. For them to see their stories celebrated on the big screen.
Shane: Where to from here for yourself? Are there any other projects that you are working on that you can talk about?
Nelson: First of all we want to take Red Dog: True Blue on the road. We want it to travel to New Zealand first then we are going to take it to America and then Europe. The film has been selected in to the Sundance Film Festival and they just loved it – they felt it was a throwback to those coming of age films that came out in the 60's, 70's and 80's. Then fingers crossed we might get to make the third film, making it a Trilogy. I've got another film that I'm doing in America called The Palm Springs Follies. It's about a rag tag bunch of retired performers that put on one last show that becomes very successful in Palm Springs, which is a different town to where we made Red Dog, but there is just as much character in it, in it's own special way. I'm also doing a military story about the Australian Military and a Documentary about the dog that played the first Red Dog in the first film,  called Cocoa. So we are busy and happy to be working.
Shane: Thanks so much Nelson (and Roadshow) for your time today. We are all looking forward to the release of Red Dog: True Blue.
RED DOG: True Blue is in New Zealand cinemas on January 1, 2017. The film is also going to Sundance Film Festival in 2017.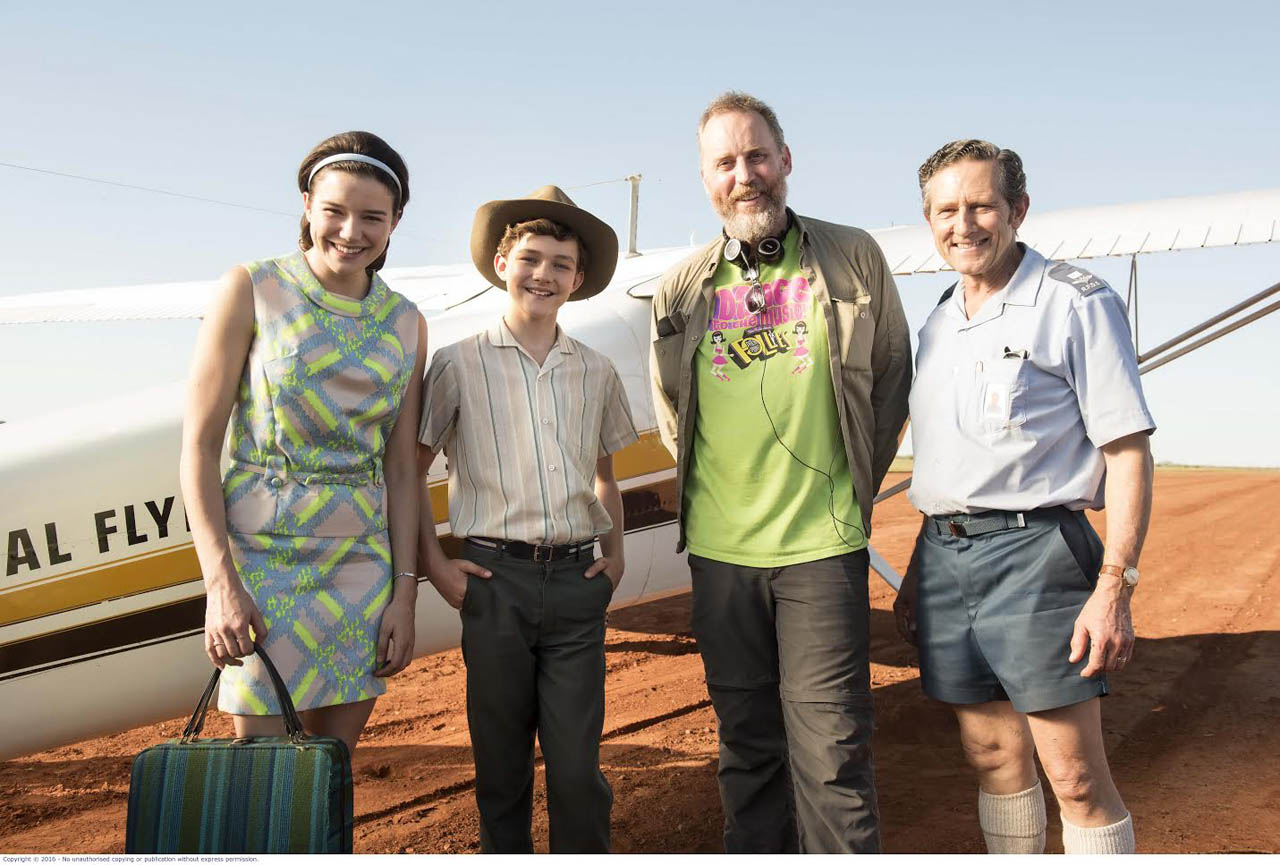 Nelson also supplied StG with pics from the Red Dog: True Blue Premier in Australia's outback. Were YOU snapped at the World Premier?
[easyrotator]erc_10_1481592272[/easyrotator]