In an era when monarchy is starting to become less relevant politically, it might be hard to envisage a world where empires in Europe owned swathes of land across the globe and exercised great power.
But before the 20th century this was still the reality for the world; a reality where women who were married into positions of power had very little power of their own.
Well-known exceptions to this rule were Elizabeth I and Catherine the Great, but there were royal consorts who did try to exercise as much freedom as humanly possible, even if they lacked political power. Marie Kreutzer's magnificent film Corsage introduces the viewer to Empress Elisabeth of Austria (Vicky Krieps), the fascinating queen consort of Franz Joseph I, Emperor of Austria and King of Hungary.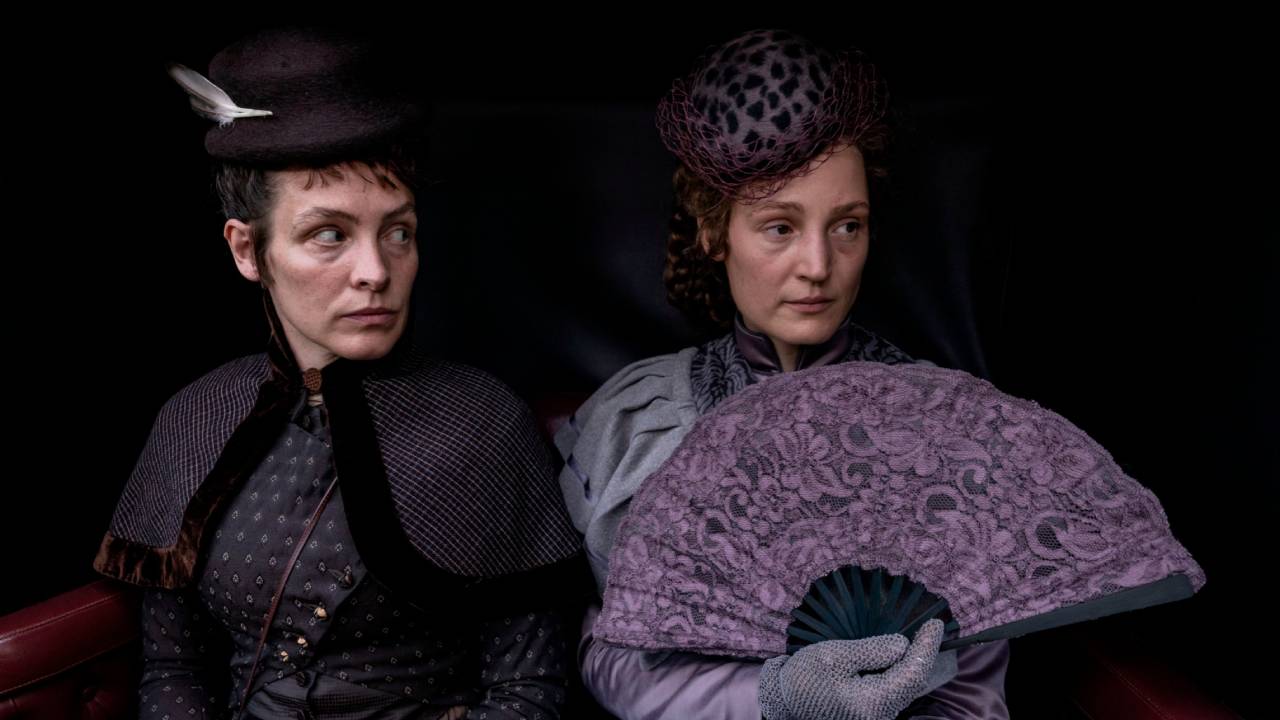 Elisabeth is a captivating woman: she practices tight-lacing, ensuring her corset slims her waist to around 40cm (something the real-life Elisabeth also did). An accomplished equestrian, she also fences and practices gymnastics. She openly smokes cigarettes, something considered unbecoming of a woman in the 1870s.
At the same time, she has to deal with being 40 and considered 'old' and her weight and beauty being the subject of gossip and tabloid fodder.
She chafes against the idea of solely being a symbolic figurehead but her attempts at discussing military matters with her husband, Emperor Franz Joseph I (Florian Teichtmeister) are coldly rebuffed.
In an effort to make some small contribution to the welfare of her subjects she becomes personally interested in the treatment of the mentally ill and visits wounded soldiers. As she cannot escape the psychological shackles of royalty, she escapes physically by indulging in frequent trips abroad; visiting with her beloved cousin Ludwig II, the King of Bavaria (played magnificently by Manuel Rubey) and her rumoured lover Bay Middleton (Colin Morgan).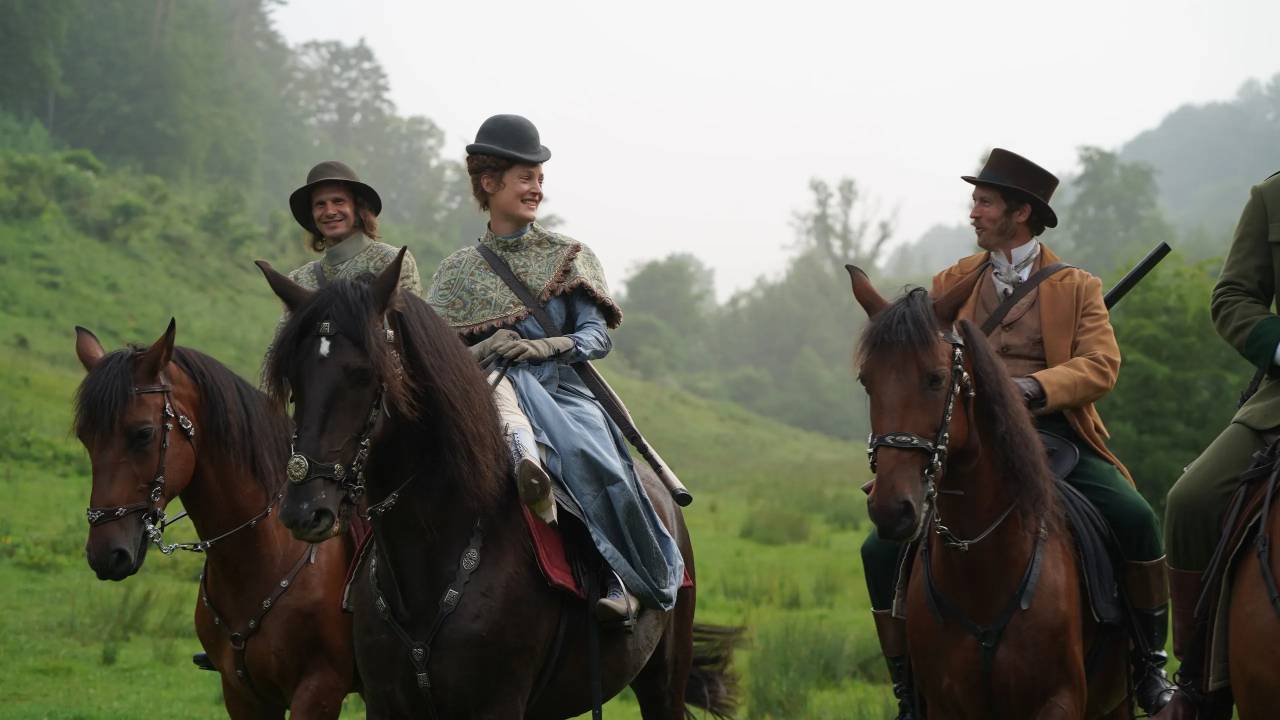 Corsage is not a fast-paced film, nor should it be. It meanders through a year in the life of Elisabeth, showing her trying to have as much control over her own life as humanly possible for a woman of her status.
Her tight-lacing and strict dieting are, sadly, as much a way of attempting control as they are of keeping the press hounds at bay.
She attempts sexual autonomy by trying to engage Franz Joseph in sex for pleasure but cannot achieve this with either Bay or Ludwig. She is no mere countess to be trifled with; an illegitimate child would not only be scandalous, it would further destabilise an already fracturing empire. This is yet another deep burden for a woman who is desperate for liberation from her societal constraints; something the audience will empathise with thanks to the beautifully nuanced performance from Krieps.
The film is rich in symbolism; one of the main symbols being Elisabeth's incredibly long hair.
The real-life Empress was known for her hair which was fashioned into elaborate styles which would take hours to complete. It is more important to her than any bejewelled ceremonial crown. When she chooses to cut her hair short, it is another symbol of her liberation; one which is devastating to the woman whose job it is to style her hair daily. In fact, the stylist openly weeps over this act- with Elisabeth shortening her hair she may have cast off the shackles of societal expectation, but this woman has lost her job and purpose in the court.
Unfortunately, Elisabeth's actions have more consequences to the people around her than a woman of common birth. Another symbol is that of the corset. The movie's title Corsage may inspire the image of a spray of flowers tucked into a jacket pocket or worn around the wrist, but it is the German word for 'corset'. It's worth noting that the word 'corsage' was also used historically to describe the bodice of a woman's dress. It is thanks to her practice of tight-lacing that her corsage remains incredibly small; something she would not have been able to achieve during her states of pregnancy. The tight-lacing is another act of defiance and bodily autonomy.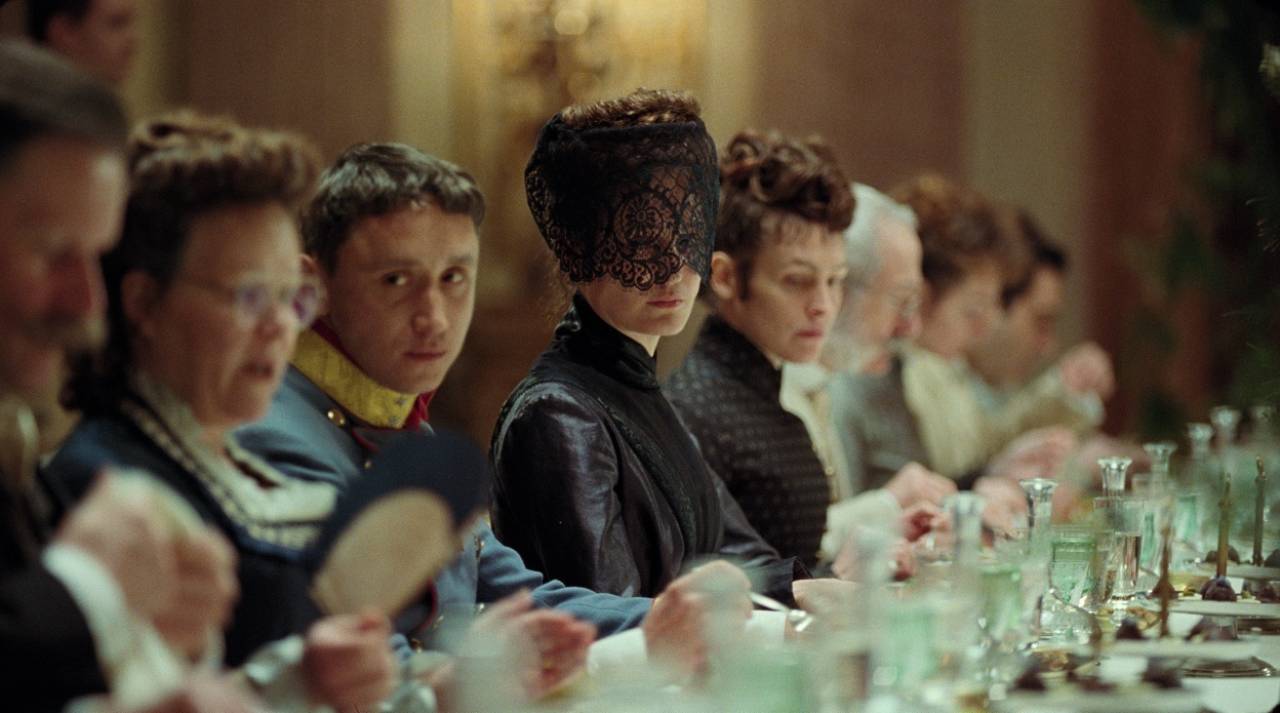 One of the subtlest but most effective symbols in Corsage is the use of the colour purple.
Purple has always been considered to be a colour associated with nobility, but here it is used as a sort of signature colour for Elisabeth. She has a number of purple gowns and accessories, there are times when the paper of her cigarettes is purple, and she has a purple birthday cake. When she goes to visit patients at the mental asylum she hands out beautifully decorated boxes of sugared violets, and after cutting her hair a purple box spills its contents, revealing chocolates wrapped in dark purple wrappers.
It's a reminder of her whimsy despite the circumstances.
Marie Kreutzer's script takes historical fact and laces it with creative licence magnificently.
For instance, Elisabeth historically did not take up fencing until she was in her 50s, but in the film she is seen confidently doing so at the age of 40. The real-life Elisabeth had a fourth child, which does not happen in the film (however the film does acknowledge the death of her first child Sophie). And most refreshingly the film has an unexpected but welcome ending; as instead of being the victim of assassination (which happened to the real-life Elisabeth) the story changes. With that change, whole new possibilities open up to the viewer, leaving them to wonder, "what if?"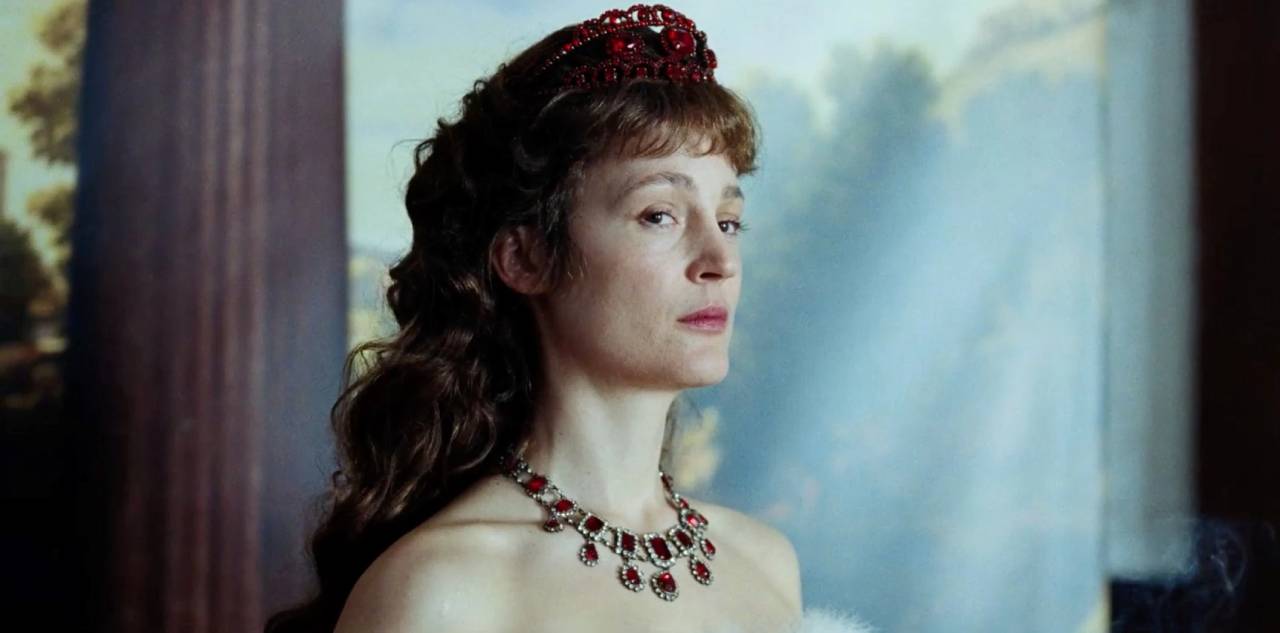 Thanks to the writing and direction of Kreutzer, this is not a tedious historical biopic.
It is more a character study played out in the year of the life of Elisabeth, taking historical accounts of the Empress and bringing her to life through Vicky Krieps' performance. It's easy to see why Krieps won the Best Performance award in the Un Certain Regard section at Cannes 2022.
She mesmerises as Elisabeth in a performance that feels like she is channelling the energy of the monarch herself. It's hard not to love Krieps' Elisabeth- she has a wildness that needs to be expressed, a heart that beats as hard and steady as the thundering of her beloved horses' hooves. Her free-form dancing during the credits of the film is magnificent, moving across the screen in ecstasy.
There have been many adaptations of the story of Elisabeth's life, but Corsage feels fresh; invigorating Elisabeth's legacy and allowing us to see her life through the lens of modern life. In fact, the viewer may see many parallels between Elisabeth and another royal consort- Diana, Princess of Wales. Both struggled with the constraints of being a private person in a public position, cared for the plight of the disadvantaged, and were considered fashion icons.
Corsage is an elegant, spirited examination of womanhood and personal sovereignty and a film that is to be savoured and celebrated.