NOW CLOSED – Long and fierce gaming sessions. Movie marathons or simply Netflix or Disney+ binging.
Whatever your digital past time – you need the energy, the fuel and chocolatey satisfaction to keep you going through it.
Arnott's has reimagined some of its classic biscuits to inspire a completely new format – chocolate blocks!
The highly anticipated arrival of Arnott's Chocolate in New Zealand follows its successful launch into the Australian market in 2019.
With over 150 years of biscuit baking expertise, and more than 50 years of chocolate knowledge, Arnott's has expertly crafted a smooth and creamy chocolate and blended it with real biscuit pieces to create a totally new indulgent treat.
The range consists of five mouth-watering varieties; Scotch Finger, Ginger Nut, Wagon Wheels, Iced VoVo, and Butternut Snap. The range is made using sustainably sourced cocoa.
Michelle Kitchen, Arnott's Brand Manager said, "There's no denying the love Kiwis have for biscuits, or their passion for deliciously crafted chocolate. We have combined the two to give people the best of both worlds and an entirely new way to enjoy Arnott's!
"We've handpicked some Arnott's favourites, as well as new flavours for New Zealanders to sink their teeth in. Whether it's the well-known, buttery crunch of Scotch Finger, the undeniable Wagon Wheel combination of biscuit, raspberry and marshmallow, or the ever-humble coconut and raspberry from Iced VoVo, there's something for everyone to try and enjoy."
The Flavours:
Scotch Finger Milk Chocolate Block
Crunchy, buttery biscuits mixed into delicious milk chocolate, a classically indulgent bite.
Ginger Nut Dark Chocolate Block
Decadent dark chocolate mixed in with spiced ginger biscuit pieces for a sophisticated chocolate experience.
Wagon Wheels Milk Chocolate Block
Creamy milk chocolate packed with crunchy biscuit bits, raspberry flavoured lollies and fluffy marshmallows, a totally unique chocolate experience.
Iced VoVo Milk Chocolate Block
Irresistible milk chocolate, playfully blended with crunchy biscuit bits, coconut & raspberry flavoured jellies and pink fondant pieces.
Butternut Snap Milk Chocolate Block
Creamy milk chocolate packed with crunchy golden oat & coconut biscuit pieces.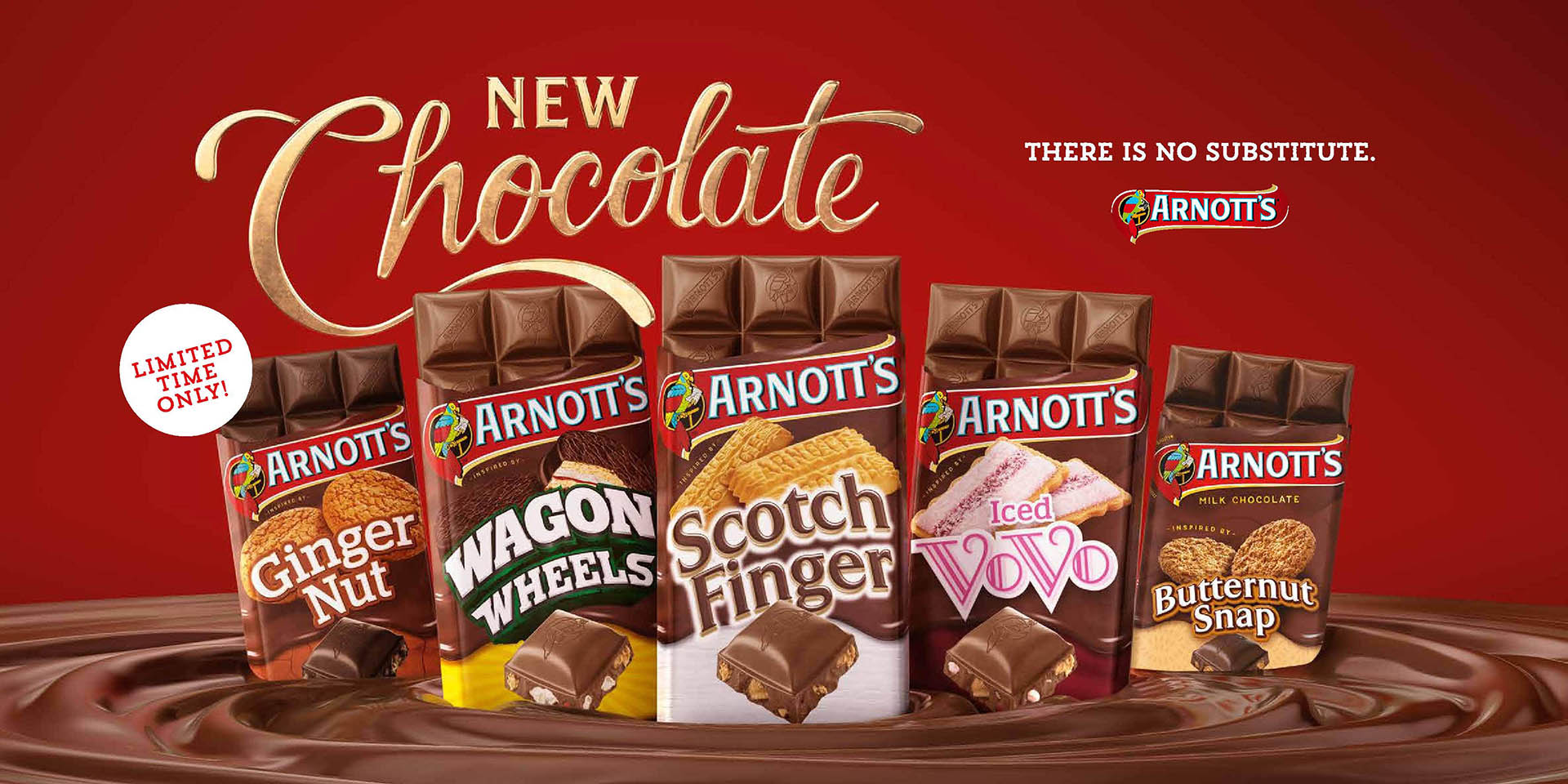 Thanks to our mates at Arnott's New Zealand we have TEN bundles of the five flavours to Giveaway!
To Enter all you need to do is tell us how Arnott's Chocolate could get you through a mega movie marathon or fierce gaming battle.
There is no wrong or right answer and you can be as creative as you wish, but keep it short.
You can give us your Answer by placing a Comment below, hitting us up on Facebook, Tweet to us, or Email Us.
Arnott's Chocolate is available at leading supermarkets throughout New Zealand. Check out the full range and more info at Arnott's Official website.
* Winner(s) will be randomly selected from those that Comment below / Facebook Comment / Email in accordance to the above Question. Winner(s) will receive a bundle of FIVE Arnott's Chocolate full sized bars encompassing one of each of the five flavours. Chocolate may contain nuts and is not advised for those who may be lactose intolerant. Competition ends on the 27th of February 2020. New Zealand only entries can be accepted.