Another year and another generation of Intel CPUs.
For this 8th generation, codenamed Coffee Lake, Intel have opted to keep the LGA1151 socket of its predecessors. But unlike the 7th gen Kaby Lake you'll not be able to slot it straight into your old Z270 motherboard.
I'm going to be looking at an Intel Core i7 8700K and an ASUS Republic of Gamers STRIX Z370F Gaming motherboard.
Perhaps a bit over the top of your average gaming rig, the six core / 12 thread i7 8700K, is aimed more towards the 'prosumer' that likes to do a bit of video editing / image manipulation. For most gamers the 4-core i3s or i5s will do the job. But, of course, if you like your gaming with a side of creativity, like myself, it's i7 all the way.
The Intel Core i7- 8700K has a base clock speed of 3.7Ghz turboing up to 4.7Ghz. The K means that the CPU is unlocked and able to be overclocked with relative ease. This is handy as, now that Moore's Law has failed for CPUs, the rather lame increase in processing power between generations means that it is not as easy to justify an upgrade as it used to be.
Without messing about with it, a stock 8700K's turbo is only 0.2Ghz faster than a 7700K, and the base speed is actually 0.5Ghz less. The i7 8700K does have two extra cores, but for most uses, they will be sitting there twiddling their thumbs.
So why upgrade?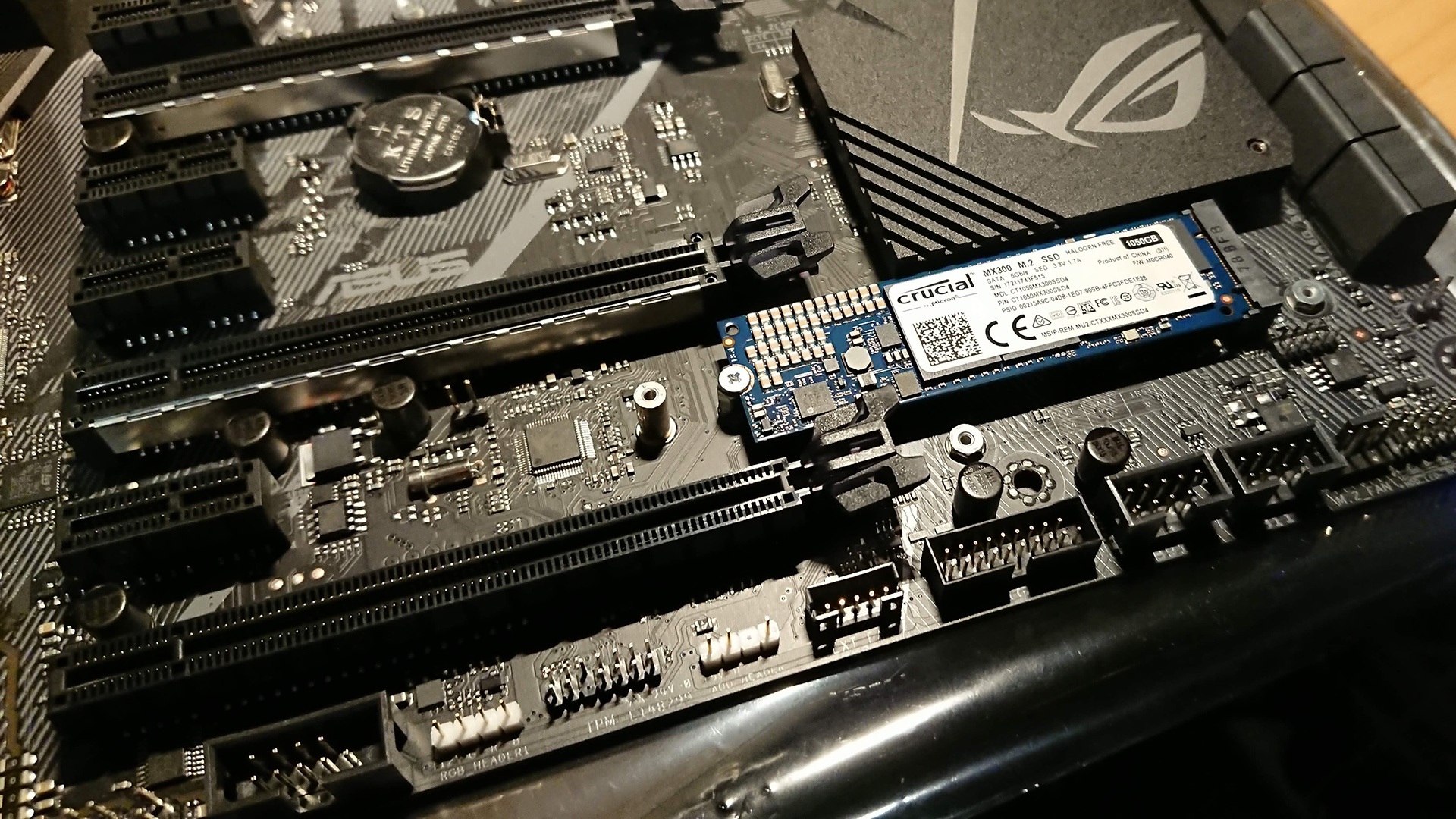 Six cores over four cores is going to help your creative software run faster. But what's more exciting is just how close that 4.7Ghz is to 5Ghz. It would only take a little push to get the CPU to run at over 5Ghz.
The science of overclocking is an esoteric black art reserved for someone with a lot more free-time than I have. Back in the day I'd happily waste hours and hours tweaking multipliers and voltages to squeeze the last little drops of performance out of a CPU.
I'm not sure if Asus developed their ROG STRIX motherboards with us time-poor would-be overclockers in mind, but they may have done so. The ROG BIOS setup for the Asus STRIX Z370F is remarkably easy to use.
The BIO operates in two modes: EZ mode and advanced mode. EZ mode provides an at-a-glance view of all the important settings, without having to search though menus. The EZ System Tuning option can be used to set your system from Eco-mode to Extreme. There's also an EZ-tuning wizard that'll automatically overclock your components based on your cooling system and likely use.
The EZ-tuning wizard's automatic overclock has a tendency of increasing the BLK speed from 100Mhz to 103Mhz. Whist a CPU will probably not have an issue with this overclock this increase in front side bus (BLK) speed effectively overclocks all your other components as well. If you are already overclocking your GPUs to the max, you are going to be inadvertently overclocking them some more as well. Also, your memory is going to get more juice. For the test rig, already running DRR4-3200 at full speed, I think, from the cryptic message on the resultant Blue Screen, it was the memory that didn't like the BLK increase.
An i7 8700K has its clock multiplier unlocked, so there's really no reason to play with the BLK unless you are really going for it. Like I mentioned earlier. I don't have the time for that sort of thing.
The good thing about the automatic overclock is that it gives you a good place to start. For me, switching to the advance mode and just pulling back the BLK to 100Mhz, leaving the CPU multiplier at 50, got me my 6-Core 5GHz PC with no other messing about.
With a bit more time, I'm very confident that 5.2GHz, and maybe beyond, is achievable. The motherboard has a full suite of option to fine-tune your machine to get the most out of it. It does take time and patience, but the tools are there.
It's not just with the BIOS that the Asus STRIX Z370F scored points with me. The board, itself, is virtually identical to that of the STRIX Z270. The Z370 chipset for Intel's 8th Generation CPUs apparently handles power a lot better, but other than that we are talking about virtually the same motherboard as those for the 7th-gen chips.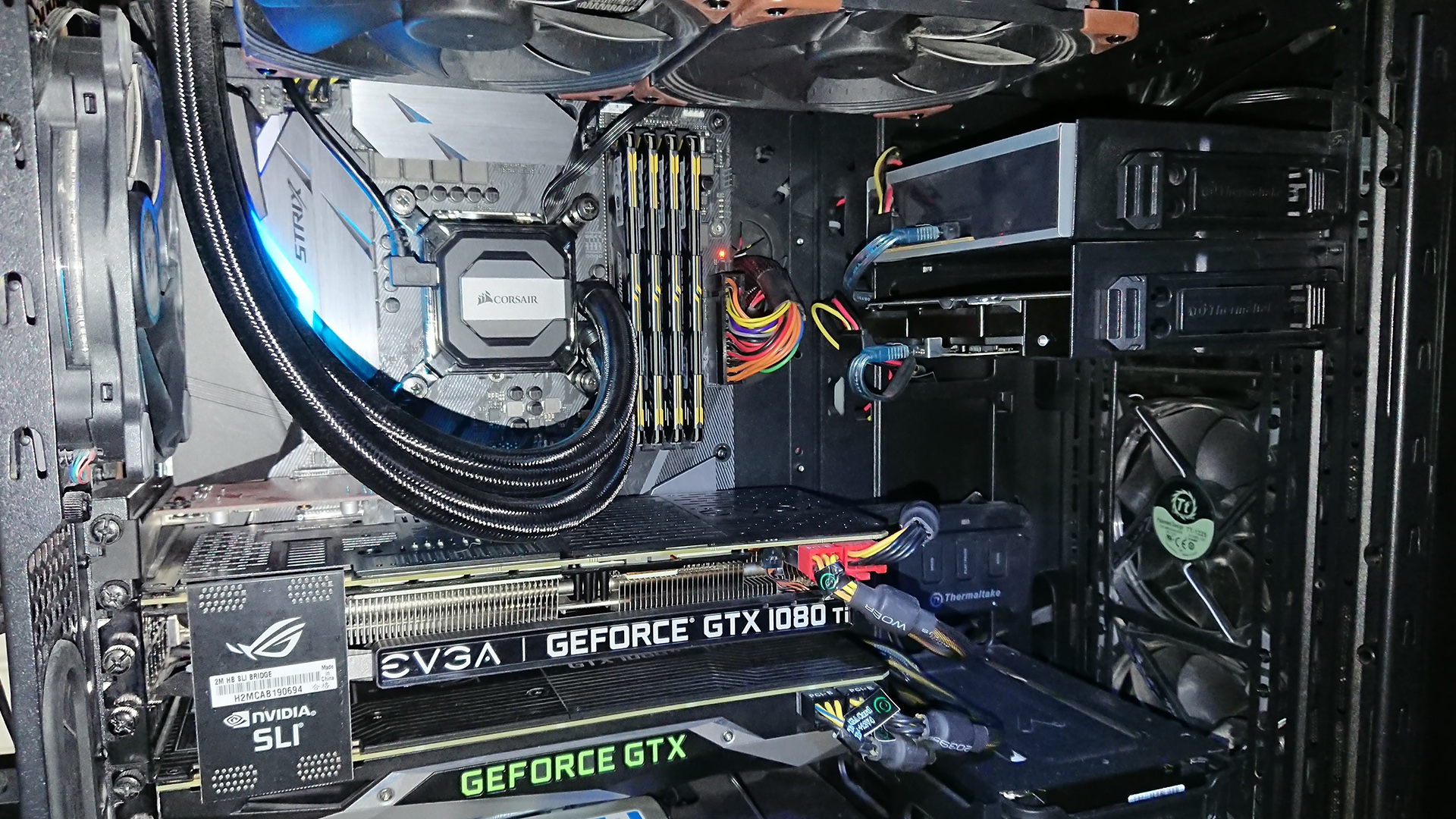 If you are wondering what the differences between the E and the F Asus STRIX Z370 boards are, the F has white heatsinks and cowling plus on-board Wi-fi, whereas the E has gunmetal heatsinks and cowling and no wi-fi. Price-wise, there's little difference, the gunmetal does look better than the white IMHO.
The ROG Asus STRIX Z370F Gaming supports 3-way Crossfire and 2-way SLI multi-GPU set-ups. I can fit two GTX 1080ti on the board and still have space between the card for a PCIe x1 SATA card.
The board has 2x PCIe 3.0/2.0 x16 slots (supporting x16, x8/x4+x4, x8+x4/x0) 1xPCIe 3.0/2.0 x16 (max. at x4 mode) and 4x PCIe 3.0/2.0 x1 slots. There are 4 DIMM sockets supporting up to 64GB of DDR4 memory running up to DDR4-4000! With 6x SATA 6Gb/s ports and two M.2 sockets (which share the SATA ports) so hard drive accommodation shouldn't be a worry. The board supports Intel Optane memory for speeding up your hard drives.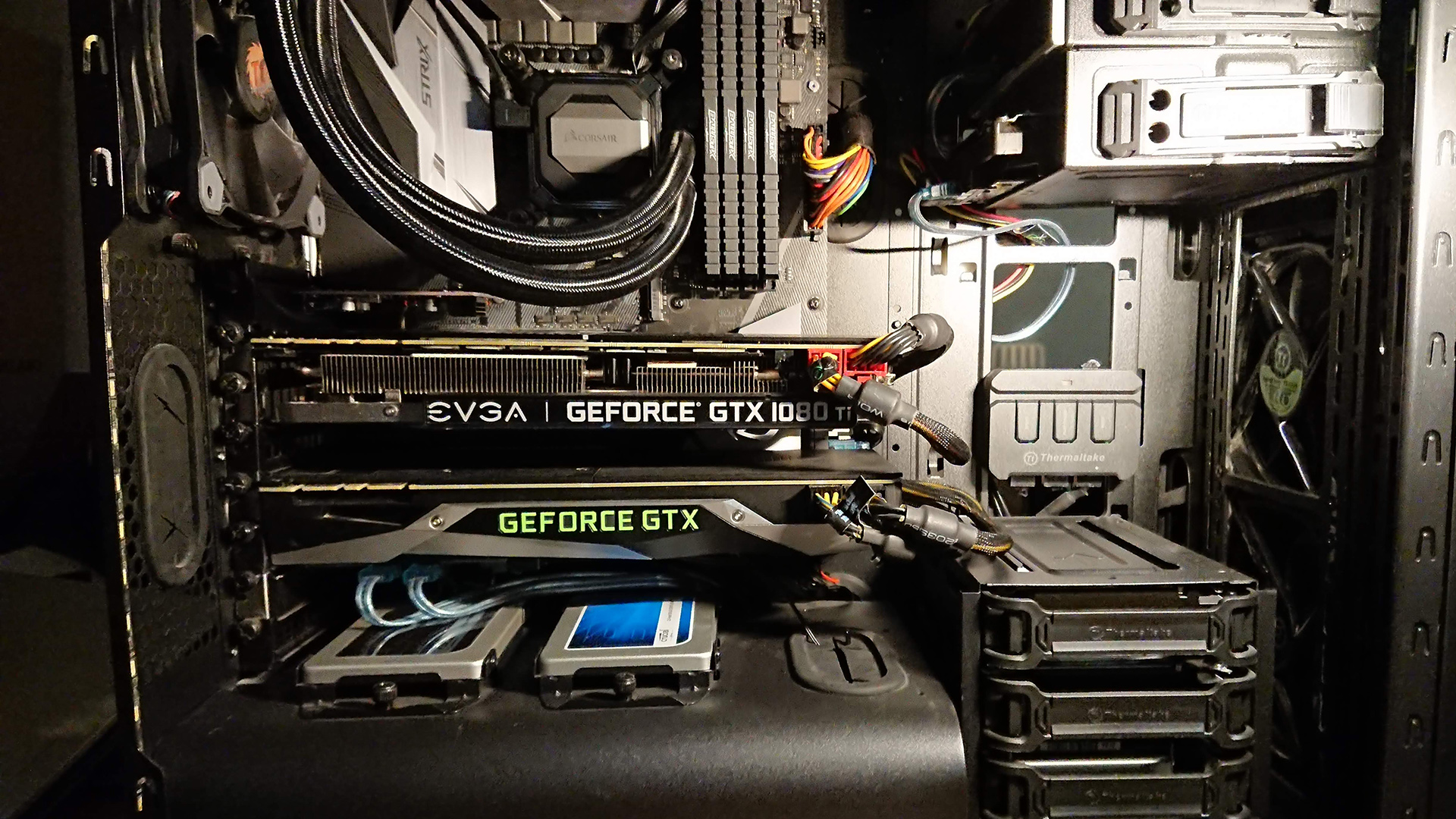 The Intel Z370 chipset accommodates 6xUSB 3.1 Gen1 ports and 6x USB 2.0, whilst the ASMedia USB controller adds another 2x USB 3.1 Gen 2 ports (1x Type-A and 1x Type-C). Whilst there's no Wi-Fi with the Z370-E, the Intel I219-V Gigabit LAN should be more than enough adequate.
Whilst the Intel Core i7 8700K seems to not bring that much more to the table, the update from an Intel 7800K, using the Asus STRIX Z370F Gaming motherboard, took me from a 4-core CPU overclocked to 4.8Ghz to a 6-core CPU overclocked to 5GHz. With games like Forza Horizon 4 and Ghost Recon Wildlands utilising all six cores, the i7 8700K may just be the way to go.
With the STRIX Z370F Gaming motherboard, Asus' Republic of Gamers team have given us another robust gaming motherboard for a reasonable price. It's easy to use, but still has all the features required by the more discerning overclocker.
[rns_reactions]
Asus ROG STRIX Z370F Gaming & Intel Core i7 8700K Review