Samsung Electronics New Zealand invited STG to a lunch media briefing where they unveiled a new lifestyle TV, The Frame.
Awarded 'Best of Innovation' at CES 2017 in Las Vegas and recently showcased at the Louvre in Paris, The Frame introduces a completely new way to experience visual art and TV content through a framed television panel that hangs on a wall like artwork. "For New Zealanders, the TV is a central part of many homes – and it must match seamlessly with their lifestyle, tastes and existing home design," said Jens Anders, Sales Director for Consumer Electronics Samsung NZ.
"Technology should enhance our daily lives, without being obtrusive. The beauty of The Frame is that it blends in to your existing interior décor when it isn't being used like a conventional TV," said Anders.
Utilising 'Art Mode', The Frame transforms when switched away from TV viewing into an art and design experience. Instead of fading to black like most TVs, the panel becomes a work of art, displaying content from a range of custom-designed digital art pieces or the user's own content. When in 'Art Mode', The Frame has a brightness sensor that allows the content being displayed on-screen to adjust to the natural levels of light that are in the room, so it closely resembles a piece of framed artwork.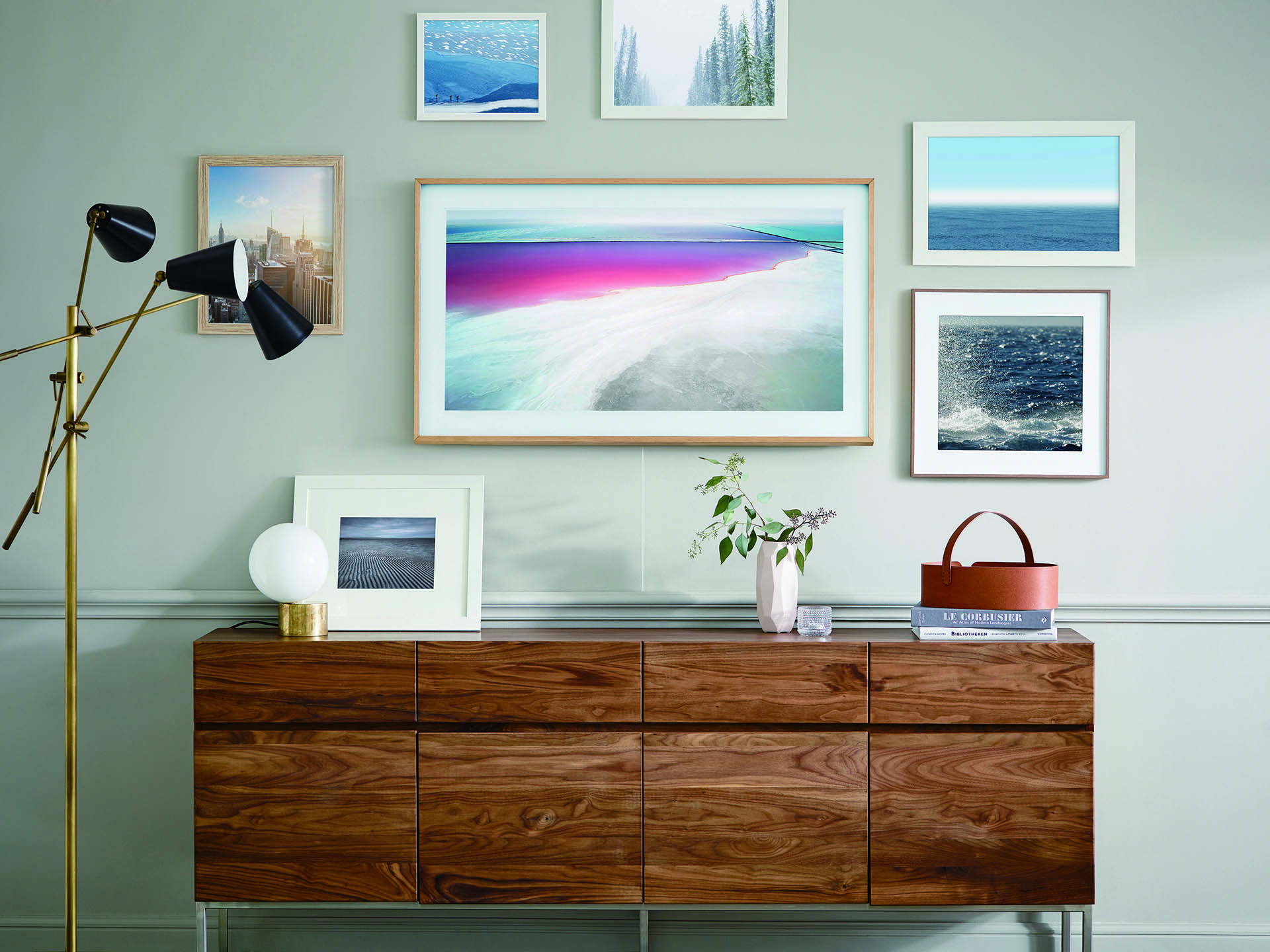 The Frame is also equipped with a Motion Sensor that is designed to automatically turn the screen off to save power when you leave the room, and turn back on when you return.
With three different frame options –White, Beige Wood, and Walnut – and numerous art layouts, The Frame can be customised to enhance the design and décor of almost any interior.
The Frame includes access to 100 pieces of art, curated from 37 international artists and designers. Each artwork has been commissioned by Samsung Electronics to feature on The Frame. Owners can choose art from a range of genres including landscape, architecture, wildlife, action, drawing and more.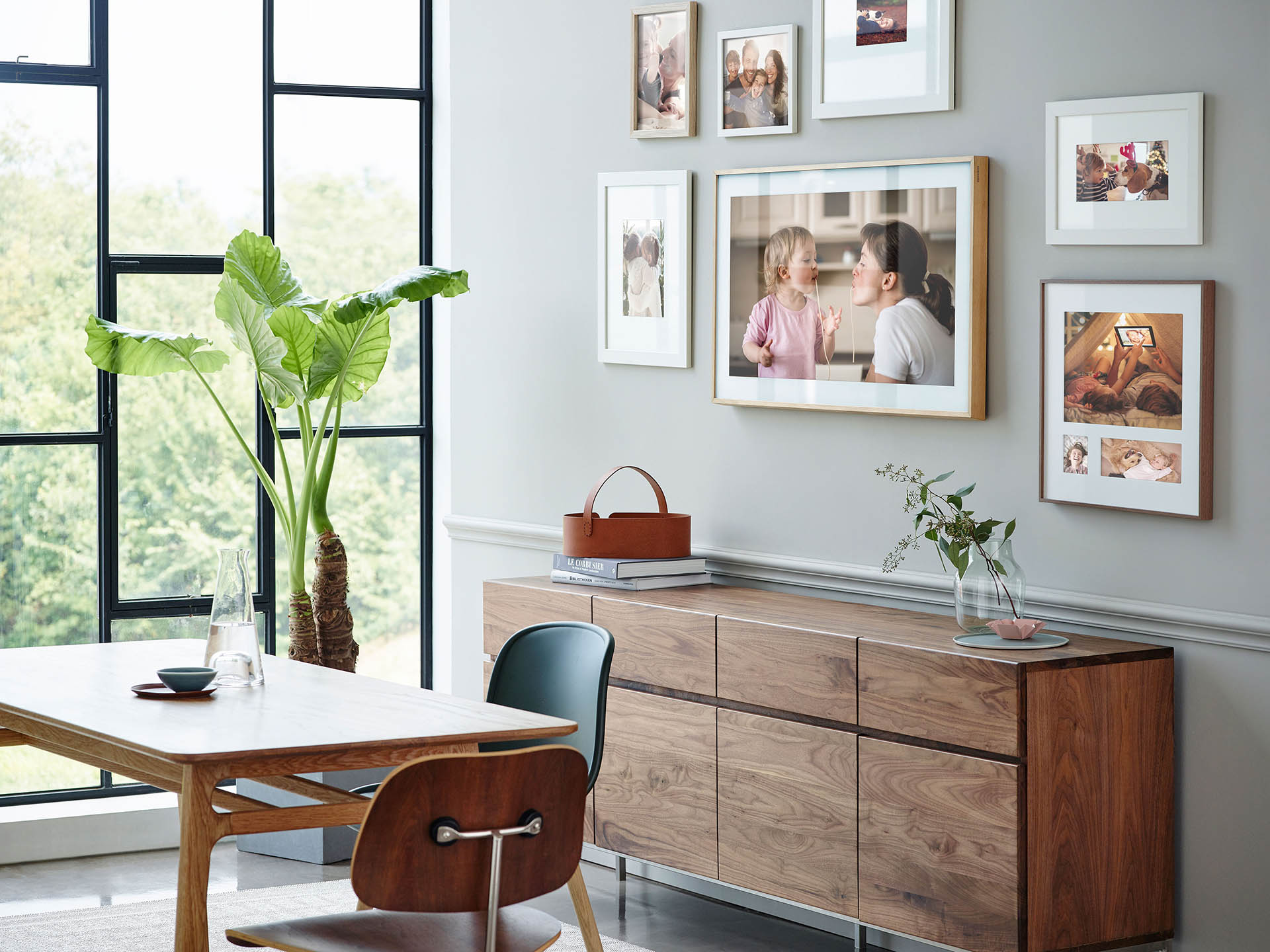 The Frame can also showcase personal content, including photos, in a customisable layout, which can be controlled via an app on the owner's mobile device.
Customisable accessory options such as interchangeable frames and the optional Studio Stand are also available separately to further enhance every room design preference.
The Frame is outfitted with Samsung's new Clear Cable Connection and No Gap Wall Mount, which are designed to allow The Frame to be hung anywhere with ease, blending seamlessly into any living space without unsightly cables or wires. Users can also connect The Frame to compatible devices with the One Remote Control, including set-top boxes, game consoles, and UHD Blu-ray players.
To complete the intuitive experience on The Frame, Smart Hub offers quick and easy access to popular content streaming apps, such as Netflix, Stan and YouTube, from one place.
The Frame by Samsung will be available in two sizes from select retailers nationally, from July 2017, 55-inch which will retail at RRP $3,999 NZD and a 65-inch with the price tag of RRP $5,999 NZD.
There are also  Customisable Frames at $299 NZD for 55", and $349 NZD for 65". They come in White, Beige Wood and Walnut in both 55" and 65". If you do not wish to wall mount The Frame, there is also an optional (separately purchased) Studio Stand which will set you back at $799.95 NZD.