Spark announced today it is entering gaming with the launch of Spark Game Arena, kicking off with a nationwide online tournament – The Rise Cup featuring Fortnite – in partnership with New Zealand's esports tournament organiser, Letsplay.live.
Tournament participants will battle it out over three weekends starting on 28 October for the chance to win a share of $30,000 – the largest ever prize pool on offer for a Fortnite tournament played in Aotearoa.
Prizes will not only be won by podium finishers who progress through to the final round, but also randomly selected registrants will have the chance to win prizes such as an Xbox Series X and Logitech G Aurora gaming headphones.
The ambition for Spark Game Arena is to become the home of gaming at Spark, from partnerships with brands such as Logitech G and Xbox, through to supporting events like Armageddon and the New Zealand Game Developers Conference. Spark Game Arena will offer exciting new products and experiences set to be announced over the coming months.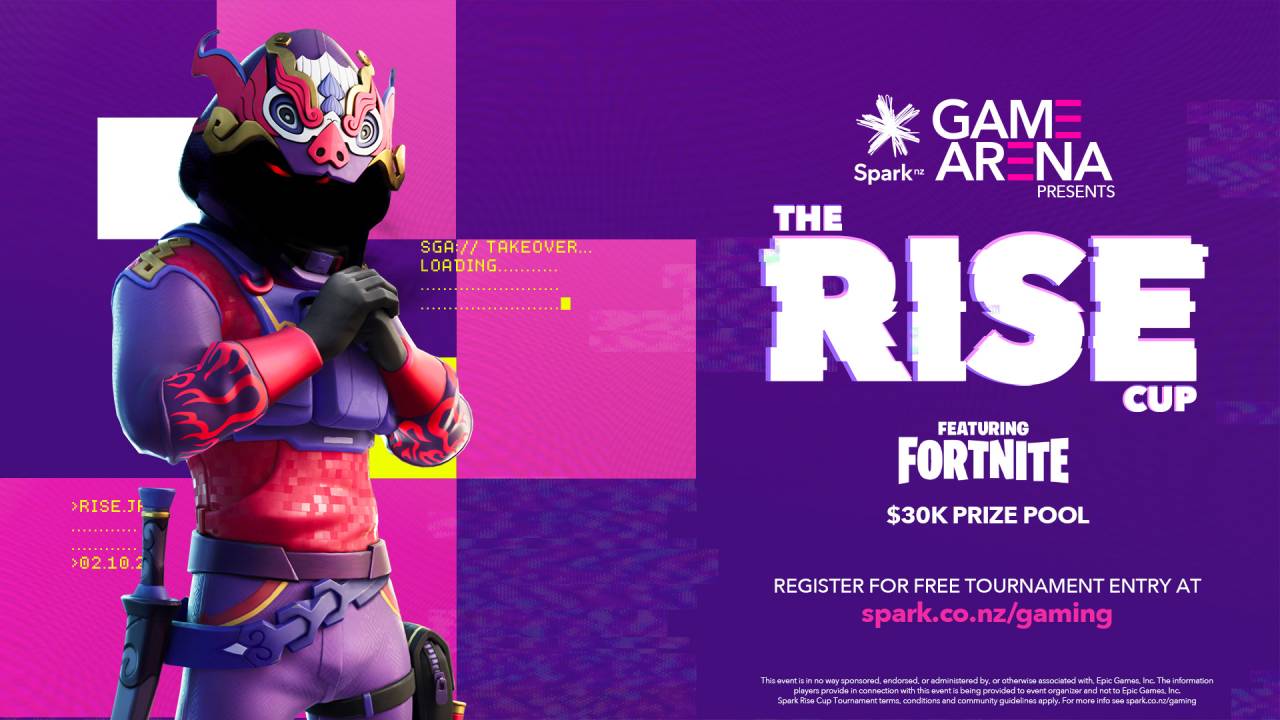 Spark's Director of Marketing and Data, Matt Bain, says: "While this will be our first time hosting an esports tournament and there will undoubtedly be learnings as we go, gaming is a natural extension of our entertainment strategy and embodies our guiding kaupapa of Hello Tomorrow.
"We have been getting customers closer to music for nine years now with our money can't buy VIP music experiences and our partnerships with Spotify and Spark Arena. Just like Spark's music offering, Spark Game Arena will be all about bringing New Zealanders closer to the things they love, and we know we love to game in this country."
The gaming industry's growing popularity in Aotearoa was highlighted by research released last month from the Interactive Games and Entertainment Association (IGEA) which showed 79% of New Zealanders are now playing video games. Additional data from the New Zealand Game Developers Association also indicated the country's gaming sector grew almost 50% in 2022.
Bain adds: "We're excited to be trialling something new working alongside Letsplay.live, an organisation that knows New Zealand's gaming sector well and is well placed to help us deliver The Rise Cup. Whether you game competitively, jam Fortnite with your mates or want to try your luck at something new, you don't have to be a pro, you just have to be ready to give it a go."
To ensure The Rise Cup is promoting a safe and supportive online gaming environment and to help guide the future of Spark Game Arena, Spark has been working alongside Netsafe to embed processes into its tournament that allow players to keep themselves safe and report harmful behaviour when needed.
Chief Online Safety Officer at Netsafe, Sean Lyons, says: "At Netsafe, we know that we are all safest online when those around us are keeping an eye out for us, keeping our best interests at heart.
"That's not only for our whānau (family) and friends, but for the places and spaces we use online. And the best way for those places to help kee­­p us safe, is to plan for safety right from the start.
"The team at Spark have been talking to us at Netsafe since the very earliest days of this work, to make sure that what they are building reflects the principles of safety by design."
As part of Spark Game Arena, Spark is also expanding its partnership with Digital Natives Academy (DNA), a Spark Foundation partner since 2018 that supports rangatahi who need access to technology to embrace a digital future that respects and reflects te ao Māori. Over the last six years, the partnership has helped more than 30,000 tamariki and rangatahi (young people) attend DNA events, activities and programmes, to increase their digital skills and to provide access to game industry knowledge in esports, game development and design.
Spark has been working closely with DNA co-founder and NZ Esports Federation Board Member, Nikolasa Biasiny-Tule, on the development of its gaming strategy to enhance Aotearoa's gaming sector and help create more equitable pathways for rangatahi into gaming.
The expansion of the partnership with DNA will enable five more aspiring game development students to join DNA's Esports Essentials programme for free. Applications for this programme will open later this month.
Registrations for The Rise Cup featuring Fortnite will close at 11pm, 23 October 2023 with the first round played on 28 October 2023 and the finals played on 12 November 2023. For more information about the tournament and how to register in The Rise Cup – visit spark.co.nz/gaming.
Be a supporter of STG