NOW CLOSED – From the creators of Heavy Rain, Beyond: Two Souls showcases a new generation of interactive drama gaming, psychological thrills and built on a new game engine.
Live the life of Jodie Holmes, a young woman who possesses supernatural powers through her psychic link to an invisible entity. Experience the most striking moments of Jodie's life as your actions and decisions determine her fate. As she traverses the globe, Jodie will face incredible challenges against a backdrop of emotionally-charged events never before seen in a video game.
Starring Hollywood actress Ellen Page and actor Willem Dafoe, comes Beyond: Two Souls, exclusively to PlayStation 3.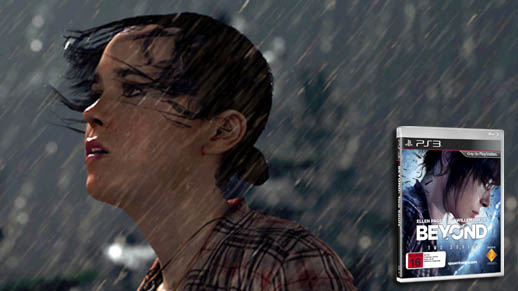 Thanks to our good friends at PlayStation NZ, we are giving you the chance to go into the draw to win a copy of the highly anticipated title.
To be in the draw to win a copy of Beyond: Two Souls or one of the Limited T Shirts, you must correctly Answer this Question:
Beyond: Two Souls was built by the makers of another game changing title; Heavy Rain. What is the name of that development studio?
A: Naughty Dog
B: Santa Monica Studios
C: Quantic Dream
Post your answer below or on our Official Facebook Page. You can also Email it to us here or via our Contact Page.
[jwplayer player="1″ mediaid="5216″]
*Winners will be randomly selected from those that post / Facebook Comment / Email in accordance with the above question. Winners will receive a Full Copy of Beyond: Two Souls game for the PS3. Competition ends the 31st of October 2013. Beyond: Two Souls is Rated R16 in New Zealand.