Recently Shane the Gamer had a quick chat with Jeremy Greiner in relation to their upcoming Metro: Last Light (releasing 2013), which is the second installment to the FPS Metro fallout / survival series in underground Russia.
Shane the Gamer: What inspired you to make a sequel from the first Metro title?
Jeremy Greiner: When you take into account and look at the success of the past Metro game, it was a drawn conclusion that we would follow up with another chapter. There's a huge appetite for new IP, and that's essentially what Metro is. Consoles are nearing the end of their cycles so now is that time for game developers to begin pushing them to their optimum abilities.
Alot of content throughout Last Light was an adaption of 2033 and again, alot of what's in that world is from Dimitrys background, very geo political.
Authentically and faithfully to Dimitry's novels, all engineers, game Developers / Programmers were able to bring it all to life.
Shane the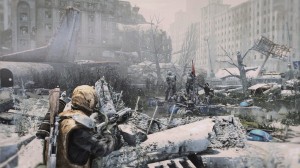 Gamer: For those that have never played a Metro title before, what can they expect?
Jeremy Greiner: A great and unique FPS, its not trying to be generic and WWII clone or generic shooter title. Gameplay is unique. We have stripped away all HUD elements and gameplay is designed for gamers to figure out. It's very cerebral; gamers need to be challenged and love being challenged. And with Metro: Last Light that's what we have aimed for.
It challenges you to break out of the norm.
Shane the Gamer: And for those that have played a Metro title?
Jeremy Greiner: Yeah for sure. The studio has taken what was so great about 2033 and bought that into Last Light, smoothed out rough edges and making this truly unique.
Going for the core promises of a true Metro gaming experience unlike any other game. Atmospheric, story driven and truly unique.
Shane the Gamer: The game is being promoted with live action trailers. As great as they are, why is that?
Jeremy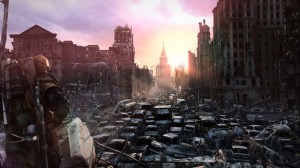 Greiner: 2033 was misunderstood, so to be fair, the first game didn't really get mind share.
A live action trailer was a great way to make it easily digestible, make it real world and highly emotional. It represents a destroyed, barren Moscow after a fallout. (The Trailers are) highly emotional and very art house.
Shane the Gamer: If you were to promote Metro 2013 in a few words, what would they be?
Jeremy Greiner: Its a bleak Russian vision of a post apocalyptic world where individual characters backgrounds all bleed and blend into the gameplay. Its truly unique and remarkable.
Shane the Gamer: Your favourite Toy as a kid?
Jeremy Greiner: Soccer ball. Played soccer from a very young age right through to University.
[jwplayer config="STG Player" mediaid="2603″]