Year: 2003 | Platform: Xbox
Stop. Everything that you thought about Platform/Adventure games is about to change. Turn every idea on its head, and then begin to play.
In an overcrowded Action game market, there had to be something different.
Voodoo Vince plays like your average 3D Mario or Jak and Daxter game. You run wild as a virtually indestructible, all-purpose-material, unfortunate looking Voodoo doll, named Vince. Complete with hilarious 'one-liners' and handy needles, (that can double as effective weaponary) sticking out from your 'hacky sack' body, collecting life and Voodoo magic….beads. Kinda what you were expecting? There is more….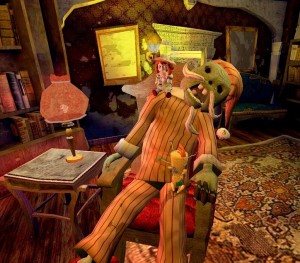 What keeps this game from disappearing into the archives is the Voodoo.
The story goes, that Vince's keeper, Madame Charmaine, is kidnapped by two henchmen, lead by a Boss (of course) who is obsessed on gaining her Voodoo dust. As the two henchmen are low in the intelligence department, they let the Voodoo dust loose, which is fortunate for Vince. The purple dust brings him to life, releasing him from his shelf, and there begins his adventures in old style New Orleans.
Guided by his keepers' voice you take control of Vince, who is hell bent on rescuing her, literally at the expense of his own misfortunes.
Vince comes equipped with two basic attacks. A punch, which is effective but hard to aim at times, and a hissy-fit type move, where he spins in Crash Bandicoot style flinging his arms and legs, obliterating anything mortal in his path.
There are many puzzles to solve and lots of 'mini-games' too that Vince must conquer in order to progress.
But it's not all just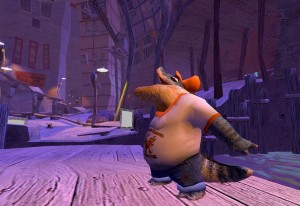 running around. Vince learns to control certain types of machinery, from a fanboat, a submarine, an airplane, through to a bakery mixer and he has a go at being a Giant Clocktower handyman. It's not just endless streets either, he goes through swamps and sewers….the pipes can actually be a little tricky.
In nearly every level there is a end of Level Boss (no surprises there!). Instead of normally fighting them with every drip of blood and sweat, Vince will  actually clobber himself! Yes, your character will mortally wound itself in the most wackiest and imaginative ways i.e. being flattened by a falling cow…, but the 'baddie' feels the pain and explodes. Vince is a Voodoo doll afterall….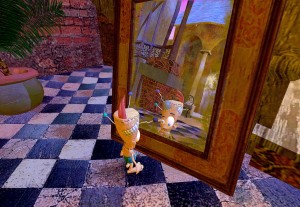 He can also use his Voodoo powers (once you have collected enough beads) and with a special push of buttons…..be totally annihilated, but as before not really hurting Vince but killing those bad doers around him. Extremely handy if you are surrounded.
There are 30 beautifully crafted Levels in all and numerous 'Sub-Levels'. The graphics are foreboding and give a 'creepy' feeling at times. As for the music, well lets just say it's 'funky'. Gameplay is what you would expect from a cartoony platformer, but with an original twist.
Perhaps aimed at the younger market, however the cartoony graphics and humour will suit all.
So honestly if Platform type games, with a difference, push your buttons, then this quirky little number would most certainly be for you.
[jwplayer config="STG Player" mediaid="1510″]
Join the Forum discussion on this post
The following two tabs change content below.

First playing Pacman and Astro Wars Shane then moved to Nintendo's Game & Watches and the mighty SEGA Master System II. He has owned every major gaming console in the past 30 years of gaming and been in the Video Gaming industry for over a decade. He is also a diehard fan of all things horror and any Jim Carey movie aswell as anything gadgety and with blinky lights. He tries to convince others that he has Super Powers. He doesn't.