Trackmania 2 Stadium is the latest racing game in Nadeo's TrackMania series, the same makers of TrackMania Nations which stole the scene of racing online.
I remember playing that game when it was out and I was hooked. In saying that, this was awhile back and my genre preferences have shifted, so far to the point of my recollection being quite hazy in regards to remembering the last racing game I actually sat down and played all the way through.
From the first track I saw the resemblance in layout and mechanics comparatively between the first game and the new one. The goal throughout is to gain the quickest time on the track with three possible medal rankings; bronze, silver and gold. These rankings are separated by mere seconds, which calls for either bucket loads of racing prowess or patience beyond measure, because if you're anything like me… you want that gold medal.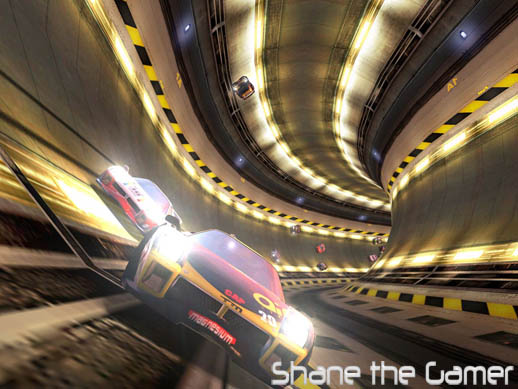 The game starts off with beginner style tracks and obviously the further you progress through the 5 categories; white, green, blue, red and black – the harder the courses become. The courses are visually and technically freaking awesome. The loops and the turns will amaze you as the track takes you through what is a visual spectacle in itself. The graphics are great, with smooth textures and crisp shadows that place that sense of realism needed, which in turn is blown out of the water by the course layouts later in the game.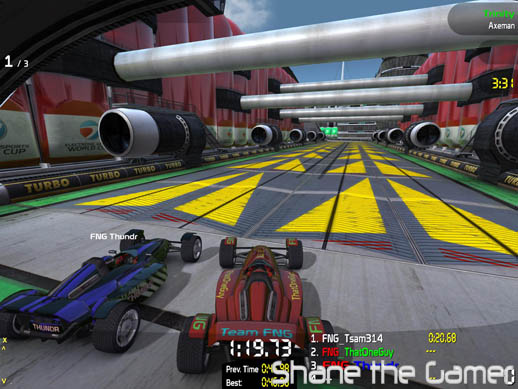 A cool feature which I remember in the first game is the shadow car that you race when going up against yourself, when you go on repeat runs aiming to better your time you race against a shadow car that completes the track exactly as you did with your best time so far. It's an amazing way to not only race against the clock, but brings new meaning to single player racing.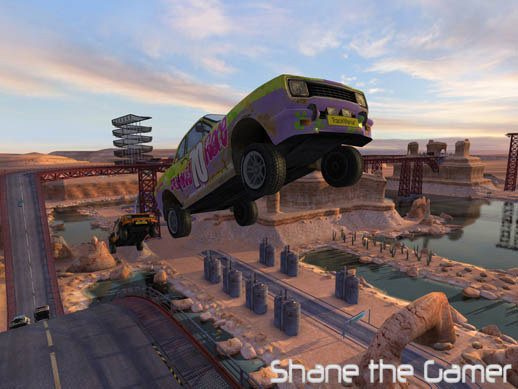 A personal favourite of mine is the soundtracks throughout the game both single player and the multiplayer, it just gets you in the mood for some competition, I mean I first heard drum n bass music within a game in Need for Speed: Hot Pursuit on the PlayStation One. They had it right when it came to pairing a genre of gaming and music together, and this follows suit perfectly!
A big part of the game as I remember in the Trackmania Nations was the customization that you were able to do to your car, and it's back for TrackMania 2 Stadium, even though people might only see your flashy cool car for a mere split second, it's worth it.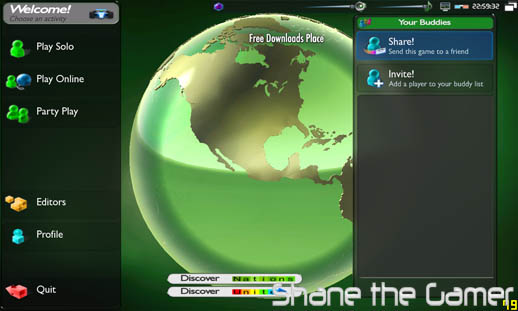 The online component is the most fun for me, and what I feel most others play the game for too. The single player part can be described as a tutorial and practice period where you can hone your skills before coming up against the 'big players' who reside online. A cool feature of online gameplay is that there are no collisions, which some might say is not cool because it diminishes the realism aspect of a racing game. Let's put it like this, when you get a server of 200 players on a single circuit and this feature isn't enabled… you'd be praying for it, that's for sure.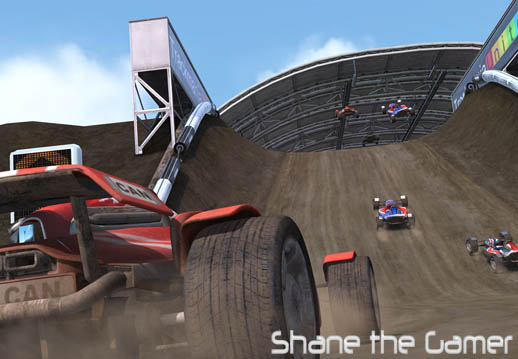 The way the game ranks you in multiple areas is good, allowing for comprehensive competition. You can see where you stack up nationally, regionally in the continent your country resides in and finally ranking you against the world. Which can seem daunting but really it's just a bunch of numbers telling you that you need to do better. Unless of course you're on top of the table already, then completely disregard that last sentence.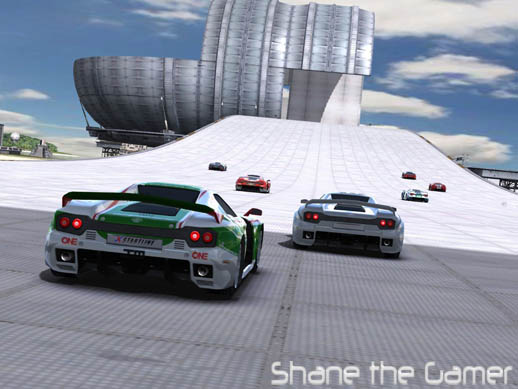 The hook of this game is its online gameplay, which is what catapulted its predecessor to become a hallmark racing game. Since then there wasn't much for racing online, but TrackMania changed that. If you haven't tried an online racing game before, TrackMania 2 Stadium gives you more than enough reason to do so.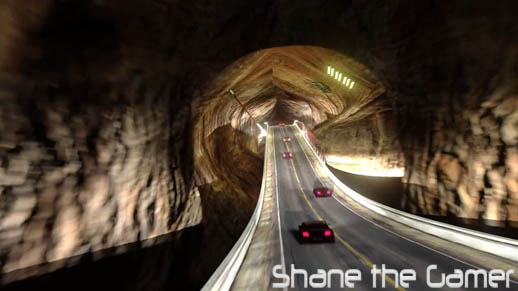 If I were to do a cost-benefit analysis of this game it would practically be a steal, the amount of gameplay time you would get in comparison to the small payment on Steam would be insurmountable. The odds are definitely in the buyers favour on this one.
TrackMania 2 Stadium is a solid game and loads of fun, even for those that aren't completely sold on the whole racing genre, it's worth a try. I'm almost certain you won't regret it.
[jwplayer config="STG Player" mediaid="3350″]