From the time that video gaming left the Arcades and became a prominent feature in most family homes the peripheral market began to boom.
From multi controller adapters through to memory cards, after market controllers bore one of the the must haves for any racing game enthusiast was the steering wheel.
From the 90's until now as consoles developed, so did the racing hardware genre, from a singular wheel, to wheel and pedal combo, even full setups that include a racing chair, wheel and pedals housed in a rig. Even Xbox got in on the action three years ago with their very bold Xbox 360 Wireless Steering Wheel. U-shaped it was a racing peripheral unlike anything else, so much so many gamers were either amazed or slightly confused with it's appearance and usage.
Throughout it all however, European hardware manufacturer Thrustmaster have been at the professional end, creating Wheel and Pedal setups for the more discerning home based motor-heads.
And, the T-150 for PlayStation 3 and PlayStation 4 is the most Pro of them all.
From out of the box you know you have a solid set up. It's hefty and weighty but very very awesome.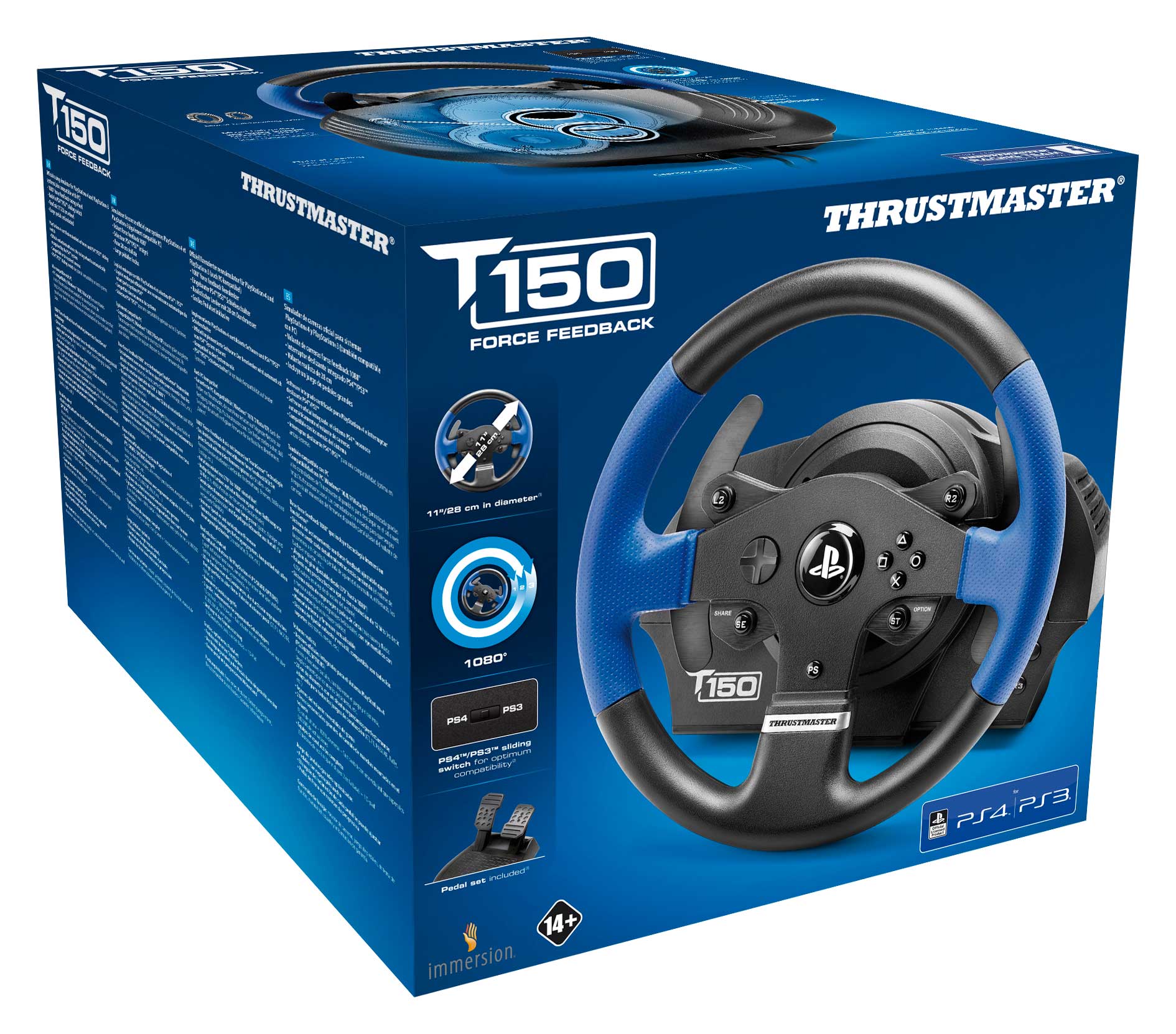 The initial setup requires you to plug the pedals into the steering wheel base, then add mains power. That's it. You're done. Almost.
Plugging the USB 2.0 into your PlayStation 4 (PS4) as an extra controller may take a bit of hit and miss. At first the PS4 did not recognise the 'controller'. The fix for this was easy enough. Restart the PS4, or make sure that you plug it in before you turn the console on. You also need to make sure that your primary Dualshock 4 controller is not on.
You can then use the standard PS Buttons on the T-150 to navigate the PS4 Menu as you would with your Dualshock.
We gave the T-150 a good run on Project Cars. Now, if you follow the steps above you will not have any issue and the game will pick up the T-150 instantly, but oddly as a secondary controller, so make it the Primary in the games controller settings.
Once into gameplay, that's where the magic happens.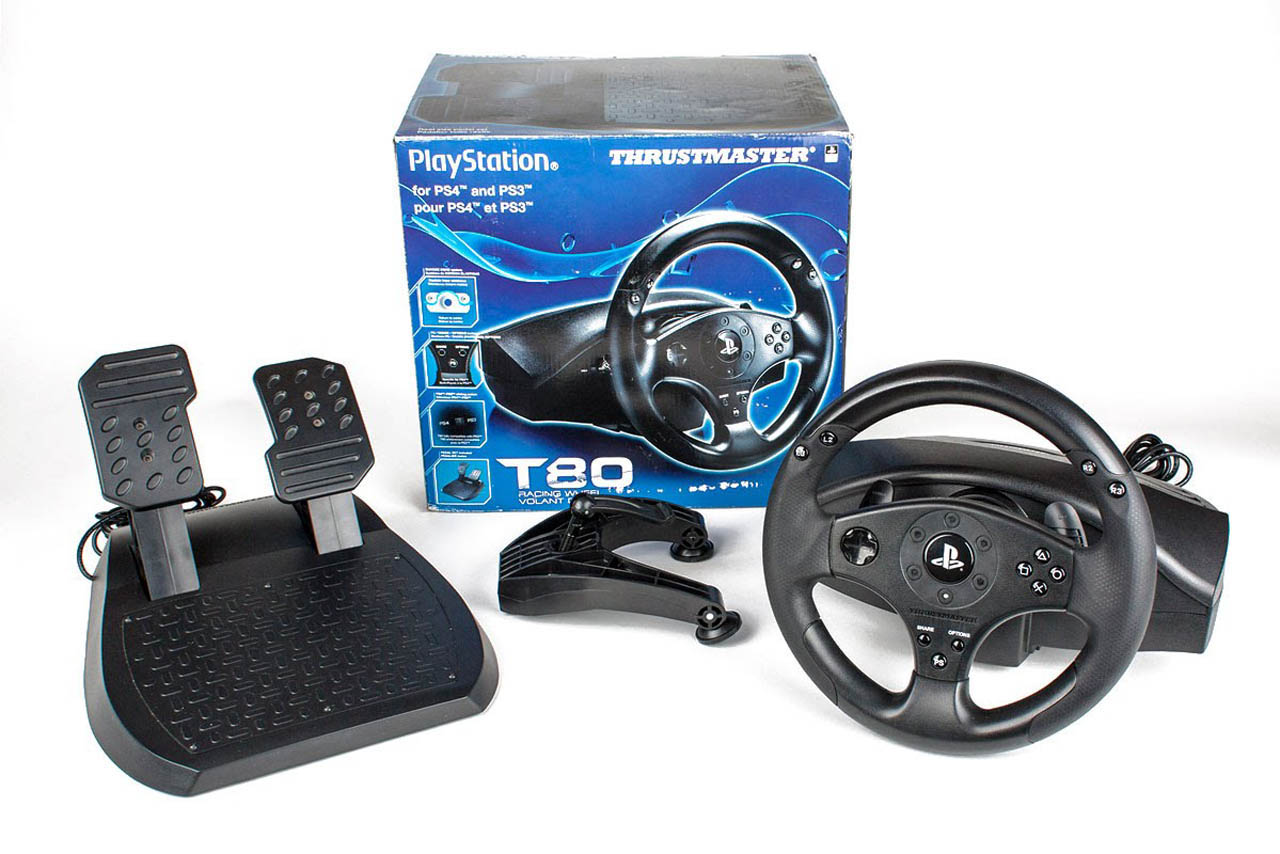 The T-150 has a rotation angle which is adjustable from 270 to 1080 and a really strong 1080 Force Feedback. When you first power on the Rig the wheel will auto calibrate itself. Same is done when you set it up within the game that you are about to play.
And, to put it mildly the Force Feedback is epic. It reflects the realism of an actual vehicle flying about a track at top speeds. You can feel the resistance as corners turn one way but your vehicle begins to slide another and you will fight with the wheel to keep on track.
Having a collision into a wall, barrier or other vehicle will cause the wheel to vibrate heavily and it will spin wildly reflecting the power of the impact.
There is of course tuning options for the T-150 within supported games. And if you are not schooled in the use of a wheel and pedal set up you will most certainly want to turn down the Force Feedback.
You can also adjust the sensitivity ratio of the wheel itself and make yourself feel, well, at home as you race uninhibited like the professional that you are.
If you are not a fan of Automatic driving and want the full real experience of manipulating the vehicles gears, the T-150 Steering Wheel consists of Dual Paddles for quick gear changes.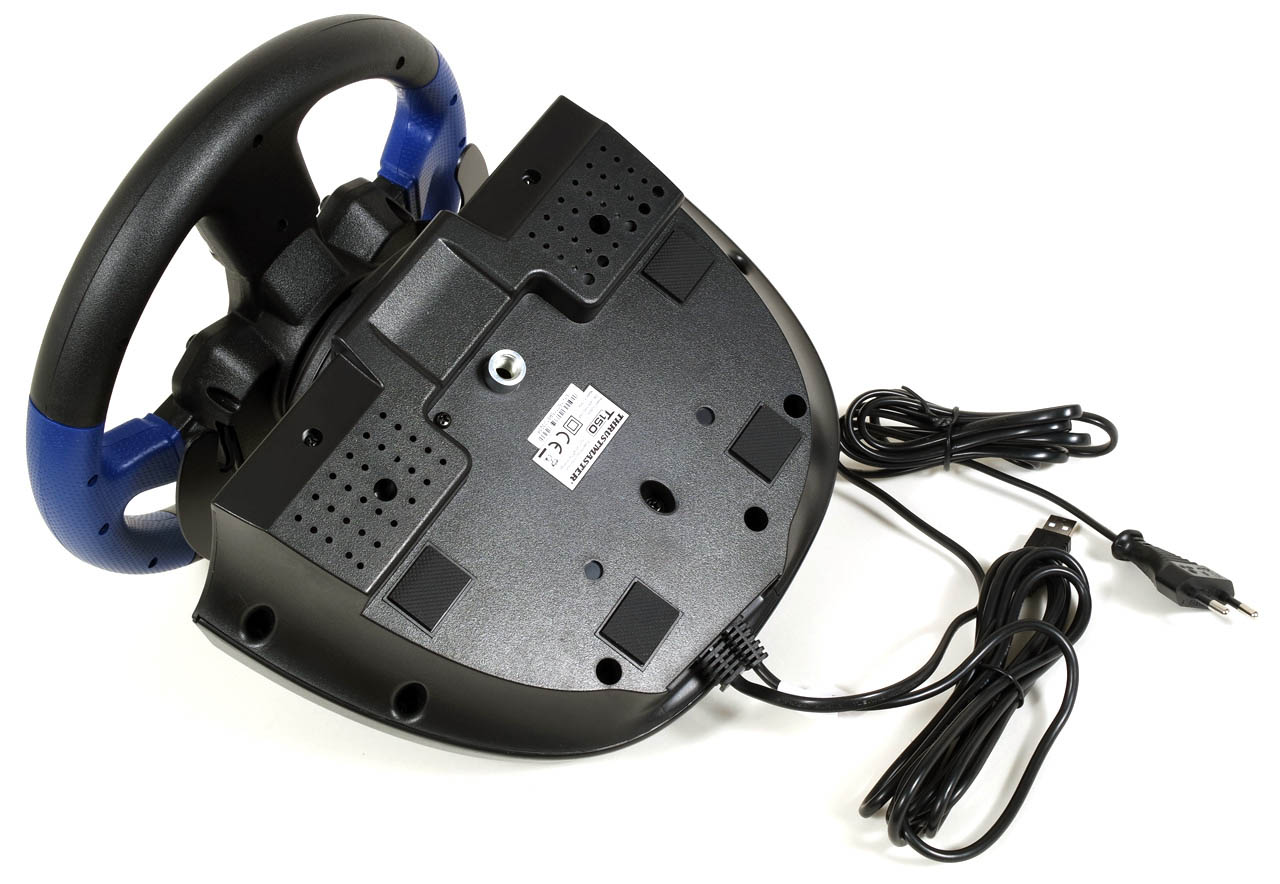 The pedals also have an element of customization to them aswell. They can be adjusted for sensitivity and angle, based on your playing preference, style and where the pedals are mounted physically as you play.
That said that brake pedal has been developed with progressive resistance. This reminded me of how ABS Braking works in a real car.
Using the T-150 on the PlayStation 3 (PS3) was much the same, except interestingly, the console detected it immediately, added as a secondary 'controller' and we were playing Gran Turismo 6 with little to no setup (other than tweaking the wheel sensitivity and Force Feedback). No probs with GRID either, infact it made GRID a hell of a lot more enjoyable than I remember it being.
So expect to need a bit of patience with the PS4. Also make sure that you have the built in slider switch on the steering base set to the correct console (PS4 or PS3).
Thrustmaster have excelled with the T150. It breathes new life into supported racing titles – taking what is a solid game and turning it into a solid simulator.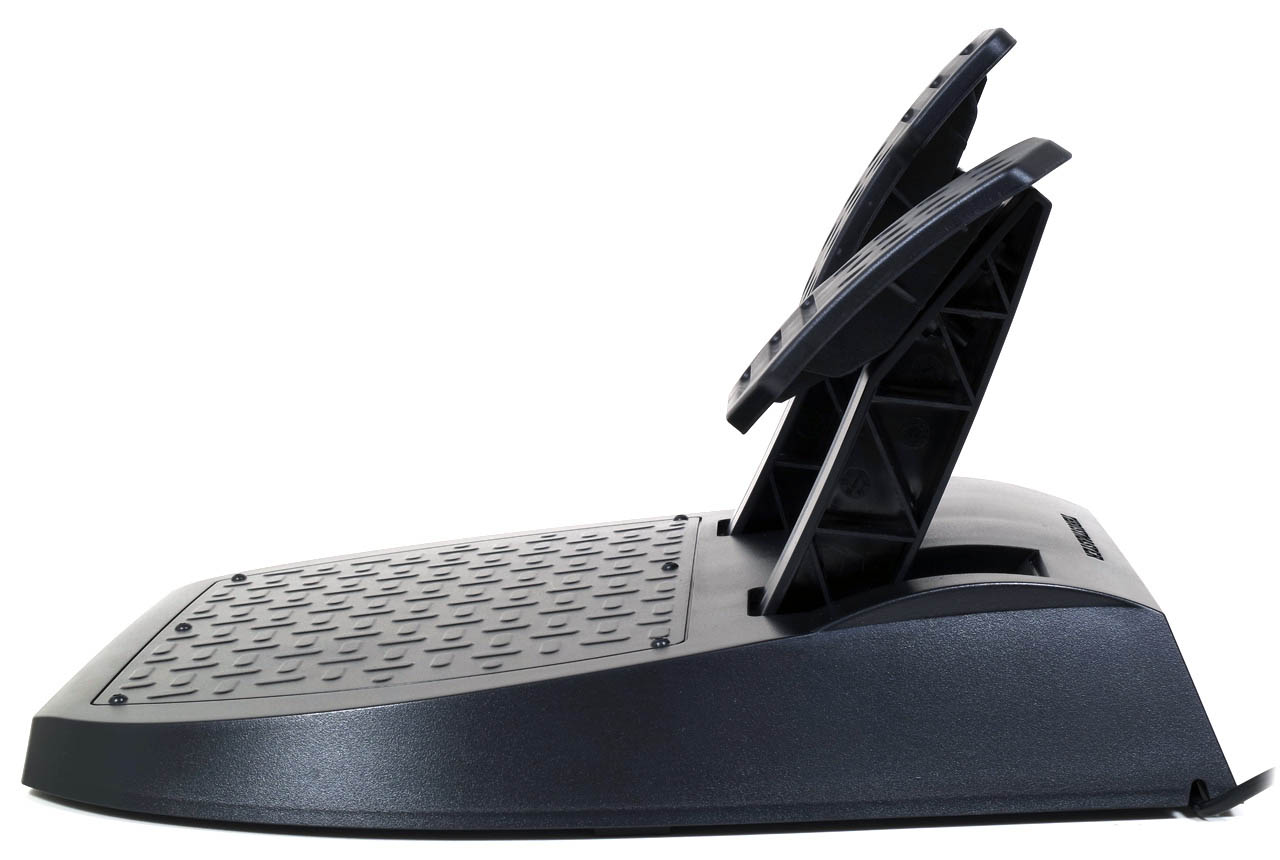 Depending on your personal preference and budget, I would recommend having the T-150 wheel and pedals mounted into a chair based rig. Having the wheel base on your lap while playing and pedal kits just idly at your feet isn't going to work out so well. The Force Feedback of the wheel will literally throw the steering base around your lap. It needs to be used on a hard and even surface, such as a desk or table top.
The pedal kit can be prone to sliding about, but this of course depends on your environment. We tried both carpet and lino. We recommend carpet.
The T150 is a Wheel and Pedal setup designed for Professionals and Novices. The level of customisation and tuning settings means that you can use the setup to your liking and if you are new to a peripheral of this type you can easily and quickly tone down the features, such as the mentioned Force Feedback until you get a feel for simulation racing.
Built with future proofing in mind, the T-150 has built in memory, it has it's own firmware which can be upgraded to keep it relevant with any future console or game updates.
T-150, race like a Pro at your own pace.
Thrustmaster T-150 Review
The following two tabs change content below.

First playing Pacman and Astro Wars Shane then moved to Nintendo's Game & Watches and the mighty SEGA Master System II. He has owned every major gaming console in the past 30 years of gaming and been in the Video Gaming industry for over a decade. He is also a diehard fan of all things horror and any Jim Carey movie aswell as anything gadgety and with blinky lights. He tries to convince others that he has Super Powers. He doesn't.