Sony Pictures and Ubisoft have joined forces to develop the new Smurfs video game, based on the upcoming Smurfs 2 movie, due for for cinematic release on the 12th of September 2013.
The game is based on The Smurfs 2 film and follows up on the last collaboration between Sony Pictures and Ubisofts' title; The Smurfs Dance Party,.
The Smurfs 2 video game is an action-packed adventure platformer that provides Smurfs fans of all ages with the opportunity to dive into the magical Smurfs Village and relive iconic moments and key environments from the feature film. Players assume the role of a Smurf and immerse themselves in an interactive adventure through the movie's enchanting environments including New York City and Paris, and expand their movie experience into worlds exclusive to the video game such as The Arctic Tundra and The Lava Jungle.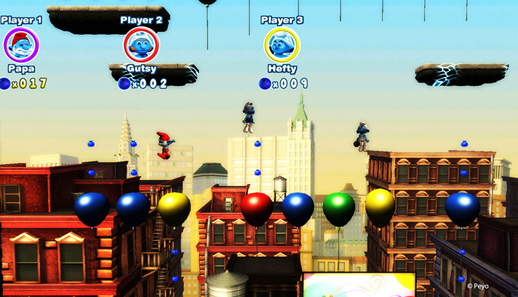 Players can follow the Smurfs adventure solo or by playing cooperatively with friends. As players progress in the game, they will be able to choose between nine Smurfs featured in the movie and can join each other in a fun multiplayer experience of up to four users playing simultaneously. Exclusive on Wii U, a fifth player will be able to join in on the action by controlling Clockwork Smurf on the Wii U GamePad.
Each Smurf has their own unique special ability to use when navigating through the more than 30 levels in six different worlds. Whether playing as Papa Smurf throwing magic potions to stun the enemies, stomping onto enemies as Grouchy Smurf, or striking a pose as Vanity Smurf to provide a platform for other players to reach hard-to-get items, each move will be used to aid in the battle against enemies such as Azrael, Gargamel the Evil Wizard and Gargamel's Naughties.
"Aligning ourselves with an industry leader like Ubisoft is a perfect complement to our marketing efforts for the film," said Mark Caplan, vice president, Sony Pictures Consumer Products. "The game will help bring audiences closer to the magical world of the Smurfs, allowing players to interact and control their own adventures."
"By collaborating with Sony Pictures on the iconic Smurfs license again we are able to extend the experience from film to immersive gameplay," said Christian Salomon, vice president of worldwide licensing, Ubisoft. "The family-friendly 'The Smurfs 2' video game will allow players of all ages to continue the fun and revel in new adventures."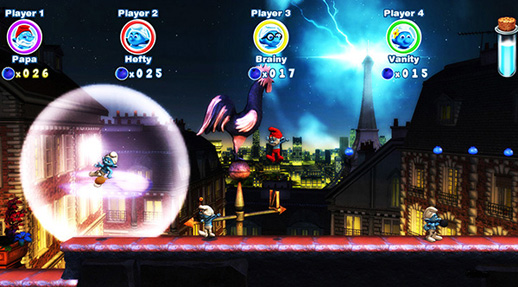 In The Smurfs 2, Gargamel the Evil Wizard creates a couple of mischievous Smurf-like creatures called the Naughties that he hopes will let him harness the all-powerful, magical Smurf essence. But when he discovers that only a real Smurf can give him what he wants, and only a secret spell that Smurfette knows can turn the Naughties into real Smurfs, Gargamel kidnaps Smurfette and brings her to Paris, where he has been winning the adoration of millions as the world's greatest sorcerer.
It's up to Papa, Clumsy, Grouchy and Vanity to return to our world, reunite with their human friends Patrick and Grace Winslow and rescue her! Will Smurfette, who has always felt different from the other Smurfs, find a new connection with Naughties Vexy and Hackus, or will the Smurfs convince her that their love for her is True Blue? The film is directed by Raja Gosnell and produced by Jordan Kerner. The screenplay is by J. David Stem & David N. Weiss and Jay Scherick & David Ronn and Karey Kirkpatrick with a story by J. David Stem & David N. Weiss & Jay Scherick & David Ronn, based on the characters and works of Peyo.
[jwplayer config="STG Player" mediaid="3383″]
The following two tabs change content below.

First playing Pacman and Astro Wars Shane then moved to Nintendo's Game & Watches and the mighty SEGA Master System II. He has owned every major gaming console in the past 30 years of gaming and been in the Video Gaming industry for over a decade. He is also a diehard fan of all things horror and any Jim Carey movie aswell as anything gadgety and with blinky lights. He tries to convince others that he has Super Powers. He doesn't.