How do you create a new Tetris game in 2018?
What more could be done to a game already near-perfect decades ago? Over the years, many have tried to add new features, new game modes and variations to the classic falling-blocks formula. But none have stuck in exactly the same way that the original has. Sure, there have been additions – ghost blocks to see where your piece is falling, a one piece hold that you can swap in and out, lock delay and more, but fundamentally it's the same game. Tetris Effect, however, may be the best version yet, with more smart updates to the game that bring you deeper into Tetris without becoming distractions or kitsch.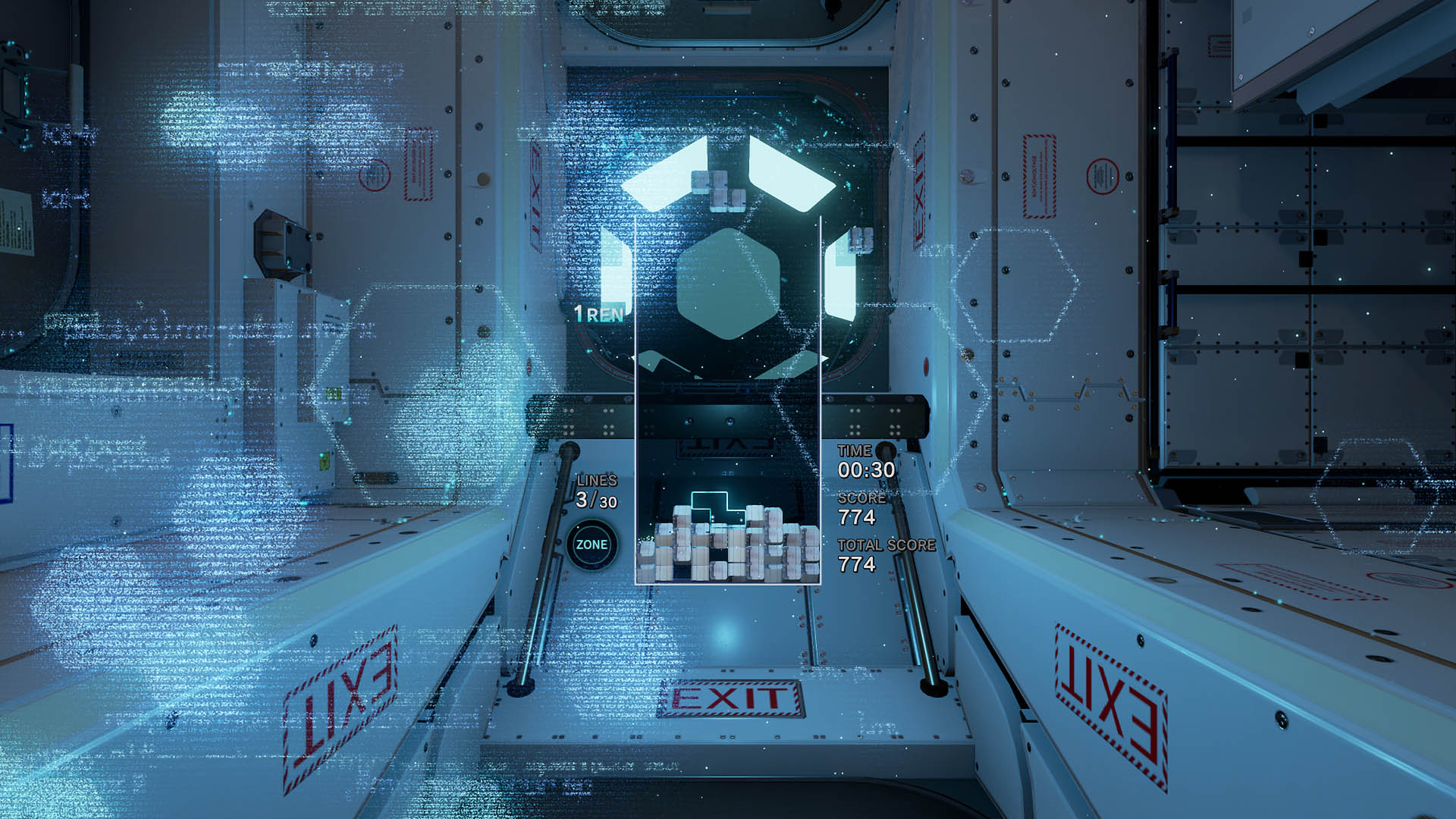 Developer Resonair has clearly poured thousands of hours of loving care into creating a huge variety of stages and themes, from deep calming waters to a fiery beachside ceremony. Surrounding the traditional 10 by 20 game field are a crazy amount of special effects, all designed to be intimately reactive to how you are playing the game. One particular highlight for me was a jazz, city themed level where by placing blocks and clearing lines you build up your own jazz tune. Almost every level though has a strong musical element, generally starting slowly before featuring some form of a "drop", where the game speeds up considerably and you have to pay 100% attention just to get by.
At times its aural, haptic and visual sensory overload but Resonair have tuned it just right, so that it's rarely overwhelming or frustrating.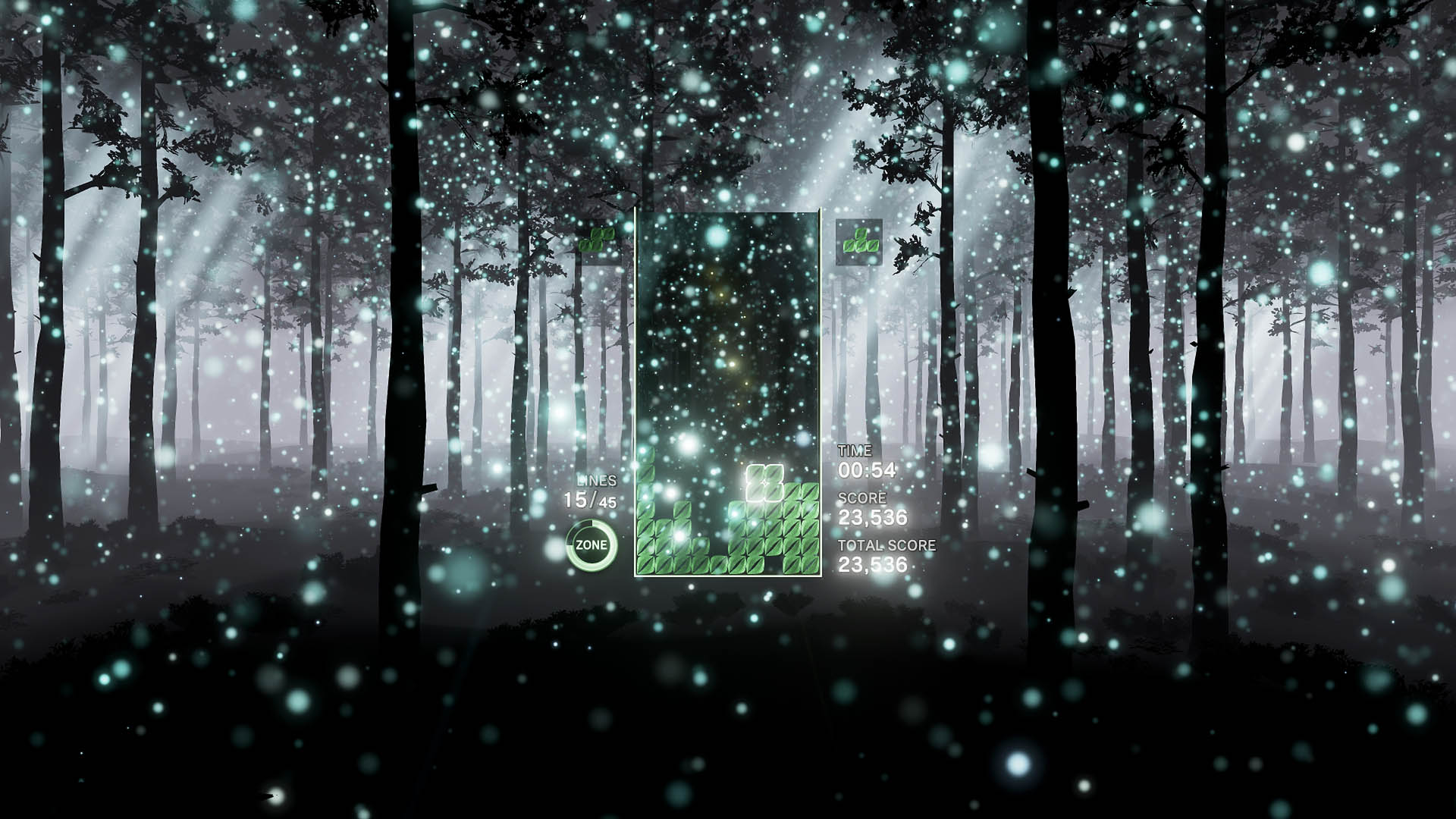 And if the sudden speed up in gameplay does seem like it's going to get the better of you, there's a new overload mode, which is like an ultimate ability.
Here's how it works: as you drop blocks and clear lines your special meter build up. And though it can be activated at any time, you get the biggest score bonus when you use it at its max. When you activate it, blocks stop falling until you tell them too, but also lines don't clear as you fill them up, leading to a slow march of blocks to the top of the screen. The more lines you clear, the bigger your score, and there's a marked sense of relief when the time runs out and the lines you've cleared finally disappear. It's an interesting mechanic that occasionally got me out of a tight spot though it appears that it would be more useful for someone chasing a high score than just hanging onto dear life like me.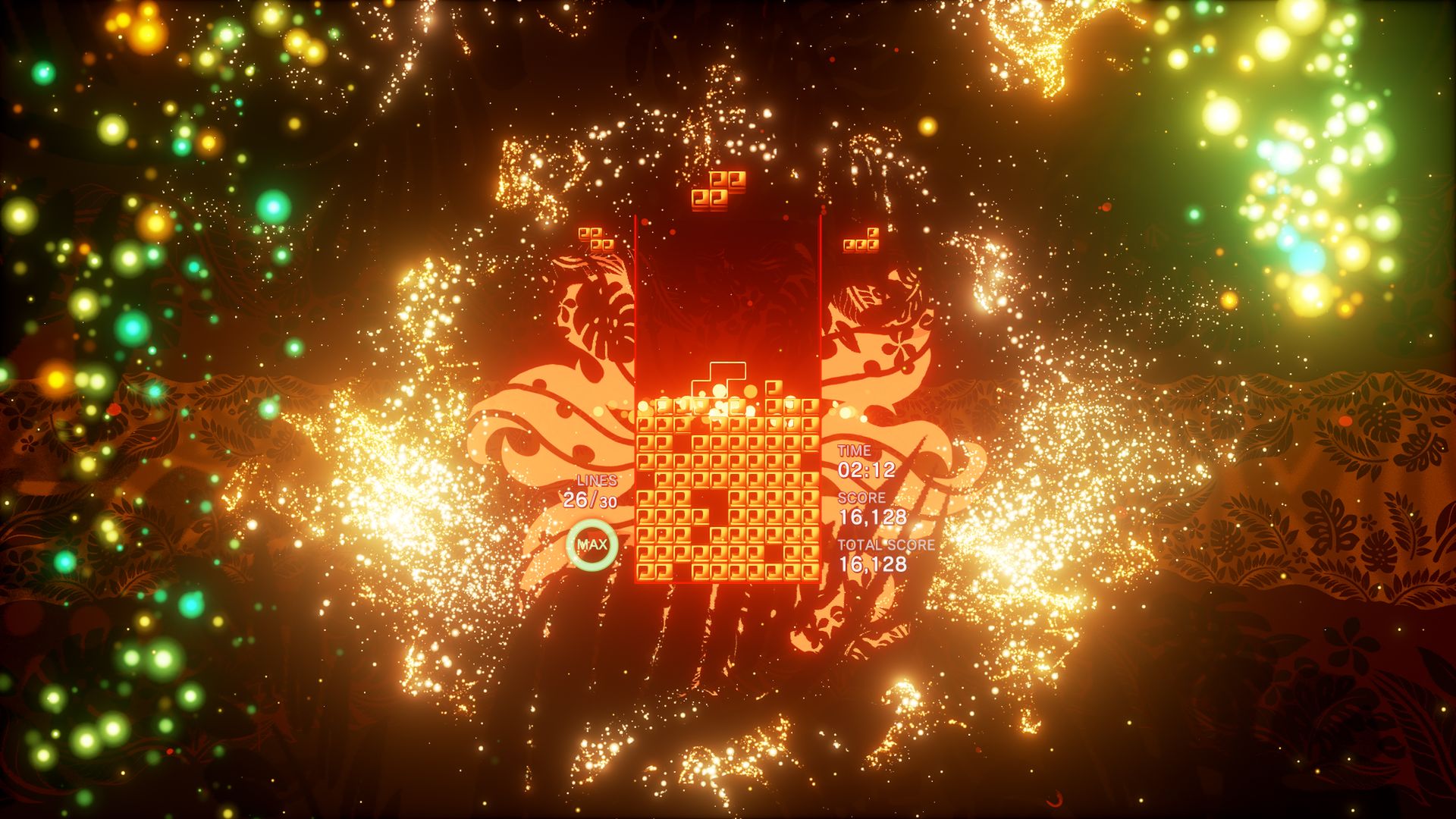 On top of traditional Tetris, there are a range of "effects" modes that place all sorts of additional conditions on winning, such as clear blocks in three minutes, clear 150 lines in as short a time as possible, deal with random effects to the play board etc. These modes are all automatically ranked and I can imagine the fight to be on top of the leaderboards will be fierce – though as a relative Tetris novice that sort of level of competition is far beyond me.
Effects mode does include an "easy" never-ending mode though, where filling up your screen with blocks doesn't result in a game over. I found this one of the best modes to play, as it gives you the space and time to enter a true state of flow, and even meditation – at least for a Tetris beginner like me. Tetris is one of those games that is intuitive to start, but extraordinarily deep to master, and giving yourself the opportunity to experiment in this mode was extremely welcome in a game that is almost always low-level stressful.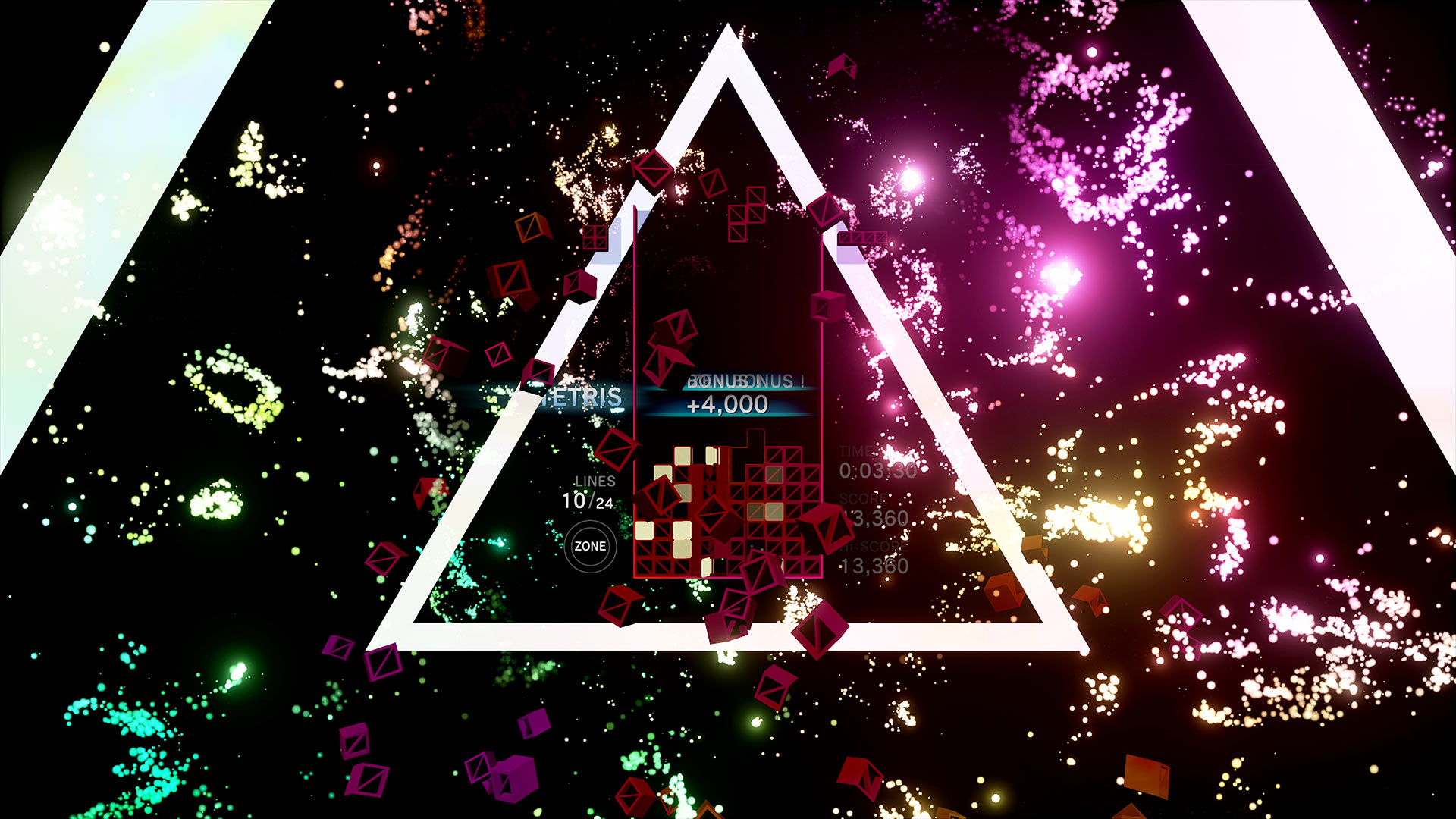 But the best way to play Tetris Effect is in virtual reality.
With a Playstation VR headset, and a good set of headphones (if you have decent headphones, playing Tetris Effect with them on is a must), the entire outside world disappears, and the luscious particles, ambient, hypnotising music and tetrominos become all that you focus on. It's mesmerising, and made me glad I went to the effort of digging the headset out of a drawer, where it has sat for a few months. While the decrease in resolution compared to the "flat" version is noticeable, Tetris really isn't a game that needs 4K graphics to be enjoyable, and the trade-off for increased immersion and distance from the outside world is well worth it.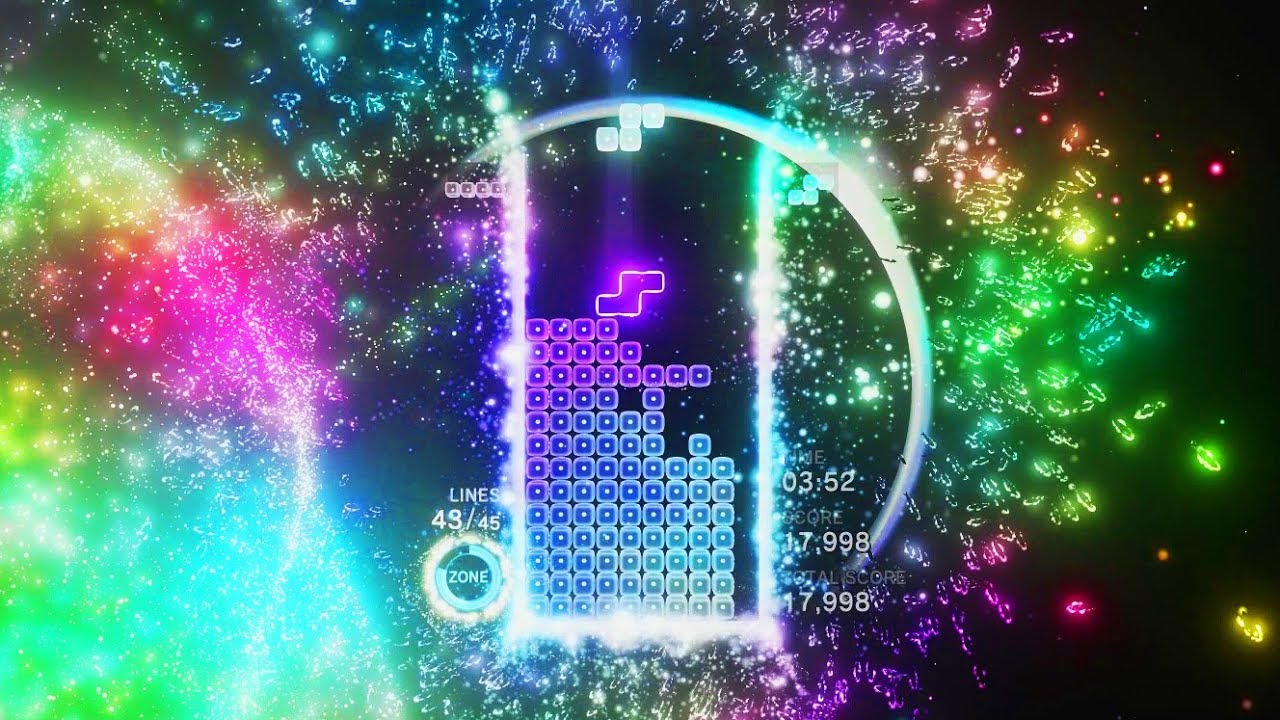 Who knew that taking an addictive game, and adding amazing music, gorgeous visuals and smart updates to the core gameplay would make a great game? It sounds so simple, but genius Producer Tetsuya Mizuguchi and the rest of the team have honed these elements to perfection. Each sound is perfect, each visual flourish dazzling but not distracting, and each update to the core Tetris experience incrementally refined to its nth degree.
Dare I say it, this is the perfect Tetris game.
Tetris Effect (PS4 and PSVR) Review
Game Details
Released: October 2018
Rating: G
Platforms: PlayStation 4, PSVR
Genre: Puzzle
Developer: Resonair
Publisher: SCEE
The following two tabs change content below.

Edwin has been playing games since collecting all 151 original Pokémon in Pokémon Blue. A fan of RPGs and third person adventures, he has spent far too much time in the worlds of Final Fantasy.

Latest posts by Edwin Crump (see all)