Paramount Pictures and NAMCO BANDAI Games Europe S.A.S. announced that they have signed a deal for NAMCO BANDAI Games Inc. to co-publish and distribute tStar Trek video game for release in 2013 for all major home consoles and PC.
The action-packed combat game is set to launch the on April 26, prior to the May 17th theatrical release of the next Star Trek installment from director and producer J.J. Abrams. The game, through a license with CBS Consumer Products, is based on a stand-alone storyline that continues the adventure of iconic characters Kirk and Spock as they work together to stop a legendary enemy race bent on conquering the galaxy.
Paramount Pictures have also announced that actors Chris Pine and Zachary Quinto who starred as Captain James T. Kirk and Mr. Spock in producer and director J.J. Abrams' Star Trek (2009) film reboot, will reprise their roles lending their voice and likeness in Star Trek: The Game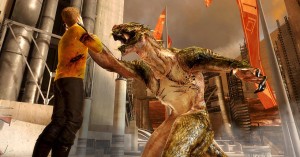 In addition to Pine and Quinto, other actors from the 2009 film are depicted in the game including actress Zoe Saldana, in the role of Lieutenant Uhura, Simon Pegg as the benevolent Scotty, Karl Urban as the beloved Dr. "Bones" McCoy, John Cho as Sulu and Anton Yelchin as Chekov.
Paramount unveiled the Star Trek video game in pre-alpha phase at 2011's Electronic Entertainment Exposition (E3) and won the praise of critics including the prestigious "Most Valuable Game" awards from Official Xbox Magazine and PlayStation: The Official Magazine, and was included as one of CNN's Top 5 Games of E3 2011 list. The Star Trek video game also won additional praise with an exclusive trailer that debuted during Sony Computer Entertainment of America's keynote address at its annual E3 press conference.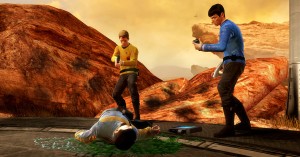 The Star Trek video game is being developed by Ontario-based developer Digital Extremes (Bioshock 2, Unreal Tournament, Dark Sector, The Darkness II) with production being overseen by Paramount Creative Executive Brian Miller. "Working with Paramount Pictures and Digital Extremes reinforces NAMCO BANDAI Games' commitment of expanding its portfolio to include Triple 'A' Western developed games in addition to its popular and well-respected Japanese Franchises," said Olivier Comte. "Digital Extremes' attention to detail, and the collaboration with Paramount Pictures and the team at Bad Robot Interactive will create an authenticity that is sure to thrill Star Trek fans and gamers alike."
The game's original story is being penned by BAFTA award winner and God of War writer Marianne Krawczyk in collaboration with Roberto Orci and Alex Kurtzman, writers and producers for the upcoming Star Trek film.
Built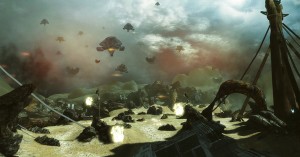 from the ground up as the ultimate co-op experience, the Star Trek video game lets players control both Kirk and Spock in a sweeping journey of epic proportions across unexplored planets and enemy battleships with the latest 23rd century weapons and gear. Kirk and Spock's complementary personalities result in the most fully realized and varied co-op experiences for this console generation.
Australian and New Zealand consumers who pre order Star Trek: The Game will get access to the Elite Officer Pack, which contains 10 uniforms for Kirk and Spock as well as numerous weapons to use in game.
[jwplayer config="STG Player" mediaid="2791″]