The Beagle Boys have stolen Scrooge's loot! It is up to players to join the citizens of Duckburg and recover his gold in this free to play game launching for iOS and Android.
Players join the adventure with Uncle Scrooge and Launchpad to retrieve Scrooge McDuck's fortune from the villainous Beagle Boys.
This new DuckTales adventure has players competing with friends and facing off against the competition to haul the most treasure back to their vaults in an online multiplayer battle mode. Players can also enter a single-player mode to complete important missions and quests across several different maps, including an airship, a western town, deep caverns and the Sun Temple.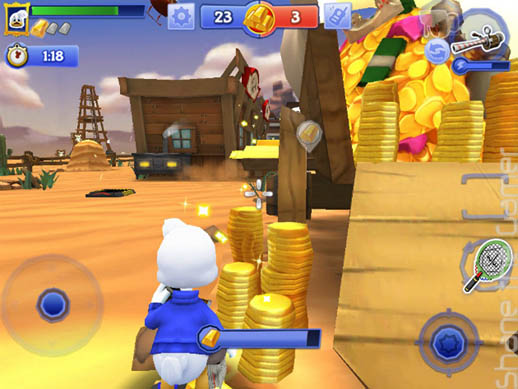 Key Features:
Adventurer, Inventor, Chef, and Pilot Character Classes to choose from. Each class with different advantages in value strength, agility, or intellect.
Players can deck their duck with cool outfits, equip intimidating Tools such as the fierce Spitball Cannon or the Porcelain Monster, and stock up on wacky Gadgets like the Hot Jazz Peppers.
Players will need to master the different maps, from caverns to ancient temples, to gain an advantage over the competition!
Team up with friends on Facebook or make new allies in the game to become the ultimate fortune hunters.
Build up stats in every match, and rise to the top of the ranks!
Let the games begin, and start playing DuckTales: Scrooge's Loot for iOSand Android.
[jwplayer player="1″ mediaid="5153″]
The following two tabs change content below.

First playing Pacman and Astro Wars Shane then moved to Nintendo's Game & Watches and the mighty SEGA Master System II. He has owned every major gaming console in the past 30 years of gaming and been in the Video Gaming industry for over a decade. He is also a diehard fan of all things horror and any Jim Carey movie aswell as anything gadgety and with blinky lights. He tries to convince others that he has Super Powers. He doesn't.