It has just been announced that the upcoming release of Dead Island Riptide, the next title in the Dead Island franchise, will be with us on April 25th, 2012 in Australia and New Zealand.
Dead Island Riptide is the second title following on from the surprising and successful 'Dead Island title on PlayStation 3, Xbox 360 and PC which released in 2011.
This next wave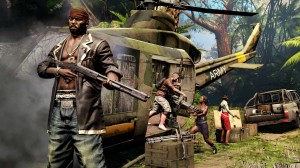 of survival against the undead that took place on a small remote holiday island of Banoi sees  our group of survivors thinking they had finally found a safe place to escape from this terrifying nightmare. But they were wrong.
Shortly after the battle-hardened team had landed their helicopter on a military ship, a furious storm hits and havoc quickly spreads on board. Suddenly they find themselves struggling for their lives again with all hope drowning in the rising waves.
With invigorating new elements infused into a proven mix, Dead Island Riptide will reanimate the zombie terror in the original game.
A monsoon has hit the once beautiful archipelago and heavy rainstorms have laid waste to large areas of the islands. The city of Henderson and jungle areas on the island of Palanai were flooded leaving boats as the only remaining way of transportation. Dynamic weather conditions will force the team members to adapt to changing visibility conditions.
Also a fifth character will join the team, with an all-new and unique skillset. The combined skills of the group will be sorely needed, since terrible, new and unknown zombie mutations have emerged all over the island.
In a new hub defense missions the co-op teamplay skills of the survivors will be tested to the limit – they need to strategically place traps, fences and turrets to fend off oncoming Zombie onslaughts and to protect the humans in these sanctuaries.
New communication features in co-op mode also allow players to enjoy an even more intense and strategic teamplay experience.

John Morgan is the new, fifth playable character in Dead Island Riptide, that can join the team in addition to the protagonists from the original game.
For years he has trained himself – and become a master – in hand-to-hand combat. His career in the US Navy has not taken off as he originally had envisioned, so he spends his time as a cook on a military ship. Little does he know that soon he will have to bring his skills into practice when the ship nears the island of Palanai…
The town of Henderson is one of the new locations in Dead Island Riptide.
Henderson is situated on the island of Palanai in the once beautiful Banoi archipelago. Palanai caters to ultra-wealthy yacht owners and eco-tourists looking to stay nearby to the island's untouched jungle. Palanai's center is the luxurious town of Henderson that has grown into a Mediterranean-looking port town.
After a monsoon has laid waste the Banoi archipelago the city lies partially flooded and its abandoned buildings are quickly falling into disrepair.
The team of heroes will have to find high ground in order to steer clear of the waters, where unknown threats lurk beneath the deceptively calm surface.
Dead Island Riptide will be released for the PlayStation 3, Xbox 360 and Windows PC.
[jwplayer config="STG Player" mediaid="2092″]
The following two tabs change content below.

First playing Pacman and Astro Wars Shane then moved to Nintendo's Game & Watches and the mighty SEGA Master System II. He has owned every major gaming console in the past 30 years of gaming and been in the Video Gaming industry for over a decade. He is also a diehard fan of all things horror and any Jim Carey movie aswell as anything gadgety and with blinky lights. He tries to convince others that he has Super Powers. He doesn't.