Earth becomes besieged and a meager Fireman becomes a hero.
It's August 1951 and the East Coast of the States is under attack from an alien race.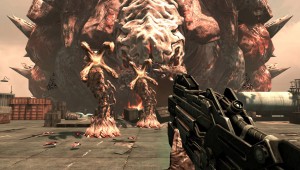 You are Tom Riley, tasked with being in the thick of the chaos and destruction, rescuing civilians that are trapped in burning crumbling buildings.
Before you know it, your crew (and yourself) are under attack aswell.
To further complicate matters you are trying to get to and rescue your small family, aware that the innocent populous is being taken out all around the city.
While all you care about is getting to them, you, of course, become a major part of the Resistance against the Chimera.
Played out in first person (the first FPS to utilize two analogue sticks on a portable device) gameplay will see you go from burning multi-storey buildings through to destroyed city streets, warehouses and more.
Your terrain is not as free roam as I would have hoped, paths, especially within the city are somewhat linear.
Weaponry has ported over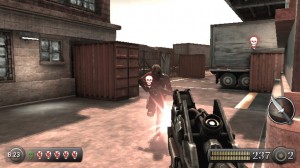 from the console version and while you start out with a trusty fireman's axe, you will harness the death dealing technology from the Chimera that you take down and human weapons.
The Carbine, Deadeye, Auger, and Bullseye all return and due to the available touch function on the Vita, secondary controls exist for both the Bullseye and Carbine allow you to either launch a grenade with touch, or target/tag your enemy, again, with touch.
Weapons are somewhat customizable and of course, upgradeable.
While gameplay and controls are solid enough, there are times where it all seems abit floaty and repetitively tiresome.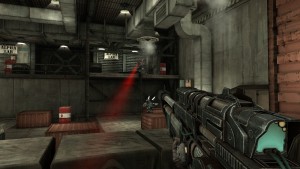 The story is not compelling at all and I expected alot more eye-candy than the blocky error laden textures that greeted me throughout the entire game.
While seeing a Chimera 'stuck half way through a wall or an object was amusing at first, it was quickly apparent that it was not a one off anomaly.
Burning Skies also features a much needed Multi-player with varying Deathmatch options. It can support upto 8 Resistance equipped gamers in one bout. This also enables you to link up to the 'Resistance' global community.
But that alone is not enough to save this title from being not only the newest Vita title to grace our shelves (and yea there's not many), but the first disappointing Vita title to date.
Sometimes, a killer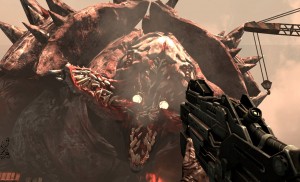 console title does not always port over to handheld successfully – Resistance: Burning Skies, being one of those that tarnishes an otherwise epic franchise.
Resistance: Burning Skies, get it if you are a die-hard of the Playstation movement, it is another chapter, of sorts within the legendary franchise. Leave it alone if you are after a good hearty FPS for the touchy-feely portable console – there will be better ones releasing soon.
[jwplayer config="STG Player" mediaid="679″]
Genre: FPS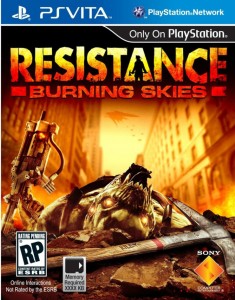 Platform: PS Vita
Publisher: SCEE
No. of Players: 1 – 8 Online


The following two tabs change content below.

First playing Pacman and Astro Wars Shane then moved to Nintendo's Game & Watches and the mighty SEGA Master System II. He has owned every major gaming console in the past 30 years of gaming and been in the Video Gaming industry for over a decade. He is also a diehard fan of all things horror and any Jim Carey movie aswell as anything gadgety and with blinky lights. He tries to convince others that he has Super Powers. He doesn't.