Ubisoft has announced that players of Might & MagicDuel of Champions will be able to use any card they own in every deck they create. Also revealed is Five Tower a new expansion, introducing 80 new cards and a new card type: Buildings, with powerful new game mechanics.
"We are proud to announce to the Duel of Champions community that one of the features they have been waiting for has finally arrived. Like for a physical card games where players can swap their cards from one deck to another, Duel of Champions players can use the same cards in every deck they are creating. We expect these features to be helpful in the use of Epic and neutral cards and will reduce the amount of cards players have to keep in their collection," said Samuel Jobin, live producer of the game. "We are always listening to our community and are doing our best to make their gaming experience constantly more exciting!"
The feature is part of the deck builder and all players will be able to use it from the beginning. With their extra cards, players can now decide to keep them in their card collection or to burn them in the Infernal Pit, receiving specific cards and gold in exchange.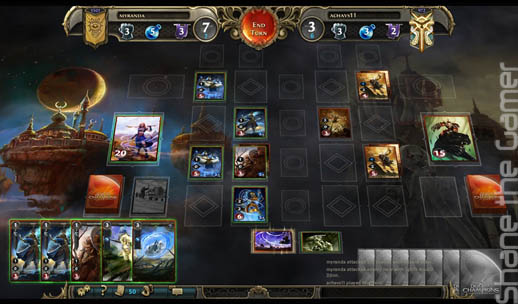 Five Towers introduces the new concept of buildings: cards that a user can collect and add to their deck just as you they would with creatures, spells, and fortunes. Positioning is one of Might and Magic Duel of Champions strongest strategic aspects, and Building places more emphasis on it as they can be deployed on any battleground position you control, and use creature onto to give it new abilities and buffs.