Now that Mortal Kombat has fought its way onto  Playstation Vita system and is available for on-the-go  battles,  Warner Bros. Interactive Entertainment and NetherRealm Studios released a Tips & Tricks trailer to  help take gameplay to another level of fighting action.
Below, you will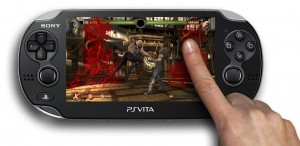 find the trailer filled with insider commands directly from producer Hector Sanchez and the Mortal Kombat design team.
Mortal Kombat for PlayStation Vita system has brand new gameplay features and tons of new content developed exclusively for the handheld .
Mortal Kombat delivers an all-new Challenge Tower mode with 150 brand new missions, including Touchscreen Fatalities, Xrays and more.
Fight On Kombatants.
[jwplayer config="STG Player" mediaid="56″]