Hell is in turmoil after the controversy.
The paparazzi are responsible and will pay. Those that have added to the controversy, the Wrath of the Dead Rabbit will be set upon them.
Yep, weird, cartoony and just plain Sonic-y sees you take on the role of one pissed off Rabbit called Ash, who also happens to be the big, er, Carrot of Hell.
His love of bath time rubber duckies has been exposed in damming images splashed across the media of the fiery underworld.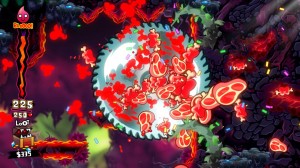 To regain his reputation you will kill, torture, maim and collect crystals throughout 10 huge 2D side scroll Levels.
Blood is your health, and throughout there are areas where your wet-nurse can top you up.
You are eventually equipped with a Wheel-Blade to get yourself around. When you start out, you have nothing at all.
Killing larger enemies present a mini-game challenge that of course increases with their difficulty intensity.
Some of the Levels are blatant rip-offs or copies of well-known Sonic Zones, but yeah – it is SEGA and with the collecting of crystals…kinda says it all.
Your Wheel Blade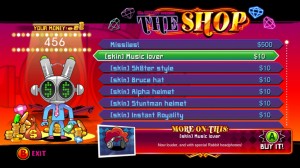 can be upgraded via the SELECT Menu by accessing there are also new looks available for our upset bunny.
Finding a Shop within the Level is an ideal way of acquiring new weaponry and accessories. The crystals that you collect throughout the game, either via drilling or found through exploration are your currency.
While you do have a gutsy double jump at your disposal, realistically without the Wheel Blade, you're pretty much useless and need to avoid everything. So look after it and upgrade it when you can.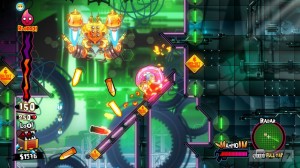 There's a Monster Index, where you can educate yourself on why these creatures you are slaying have two names and so on. From Flying Electric Brains, through to Scottish kilt wearing Demons and yeah, you're probably getting the idea by now.
Hell Yeah: Wrath of the dead Rabbit is one of those 'gotta finish this Level' games, with the same attraction as the old school Sonics had.
It is repetitive in its play and some areas are just out right hellish.
An extremely funtastic title for the most part, choc loaded with animated gore and a twisted sense of humour, a full recommendation as a gap filler game. Would love to see this game being ported over to the PS Vita.
The best chill-out title I have played all year.
[jwplayer config="STG Player" mediaid="1723″]
Genre: Action – 2D Platformer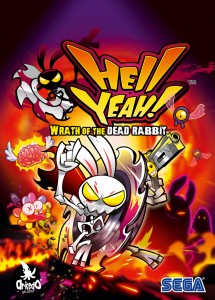 Platform: PS3 / Xbox 360 / PC (DLC)
Publisher: SEGA
No. of Players: 1


The following two tabs change content below.

First playing Pacman and Astro Wars Shane then moved to Nintendo's Game & Watches and the mighty SEGA Master System II. He has owned every major gaming console in the past 30 years of gaming and been in the Video Gaming industry for over a decade. He is also a diehard fan of all things horror and any Jim Carey movie aswell as anything gadgety and with blinky lights. He tries to convince others that he has Super Powers. He doesn't.