Choose your character from the five available and pre-set classes; Warrior through to Mage's and so on and then there Profession from the eight on offer. The Class and Profession you select also determines what you are capable of accessing and utilizing.
Define the look, feel, mannerisms and abilities of your chosen hero, opt for a Homeworld and Guild Wars 2 becomes your story.
Two hundred and fifty years since the last chapter, before you is a redefined and reimagined Tyria.
The Great Destroyer was defeated in the last expansion pack; Eye of the North but now the five elder Dragons have awoken from their slumber deep within the Earth and are creating chaos in the world and corrupting the population.
Humans who were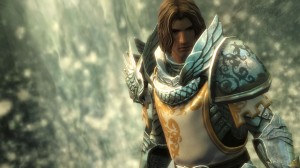 once dominant are in great decline, The proud Nordic hunters have been forced to the southern parts of Tyria due to the rise of the ice Elder Dragon; Jormag and the tech savvy Asura have had to also relocate, again due to the Dragons' disturbance.
Ontop of that the area known as Cantha is cut off due to both Political turmoil and Zhaitans army of undead Navy militia. Natural disasters have also contributed to the vast and dramatic changes to the populous.
Throw in a new race that is mysteriously connected to the Elder Dragons and this sets you up for one hell of a MMORPG adventure.
The graphics and game engine have been extensively redesigned to give the much expected eye candy and fluid gameplay. The only glitches that I came across was the lag. This of course was due to NZ's broadband.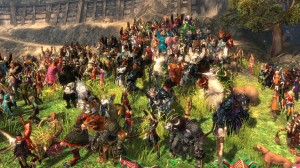 As you undertake Missions you acquire and will equip items, armour, weapons and even pets. Currency enables you to purchase supplies and/or other equipment that you may not have necessarily found through in-game vendors.
Like any other tried and true role player, this is all accessible via a hub, which you can assign to hot-keys.
You player Level increases as you progress, collect, defeat and succeed in Missions. You will also have Elite Skills, and gameplay is reflectant on the quality of Skills that you have earned or learned as opposed to quantity.
Levelling has changed since the first Guild Wars, from 20 to 80 which the games' Developers felt was more appropriate.
Hall of Monuments makes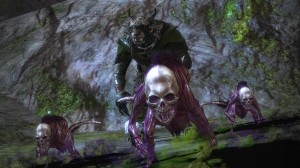 a comeback, while you cannot carry your original character over, if you played the first Guild Wars or its expansion, however your Achievements are, providing they are linked into (and you have not created a new) account.
In development by ArenaNet since 2005, the game has taken it's time to get to the level of perfection that is currently at.
Subscription free, once you buy the game, it's yours to freely play. You have the ability to drop in and out of team based / clan play and Guild Wars 2 features "World PvP", which is a large scale combat taking place in a world separate to the main world. You can join this worldwide PvP battle in a variety of roles, including the ability to construct siege weapons, with rewards commensurate with their success.
If you have annihilated Diablo III and are looking for that next challenge Guild Wars 2 is definitely it.
Required Hardware:
Microsoft Windows (PC):
| | |
| --- | --- |
| Operating System: | Windows XP – SP2 or 3, Windows Vista, Windows 7 |
| CPU: | Intel Core 2 Duo 2.0 GHz, Core i3 or AMD Athlon 64 x2, or better |
| Memory: | 2 GB RAM |
| Hard drive space: | 25 GB free HDD space |
| Graphics hardware: | NVIDIA GeForce 7800, ATI Radeon X1800, Intel HD 3000 or better (256 MB of video RAM and shader model 3.0 or better) |
| Network: | Broadband Internet connection |
| Input device(s): | Keyboard and Mouse (not Controlpad compatible) |
| Mac OSXOperating system: | Mac OS X 10.7.X or later |
| CPU: | Intel Core i5 or better |
| Memory: | 4 GB RAM |
| Hard drive space: | 25 GB free HDD space |
| Graphics hardware: | NVIDIA GeForce 320M, ATI Radeon HD 6630M, Intel HD 3000 or better |
| Network: | Broadband Internet connection |
| Input device(s): | Keyboard and Mouse (not Controlpad compatible) |
[jwplayer config="STG Player" mediaid="1478″]
Genre: MMORPG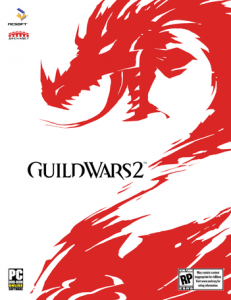 Platform: PC / Mac
Publisher: ArenaNet
No. of Players: 1 – Infinity (Online)


Join the Forum discussion on this post
The following two tabs change content below.

First playing Pacman and Astro Wars Shane then moved to Nintendo's Game & Watches and the mighty SEGA Master System II. He has owned every major gaming console in the past 30 years of gaming and been in the Video Gaming industry for over a decade. He is also a diehard fan of all things horror and any Jim Carey movie aswell as anything gadgety and with blinky lights. He tries to convince others that he has Super Powers. He doesn't.