It's been five years since Codemasters brought us their take on high performance road-racing with Race Driver GRID.Since then the expert racing game developer has allowed us to try our hands at several incarnations of their DiRT rally series.
Not to forget their new franchise, the elite Formula One Championship.
For their latest game Codemasters has scraped off the mud and removed the glamour; inviting us into the gritty, high octane world of GRID 2.
Whilst I'm no petrol head – to be honest, in real life, I find driving a car rather dull – I am quite the fan of racing games. Of all the gaming genres, racing provides me with an almost instantaneous adrenaline rush as I tear-arse around a course at a pant-wetting, devil-may-care speed. For the most part I find racing games a joy to play.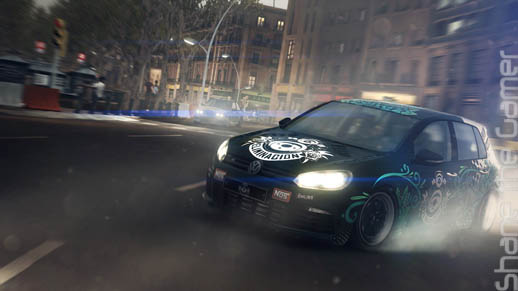 In recent years, no doubt due to the (former) popularity of Gran Turismo, racing games have become less about the racing and more about the cars. Whilst there are probably loads of folks out there dying to adjust their car's downdraft or tweak the gear ratios, I'm not one of them.
If I tweak a car, it'll never be the same again; and I don't mean that in a good way. I'm really not interested in burping and farting around a track in one of my badly tuned efforts; I want to race cars and I want to race them fast.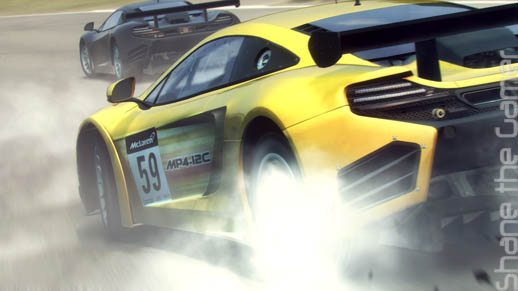 The first thing that you notice with GRID 2 is just how realistic it all looks. The visuals are more warts and all than your usual racing game. Sure the cars may start out with a showroom shine, but they'll soon get covered in filth and scratches.
This is a world of dust and grit where cars look the part, be it American muscle or Japanese drift machines; these cars are for racing, not for posing about it.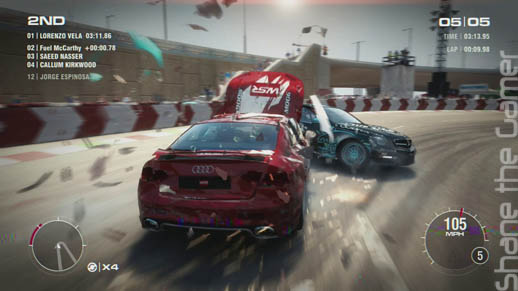 The same goes for the racing environments which are have that lived-in pock-marked look and full of enough detail to almost pass as the real thing. There's none of that clinical sterility in GRID, you can see the patchwork repairs on the road surface. Dust is kicked up and tyres burn clouds of rubber. Mist even hangs in the forest sections.
The campaign game is based around a new motorsport tournament with you as its rising star. The World Series Racing tournament is the brain-child of multimillionaire petrol-head Patrick Callahan; whose single-minded ambition is to create a prestigious new motorsports franchise.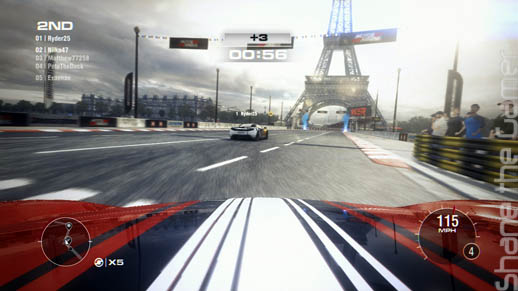 Callahan has pulled you from obscurity to raise the profile of his fledgling tournament. To achieve this you must face-off against members of elite race clubs from around the world in order to convince them to sign up to the WSR.
In game terms this means competing in a number of races, gaining fame and fans, in order to unlock new events, cars and sponsors. As you progress you'll travel the world completing in one-on-one races with top drivers in the US, Europe and Asia as well as race in the actual WRS seasons as well.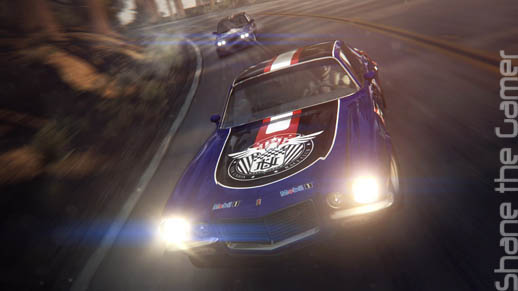 GRID 2 features an exciting and varied selection of tracks each of which require different driving skills. There are fourteen different locations from around the globe, featuring a multitude of circuits that can be raced either by day or by night.
We have the precision engineered Grand Prix/Motor Speedway tracks at Indianapolis, Yas Marina and Brands Hatch; the lethal hillsides roads of California and the Cote D'Azore; the angular city tracks of Chicago and Paris, the undulating roads of Hong Kong and the drift circuits of Japan. Each location has its own feel, offering an amazing amount of variety and, with the inclusion of LiveRoutes, near unlimited gameplay.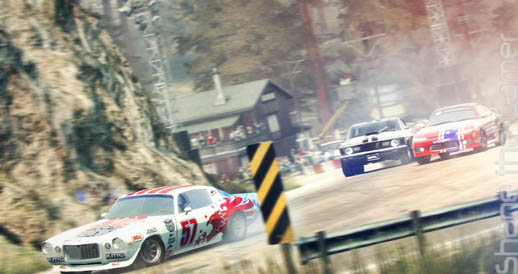 GRID 2's LiveRoute system creates a point-to-point race by dynamically changing the track route on the fly, as the race progresses. This means that no two races are the same, a LiveRoute race requiring good driving skill rather than a good memory to finish in first place. Whilst it is a break from the general realism of the game, the LiveRoute system does add even more replay value to an already fully-featured package.
Borrowing from the DiRT games, some of the open road tracks are complete with roadside gutters, trees and rock inclines that'll send you from first place to the back of the pack, or worse, smash your car and finish the race for you.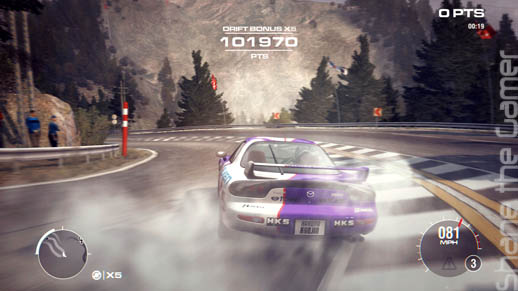 Fans of the GRID series' processors, the TOCA Touring Car games, will remember just how easy and frustrating it was to get sent to the back just moments from a podium finish. It was harsh and could completly wipe all the fun from the race.
With DiRT 2 Codemasters' introduced the Flashback mechanic into their racing games. This feature allows players, at any time, to 'rewind' the game and recommence the race from that point in time; very useful for undoing that brief lapse in concentration that made you take that corner a little too wide or that nudge from an opponent that totalled your car.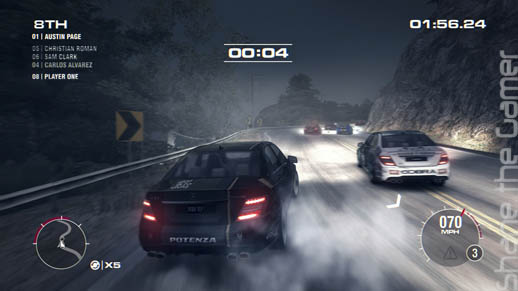 The purists, me included, were not particularly happy with this unrealistic addition to the gameplay. Since DiRT 2 I've warmed to the idea, somewhat. Whilst one upon a time I would switch Flashback off; I now embrace it as part of the Codemasters racing experience. Whilst the real-life drivers have no second-chances, they are also racing for huge pots of money; we are just racing for fun. And it's no fun when the cat jumps on your lap destroying all chances of a podium finish.
In GRID 2 Flashbacks come in handy considering that the level of aggression on the track, which is quite astounding; the other AI drivers think nothing of ploughing you into the tyrewall. Whether or not this paint trading is by design or simply the result of the AI drivers' bullish programming, I'm not sure.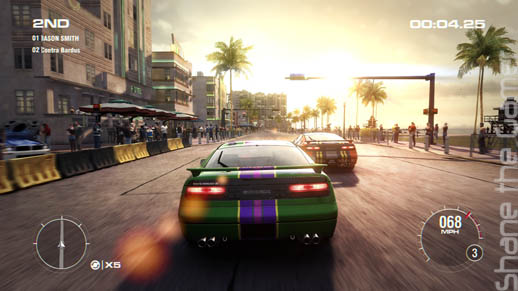 One of the things that really endeared me to the first GRID seems to be missing this outing. Previously the AI drivers where just as fallible as me, making all the mistakes a human driver would make. This time I witnessed no AI blow outs or on-track carnage to avoid. It seems this time out you are racing against super-human AI drivers, which is a bit of a shame.
Whilst the game may be more about racing than the cars, GRID 2 still provides enough big boys toys to excite the car fanatics. A lot of effort has been made to ensure that each car feels very different on the track, to the point that it'll take a few laps to gauge a vehicle's handling. A lump of American metal can be thrown around a corner, whilst the less forgiving Aston Martin is going to need a more delicate touch.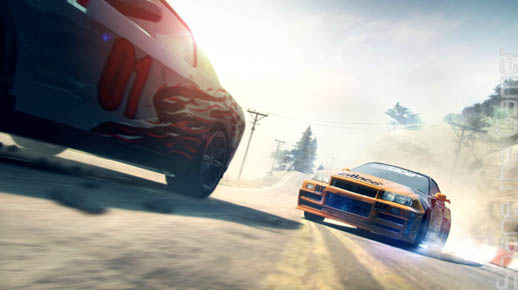 The same with European cars, designed to stick to the road, against the knife-edged steering skills needed to get a Japanese drift car to perform properly without spinning into the barriers. There are over 40 cars included with the game, each one offering up a different racing experience.
The entire selection of racing modes that you can enjoy in single player can be taken online to race against real opponents. The online career is completely independent for the single player game. So regardless of where you are in your WRS career you are going start from level one online. As you'd expect, diving headfirst into online racing makes for a humbling experience, as I found out.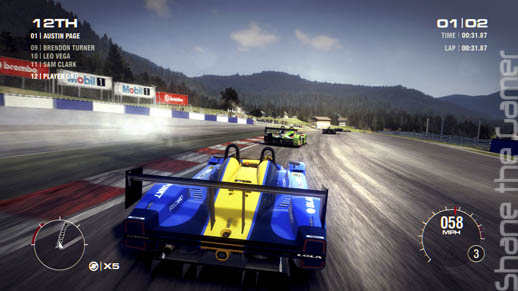 Expect a huge learning curve as you race around unfamiliar tracks in unfamiliar cars that you've not yet opened in the campaign mode. All your online stats are uploaded to the RaceNet server, a place where you can check out all your results from Codemasters' racing games.
I found GRID 2 very difficult to put down, although I did have to use the replays to compose myself between races; the on-track action being so intense that I often forgot to breathe as I hurtled towards the finish line. Also, it never seemed to get old, either. I often find with racing games that, after a while, the races all seem to roll into one and the experience gets a bit samey; this is not the case with GRID 2.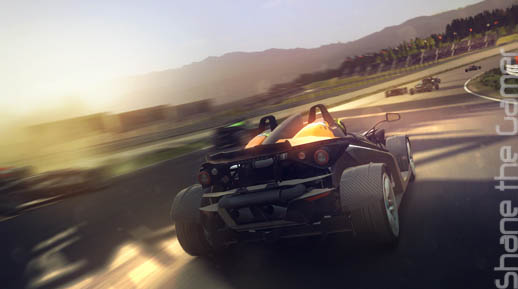 As well as the variety in the racing styles provided by the diverse selection of tracks, the game features a multitude of different game modes; these including the usual straight races, time trials and checkpoint racing. Novel race types such as Overtake, in which drivers must overtake as many vehicles are they can during the session, also make for a nice change.
As with Codemasters' other racing games, GRID 2 is presented with a dazzling amount of polish. All the option menus and the garages are immaculately realized. Codemasters have even drafted in ESPN to provide faux live-action news reports with pundits assessing you and you teams performance, adding to the game's player immersion.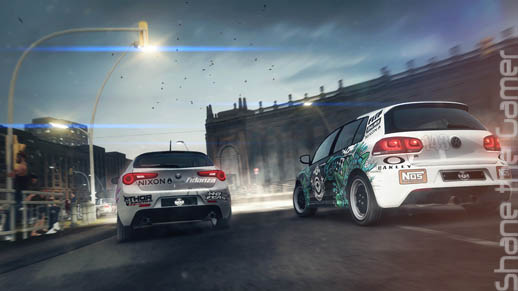 At the end of the day, GRID 2 provides players with a racing game that's about the racing, about sliding around corners and powering down the straights. The gritty, lived-in look of the tracks and the amazing background detail during the street-race sections is breathtaking. It's a superb racing experience.
If I had to fault it would be the driver AI which just seems to steamroller along the track without any really thought. The multitude of tracks and cars means that that this is a game that's going to go on for a while.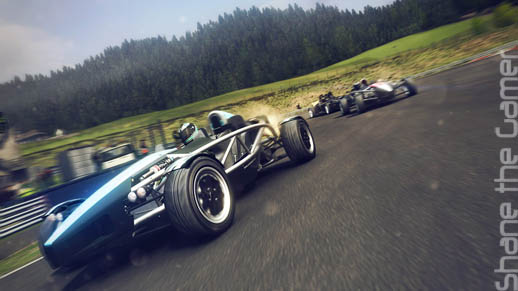 Not forgetting the infinite possibilities available online, this top class racer offers players great value for money. If you like your street-racing you owe it to yourself to pick up GRID 2.
[jwplayer config="STG Player" mediaid="4142″]