NOW CLOSED – Shane the Gamer has been given three copies, (one for Xbox 360, one for PlayStation 3 and one for PC) of the newest SciFi third person shooter from Trion Worlds, called Defiance.
A totally unique and first TV Series / Game crossover title, Defiance will see you join a futuristic online open-world shooter where thousands of players scour a transformed Earth competing for alien technology. Hunt alone or with others as you improve your skills and level up unlocking powerful weapons that will help you survive the massive battles that await.
The creative forces behind Defiance have worked on one of the top online games of the past decade; RIFT.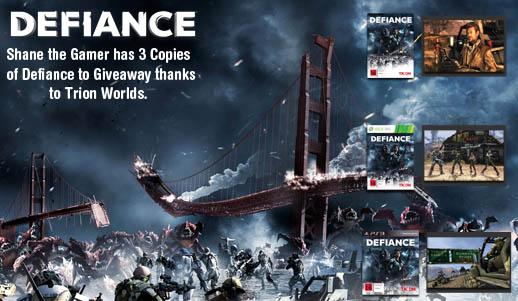 To enter answer correctly from the choices below as to which Television Network Defiance the television series airs on:
A: National Geographic Channel
B:Discovery Channel
C: Syfy Channel
You can do this by Commenting below, Leaving a comment on our Facebook Page or Email Us
(When entering, please let us know what platform you prefer to play games on: Xbox 360 , PlayStation 3 or PC)
You must be 16 years of age or older to enter this competition.
Defiance is Rated 16+.
*Winners will be randomly selected from those that post / Facebook Comment / email in accordance with the above question. Winner(s) will receive a Full Copy of Defiance game for either the Xbox 360, PlayStation 3 or PC. Competition ends the 31st of May 2013.