It's been a bumper year for FIFA fans. The last twelve months has seen the release of FIFA 14 on last-gen, FIFA 14 again, but this time on new-gen, and then 2014 FIFA World Cup Brazil back on last-gen.
As great as the PS4 and Xbox One version of last year's FIFA 14 were, the debut of EA's new Ignite Engine for the FIFA series was somewhat marred by the inexplicable absence of Tournament Mode.
Whilst the World Cup related updates somewhat made up for it, it was still a glaring omission. I'm glad to say that Tournaments are back in FIFA 15 ,allowing you to play through a variety of international league and cup competitions including the English Barclays Premiership and the Australian A-League.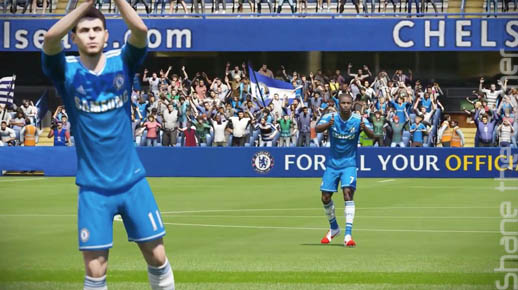 FIFA Ultimate Team returns, the addictive cross between fantasy football and player trading cards which is still able to suck me in for hours.
Basically, you start with a set of random players, with random badges and strips. By buying and selling players, consumables and club items you can make your team just the way you want it. You may want to make your ideal team with all the top players, or you may want to build a virtual version of your own team.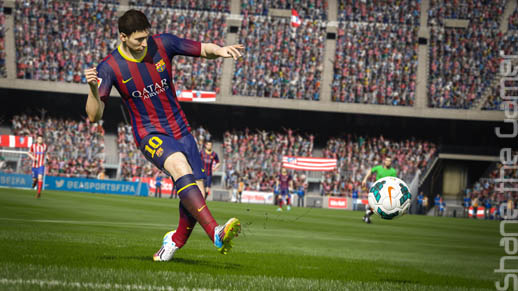 New for UT this year are loan players. These are star performers that you can use for a limited amount of games. Their contacts are unrenewable, but they can give you squad a great shot in the arm, especially as you build you squad up.
Another new addition this year for Ultimate Team is Concept Squads.
You can't play a match with a concept squad, it's a tool for planning only. The mode allows you to assemble a squad from the game's library of players to see what sort of chemistry they'd have. You can them use the concept squad as a template when using the transfer market to buy you ideal team players.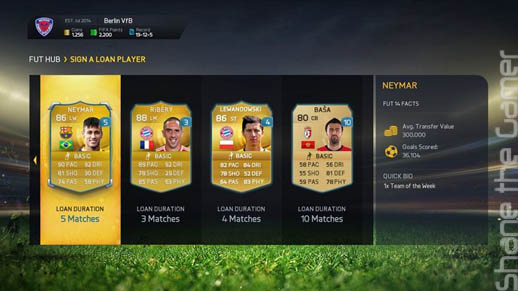 EA Sports have further refined the games visuals with new facial scans, better ambient player animations and a pitch that deteriorates during the game. I was a bit disappointed to see that the game face function have been removed. I kind seeing a fitter, leaner version of myself scoring goals for Arsenal.
Compared to EA's other new-gen Ignite Engine games (UFC, Madden 15 and NHL 15) the players in FIFA 15, look the least lifelike.
From a distance the replays look exactly like the on the TV, but up close the players look a bit anemic. I know that the sun doesn't shine much in England, but the Arsenal squad shouldn't look that pale. Whilst I generally like the more muted colours, a move away from the over-saturated look of the previous iterations, there's still much to do in the lighting department.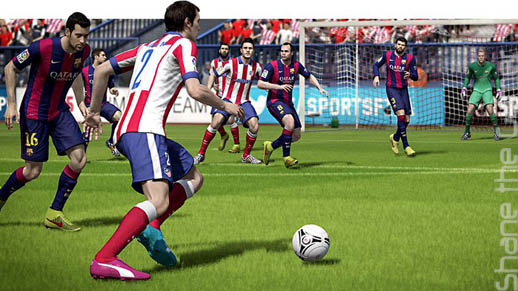 The player animations are fantastic and hardly put a foot wrong. The result is on-pitch action that looks very realistic. Every now and again, especially after scoring a goal or in a dead ball situation, players will do an odd gesture that seems out of place, but not really a problem.
Gameplay-wise the whole experience seems to have been tightened up.
Good passing and ball control is suitably rewarded by some spectacular-looking goals. With the new-gen graphics on hand, the replays are jaw dropping. It's amazing to see how far we've come watching the ball as it spins off-centre into the goal. Little details like the accurate spin of the ball that reminded me that this isn't scripted stuff, this is FIFA 15 work as a physics simulator.
And that's where we are at right now with FIFA. The whole experience has been polished to a shine, over the years.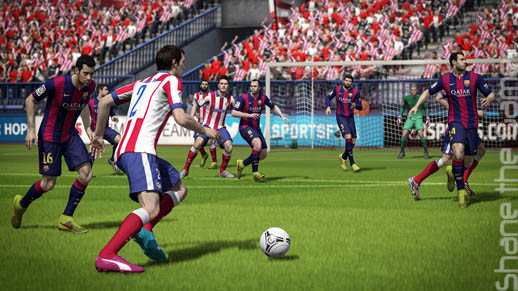 With the extra processing power of the new consoles everything gets some added realism. The way the goalie dives for the ball, how players fall over each other, and just how the fluid the action is on the pitch.
There's also a few new and very subtle details, like the way the goal posts lift slightly when the ball strikes the back of the net, muddy kits and a progressively scuffed and muddied pitch. It not may be ground-breaking, but FIFA 15 certainly delivers a great game of football with all the trimmings this year.
I've always enjoyed the commentary in FIFA.
Listening to Martin Tyler and Alan Smith discussing the next fixture, as well as their usual banter about the club's history, is a joy. There's still some repetition, which is a bit of a shame, but otherwise it seem to follow the game with surprising accuracy. The sound, on the whole, is phenomenal, especially was the crowd gets loader as you approach the goal, in anticipation of scoring.
Whilst it's nice to have FIFA complete again, I do miss the carnival atmosphere of 2014 FIFA World Cup Brazil and it's a shame a little didn't rub off of on FIFA 15.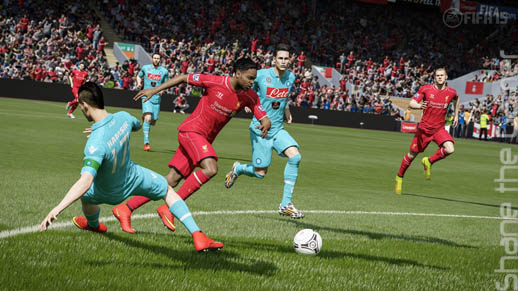 Whilst football doesn't really suit the razzamatazz of Madden, it doesn't have to feel like a comparatively damp Sunday afternoon match with a cup of Bovril, either (Google it, antipodean readers).
FIFA 15 polishes up new-gen football to a glass-like shine. More evolution than revolution, the game give us back Tournament Mode, something that should never have been removed, and delivers n some of those next-gen promises that never really materialised at the end of last year.
Apart from the pasty-faces it looks great and offers up a superb digital rendition of the beautiful game.
[jwplayer player="1″ mediaid="9298″]