Shane the Gamer's Darren Price recently has a hands-on with Codemasters' upcoming F1  2013 and also a chat with the voice of Australian Formula One, Channel 10 TV commentator and 1980 Formula One World Champion, Alan Jones.
For their forthcoming Formula One game, Codemasters have shaken thing up a little. F1 2013 features all the cars tracks and drivers from the 2013 season that you'd expect, but a little more thrown in for good measure.
This year fans can take out classic 80s and 90s F1 cars from Ferrari, Williams and Lotus in the game's F1 Classics mode. With an introduction from veteran F1 commentator Murray Walker, players can race against legendary drivers like Nigel Mansell, Mario Andretti and Australia's own Alan Jones. Also included are two past F1 circuits: the UK's Brands and the Spanish Circuit De Jerez.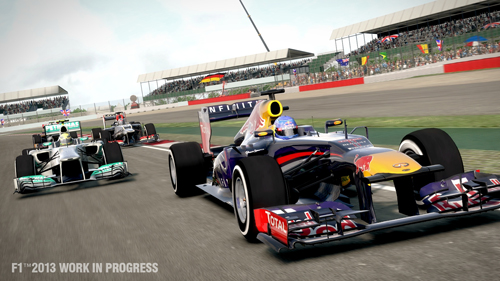 I had the opportunity to take a classic Williams car around what would have one have been my local circuit, Brands Hatch in south-east England. Driving the car with a full Xbox Racing Wheel setup and using manual gears was heart-in-mouth stuff, negotiating the turns on a track that is a lot tighter than modern F1 circuits.
On my shoulder, former F1 world champion Alan Jones, verbally dissected the circuit- just as he does for Channel Ten's F1 coverage. As he explained every nuance and every bend I became very conscious that he was probably wondering what on earth I was doing as I revved the nuts out of my car and fish-tailed out of every bend.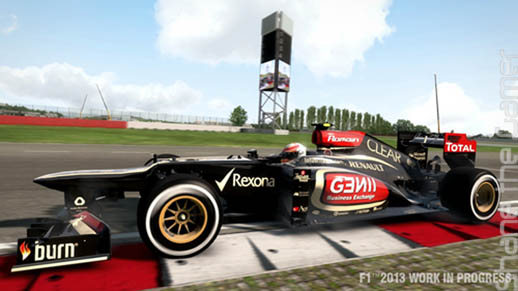 With my nerves shattered and sweat pouring down my brow I finally drove the car over the finish line, into a respectably fifth place. It was then time to sit down with former F1 world champion, Alan Jones and get his take on the game and F1 in general.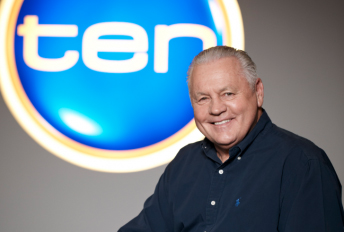 Hello Alan, thanks for your time. Whilst in here to talk to you about the F1 2013 game, but it's not every day that you get to sit down with a Formula One World Champion, so please forgive me if I pick your brain with a few F1 questions as well.
No problem.
As you know the game's F1 Classics features drivers, cars and circuits from the 80s and 90s. What challenges are players who have only raced modern cars in Codemasters' previous F1 games likely to face with the older cars and circuits?
Well, the older cars haven't got the grip or the stopping power of the modern cars.  We didn't have carbon fiber brakes and we didn't have quite as much down-force.
The circuits, like Brands Hatch for instance, were a little bit narrower and didn't have anywhere near the run off area that modern circuits have got. The great thing about the F1 2013 game is that it gives younger blokes an idea of what it's like driving an older car and it gives the older blokes an idea what it's like to drive the cars that they probably used to go and watch.
I think it's a great idea to include the older cars and circuits.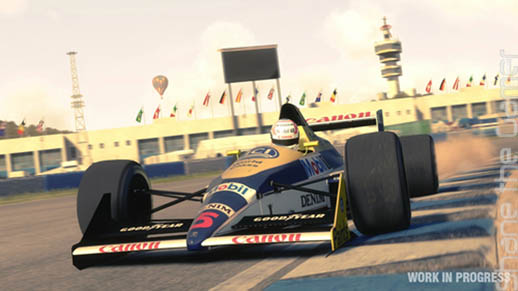 Now, you are providing the Formula One TV commentary for Australia's Channel Ten, so it's fair to say that that you still follow Formula One.
Absolutely.
How do you find modern Formula One racing compared to the 1980s?
Technically, of course, it's a lot more advanced. It's also harder to get near the drivers and they're mollycoddled a lot more than what we used to be. They are all a little bit precious.
It's just a changed game.
I must admit that I don't follow it as much as I use to do, but it seems a bit more about the technology and less about the drivers.
Yeah.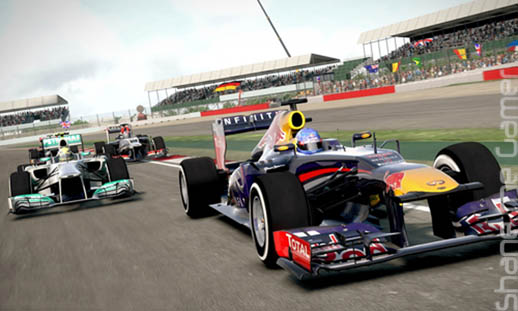 Whilst we race these circuits inside computers and games consoles we can only imagine how it feels to be racing for real. What would you say were the main differences between playing in your home and actually racing on the circuit?
Well, for one you're not going to get killed on a simulator. And you don't sweat as much playing the game, or you shouldn't. The ambient temperature in your house can be controlled by the air conditioner, and not by God.
In comparison, the simulators that the Formula One teams actually use cost four or five million dollars. So for a home game, for anyone to take F1 2013 back in their lounge room or wherever they play, it's fantastic. It's a very realistic game.
What is your all-time favourite Formula One track?
Well there was several. I liked Österreichring, that's where I won my first Grand Prix. I liked Watkins Glen, which is now not being raced on. Saying that, neither is Österreichring. Of the circuits that are being raced on today it's probably Spa.
Lots of twitchy corners there.
And fast as well.
F1 2013 has got them both, but what's your personal favourite British circuit out of Silverstone and Brands Hatch?
They've altered Silverstone a lot now; it's not the circuit that it used to be. It was very fast. It used to alternate between the Österreichring and Silverstone as to who had the quickest circuit that year. At one stage Silverstone was the quickest circuit in the world.
I've still probably got to say Brands Hatch; because it was a bit more demanding than Silverstone.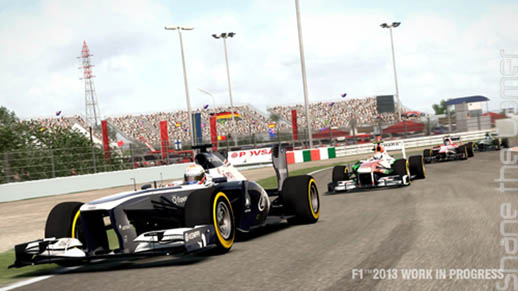 We've not had Formula One at Brands Hatch for quite some time.
No, not since the late eighties.
It's nice to see it in F1 2013, anyway. I've just had spin round it; it's not a race that I am that familiar with.
I am. Every nook and cranny.
Like a lot of players, when I get a Formula One game I put it in and start racing. I'm usually too fast and driving all over the place. In time and several crashes later I get the feel of the track. What sort of prep goes into learning a track in real life?
Well you don't crash and learn to slow down. It's like everything; you build up to it.
If you've never been to the circuit before you go out for the first time and just do a bit of exploration; which way the corners go, are there any bumps going into them, are they blind and can you see past them.  After four or five laps you build up your speed and by about lap ten you're pretty much on it. Unless it's the Nürburgring, the old circuit, then you're not. That'll take a bit longer to master.
Have you had a go on F1 2013, yet?
Yes I have.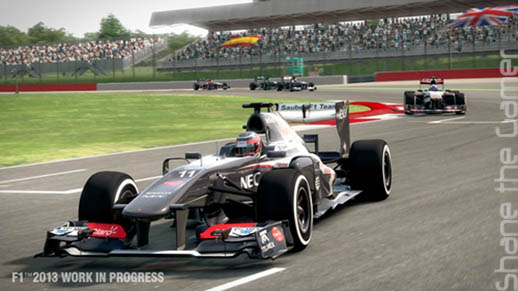 Are you any good?
No, the steering is very sensitive; you've literally got to steer with your thumb and fingers.
I take it that you are used the wheel and not the gamepad?
I was using the wheel; I find it very precise. Like everything, if I had another hour or so I'd probably stay on the circuit a lot longer.
Every year Codemasters adjust their F1 game according to the changes made to the real Formula One World Championship. Looking to the future, what do you think about Formula One going back to turbo engines next year?  Is it a good idea?
Personally, I like changes in Formula One.There are arguments for and against it. I think that's what Formula One is all about. It's about technology. And it's about innovation. And it's about keeping the interest going.
I think that with 1.6 litre turbo engines KERS will play a lot bigger part than it does this year. You are going to get about 100 HP advantage next year as opposed to about 40 HP at the moment. So I'm looking forward to it. It'll be very interesting to see which manufacturers have grasped the technology the best.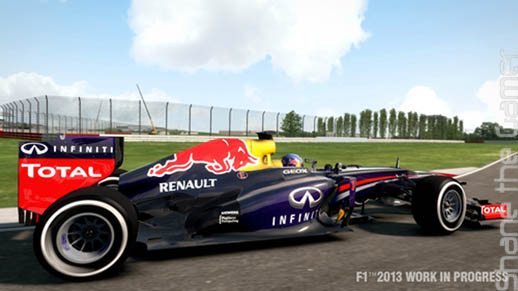 It'll be interesting that's for sure. And, no doubt something for gamers to look forward to in F1 2014, next year.
What do you think about aerodynamic design in F1? Should it be simplified to place greater importance on engine performance, grip and driver skill?
I think it should be. Some of the best races that we see are invariably in the wet. And when it rains it increases your braking area and decreases your cornering speed.
Winning the race in the wet is down to the bloke that can brake later in and get on the power earlier in those conditions. If you took a lot of the aerodynamics away and even thinned down the tyres you would simulate those same wet conditions.
That would make things very exciting.
At the moment they can all brake on a sixpence. So there's no out-braking as such. There's spoiling, but no out-braking. But you do see out-breaking in the wet.
I must admit when I'm playing the game and the wet races come up I'm like, "oh yes". They're a definitely a game-changer.
Yes they are.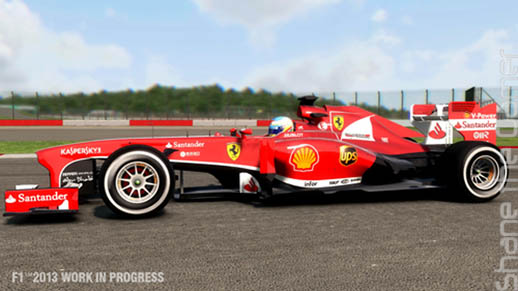 Back to F1 2013 game for the last question; you were talking about playing with a wheel and the sensitivity. With a proper steering wheel setup, how much do you think playing the game will help you to compete in real-life motorsport?
Yes, considerably. Learning on a realistic simulator like F1 2013 is preferable to learning the hard way on the track. Also, with a good steering wheel set up you are getting used to all the feedback from the road and changing gears with the paddles behind the wheel; all under much safer conditions than if you were on the circuit.
Thanks very much for your time, Alan. I'm certainly looking forward to F1 2013 and all that classic F1 content when the game comes.
It's been a pleasure.
F1 2013 will be available in Australia and New Zealand for Xbox 360, PlayStation 3 and Windows PC on the 3rd October 2013.