After yesterday's encounter with Master Chief, Shane the Gamer's man on the ground in Sydney, Darren Price,reports back on day two of the EB Expo.
The second day of the expo has certainly brought the crowds and so it was a perfect time to get away from the bustle of the main hall and take in some of the EB Live presentations in the arena; notably the Square Enix EB Live show.
Square Enix are a personal favourite publisher of mine. They gave me one of my most favourite games of all time, Final Fantasy VII. In 2009, with the purchase of British developer Eidos, two more of my favourite franchises where taken under their wing: Tomb Raider and Hitman.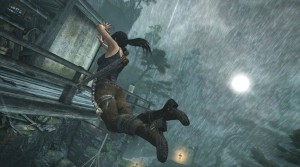 Yesterday I was fortunate enough to have a go on the pre-beta build of Tomb Raider at the NamcoBandai Partners booth on the show floor. The demo was a hunting level designed to show off Lara's skills with the bow and some of her climbing moves etc. Very pretty and very much like Uncharted; which is a very good thing as I spent most of my time when playing the first Uncharted saying, "This should be Tomb Raider". There was some frame stuttering, but all in all it was a pretty good insight into a game that isn't due until March next year.
Square Enix'slive Tomb Raider presentation blew my mind. I'm a long time Tomb Raider fan, but I'll admit to being more than a little disappointed with recent efforts. Yesterday's demo playthrough showed a lot of promise, but wasn't enough to prepare me for this.
It seems that developers,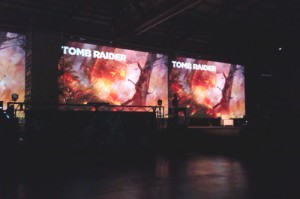 Crystal Dynamics, are not happy playing second fiddle to the exploits of one Nathan Drake and have decided to do something about it. Their new Tomb Raider game serves to reboot the franchise, taking Lara Croft back to being 21 years old, before she became the tomb raider as we know her; a Tomb Raider Year One, as it were. The game starts with Lara shipwrecked on an island, frightened and alone. All the game footage shown so far shows this early part of the game.
The demo sequence presented to the EB Expo audience was from game much later on, with a more experienced Lara Croft in a mountain village setting. This demo was a lot more polished that the public pre-beta on the show floor, with none of the frame-rate issues. Under the control of a Square Enix operator, Lara moved through an enemy encampment dispatching bad guys with her bow and arrows. It was all going well until Lara took a tumble into a mountain stream. Gasping for air Lara falls down a waterfall after which she was swept along into some foaming rapids.
It was difficult to see exactly what was going on, but it seemed that the player still had control; being tasked with breaking obstacles and guiding the adventuress through the water. Several waterfalls later and Lara was washed into a derelict aeroplane, naturally, perched precariouslyatop a cliff. Of course, Lara's fall was broken by one of the 'planes, now cracking, windows.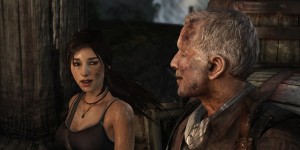 Suddenly, the window gaves out with Lara just managing to grasp onto a parachute. As she fells she put on the parachute the pulled the ripcord to open the canopy. Safe.Or not. There's a beat and then Lara neededguiding along the top of, and then through, a forest; the parachute barely braking the speed of her decent. A few body/branch interfaces, concluding in a suitable high fall and Lara was back on the ground and looking up at a beautiful Tibetan-style mountain top vista. At the same time I was able to take a breath.
As I said, it was difficult to make out exactly what was going on, but there did seem to be some player interaction; which I'd say was at the very least similar to the action sequences in the Uncharted series. It is impossible for me to put into word the awesomeness of this action-packed sequence. They really seem to be putting out all the stops for Lara's next adventure!
Next up was Hitman: Absolution. The presentation started with the new trailer (see below), introducing the game's kill mechanic. I'd already played the Hitman demo on the show floor. The first thing that grabbed my attention was the large amount of NPCs in the crowd and just how nice the game looked overall.
One thing I did go away thinking, after sampling loads of upcoming games, is just how beautiful they all look; there seems to be no reason for a game ,this current gen, to look bad other than lazy programming. Tomb Raider, Assassin's Creed 3, Far Cry 3 and now Hitman: Absolution all look fantastic.
Hitman: Absolution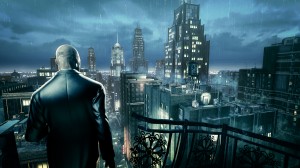 used the Glacier 2 graphics engine and is capable of rendering crowds of five hundred people, a perfect cover for slipping away from a kill. Not only can Agent 47 disappear into the crowd, explosions will create panic which will provide a distraction to cover his escape.
For the live demo, Square Enix showed off the game's new online contracts mode. This mode allows players to revisit settings from the game, but this time anyone in the level can become the target. Players accept contracts either of their own design or created by the online community.This makes for a virtually limitless amount of gameplay. During the live demo presentation, Agent 47 took out a member of the crowd as the first target and then a nosey police officer. Taking the police officer's clothes as a disguise, the assassin was able to easily approach the next target, also a police officer. One C4 detonation later resulted in a dead target and a panicked crowd; allowing an easy escape.
This sort of high level sandbox gaming, coupled with community generated tasks, adds an incredible amount of replay value to a game that is already going to be worth every penny when it is released on the Xbox 360, PS3 and PC on  20th November.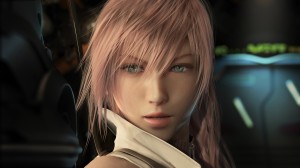 As well as Hitman: Absolution and Tomb Raider, Square Enix also shared some titbit of information (no video, sadly) about their upcoming Final Fantasy games. Lightning Returns finally concludes the story from Final Fantasy XIII and FFXII-2. Players will control just the character of Lightning this time, but they will be able to customise her abilities via lots of different outfits. The other game was Final Fantasy XIV Online. This is not a patch of the existing online FF, but a totalling new online experience. This new game draws upon the 25 years of Final Fantasy, featuring popular game mechanics from previous games.
All in all a great presentation from one of gaming's legendary publishers.
[jwplayer config="STG Player" mediaid="1641″]