Year: 2003 | Platform: Playstation 2
Put the cat back in the bag, it's a 'Dog's Life'.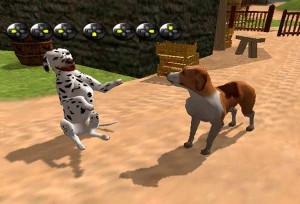 In a few words, this is an extremely cool and original 3D title, with lush highly detailed graphics. You take on the role of Jake, a happy-go-lucky dog who enjoys nothing better than to scratch and sniff all day. But when his girlfriend Daisy is kidnapped by Dogcatchers working for an evil, cat loving individual, named Miss Peaches, intent on turning all dogs into scrumptious catfood, life becomes one giant adventure!
This is the first game where it's okay to relieve yourself in the streets and sniff the other characters' butts, and mouldy food is irresistibly tasty.
At first it can seem a little confusing as to where to go in the vast terrain, but you will soon find your feet, or paws, as you communicate with humans and other Dogs who will give you small missions or mini-games to complete as part of your adventure. There are over twenty different breeds of Dog that you will not only encounter, but once you beat them at their own tricks, you also control for a while. Using these other Dogs can be beneficial, as it allows you to squeeze into places or perform tasks that Jake is unable to do. You also learn to master the art of sitting, laying down and barking on command. This impresses the silly humans into giving you goodies.
Another objective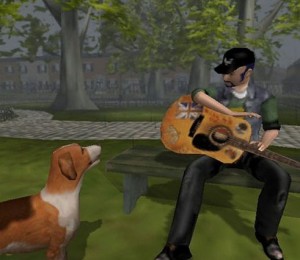 for Jake is to collect as many bones as possible. The more bones you have the more superior you are over other Dogs, you can also strip your canine friends of their treasured bones aswell.
My personal favourite was terrorizing the local wildlife.
However let's not forget that being a Dog is all about smells, and being smelly.
That's where the games unique 'Smellovision' comes in. Out of the eyes of Jake you see the world how a Dog does, seeing footprints and smells as pink, purple, orange, blue and yellow clouds. The idea here is to collect them, or sniff them. The more smells you can get the better, as they help you to progress and lead you on your adventures.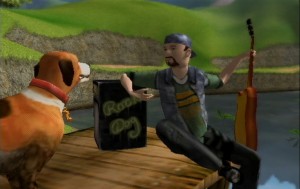 As you run and fart your way through the game, you will experience everything from peaceful farmlife, through to a hectic city with dangerous traffic, and many other surprising surroundings in between.
Designed for kids, this Dog simulator will have anyone collard after just a few minutes of play.
[jwplayer config="STG Player" mediaid="1325″]
Join the Forum discussion on this post
The following two tabs change content below.

First playing Pacman and Astro Wars Shane then moved to Nintendo's Game & Watches and the mighty SEGA Master System II. He has owned every major gaming console in the past 30 years of gaming and been in the Video Gaming industry for over a decade. He is also a diehard fan of all things horror and any Jim Carey movie aswell as anything gadgety and with blinky lights. He tries to convince others that he has Super Powers. He doesn't.