Another year, another Call of Duty entry in the multi-billion dollar first-person shooter franchise. Does this latest outing live up to previous outings? Or is it a time to put this old dog down for good?
We're at the point with the Call of Duty series now, where it's actually fairer to look at the games in the same light you might review a sports series – obviously, they've got the basic outline for a successful game, it's just a matter of making sure each new entry in the series has enough new features, tweaks to the existing gameplay and graphical enhancements to make it worth buying.
In my humble opinion, Ghosts more than does this, in a number of ways. And while none of these changes are going to blow your mind with originality or change the franchise forever, what you're left with is yet another very good, high octane gaming experience.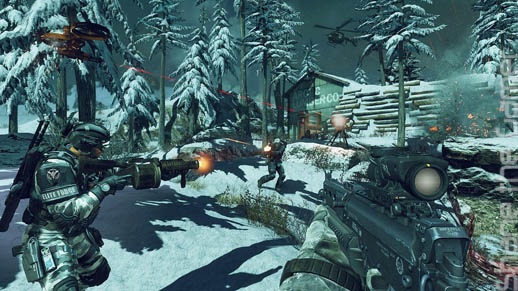 The plot of Ghosts, much like many elements of the game itself, reads like something out of a Hollywood blockbuster. Existing in a world where the Middle East has been destroyed by nuclear weapons, the oil producing nations of South America unite to form the Federation, quickly growing into a global superpower. After taking control of a United States super weapon and demolishing several of America's cities, the Federation mount a 10-year-long war on the United States.
With a stalemate between the two nations, the only ones capable of putting a decisive end to the war are the few remaining Ghost soldiers – an ultra elite band of covert operatives. But, twist, the Ghosts are directly at odds with their former leader, who knows them better than anyone else. How dramatic! The plot has some pretty standard action game moments, and plays exactly how you'd expect it to – straddling the line between good and functional. But it's COD – chances are you're not in it for the story telling.
Combat in Ghosts is essentially stock standard COD fare – which is by no means a terrible thing. Running from point to point, ducking behind cover, popping out, fighting down waves of enemies, interspersed with the occasional magnificent set-piece event. Basically, if you've liked combat in the previous games, you're going to be into this. If you were hoping for anything different, you're going to be disappointed – with one much talked about exception: Riley, your fearless canine comrade.
Infinity Ward have loved talking about the addition of a dog to the series, (despite being a simple, fun extra mechanic for ripping guys' throats out), but poor Riley doesn't actually feature all that much in the game. The way this addition kept coming up, I was half-expecting the dog to be the main character, instead he only appears in a small handful of missions. His presence adds an extra little emotional kick to the storyline though, so he can't really be faulted.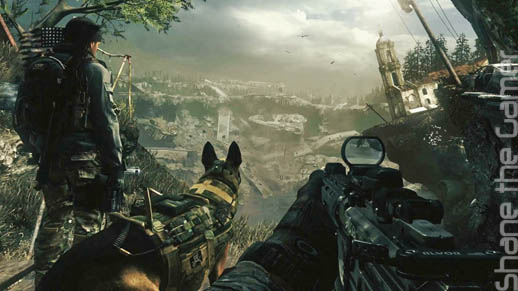 One of the things that really stood out in this latest outing (even without having played it on the next gen consoles) is the fantastic variety of settings this game takes place in. From the Amazon jungle, to bombed-out Suburban California, to the depths of the Ocean, to an amazing sequence in space, Ghosts takes you on a hell of a journey with a much more exciting colour palette than what was offered up in Modern Warfare 3.
One new (sort of) addition to the Infinity Ward branch of Call of Duty is the new extinction mode, which plays a lot like Black Ops' 'Zombies' but with aliens. Ask any Black Ops player and they'll tell you – the Zombies mode has a life entirely of it's own, with a cheeky sense of humour and a hidden plot you really have to work to understand. And while fun in it's own right, it's hard to imagine that Extinction will have such longevity and die-hard fans. Unlike zombies, which is purely survival based, Extinction revolves around destroying alien hives scattered around the map.
You carry a giant drill from hive to hive, setting it down to destroy each of the alien spawn points. As you do, the weird dog-like aliens will rush forward to kill you and destroy your drill, essentially making extinction a series of protection missions. Kills earn you money, which you use to buy weapons, upgrades and special abilities for your player. This is actually quite a lot of fun, but I saw nothing to suggest that it contained the same intense easter eggs that Zombies does. Furthermore, the nature of this type of game doesn't quite create that same type of 'One more go' frenzy that zombies does. Like I say though, still good fun, and a nice new addition.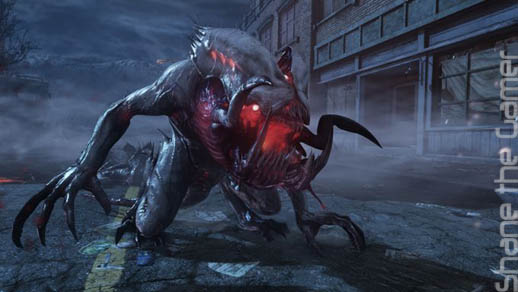 When it comes to online play, I'm not even going to waste your time by bothering to flesh this out too much: Call of Duty have online multiplayer down to a fine art, through years of refining and tweaking, and Ghosts is no exception. If online military FPS multiplayer is your kind of thing, simply put, Ghosts is going to do it for you, and will be one you play until the sequel comes out.
Much to the chagrin of Call of Duty's seemingly endless stream of online haters, Call of Duty: Ghosts is yet another remarkably solid outing in the series. Offering just enough new tweaks, settings and gameplay elements, there's more than enough here to justify grabbing this one off the shelves.
[jwplayer player="1″ mediaid="5585″]