Ubisoft has just announced Assassin's Creed IV Black Flag for Windows PC has recently reached gold status and will be available for sale in retail stores and online on November the 21st, 2013 in both Australia and New Zealand. There will be three editions available.
They are:
– The Standard Edition, (no extra goodness added).
– The Deluxe Edition, which is a premium edition including the game, as well as bonus in-game content including new locations to discover and explore, additional customization items and a new adventure starring Aveline as the main character.
– The Uplay Deluxe Edition, an exclusive digital package exclusively distributed on Uplay Shop including all the contents from the Deluxe Edition, plus an additional in-game pack, Pride of the West Indies. This bonus content is exclusive to the Uplay Deluxe edition, available for pre-order here: http://shop.ubi.com/ac4deluxe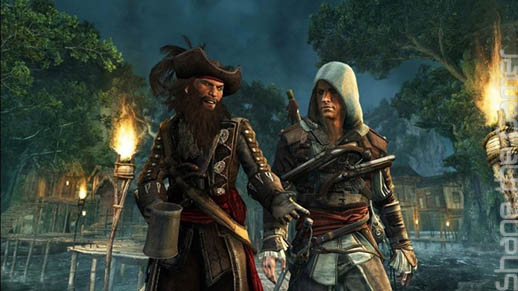 The Standard Edition and Deluxe Edition are both available in a digital PC download format. Players who pre-order the PC download version of these editions will get additional in-game bonus contents. The Uplay Deluxe Edition is only available in digital format and exclusively distributed on Uplay Shop.
Three Assassin's Creed IV Black Flag Collector's Editions will also be available for Windows PC versions of the game.
The Buccaneer Edition
This premium edition offers a selection of essential physical and digital items for the adventurers:
–       Premium Quality Edward Kenway Figurine on the Jackdaw's Crow's Nest
–       High Quality Artbook
–       The Official Soundtrack
–       2 Lithographs in their protective envelope
–       Collector's Box
–       Additional Unlockable In-game Content
The Skull Edition
This edition includes physical and digital content for the Assassin's Creed enthusiast:
–       Collector Jumbo Steel Case
–       High Quality Artbook
–       The Official Soundtrack
–       2 Lithographs in their protective envelope
–       Unlockable In-game Content
The Special Edition
This special edition will be available at the standard price and includes unlockable in-game content only available at game launch.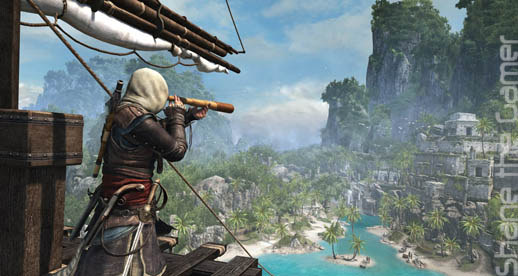 A Season Pass is also available for PC, including a package of downloadable contents, for a 20 percent savings off the regular unit price of these DLC to be released until March 2014. Assassin's Creed IV Black Flag Season Pass can be pre-ordered here: http://shop.ubi.com/AC4SeasonPass
If you pre-order Assassin's Creed IV Black Flag Uplay Digital Deluxe Edition from the Uplay Shop you will be granted an additional 25% discount off the Season Pass.
Nice.
Ubisoft and NVIDIA have worked closely together to create a fully optimized version that runs on GeForce GTX graphics cards. The result is those with an NVIDIA GeForce GTX graphics card will get an Assassin's Creed IV Black Flag experience that features a wealth of NVIDIA's advanced gaming technologies such as TXAA and more. The extra performance means more immersive gaming including life-like environments, realistic combat and spectacular, cinematic visuals.
"NVIDIA engineers work with their Ubisoft counterparts across the globe to ensure that PC games are the best they can be – and 'Assassin's Creed IV: Black Flag' is a great example of that," said Tony Tamasi, senior vice president of Content and Technology at NVIDIA. "We've integrated advanced, PC-specific technologies into the game to give mood and depth to scenes and bring buildings and landscapes to life. The end result is an unparalleled visual treat, and set to be an absolute PC blockbuster."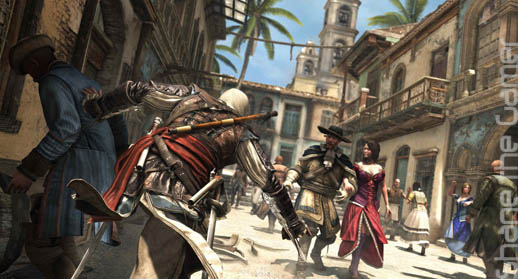 Assassin's Creed IV Black Flag will feature several NVIDIA Technologies such as God Rays which allowed Ubisoft Montreal to paint beams of light that illuminate a scene from above, horizon-based ambient occlusion + enabled more detailed and realistic shadows around objects that obstruct rays of light. Percentage-closer soft shadows for a more lifelike contact hardening shadows, and temporal anti-aliasing for smoother edges.
With the addition of enhanced 4K textures, there's never been a better time to take to the high seas.
The following two tabs change content below.

First playing Pacman and Astro Wars Shane then moved to Nintendo's Game & Watches and the mighty SEGA Master System II. He has owned every major gaming console in the past 30 years of gaming and been in the Video Gaming industry for over a decade. He is also a diehard fan of all things horror and any Jim Carey movie aswell as anything gadgety and with blinky lights. He tries to convince others that he has Super Powers. He doesn't.