Today, Ubisoft Australia announced the availability of the Assassin's Creed 4: Black Flag Companion App for the iPad and Android tablets. As well as some handy features to help you plunder the Caribbean in the console game, it also allows you to take the game with you.
Shane the Gamer's Australian swashbuckling editor, Darren Price, takes a break from shivering his timbers to check out the app on the Samsung Galaxy Note 10.1.
I'm fascinated by the idea of complementary second-screen apps, especially those that allow you to take an element of the game with you on the move. Whilst this was a BIG DEAL in trying to sell us the idea behind Nintendo's Wii U controller, the sudden influx of apps that allow gamers to use their existing hardware to extend the game experiences nothing short of revolutionary.
We've had the likes of iFruit for GTA V (which has just been made compatible with my tablet- yay) and Battlefield 4's Battlelog app (which gets exciting as soon as you've reached level 10 and unlocked commander mode). But right now I'm playing Assassin's Creed 4: Black Flag with my trusty Galaxy Note 10.1 helping me navigate the high seas.
I was out and about today when Ubisoft sent me an email about the Assassin's Creed 4: Black Flag Companion App. I'd tried to download it before with no luck "incompatible device" Google Play told me.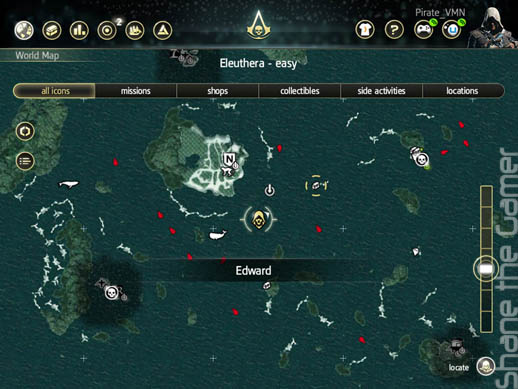 But today, standing in the Sydney heat I was finally able to download the app. And so I did. At around 200mb you may want to wait until you are at a home or connected to a Wi-Fi hotspot before you download it; impatient as ever, I had to get it there and then.
As you'd imagine you need to sign in to your Uplay account to get started, the idea being that your device connects to your console via the Ubisoft cloud servers. Whilst the app couldn't connect to my Xbox 360 (as it was back home and switched off), all my stats, ships, treasure maps and shanties were there, sucked directly off the Ubisoft servers.
So what? You ask.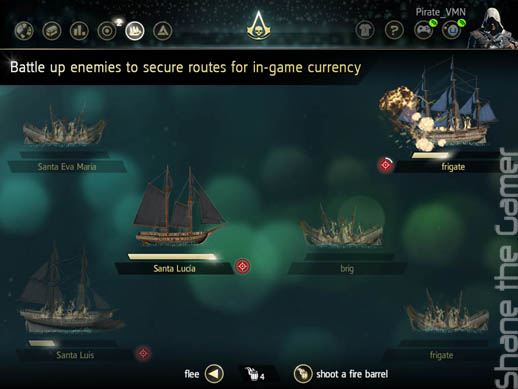 Well for starters, you can play manage Edward's fleet on the go; carrying out repairs, sending them on missions and engaging in combat, just as you do in the main game. Which is very cool.
You can also view the Animus Database and, if you so wish, listen to all those lovely sea shanties that you've not been able to get out of your head for the last few weeks. Access to the Animus Database on a tablet is great idea, as I'm more likely to read the info waiting for a train than I'm sitting in front of the Xbox 360 with all that plundering to do.
With the app synced to my Xbox 360 running AC4, things started to get even more interesting. The app features a real-time interactive map showing Edward's location, islands, important items, waypoints and enemy ships. It's pretty accurate too; I was able to pilot the Jackdaw blind through fog using the companion app map as a weird pirate-ship GPS!
You can also view your treasure maps in the app, which make treasure hunting a lot easier, negating the need to flick screens in game to find the landmarks.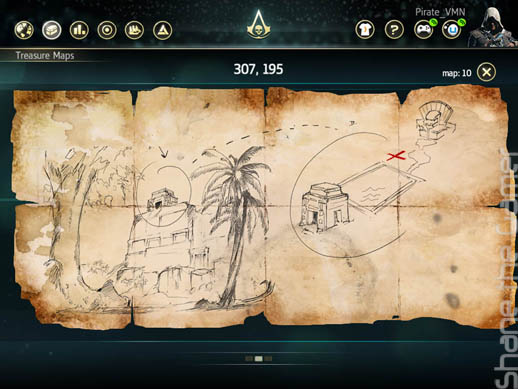 It's great that this sort of app is becoming more and more common, extended the user experience without the need to buy extra hardware. Whilst it's in no way an essential part of AC4 it is a nice bit of software and the fact that it is free makes it even better.
If you are a fan of Assassin's Creed 4: Black Flag and you own a compatible Apple or Android device, you ought to give the companion app a go.
Ubisoft's Assassin's Creed 4: Black Flag Companion app is available free from Apple here and Google Play here.